Review: Lush Cinnamon Orange Bath Oil Tablet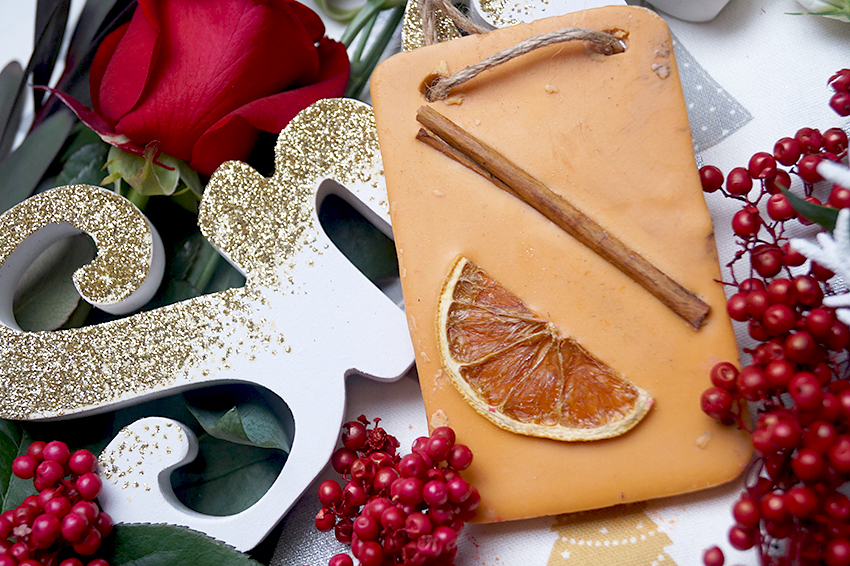 Although I initially didn't plan on buying the bath oil tablets, I thought they looked really nice when I saw them in the store. I decided to bring home Cinnamon Orange — the scent isn't a surprise, of course. It's a lovely, wintery scent, which comes in handy for whenever you need a little warming up. I took it home with me and today i'll review it for you!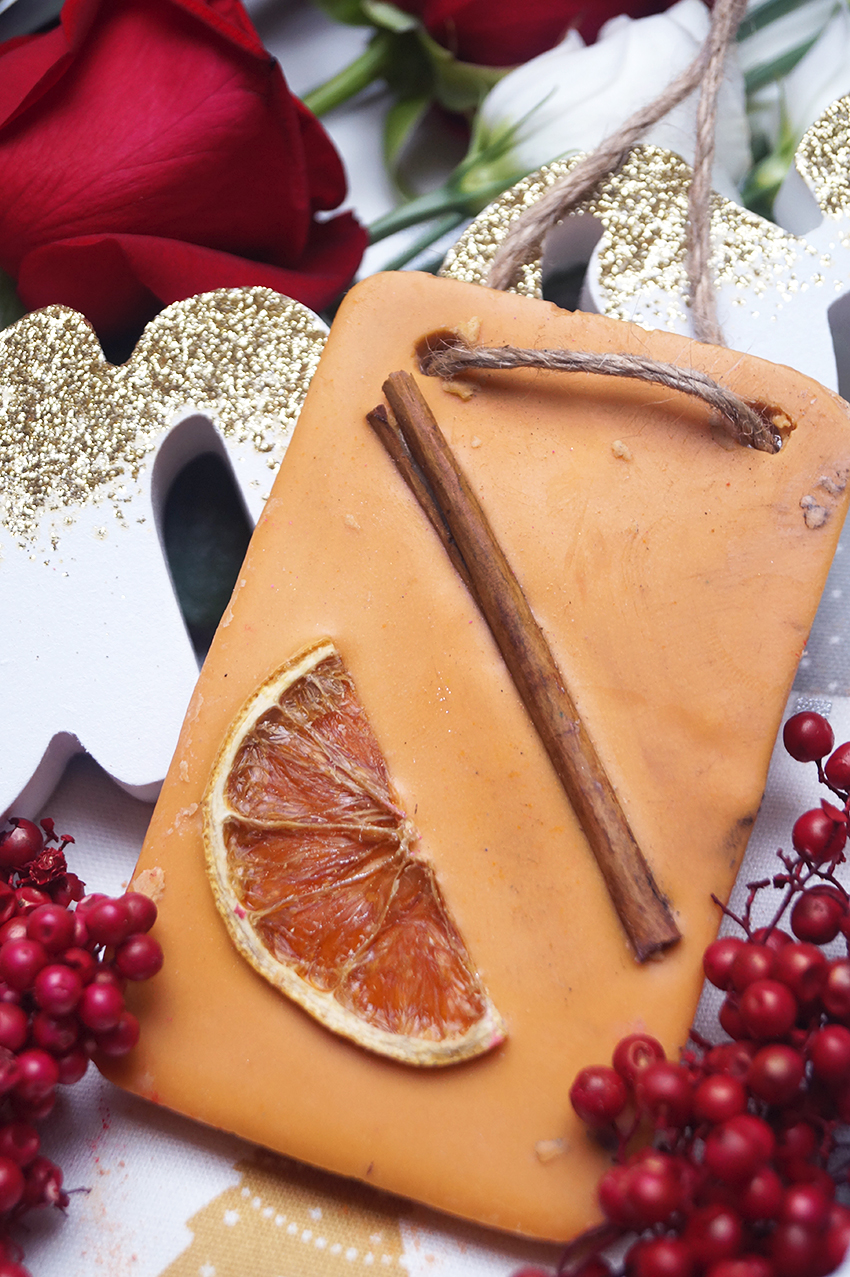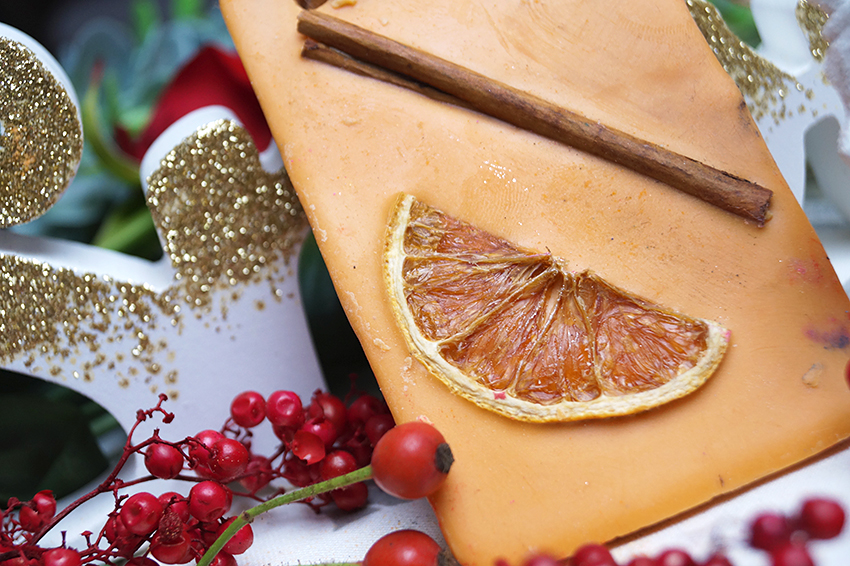 What is it?
Ingredients: Fair Trade Organic Cocoa Butter, PEG-7 Glyceryl Cocoate, Sodium Bicarbonate, Cream of Tartar, Fair Trade Shea Butter, Carnauba Wax, Organic Evening Primrose Oil, Perfume, Benzoin Resinoid, Cinnamon Leaf Oil, Clove Leaf Oil, Lime Oil, Brazilian Orange Oil, Patchouli Oil, Paprika Oleoresin, *Benzyl Benzoate, *Benzyl Cinnamate, *Cinnamal, Coumarin, *Eugenol, *Limonene
Lush Cinnamon Orange Bath Oil Tablet costs £6.95 and is part of the Christmas range. A bath oil tablet is a bath oil, but shaped like a tablet. It's rectangular and thin, and of course a bit larger, but due to the thickness it's the same weight as a regular bath oil. They hang on a string, so you can hang them on your tap. Or you can just hold in and swish it through the water. Or, break even a little piece and toss it into the water. But whatever you do, don't throw in the entire tablet, unless you want to break a few limbs. The tablet is intended for multiple use, so you can choose how much you'd like to add to the water.
Cinnamon Orange mainly contains cocoa butter as a base, with a good portion shea butter and carnauba wax as well. These butters and wax ensures that the product will melt in contact with warm water. Of course, they're also great for moisturizing and caring for the skin. Evening primrose oil is an essential fatty acid that promotes skin's tone and elasticity. Benzoin resinoid prevents the skin from losing moisture by creating a thin protective film on the skin. It's also great to relax muscles. Both cinnamon leaf oil and clove leaf oil stimulates blood flow and warms up the skin. Lime oil contains enzymes which helps to remove dead skin cells, but the scent also has a positive effect on the mind. Orange oil does this as well, but is also anti-inflammatory and antibacterial. Patchouli oil cleanses and soothes the skin.
The scent
The scent is exactly as you would expect: spicy cinnamon with a hint of oranges. That's literally all it is. It's a lovely scent — it's not heavily spicy, but well balanced by the addition of orange. To me, the scent almost resembles Hot Toddy! They also both contain the same ingredients — although Cinnamon Orange smells a tiny bit more fruity. But what an amazing scent this is! This is the kind of scent I want for Christmas. Not citrus. Capiche, Mark?
Play the video in 2160p quality and on full screen for the best experience! The video has been sped up.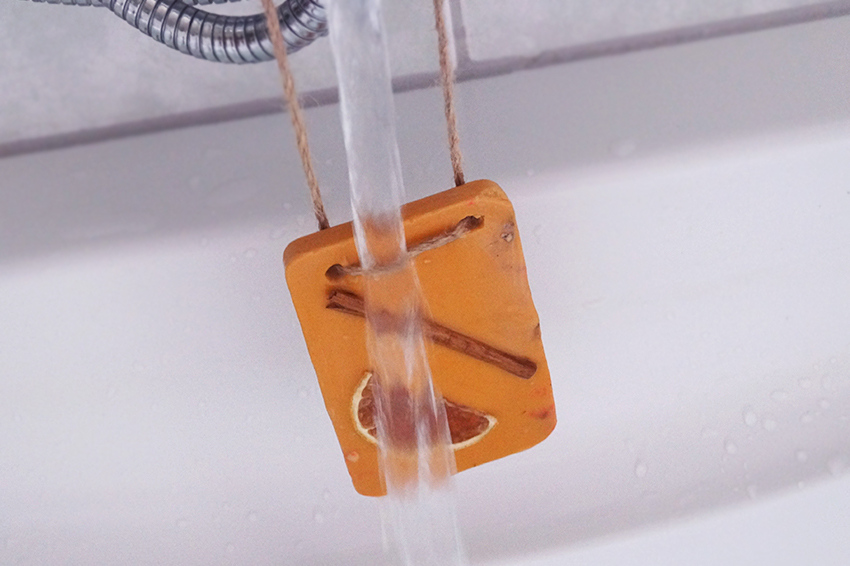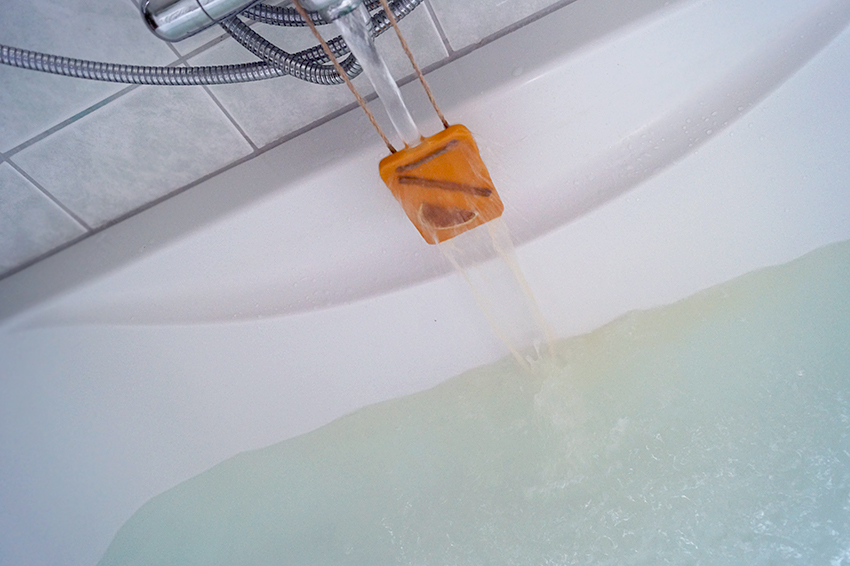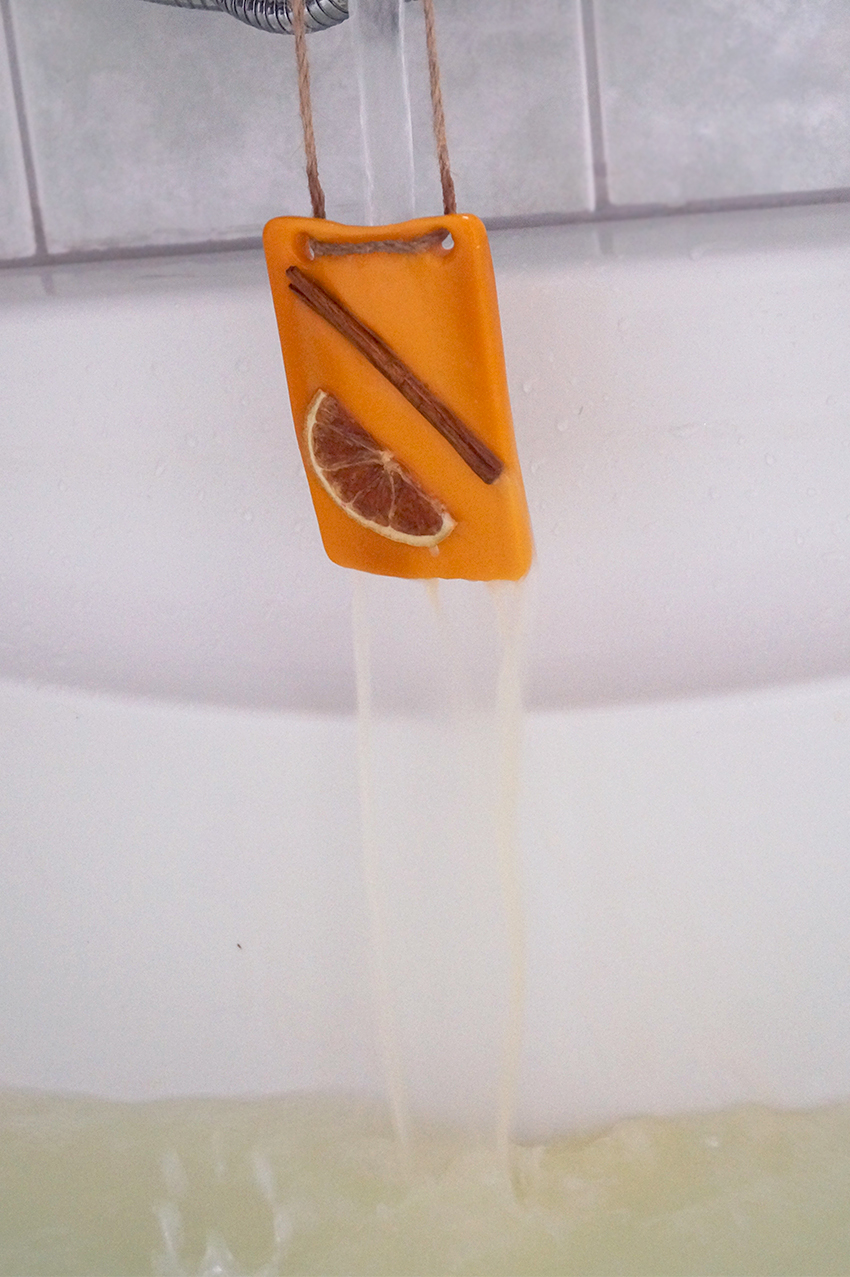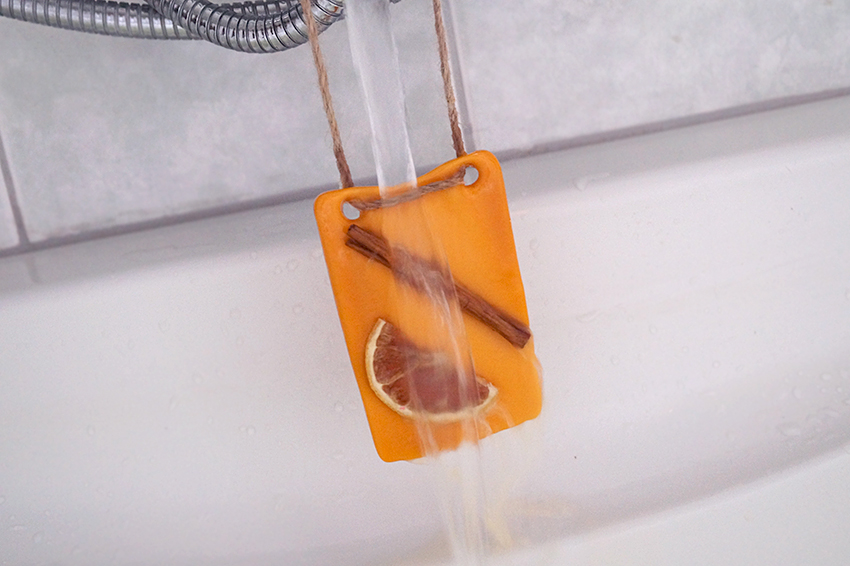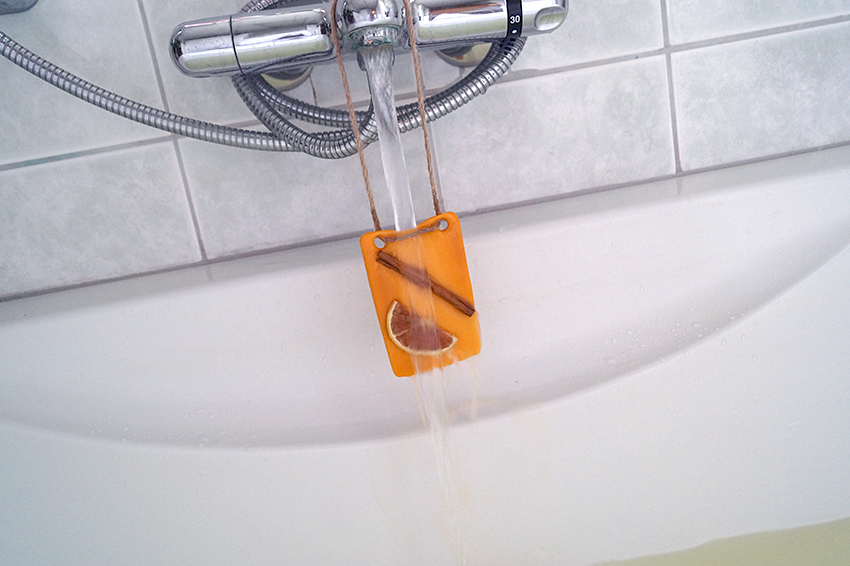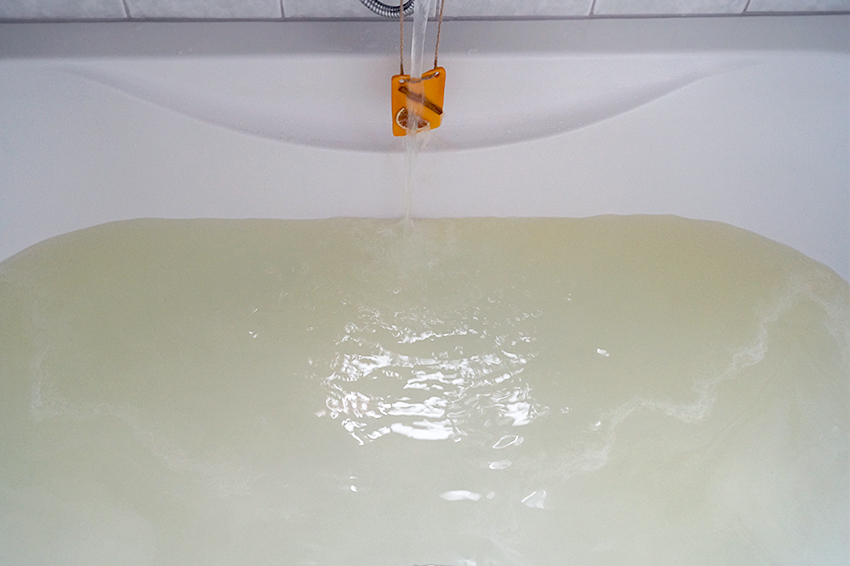 What do I think?
I just had a long walk through the rain and wind, so when I got home there was no doubt about what I was going to do: fill up the tub and hang Cinnamon Orange on the tap. In the beginning, it wiggles back and forth due to the force of the water, so try to keep it steady. In about one minute, half of the tablet has melted and when I grab it, the tablet comes loose from the string and falls into the tub. As you can see in the video 😂 So keep in mind that the tablet melts very quickly — after one minute hanging in warm water, halve of the tablet is gone.
The water itself is not attractive. It's light brownish, very greasy — although that is exactly what my skin needs. But unfortunately, the butters do not only stick to my skin, but also to the rim of the bath. There's a greasy, sticky, yucky layer on the rim. It needs a good washing, but we'll take that for granted, right? My skin is visibly hydrated, it contains a slightly greasy layer that will hydrate my skin for hours. My skin feels smooth, soft and supple — and both my bathroom and my skin smell like Cinnamon Orange for a long time. Even after 8 hours you could still smell Cinnamon Orange in the bathroom, probably due to the stickiness in the tub.
I would recommend breaking off a piece, perhaps about a quarter, and toss it into the water. You can also swish it through the water a few times, or hold it under the water's flow, but be careful not to use too much. It's lovely for your skin, but for your bath.. not so much. If you'd use about a quarter, it will cost you £1.75 per bathing session, which is pretty good. I also suggest combining these tablets with a bath bomb, otherwise you'll end up with a very boring bath. It's a great way to add some extra hydration to the water, whenever your skin needs it!

Lush Cinnamon Orange Bath Oil Tablet costs £6.95 (England).