Review: Lush Turmeric Latte Bath Bomb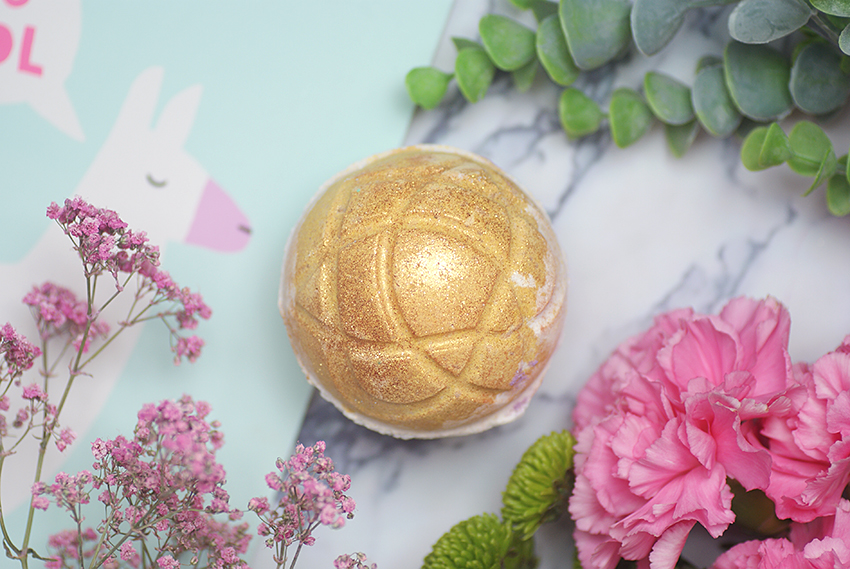 Turmeric Latte is a bath bomb that I originally didn't really want to buy, because it contains coconut and turmeric — two ingredients that I really hate. Turmeric is the main ingredient of curry, and as you (hopefully) know by now, I find curry really awful. So yeah, I'd just skip Turmeric Latte. Until.. I heard around me that Turmeric Latte doesn't really smell like turmeric, nor does it smell like coconut. Plus, the bath art was very beautiful as well. Great, now I probably need it. And indeed, not much later, Turmeric Latte turned up on my doorstep. Today's the verdict!
If you're curious about this bath bomb, then keep on reading.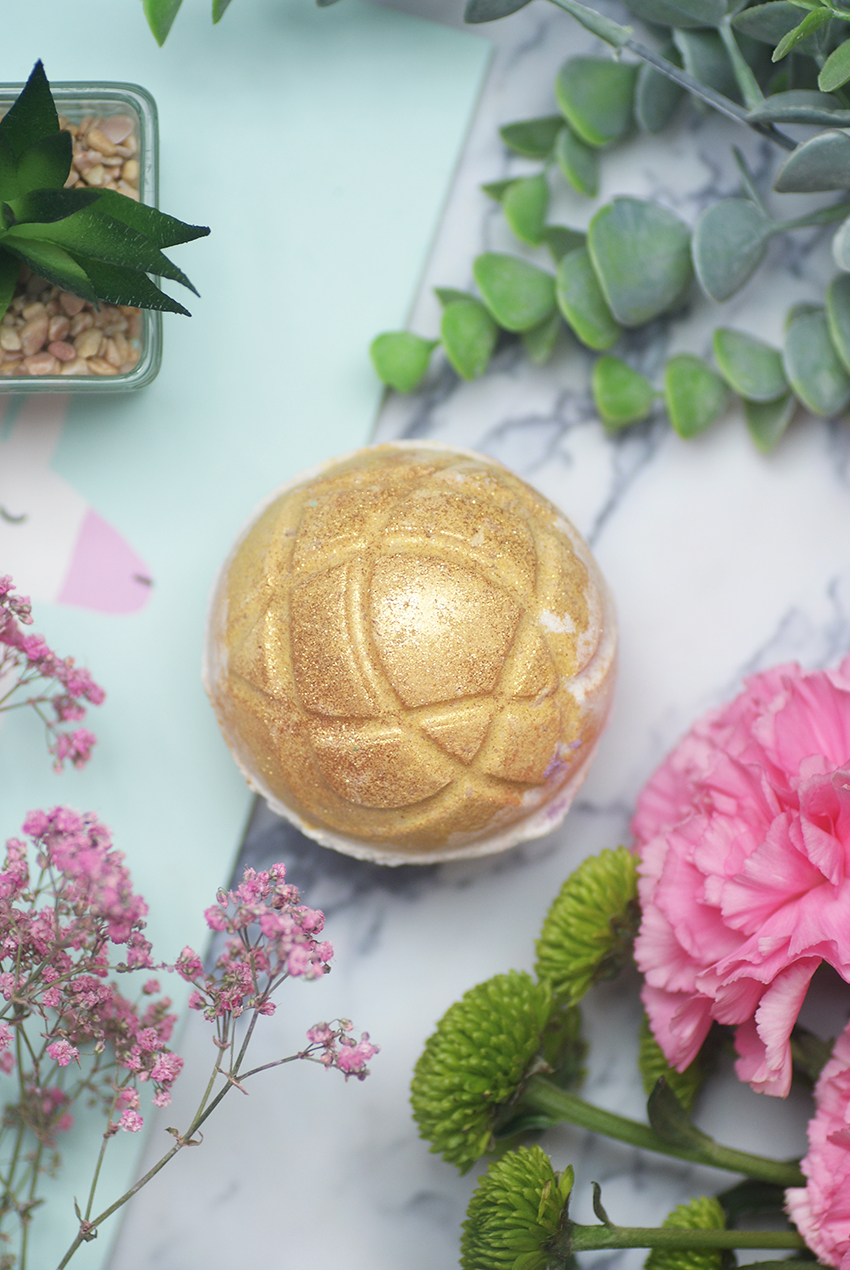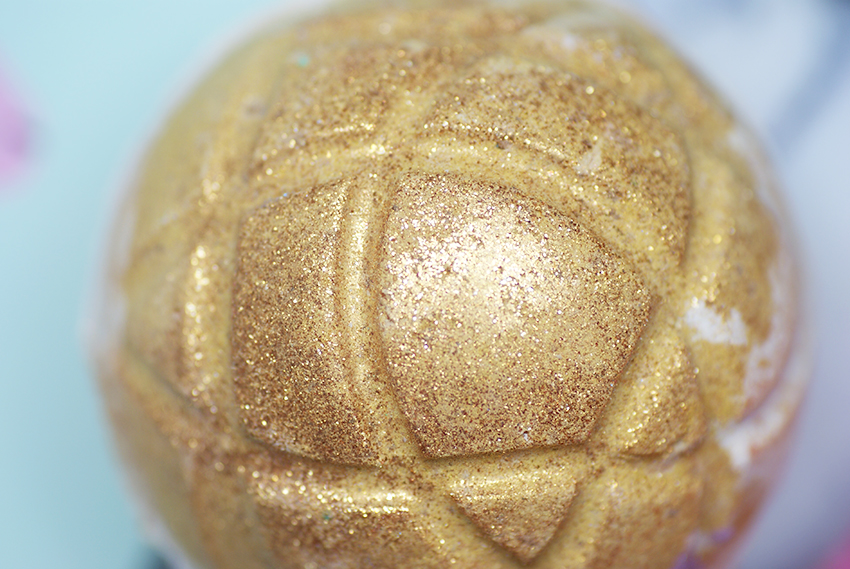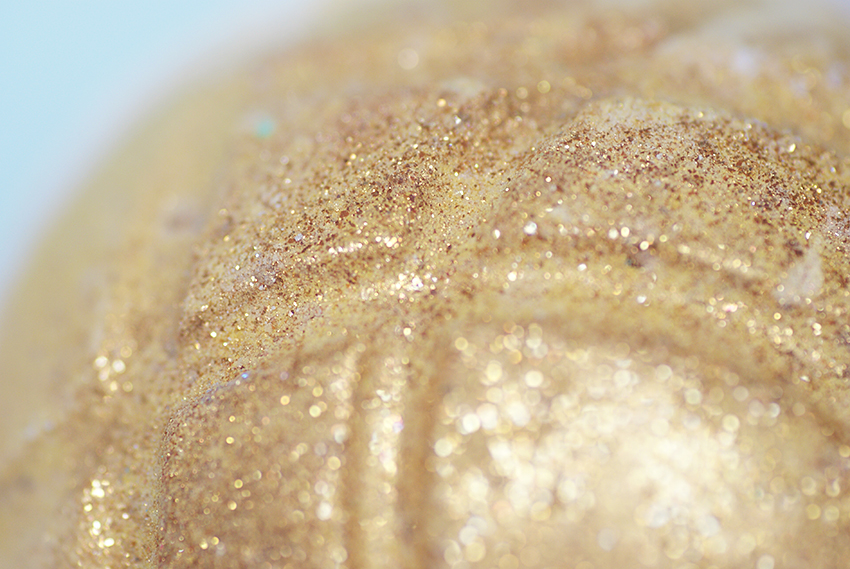 What is it?
Ingredients: Sodium Bicarbonate, Citric Acid, Cornflour, Synthetic Fluorphlogopite, Titanium Dioxide, Gardenia Extract, Tonka Absolute, Benzoin Resinoid, Vanilla Absolute, Coconut Milk Powder, Turmeric Powder, Cream of Tartar, Water (Aqua), Sodium Coco Sulfate, Cocamidopropyl Betaine, Silica, Tin Oxide, Dipropylene Glycol, Coumarin, Eugenol, Perfume, Colour 77491
Lush Turmeric Latte Bath Bomb costs £6.95 / $7.95 and is part of the temporary Harajuku range, consisting of 54 new, exclusive bath bombs. Turmeric Latte is a beautifully designed bath bomb, colored white and gold and coated in glitter. I live for glitter, so that is already a plus for me. The impression I got from this bath bomb is that it's spicy and warm. And that's a very welcome scent after all the sweet, fruity and fresh scents.
Turmeric Latte contains gardenia, tonka, benzoin resinoid, vanilla, coconut milk powder and turmeric. I have to say that, thank God, it does indeed not really smell like curry or turmeric. I find the scent to be a bit spicy with a very sweet and warm note because of the vanilla and tonka, but it also has something floral to it. But if I had to describe it in a few words, I'd say: spicy notes and warm caramel. It's an amazing scent, I really love it. Lush definitely needs to focus on these scents more, in stead of citrus scents. This one's quite a wintery scent, but believe me, I'd bathe in these scents 365 days a year.
Play the video in 2160p quality and on full screen for the best experience! The video has been speeded up.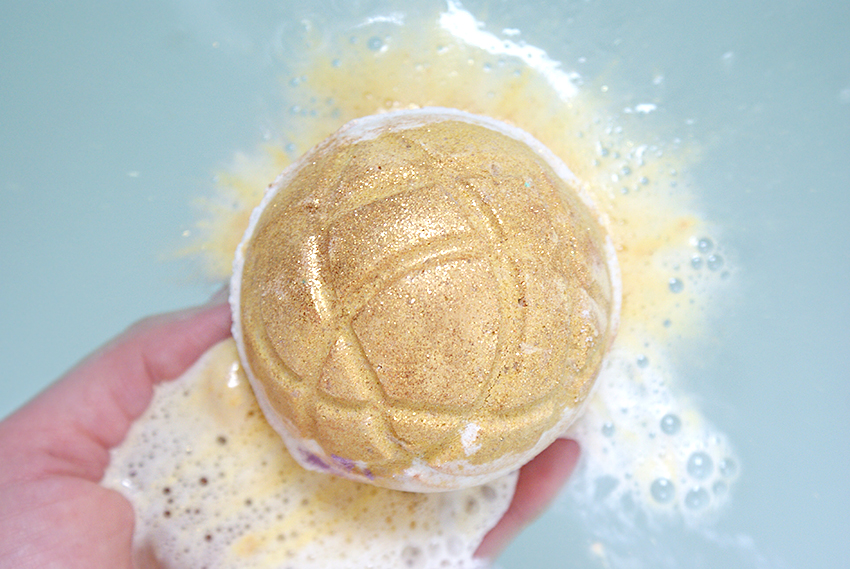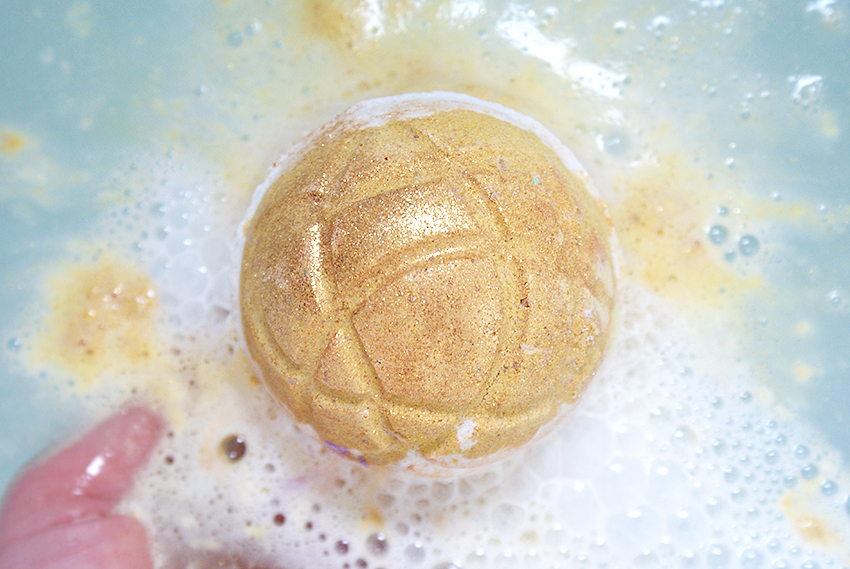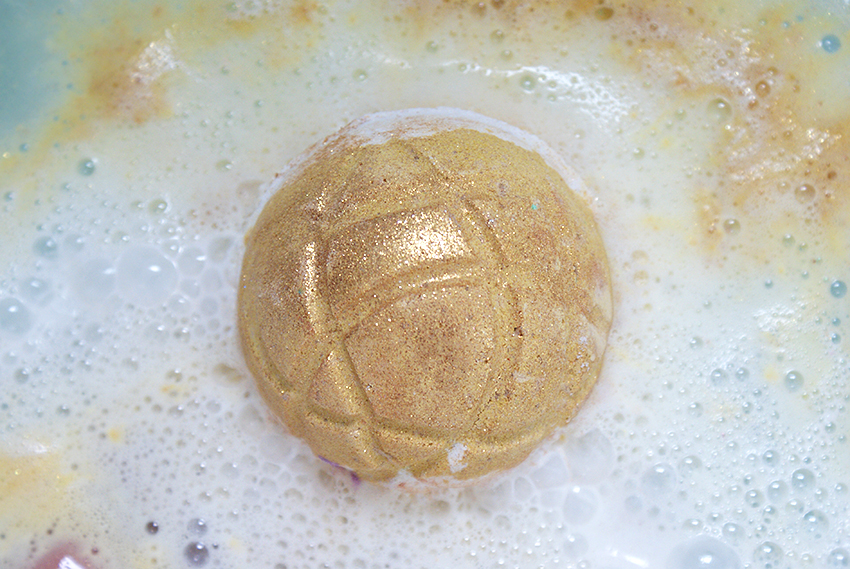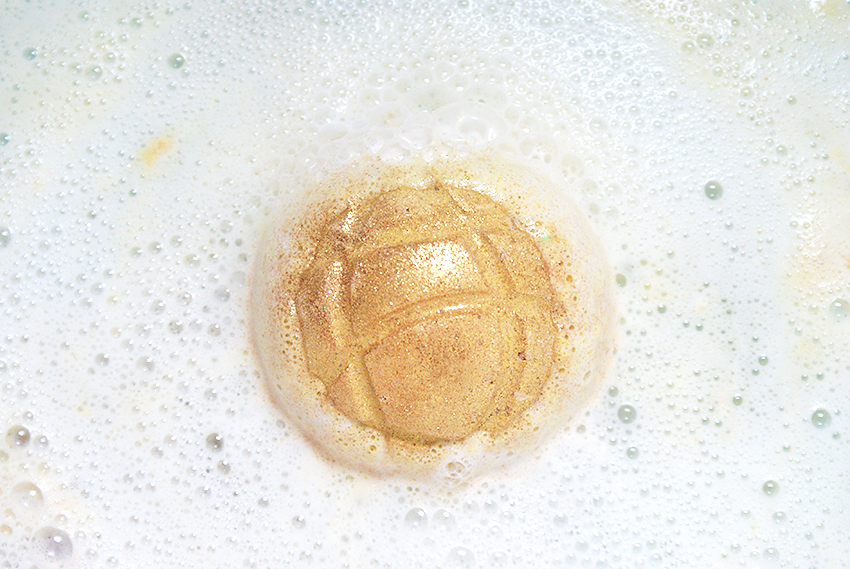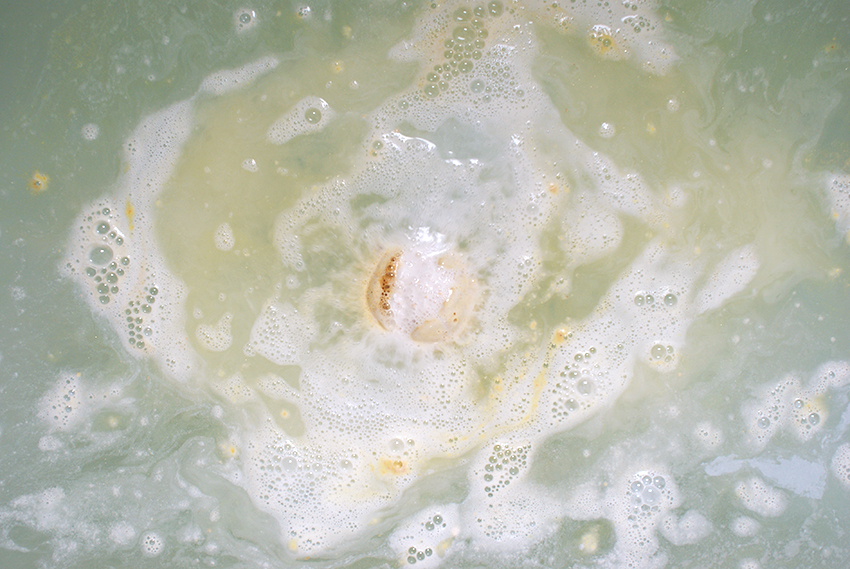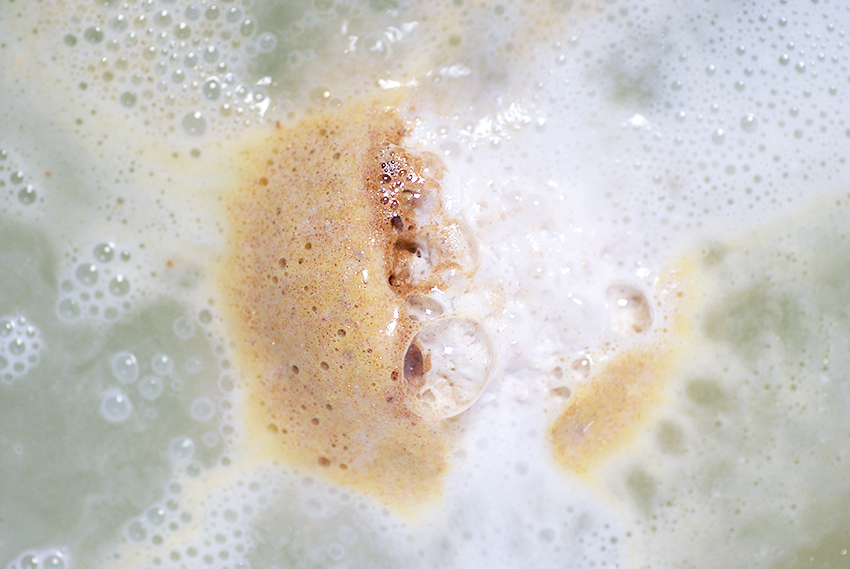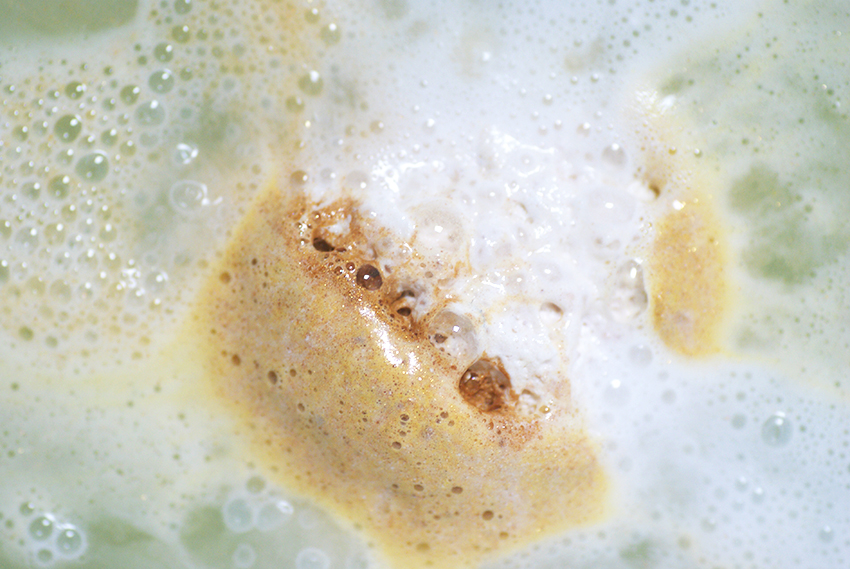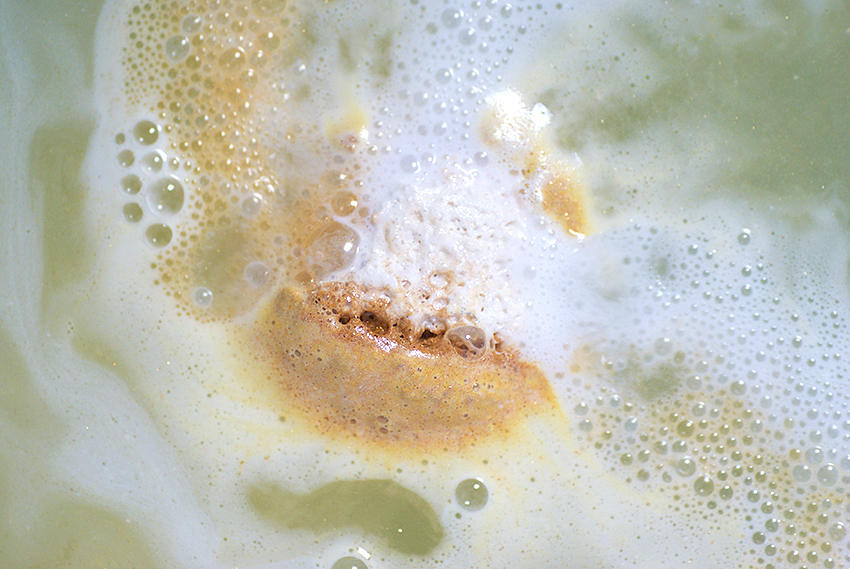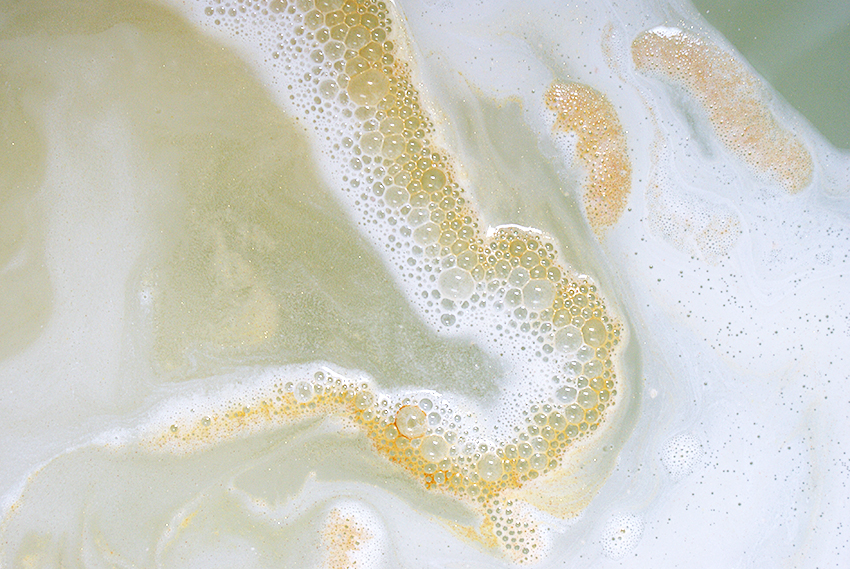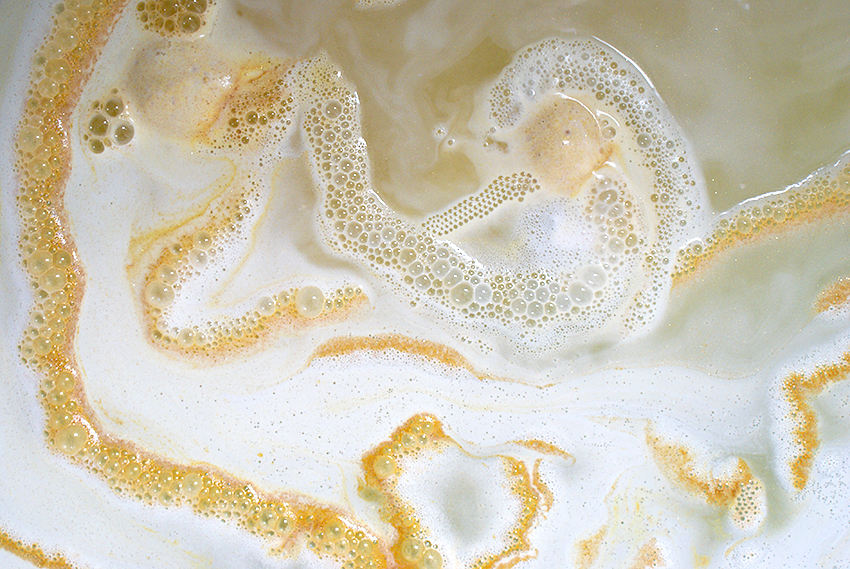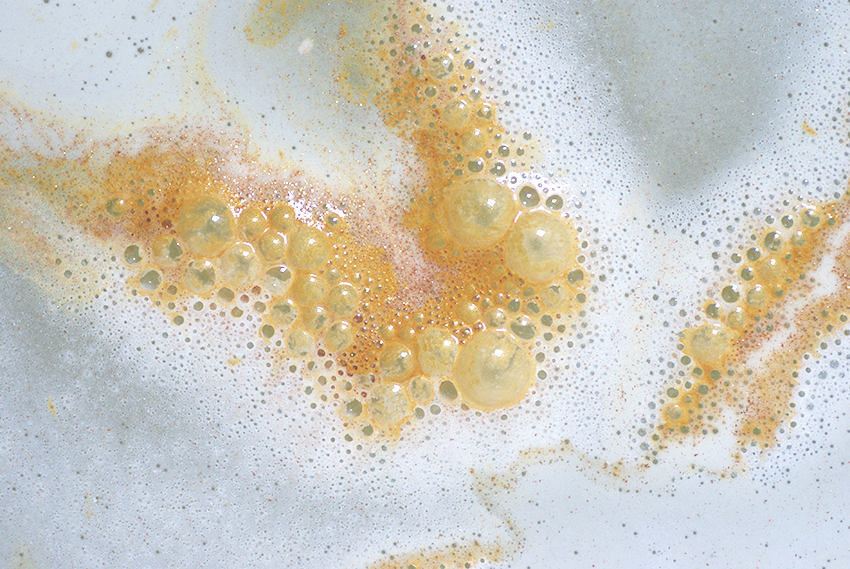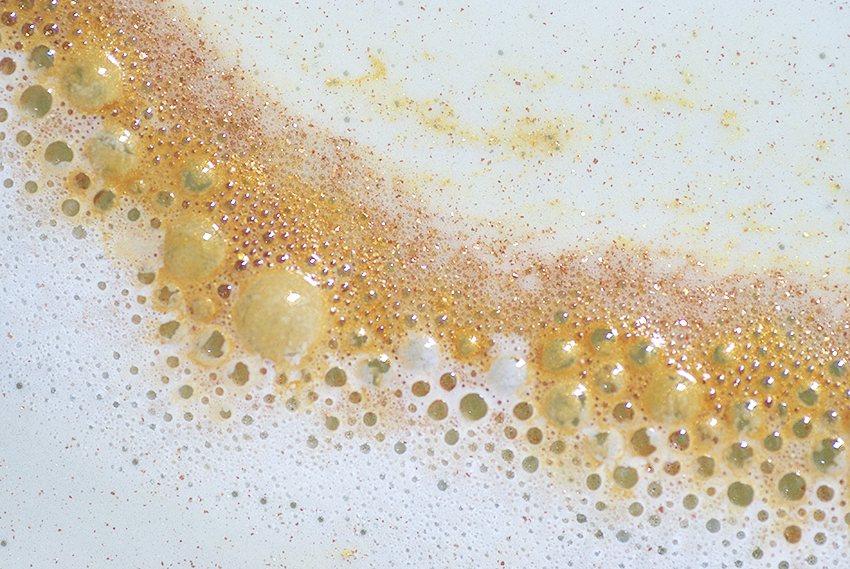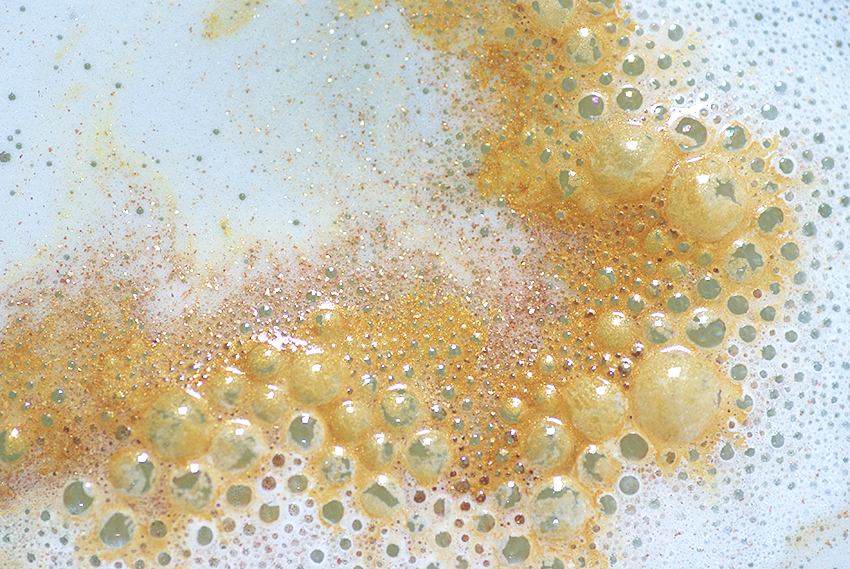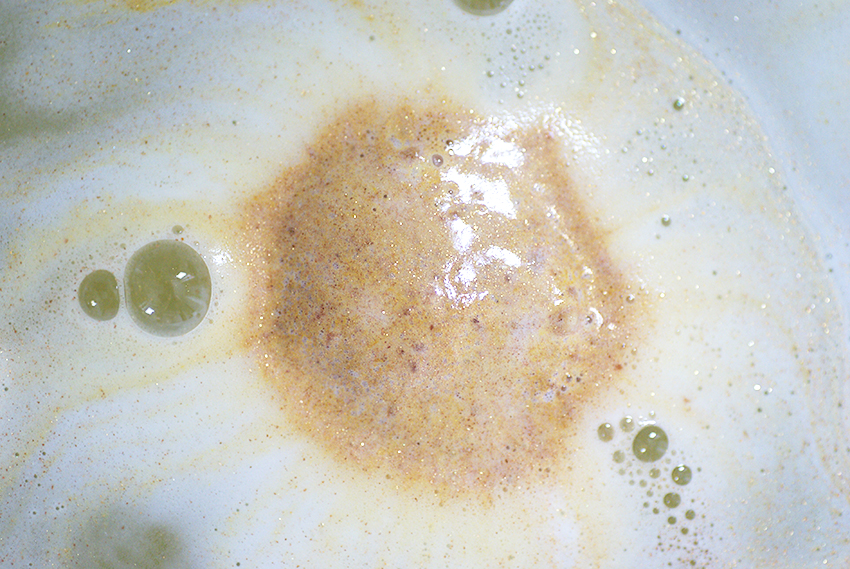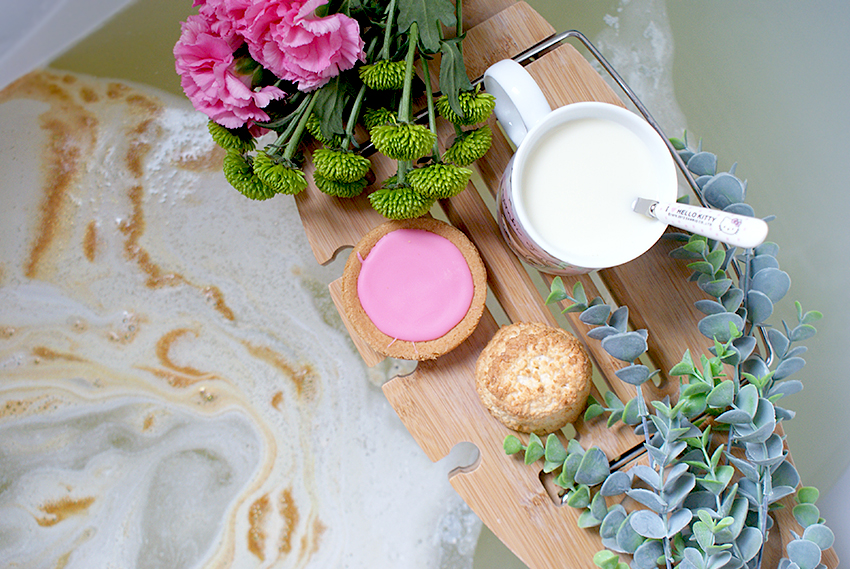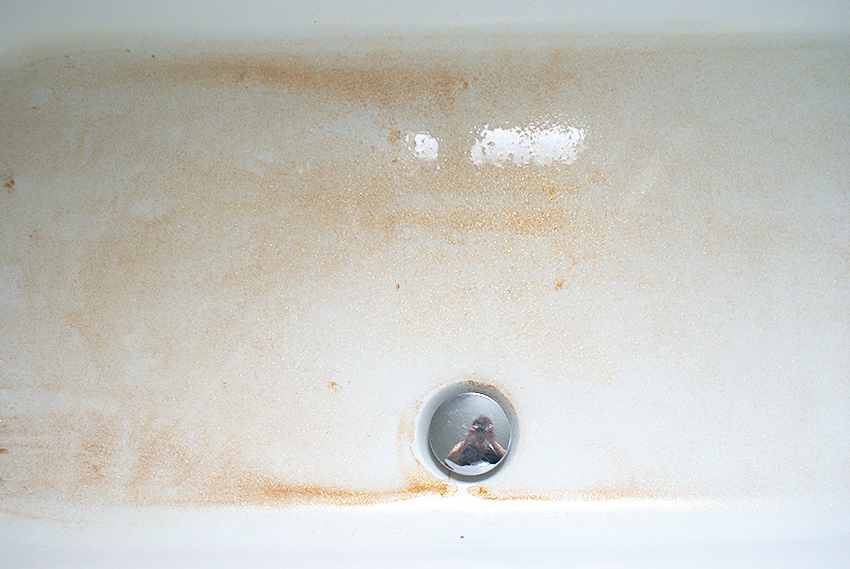 What do I think?
White and gold foam is being spewed out from the bath bomb and creates beautiful swirls on the water. Golden glitters also spread over the surface, while the water itself transforms into a golden shade. After a few minutes, orange and brown strings will appear on either side of the bath bomb, making it rotate through the water, creating gorgeous colored swirls. It's a very frothy bath bomb! It's not just the colors and the scent that reminds me of a latte, but also the bath art! I LOVE how they did this.
Bathing with Turmeric Latte was wonderful — the water ended up having a kind of milky yellow/golden hue, filled with golden lustre. Ugh, golden sparkly bath water, you could NOT have made me happier. White flakes also floated on the surface, I guess this is the coconut milk powder. The white, golden and brown foam on the surface eventually dissolved in the water and made the water feel incredibly soft, along with the corn stach, resulting in a baby soft skin afterwards. My skin was gilded in golden glitters, but not in a stripper way, just really subtle. The residue glitters that were left behind in the tub were easy to rinse away. The only downside is that I didn't really notice the scent, but I seem never to notice this, so that is probably just me. All in all this is a wonderful bath bomb! Highly recommended.

Lush Turmeric Latte Bath Bomb costs £6.95 (England) / $7.95 (USA).