Review: Lush Volcano Fun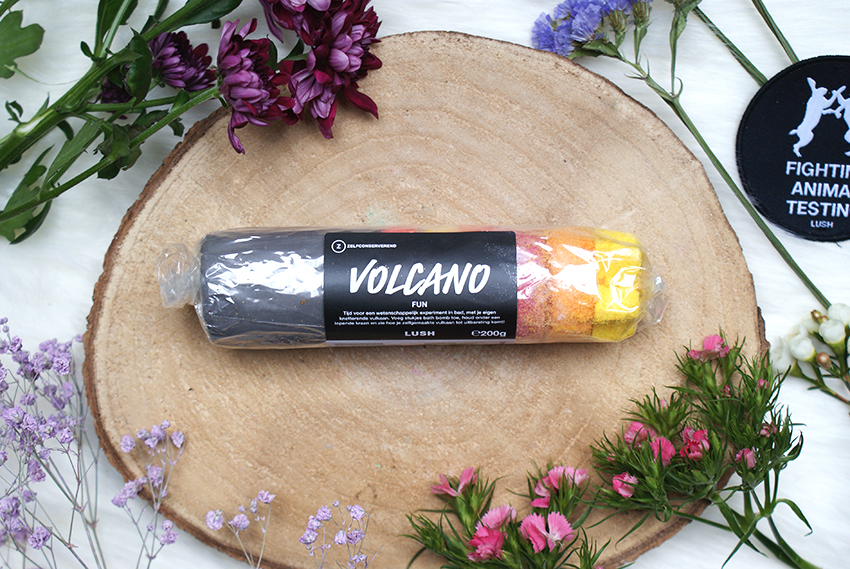 Normally I'm not really into Fun. Well, I'm into fun, but not the Lush Fun product. I mean, it's a cool and innovative product, but it's just not for me. And since I don't have kids, I never really bought it. If you have kids, Fun is great and such. You can clay it and then use it as a shower gel, bubble bar, soap, you name it.
But when I saw this Volcano Fun pass by on my Instagram timeline, it did somehow grab my attention. You shape it like a volcano and then add water, so the volcano erupts. There's a few pieces of bath bomb inside, containing cracker candy. I got too curious and decided to give it a go. Well, it went awful. If you're curious, keep on reading.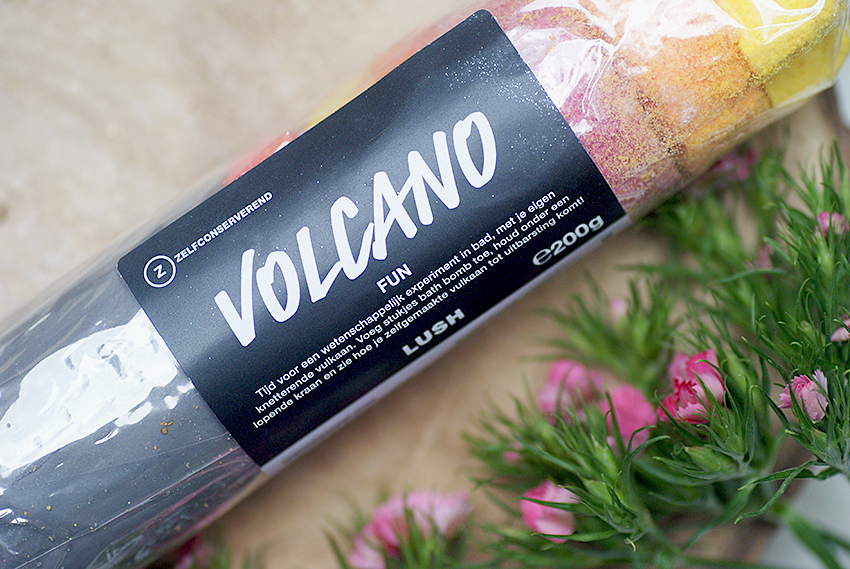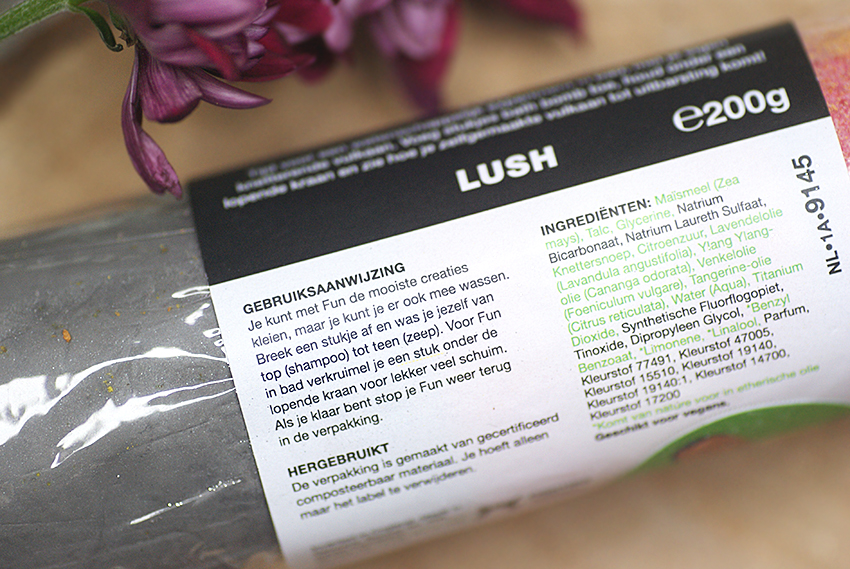 What is it?
Lush Volcano Fun costs £7.95 / $12.95 and you'll get 200 grams of product. It's part of the Easter collection. This Fun is a little different than the regular Fun, because Volcano also contains 3 pieces of 'bath bomb' with crackling candy. You can see it in the photo below — the 3 pieces at the right. The yellow one at the end has the shape of a star. The idea is that you build a volcano with the clay, and then put the pieces of bath bomb in it. Add some water, and… eruption! It'll start fizzing and erupting, whilst the cracker candy adds a cool sound effect. Well, how cool is that?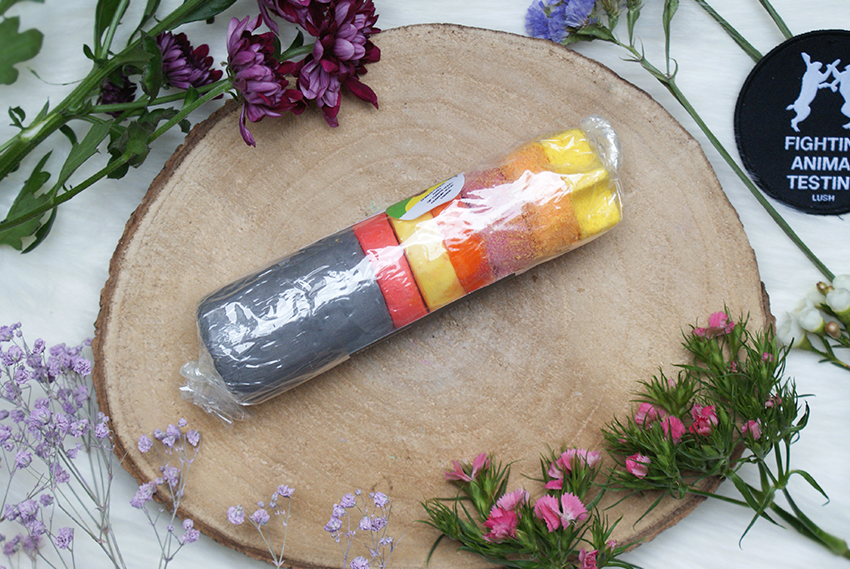 What's inside?
Ingredients: Corn Starch (Zea Mays), Talc, Glycerine, Sodium Bicarbonate, Sodium Laureth Sulfate, Popping Candy (Isomalt, Lycasin, Carbon Dioxide), Citric Acid, Lavender Oil (Lavandula Angustifolia), Ylang Ylang Oil (Cananga Odorata), Fennel Oil (Foeniculum vulgare), Tangerine Oil (Citrus Reticulata), Water (Aqua), Titanium Dioxide, Synthetic Fluorphlogopite, Tin Oxide, Dipropylene Glycol, *Benzyl Benzoate, *Limonene, *Linalool, Fragrance, Iron Oxides, Yellow 10, Orange 4, Yellow 5 Lake, Red 28, Red 4, Red 33
Volcano Fun contains lavender oil, ylang ylang oil, fennel oil and tangerine oil. I had no idea how it would smell, but since I like 90% of Lush's scents, I thought I'd be good. I thought. But when I opened the package, the scent hit my face like a bitchslap. A strong, pungent scent of lavender. I love lavendel though, but this is a whole different smell. There's something in the smell, I'm guessing it's the fennel, that makes the overall scent just awful. The orange and yellow Fun seem to smell a little less like lavender, maybe because that's the part containing the tangerine oil? I mean, the color fits the tangerine oil exactly. But it could also be possible that all the Fun pieces share the same scent. However, I don't like it. It's okay while it's still in the package though. But that would make the kneading part a bit difficult.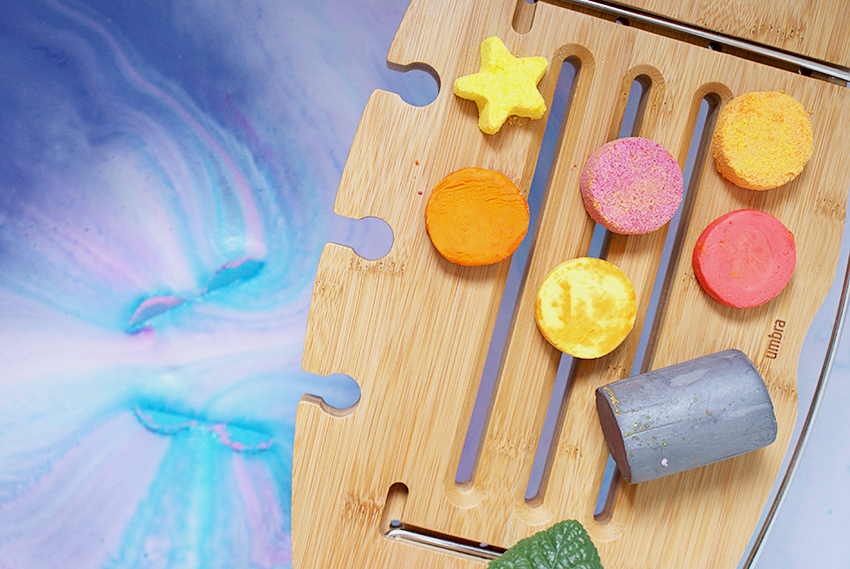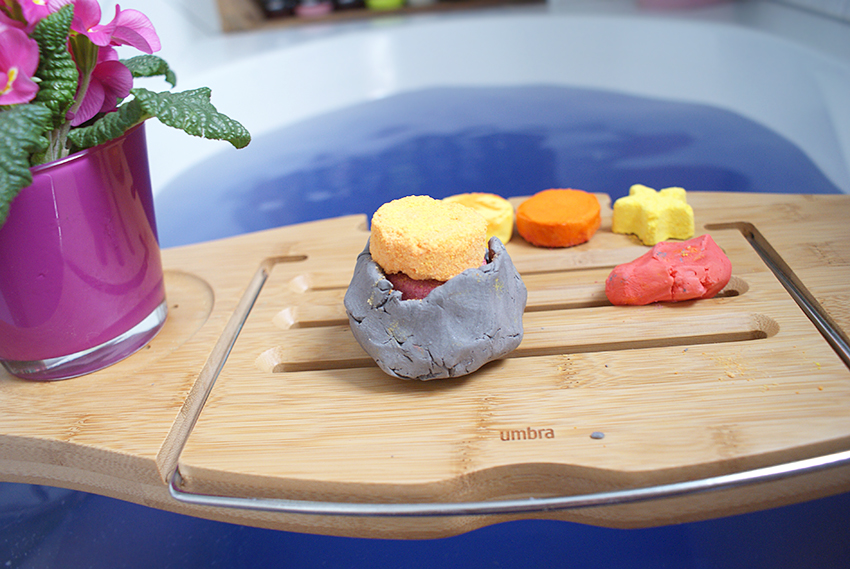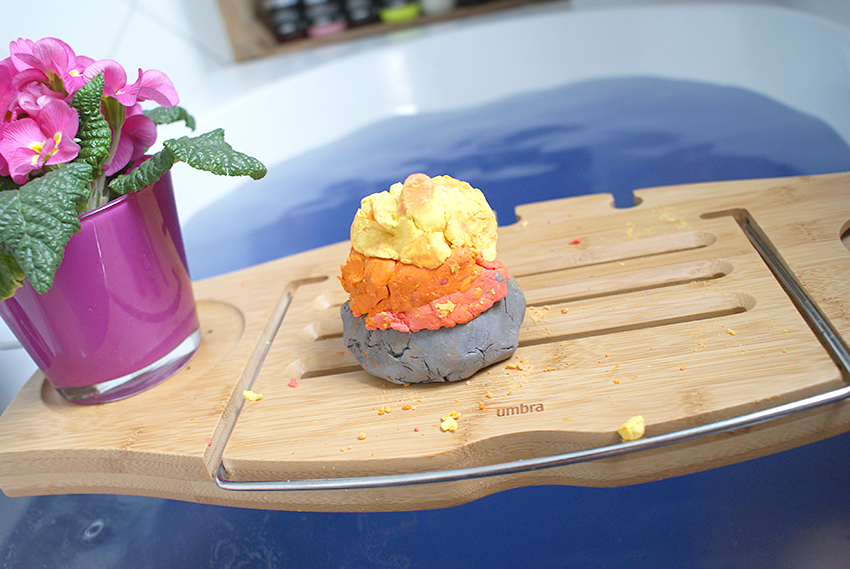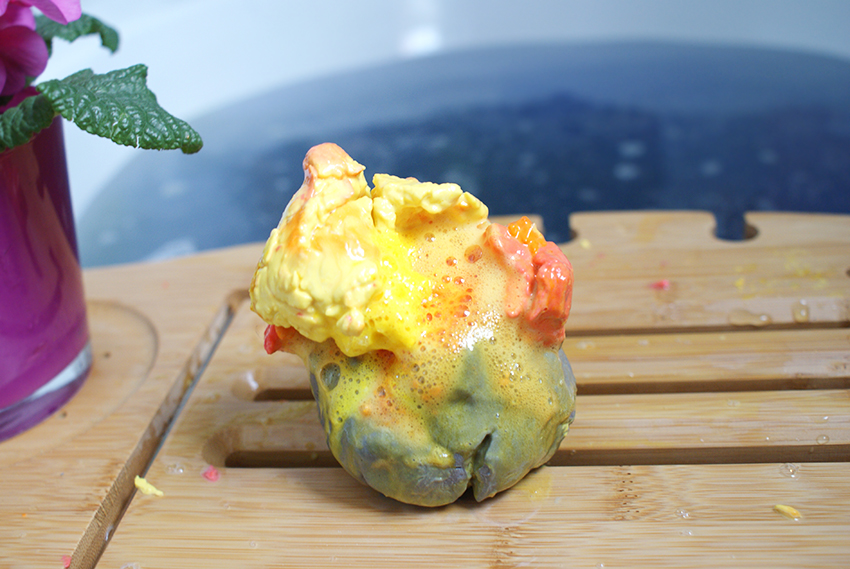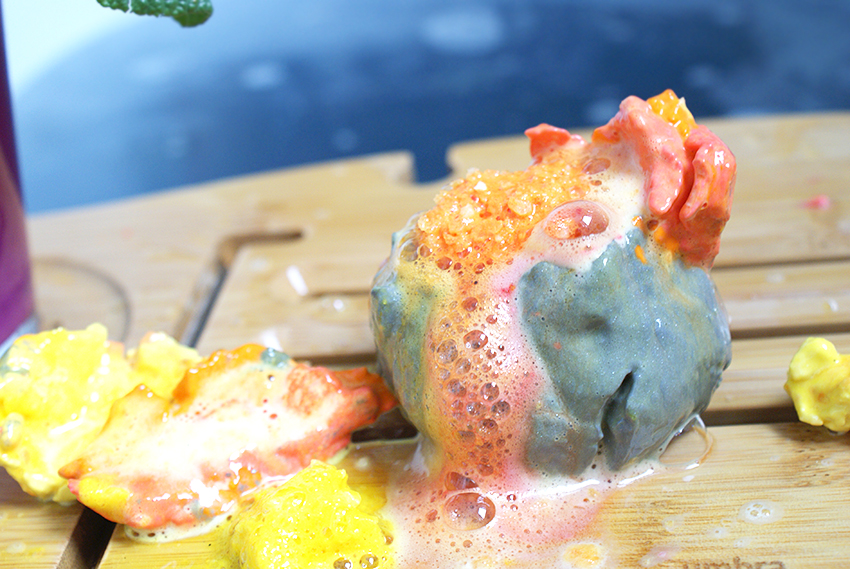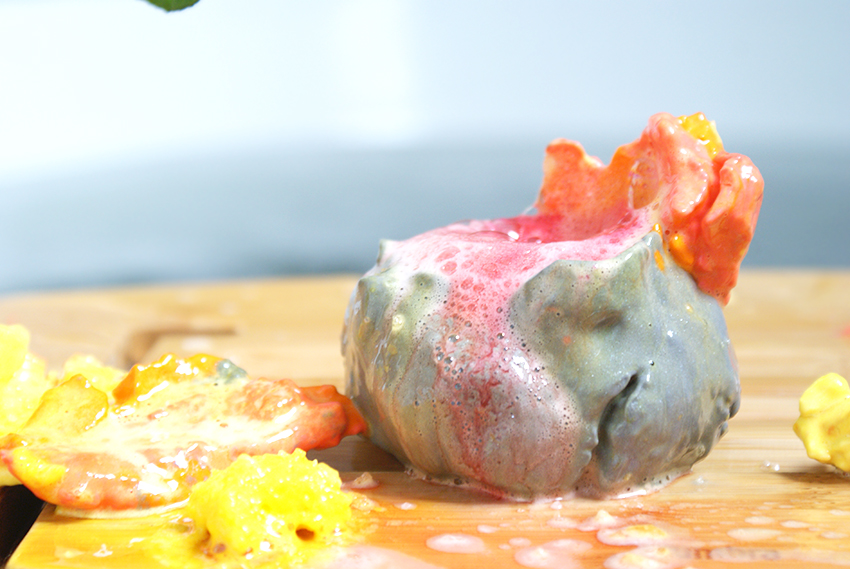 Normally, I would write here that you should play the videos on the highest quality and on full screen. But believe me, you don't want see this misery in high quality. But if you insist, watch them at 2160p for the best quality.
What do I think?
Hahahahahhahahahahaha, look what a disaster. Really, it was awful. Perhaps it's my own fault, because I had no idea how to shape a volcano. I decided to use this product while I was in bath, in case I'd spill something. Before using Volcano Fun, I had thrown Rose Butterfly into the tub.
The clay was very difficult to knead and cracked very quick, causing it to continuously fall apart. I had shaped a pretty good volcano at first, but the opening wasn't big enough to put the pieces of bath bomb in it. The yellow, orange and red clay must represent lava, but it was so hard to put it around the gray clay properly. Long story short, it was a disaster. Finally, after 10 full minutes of kneading, shaping, cursing and crying out of misery, my volcano was finished. As you can see above, it looks more like three scoops of ice creams 🙄
Now that you've successfully created a volcano, it's time to pour some water into the crater. And I mean, a good portion of water. Not a few drops like I did. Because I kept adding so little water, the eruption was rather sad than impressive. It's better to fill a measuring cup with water, and pour the water directly into the crater. Because of this, my volcano was lazy AF. Like me. So there's a match, though.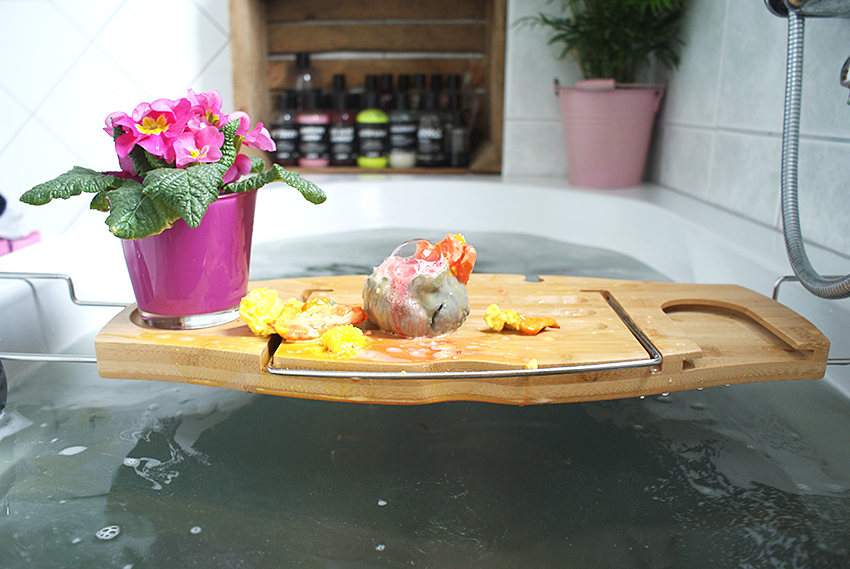 Well, after my Fun leaked through the bath board, the water looked just like the current weather: gross and gray. And that while the water was REALLY pretty. Plus, everything reeked of weird lavender. My volcano had such an awkward eruption, I didn't know wether I should laugh or cry. I ended up doing both.
So, my experience with Volcano Fun was not a success. Hopefully you'll learn from my mistakes, which I will repeat again: build a decent, sturdy volcano and pour a lot of water into the crater. Otherwise you'll get a natural disaster like I had, but not like the one it had to be. I ended up kneading the remains into one large ball and put it back in the package, but seeing as the scent is so vile, I don't think I'll ever use it again. This truly was a natural disaster.

Lush Volcano Fun costs £7.95 (England) / $12.95 (USA).