Review: Lush Flight Bath Bomb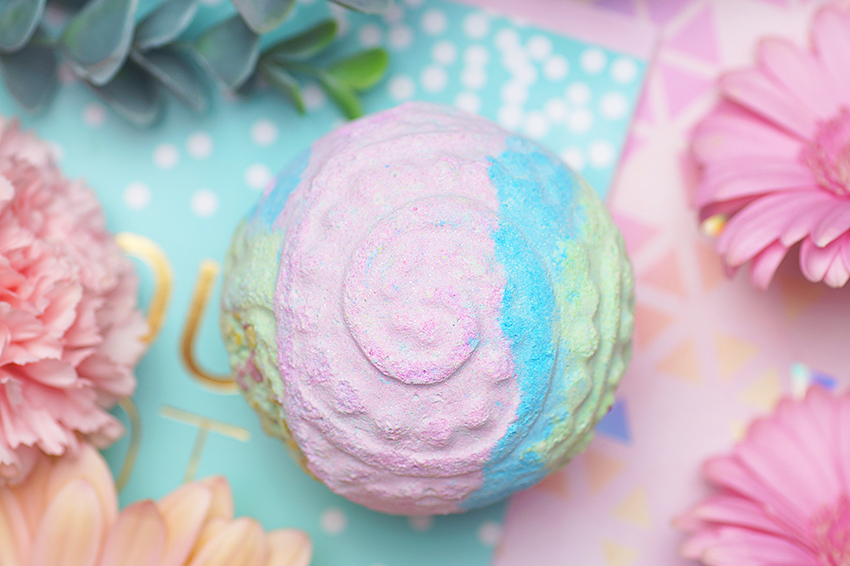 Yesterday I told you guys that I had won three Lush bath bombs on Instagram. And not just three bath bombs, but three bath bombs that are Japan exclusive! As a Harajuku range enthusiastic, I was so happy to review those beauties. I dove into the tub with Temple in the Skies immediately, but today's it's Flight's turn. Somehow it hurts to throw these gorgeous bath bombs into the tub, but on the other hands I'm also reaaally curious how they look like in the water! If you're curious too, then keep on reading.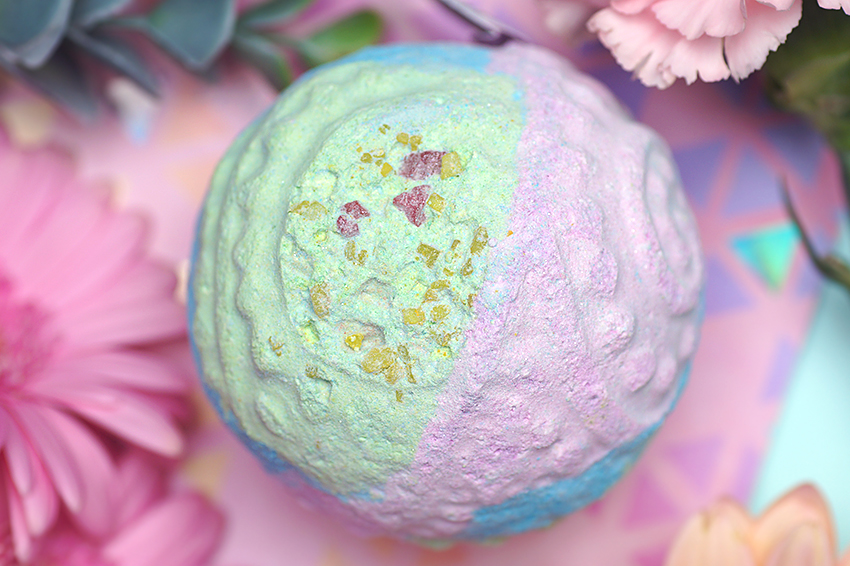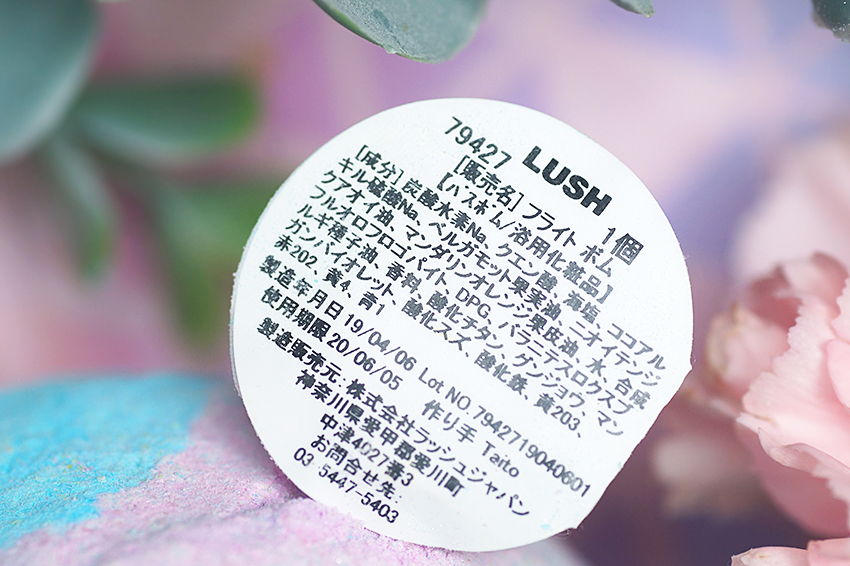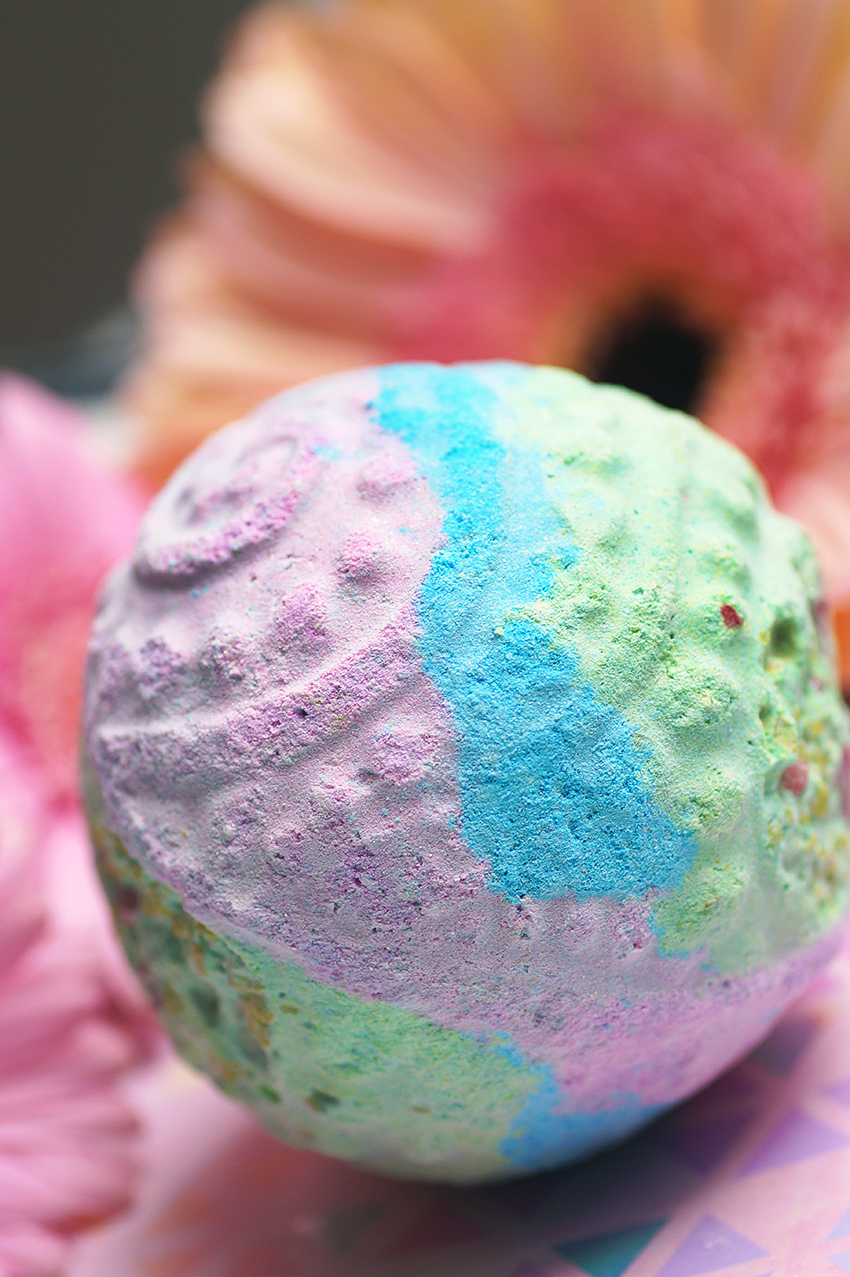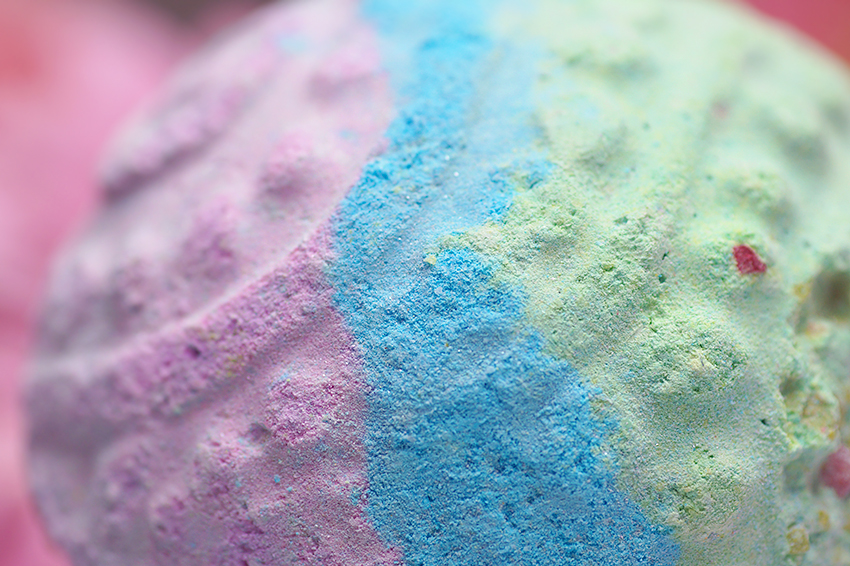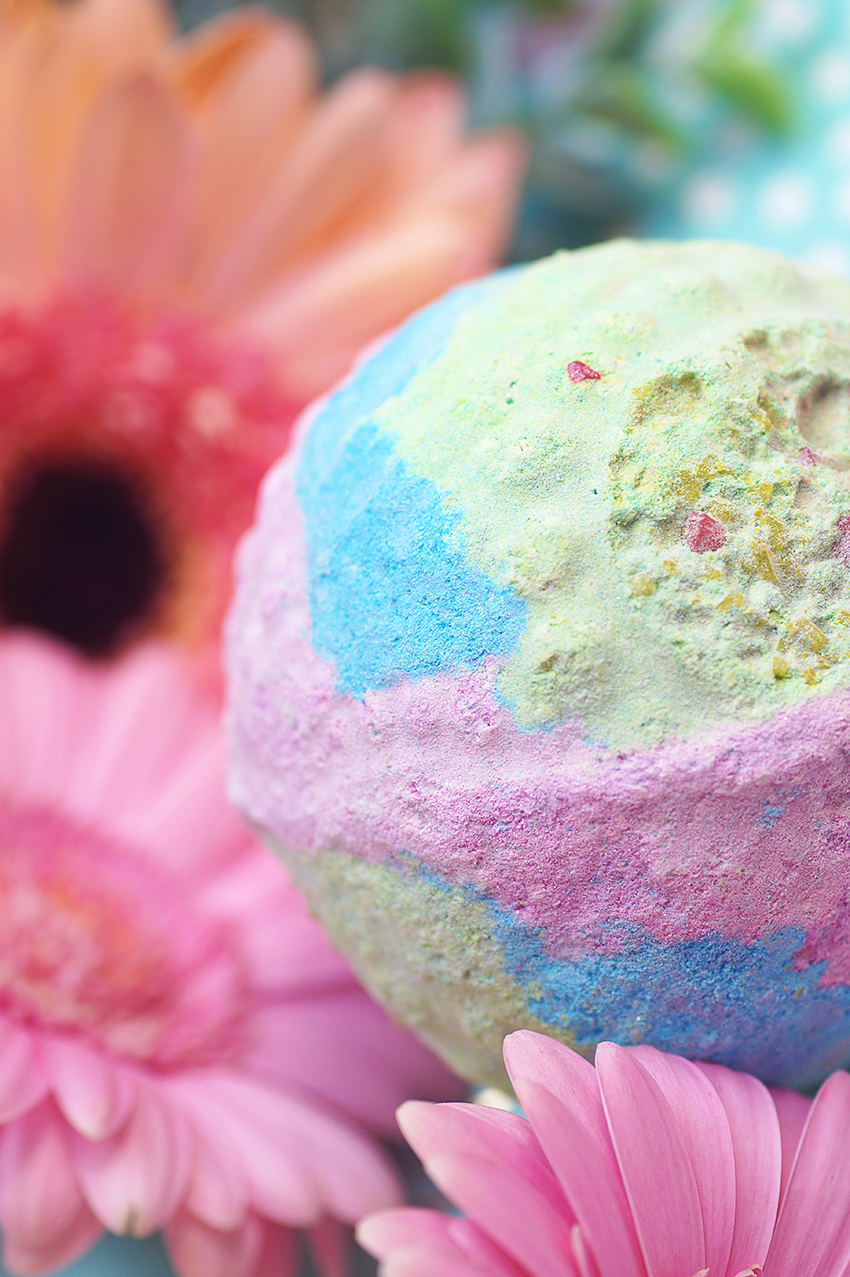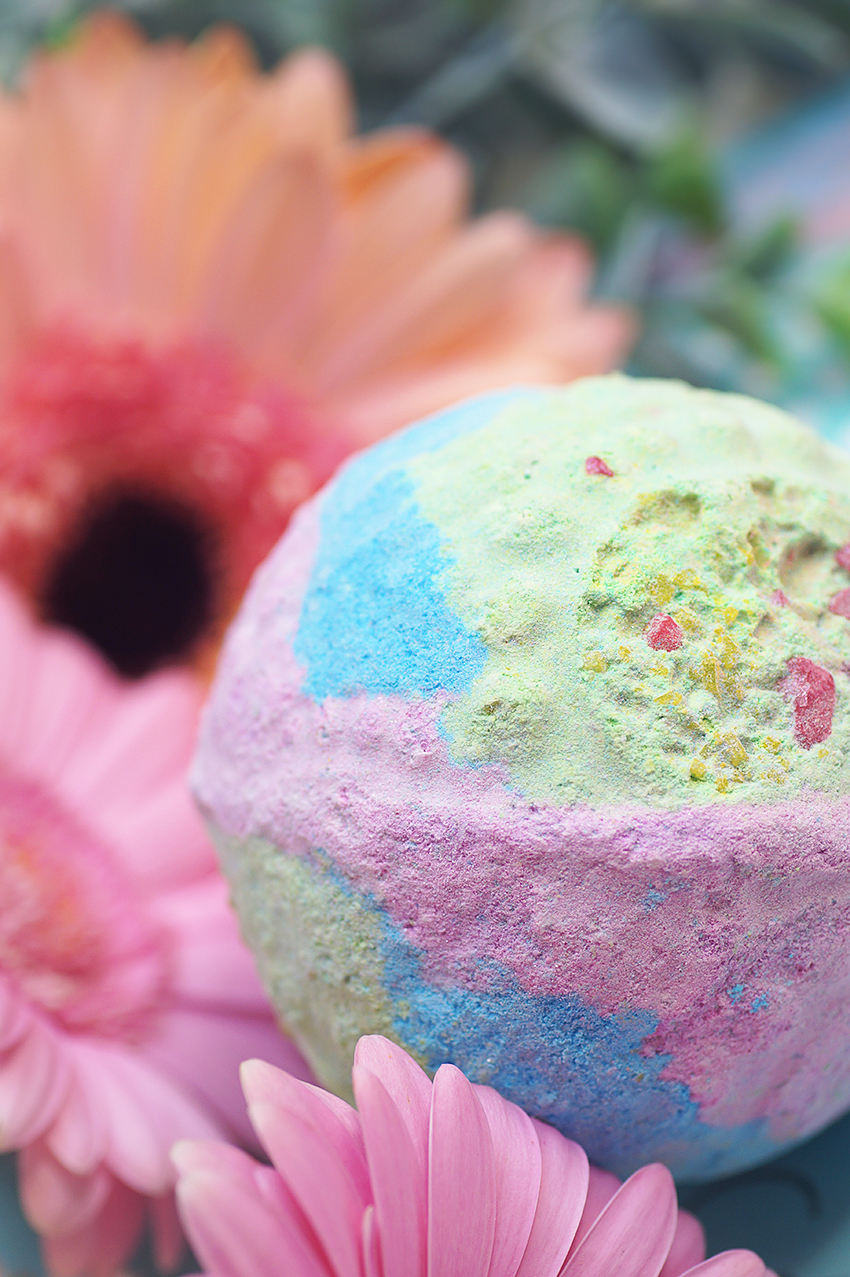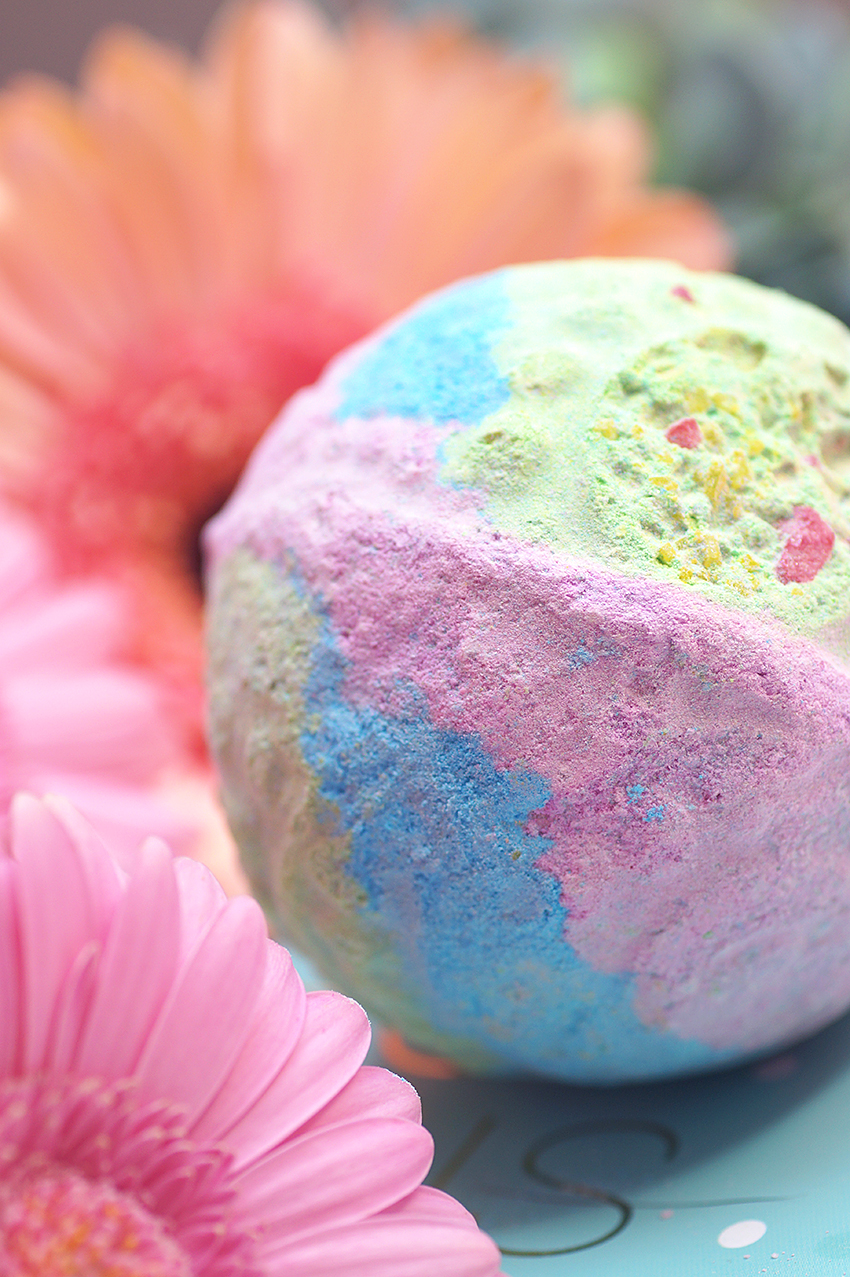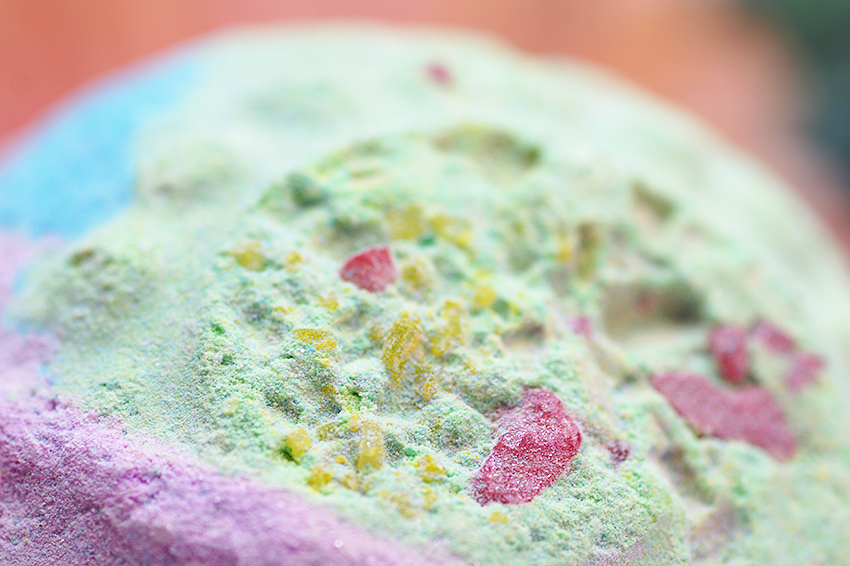 What is it?
Ingredients: Sodium Bicarbonate, Citric Acid, Coarse Sea Salt, Sodium Coco Sulfate, Bergamot Oil (Citrus aurantium bergamia), Geranium Oil (Pelargonium graveolens), Sicilian Red Mandarin Oil (Citrus nobilis), Titanium Dioxide, Water (Aqua), Balanites Oil, Synthetic Fluorphlogopite, Dipropylene Glycol, Tin Oxide, Amyl Cinnamal, Benzyl Alcohol, Citral, *Limonene, Perfume, Color 77742, Color 77007, Colour 47005, Colour 19140, Colour 77491, Colour 15850:1, Colour 42090
Lush Flight Bath Bomb is an exclusive bath bomb that you can only buy in the Harajuku store in Japan. It's one of the 89 bath bombs launched earlier this year, in honor of Lush their 30th anniversary. (Founded in 1989, hence 89 bath bombs) Flight is a pretty bath bomb, it contains some lovely pastel colors and it's covered in a relief. There's some colored pieces of sea salt on the bath bomb as well. It's a work of art, just like Temple in the Skies is. There's so much detail.
Flight contains bergamot, geranium, Sicilian red mandarin oil and 'balanites oil', this ingredient cannot be found in the webshop, but apparently it's a desert date. Flight shares its scent with Yummy Mummy — a scent family that I don't really like, but somehow I don't mind Flight smelling like Yummy Mummy. I think because it's a little less overpowering. Normally I love the combination of fruity with warm, like the Celebrate scent family, but I've tried both the Yummy Mummy jelly and shower gel and I just.. hated them both. But I know Yummy Mummy has a lot of fans though. Anyway, Flight smells fine to me — it's fruity and warm, a typical Lush scent.
Play the videos in 2160p quality and on full screen for the best experience! The first video has been speeded up.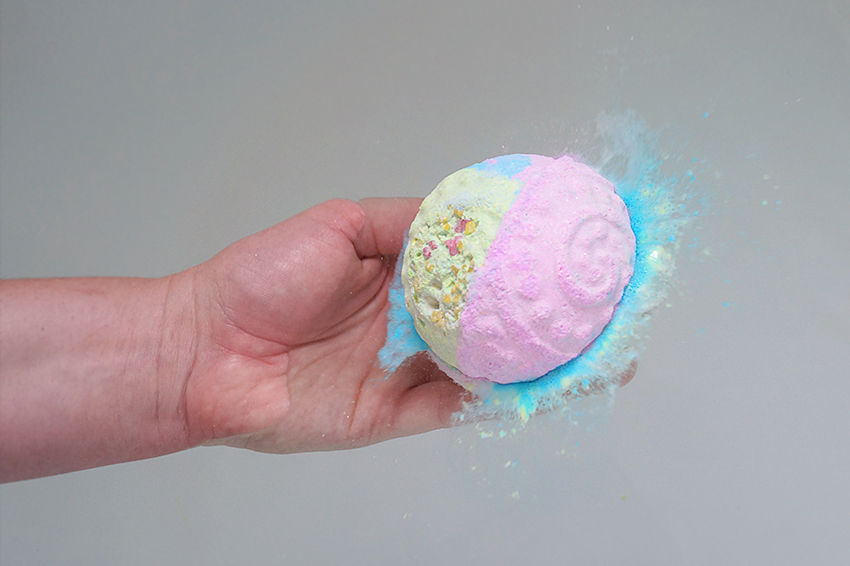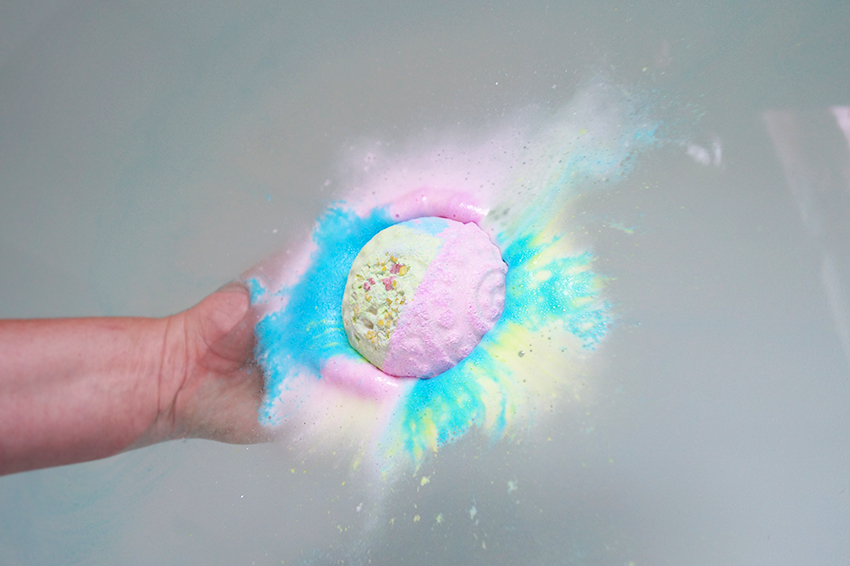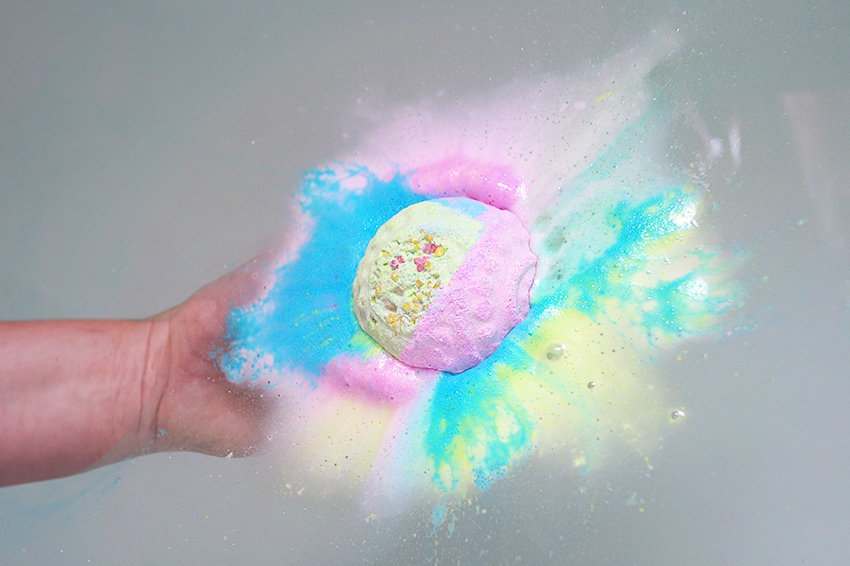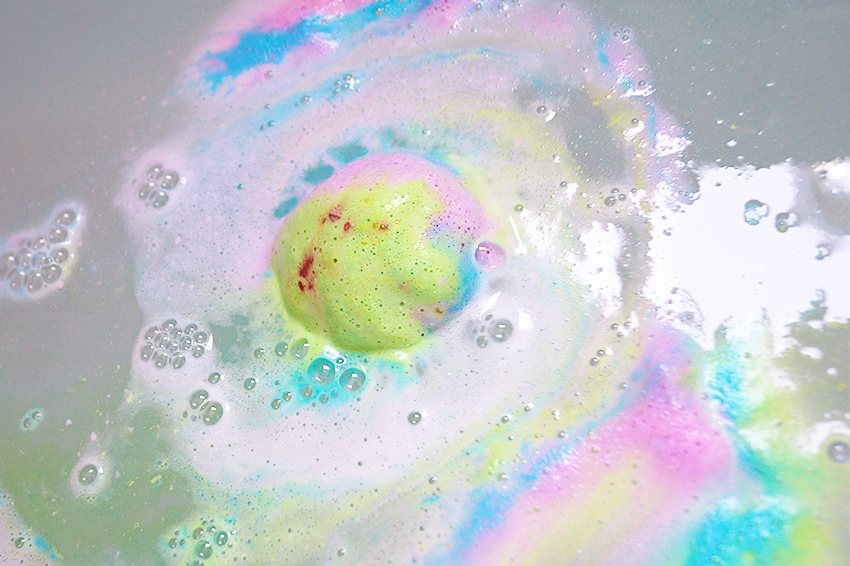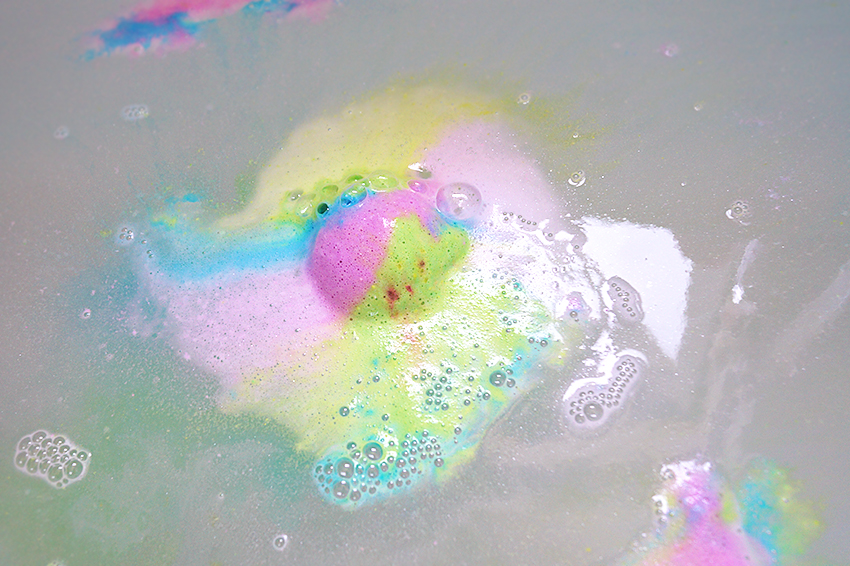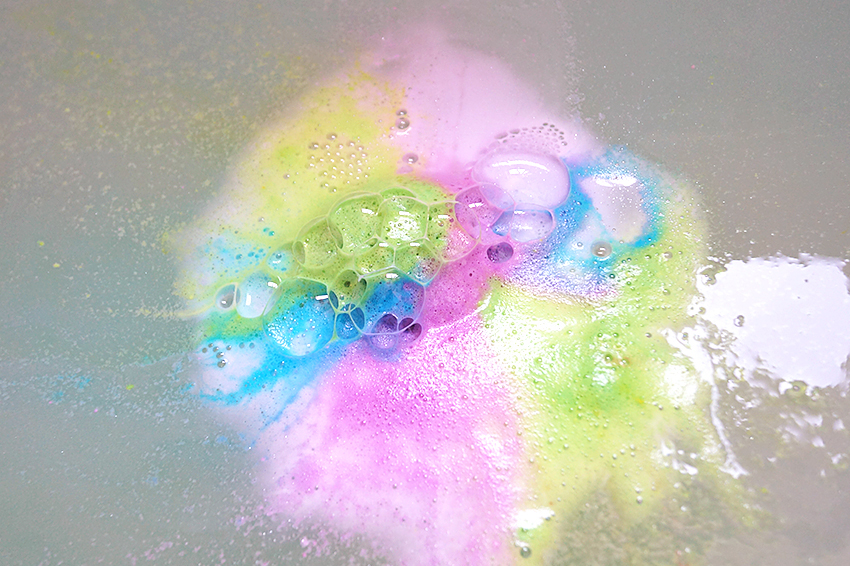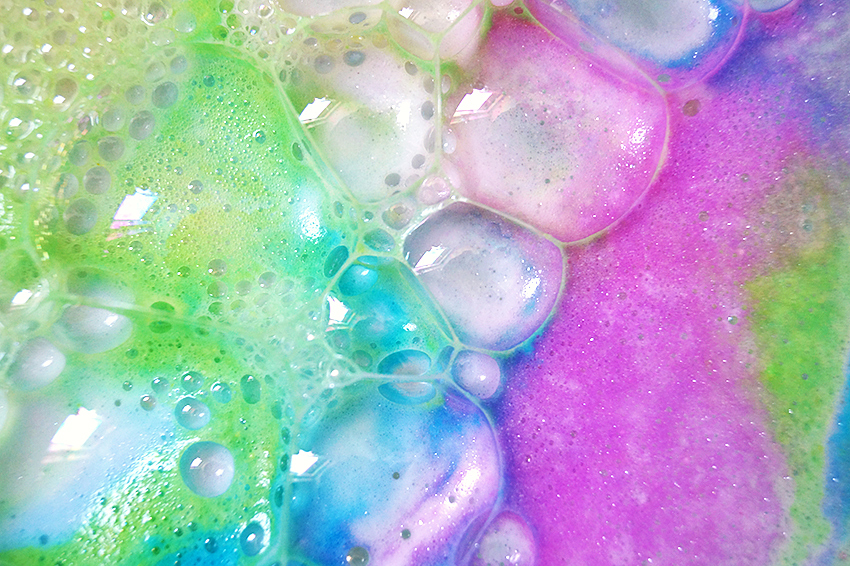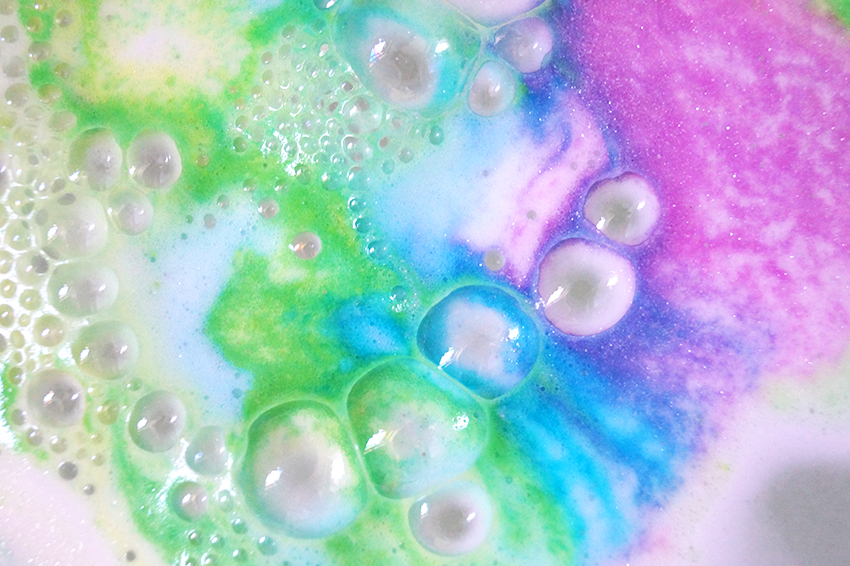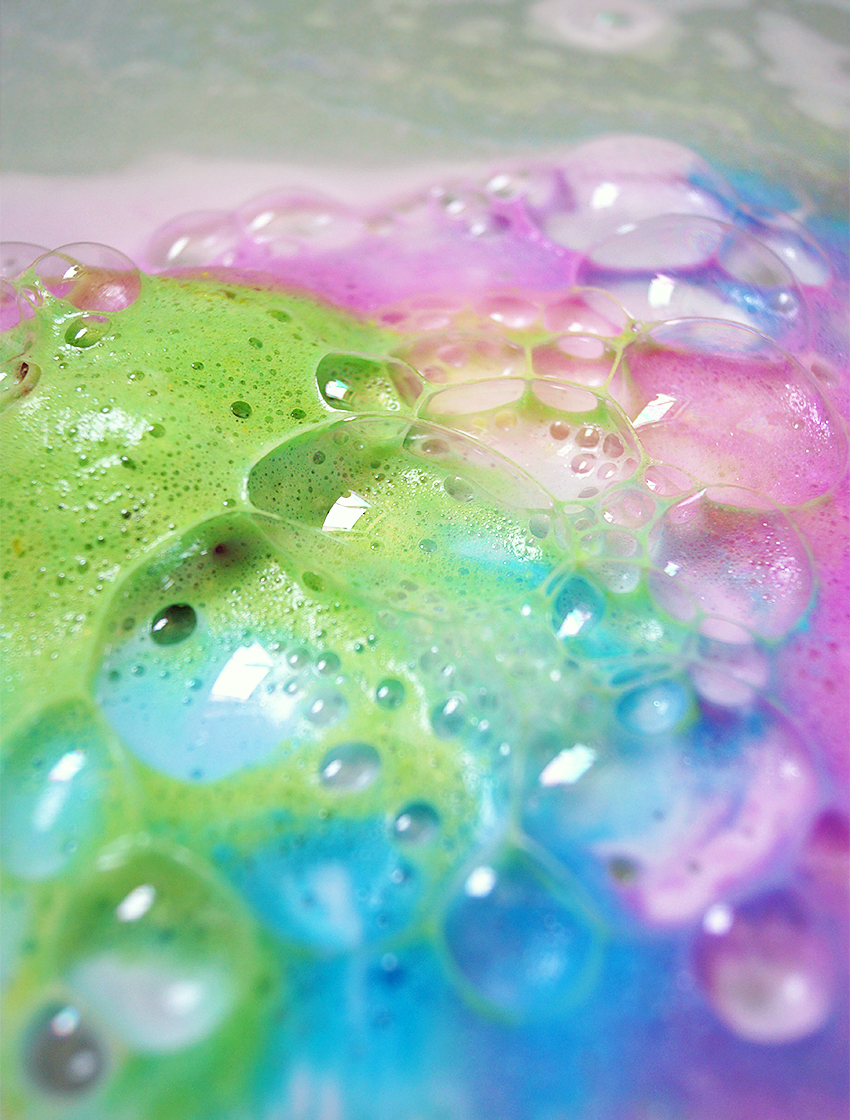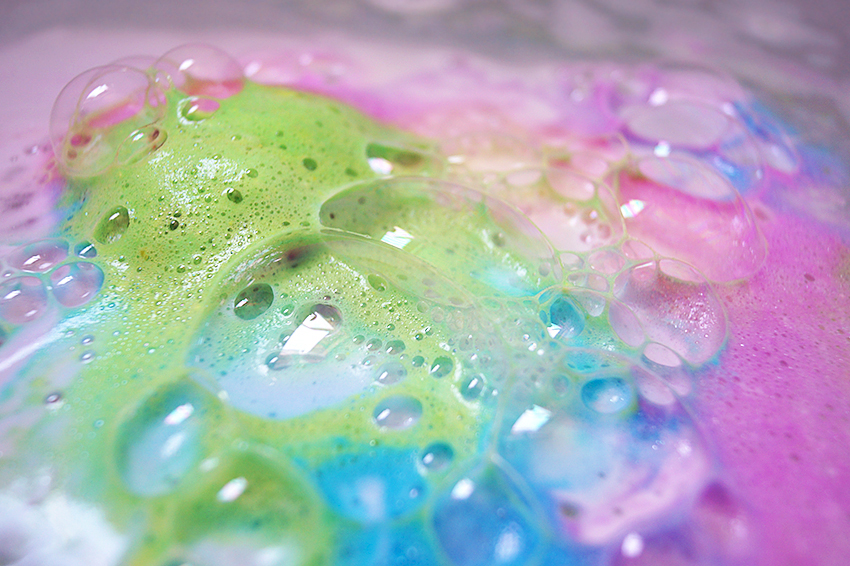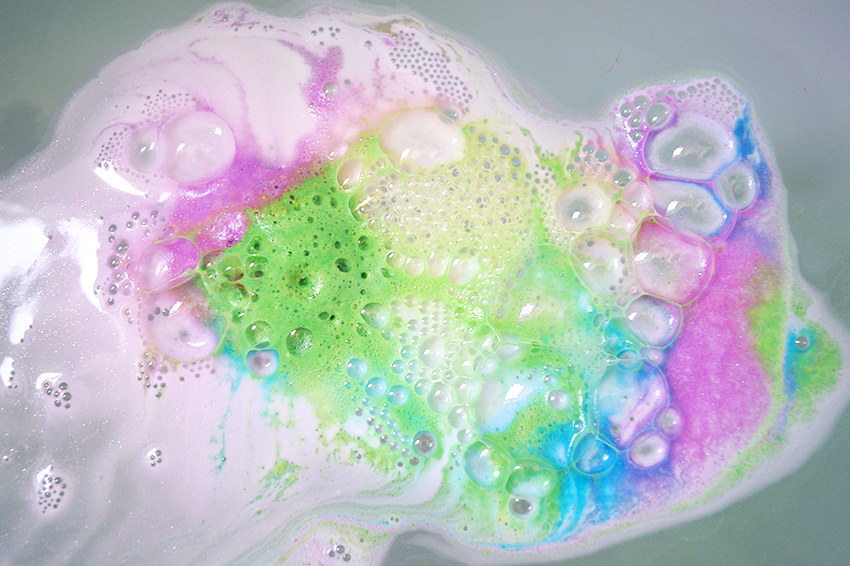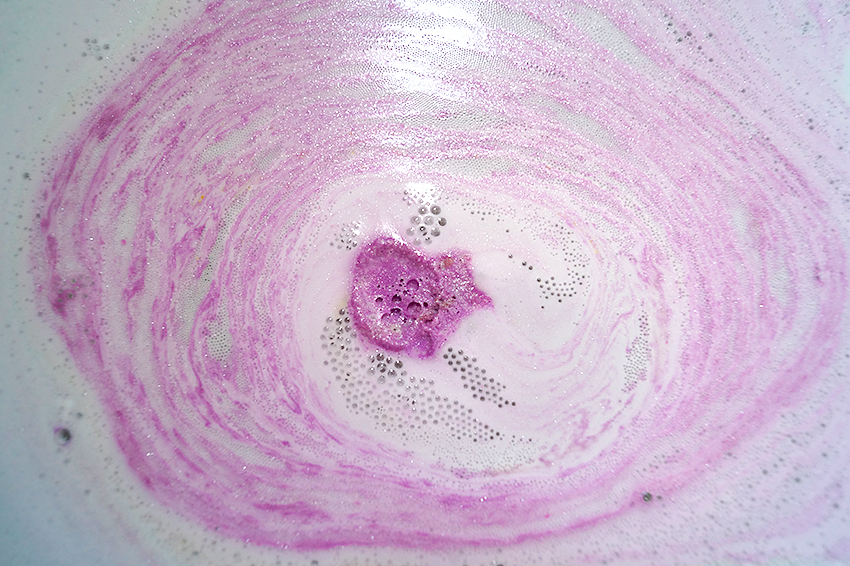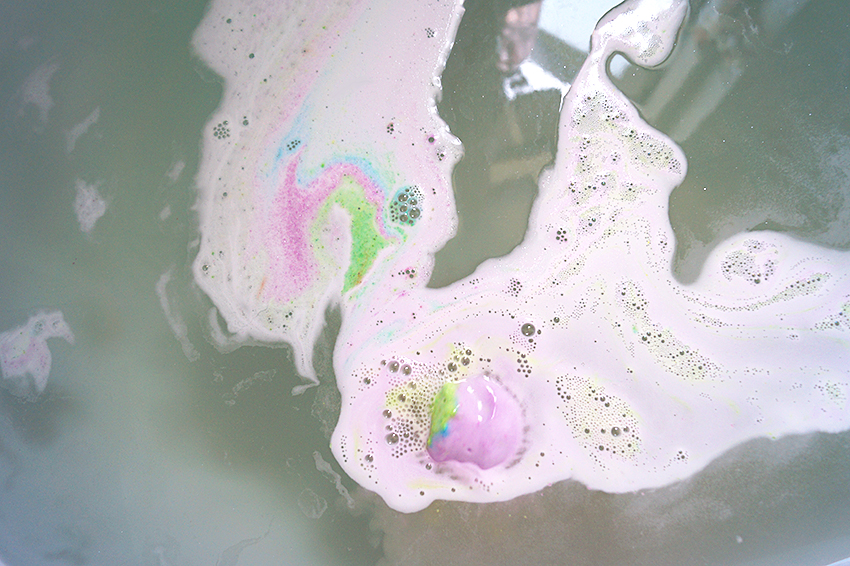 What do I think?
I think I've rarely experienced a bath bomb from Lush that spewed out such vivid and bright colors. I was literally drooling. Might even have bathed in some of my own drool. The bath bomb starts with spewing out a thick, frothy layer of blue and yellow, then lilac and green streams start to appear. After that, another purple color joins the other colors. All these colors combined provide some gorgeous bath art. It's vibrant, it's colorful, it's.. magical. I'm in love. It's like a rainbow shat in my bath.
But then the final color of the water.. how disappointing is that? Once the outer layer is dissolved, there's a lilac core with some green spots on it. I think it's the lilac core that transforms the water in a pale, faded color. It isn't even a color, to be honest. It did contains silver lustre under the surface, which is always a great addition to a bath bomb, but I would've loved to see another final color. Flight started very spectacularly, but ended a bit lame. Nonetheless, it was a wonderful bathing session! It's a shame that I couldn't really pick up the scent while bathing, but there was a oily layer on the surface that made my skin baby soft afterwards. With some silver glitters. Yay!
Would I buy it if it came to Europe? Yeah, I would. The rainbow colors were too gorgeous to watch. I would add another bath bomb to change the final color of the water, or perhaps I'd add a bubble bar so I wouldn't be able to see the water at all, because of the bubbles 😂 But I'd definitely give it another shot!

Lush Flight Bath Bomb is only available in the Harajuku store in Japan.