Review: Lush Orange Shower Scrub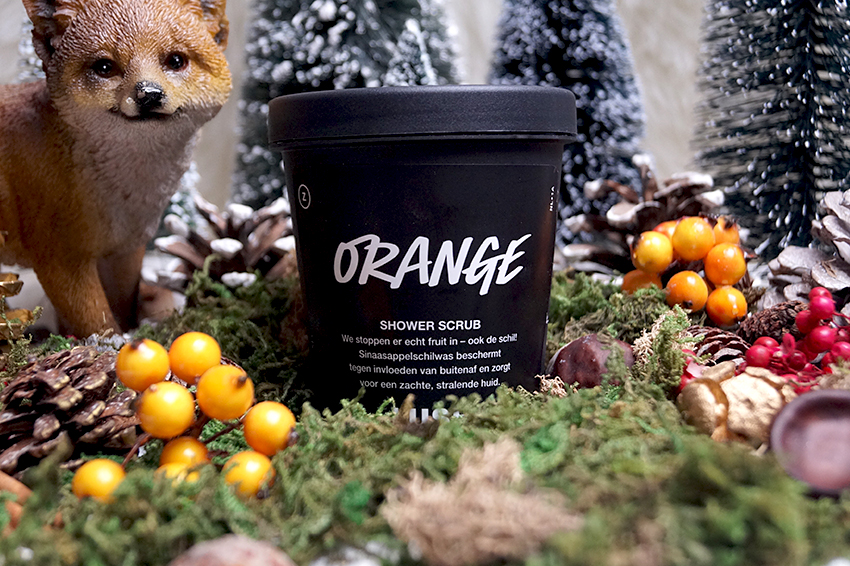 If there's two things I love, it's a good scrub and everything Brightside scented. When I heard there's a scrub being released with this scent, I knew I needed it. Better yet, I need about 60 of these pots. It's a bummer that we need our epidermis, or else I would've scrubbed literally every day. Today I'm giving this new scrub a try, so if you're curious about this product, make sure you keep on reading!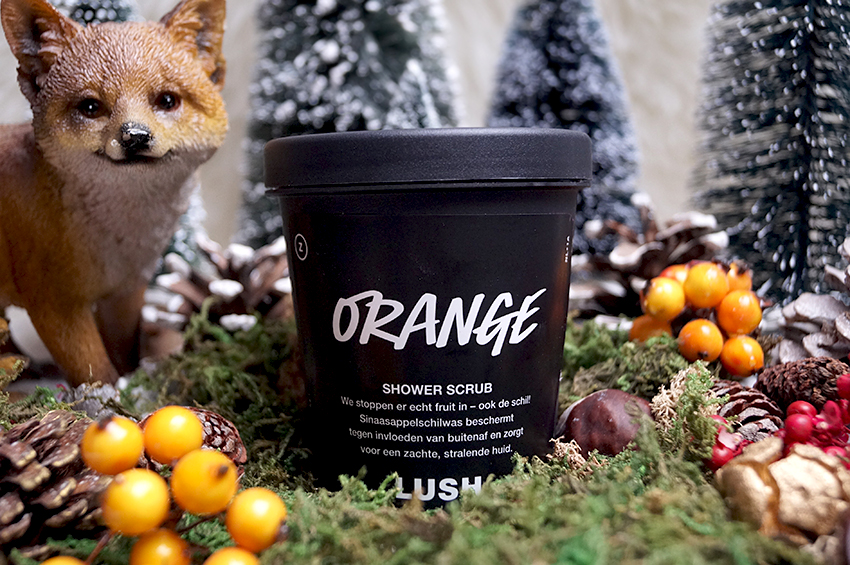 What is it?
Lush Orange Shower Scrub costs £10.00 / $18.95 / €14,00 (330g) and is part of the Christmas range. It's also available in 665 grams. It shares its scent with Brightside or Easy Peeler (it's basically the liquid version of Easy Peeler!) — i'll describe how it smells later on. This shower scrub comes in a pot and I have to admit, I like these kind of scrubs way better than the solid ones. The solid scrubs are always too rough on my skin, and scrubs like Orange are more liquid, meaning I still have skin left after scrubbing. The scrub is sea salt based, it's great to buff away dead skin cells, all while the uplifting and cheery scent gets you up and going. No more stepping out of bed on the wrong side.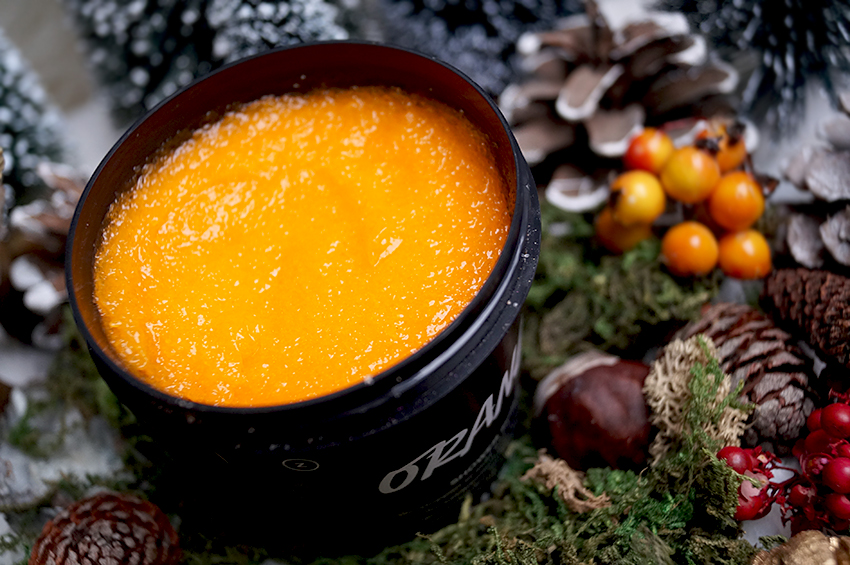 What's inside?
Ingredients: Fine Sea Salt, Fresh Orange Peel Infusion, Sodium Laureth Sulfate, Sodium Cocoamphoacetate, *Limonene, Fresh Orange Juice, Sicilian Red Mandarin Oil, Tangerine Oil, Bergamot Oil, Orange Peel Wax, Lactic Acid, Lauryl Betaine, *Citral, *Linalool, Perfume, Colour 15510
The base ingredient of this scrub is fine sea salt, harvested by hand from salt pans in Portugal. Sea salt is an amazing exfoliator, I love when my scrubs are salt based! It also contains orange peel infusion, orange peel wax and orange juice, to contribute to the scent, but also because of their antimicrobial properties and ability to brighten and refreshen the skin. Furthermore it contains red mandarin oil, tangerine oil and bergamot oil. That's a looot of vitamine C. The texture of this scrub is comparable to Mamma Mia.
Scent
Like I said, this cheerful scrub is Brightside scented. And Brightside is a 100% cheerful, uplifting, zesty scent without the sourness of lemons. It's like freshly squeezed orange juice, or like Fanta Orange — mouthwatering, delicious, i-want-to-eat-this-whole-pot-with-a-spoon realness. Even though you hate citrus scents, there's no way you'd hate this scent. It's such a happy, bright, juicy and uplifting scent, it might even be better than a cup of coffee in the morning. There, I said it.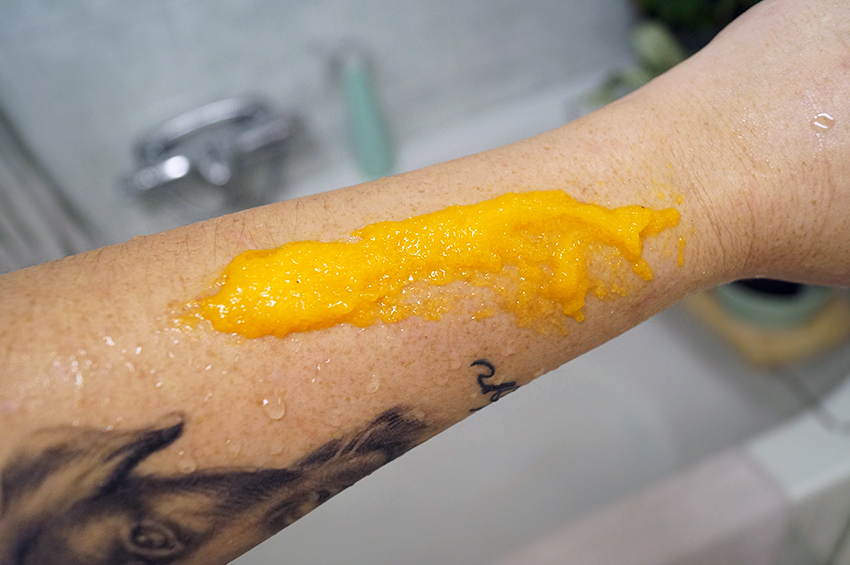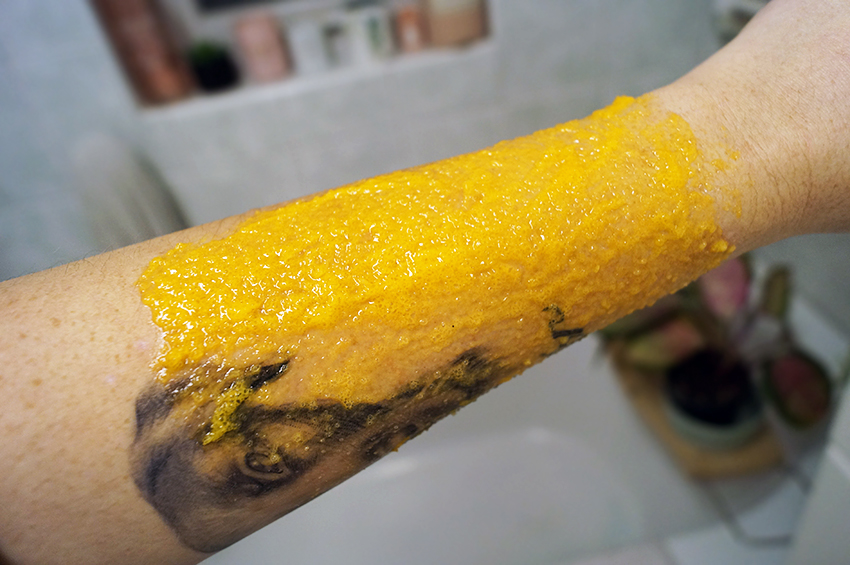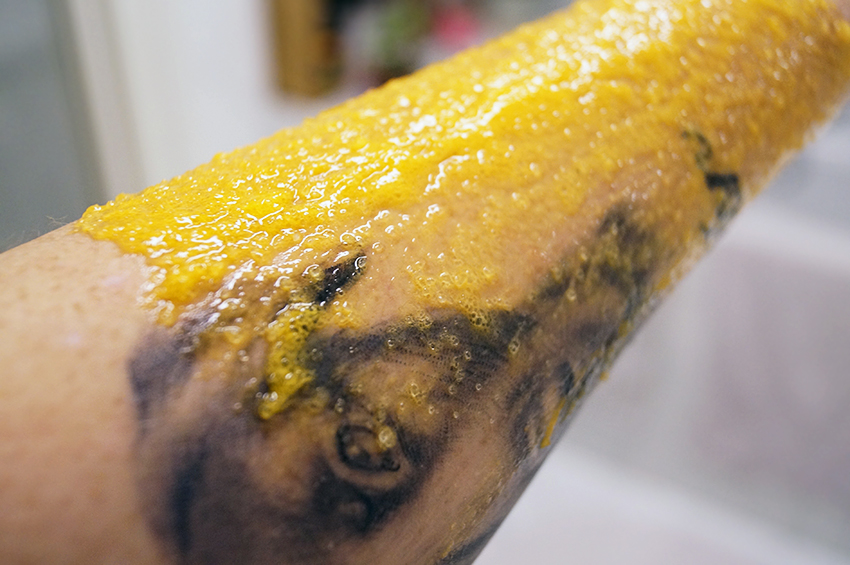 What do I think?
In the shower, I scoop out a handful of the scrub and rub it all over my body. The scrub is pretty mild, but not ineffective! Oftentimes, sea salt scrubs tend to be a bit harsh on the sensitive skin, but not this one. Because the scrub is pretty liquid, it's easy to use and you don't need a lot of product. After scrubbing my skin feels so ridiculously soft and smooth, it should be illegal for a product to be this good. 😐
My skin has a gorgeous, radiant glow, I can clearly see a difference with skin that I haven't scrubbed. It's done an amazing job, just like Easy Peeler did. Unfortunately — also just like with Easy Peeler — the scent doesn't linger on my skin at all. The bathroom does smell of orange juice for a while, but I would've loved it if I would be able to smell some on my skin. So that's the only con about this scrub. What I do love, is how supple and less dry my skin feels. It's doing wonders for my dry ass skin! So, all in all, I'm SUPER positive — better yet, I'm in love and I'mma buy myself a 660 gram pot now. Or 5. Or 83. Lush, make this a AYR product please! 🙏🏻
If you have a positive (or negative) experience with this product, feel free to share them in the comments!

Lush Orange Shower Scrub costs £10.00 (England) / $18.95 (USA) / €14,00 (The Netherlands)

One Response to Review: Lush Orange Shower Scrub