Review: Lush Groovy Kind of Love Shower Gel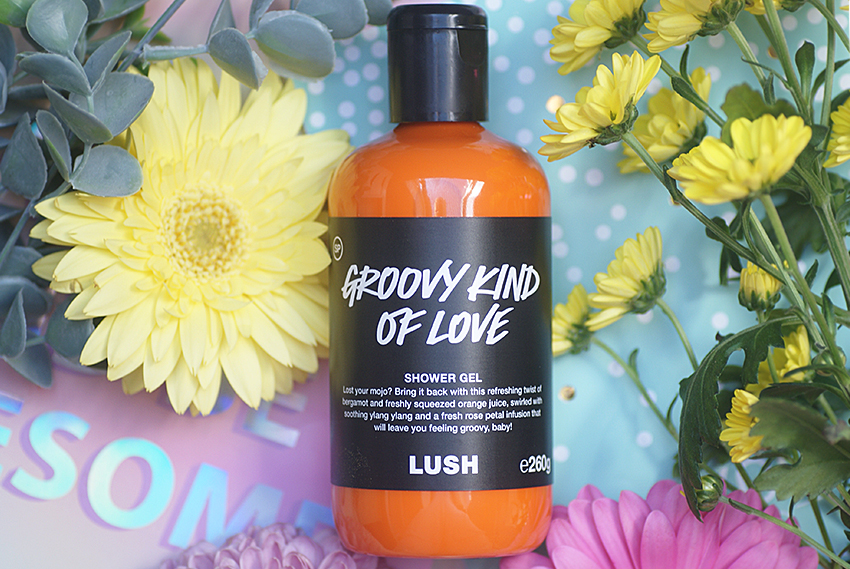 Groovy Kind of Love, a bath bomb from the Harajuku collection that I liked a LOT. The scent actually reminded me of Golden Wonder, my favorite bath bomb by Lush, because it has the same warm citrus-like scent. I knew I would like this shower gel judging from my experience with the bath bomb, so I couldn't wait to put it to the test. Today you'll read all about it.
If you're curious about this product, make sure you keep on reading!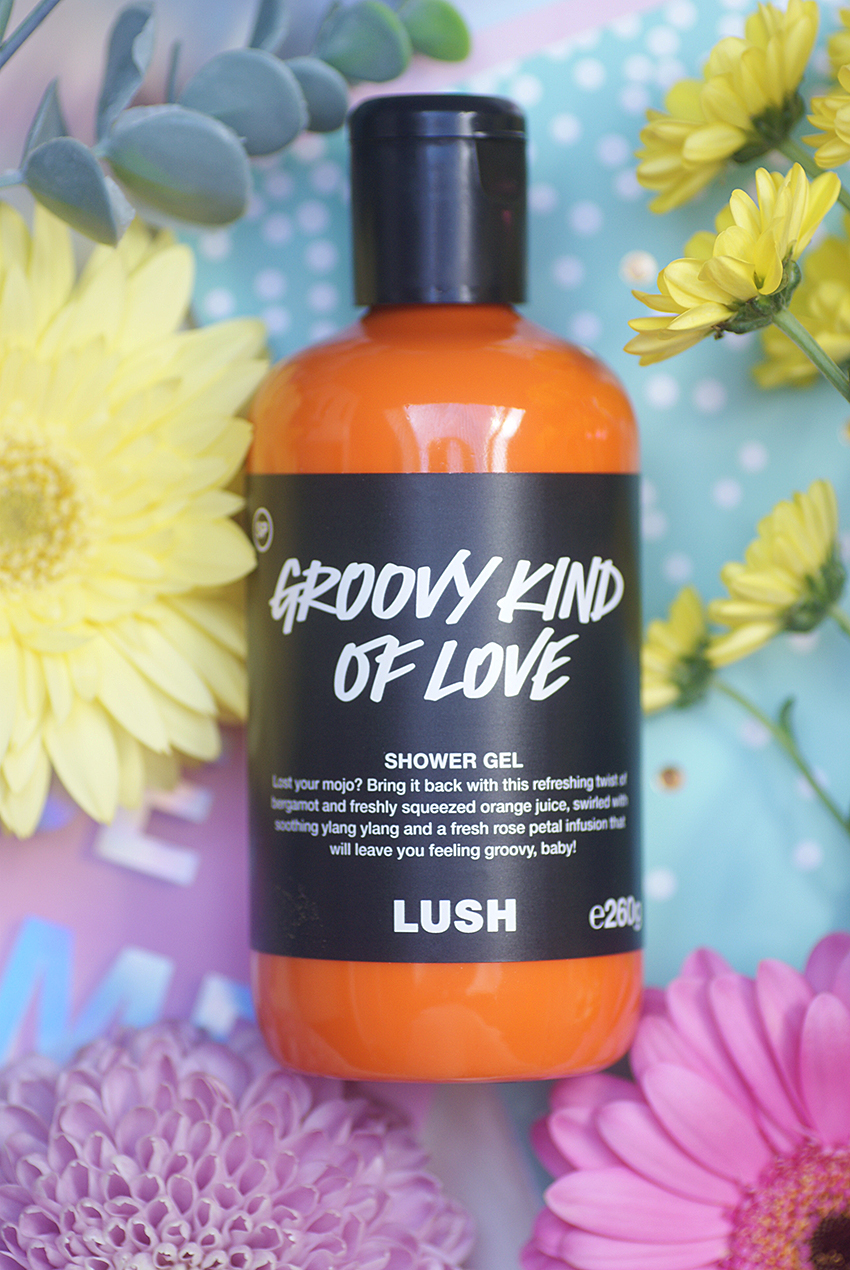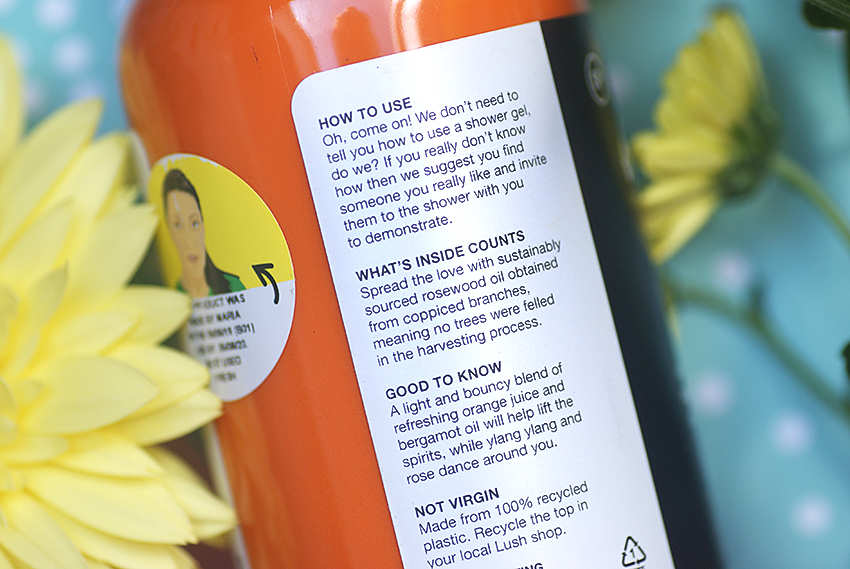 What is it?
Lush Groovy Kind of Love Shower Gel costs £13.00 for 260 grams and is part of the Community Favorites — these are temporary online favorites. This vibrant shower gel shares its name with the Harajuku bath bomb Groovy Kind of Love (review), a rainbow-colored bath bomb with some beautiful bath art. In the bath bomb review I wrote that I thought the scent was a bit like Golden Wonder / Bubbly / Buck's Fizz / etc. The ingredients are completely different though, but they both contain warm notes and citrus, which makes the smell somewhat similar.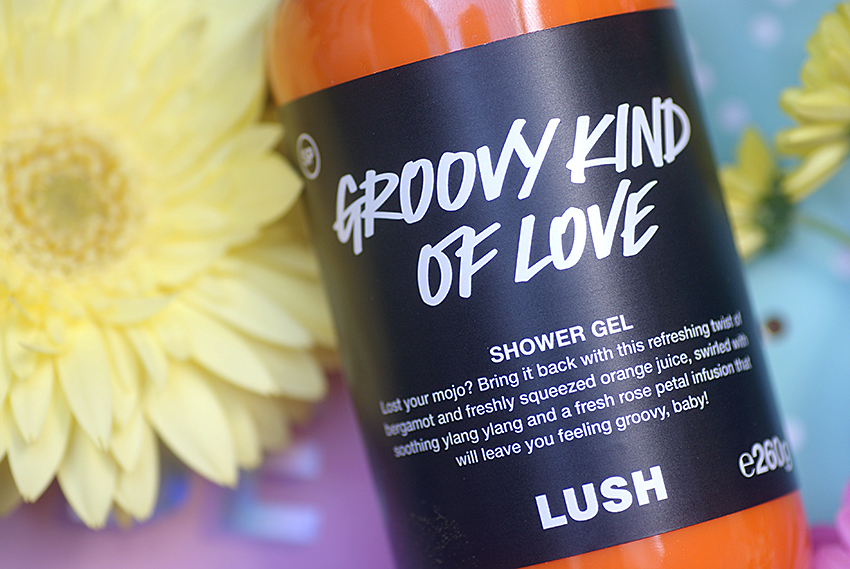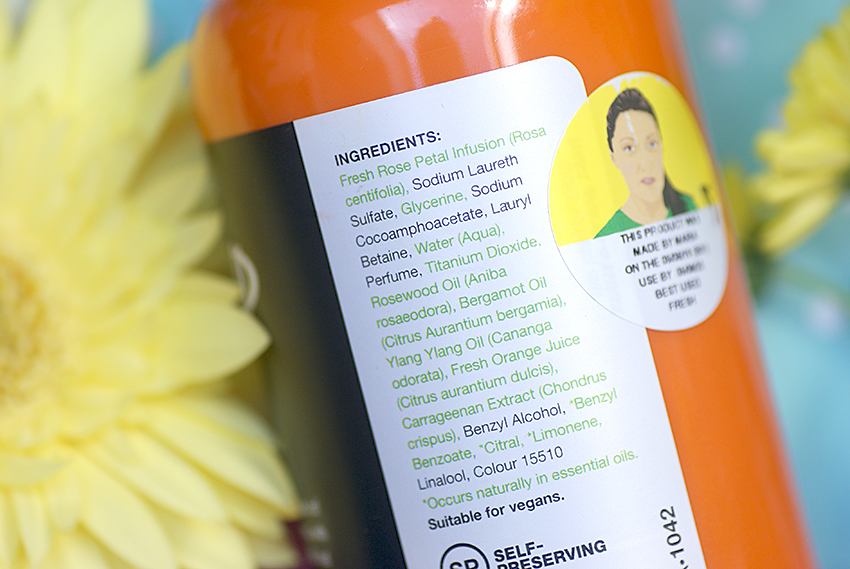 What's inside?
Ingredients: Fresh Rose Petal Infusion, Sodium Laureth Sulfate, Glycerine, Sodium Cocoamphoacetate, Lauryl Betaine, Water (Aqua), Perfume, Titanium Dioxide, Rosewood Oil, Bergamot Oil, Ylang Ylang Oil, Fresh Orange Juice, Carrageenan Extract, Benzyl Alcohol, *Benzyl Benzoate, *Citral, *Limonene, *Linalool, Colour 15510
The main ingredient is an infusion of fresh rose petals, which is soothing and toning. There's also glycerine (hydrates and softens the skin), rosewood oil (rosy aroma, antimicrobial), bergamot oil (refreshes because of the zesty scent), ylang ylang oil (toning, uplifts the mood and reduces anxiety), orange juice (rejuvenating, contains a lot of vitamines antibacterial and antiseptic and refreshing scent), and carrageenan extract (makes the skin soft and hydrated).
So there's rose petals and rosewood oil — both ingredients smell floral and warm, although rosewood also has a tiny hint of citrus to it. Bergamot is a citrus, thus smells zesty and.. citrusy. Ylang ylang is sweet and floral, and orange juice is uplifting and fruity. So in terms of the smell, we have warm, floral and citrus/fruity, which is the perfect description of the smell. It has a warm underlaying base, but also contains a floral layer and a citrusy layer. I can actually smell both components in the shower gel. It's a very interesting combination, but somehow, it works. There's a difference with Bubbly though, because Bubbly is less warm and has a more zesty kick. I like Bubbly more (that's my all time favorite scent by Lush, together with Sex Bomb) but that doesn't mean that I don't like Groovy a lot as well. Groovy Kind of Love has an amazing scent!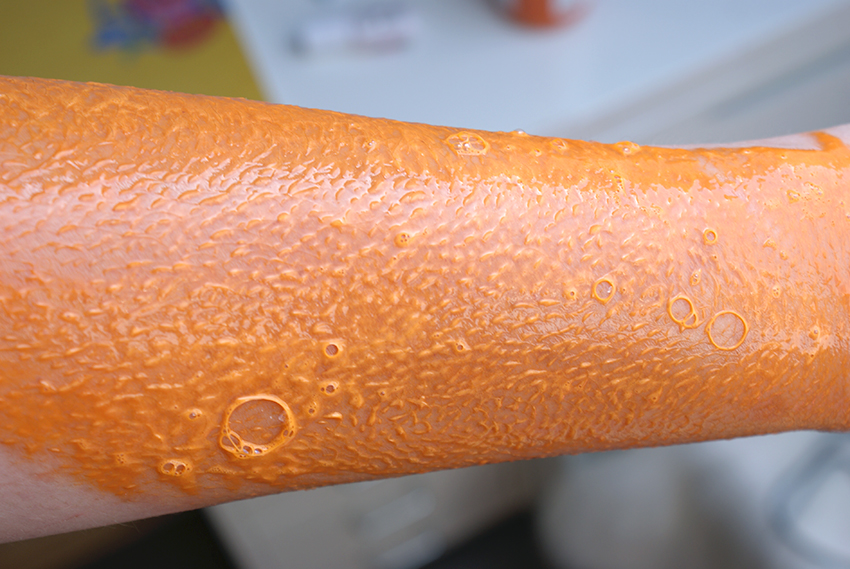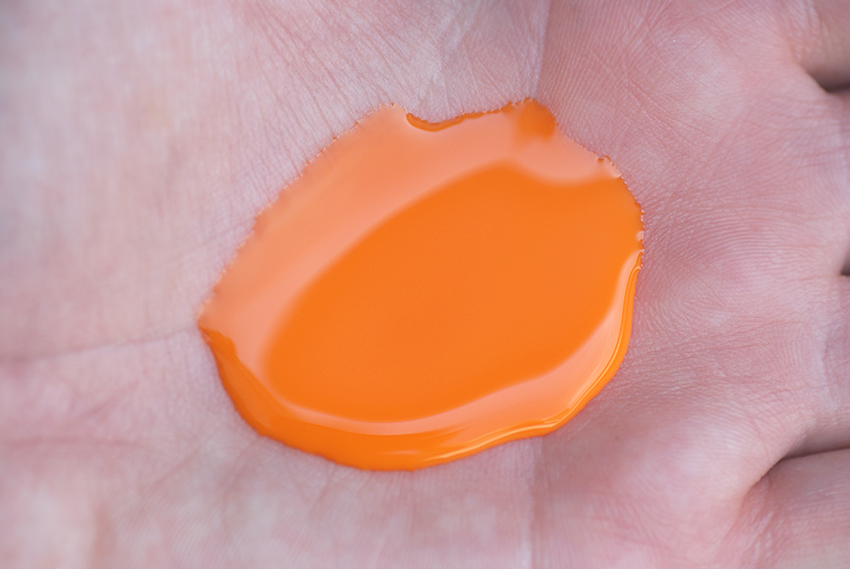 What do I think?
The first thing I notice in the shower is the substance of the shower gel — it's vibrant and bright, it looks like a shower cream. Because there is a lot of color in this shower gel, it's inevitable that your shower will be decorated with orange splatters. You can easily rinse it off, and it won't stain your shower, but still.
While lathering the shower gel across my skin, a nasty and musty smell penetrates my nostrils. For a moment I think it's a wet fart that I ripped, but it's Groovy Kind of Love. The scent has completely changed into a repelling scent, different than I smelled directly from the bottle. It's like the warm notes of the roses completely distorts the other notes. The little bit of uplifting notes that were in the shower gel, smells like they've gone bad. It literally reeks of musty, old mandarines. I want to rinse it off as quickly as possible.
But here's the thing: once I'm towelled down and hung up on Victim Support, I can smell that nice "straight from the bottle" scent on my skin again. 🤨 Eh? The scent is also very strong on my skin, perhaps the best of all Community Favourites shower gels that I have tested so far. The palms of my hands in particular, after showering I could smell Groovy on my hands for HOURS. Just like the other shower gels, my skin is softer, it feels more supple and less dry, and it has a radiant glow. The lingered smell on my skin doesn't smell as bad in the shower, I can actually catch a whiff of bright oranges every now and then.
Besides the musty scent in the shower, I'm happy with this shower gel. I really hope it'll grow on me, because right now, I need a clothespin when showering with Groovy. The new shower gels are amazing in terms of scent and performance, they're so much better than any other shower gel I've had. Does it justify the high prices? Though one. While I think the qualities of these products are high, it's still a lot of money.

Lush Groovy Kind of Love Shower Gel costs £13.00 (England).

2 Responses to Review: Lush Groovy Kind of Love Shower Gel