Review: Lush Ocean Salt Face And Body Scrub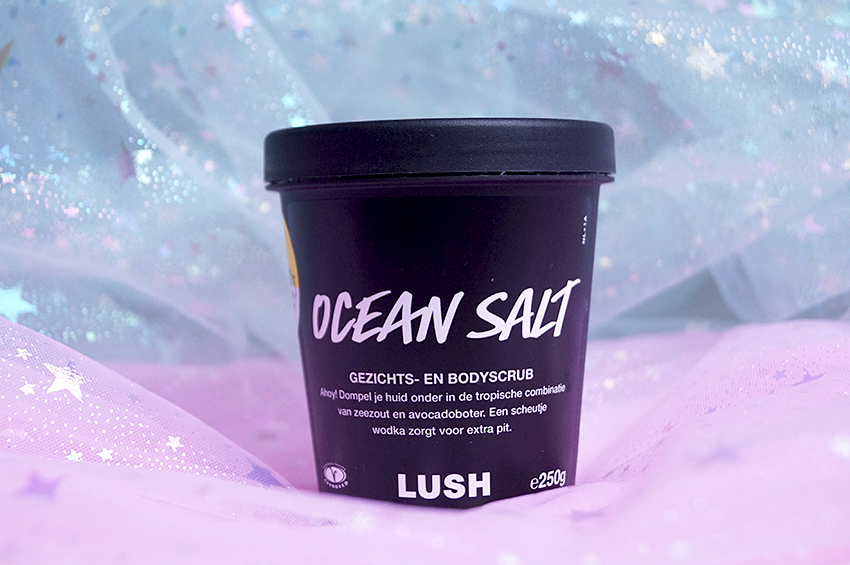 There will always be products that others swear by, but of which you've never understood the hype. For me it was Ocean Salt. It's not that I dislike it, but it just never seal-iously grabbed my attention. Like the name suggests, this scrub is packed with ingredients of which I'm shore they're good for your skin. Today I shell tell you all about this scrub.
If you're curious about this product, make sure you keep on reading!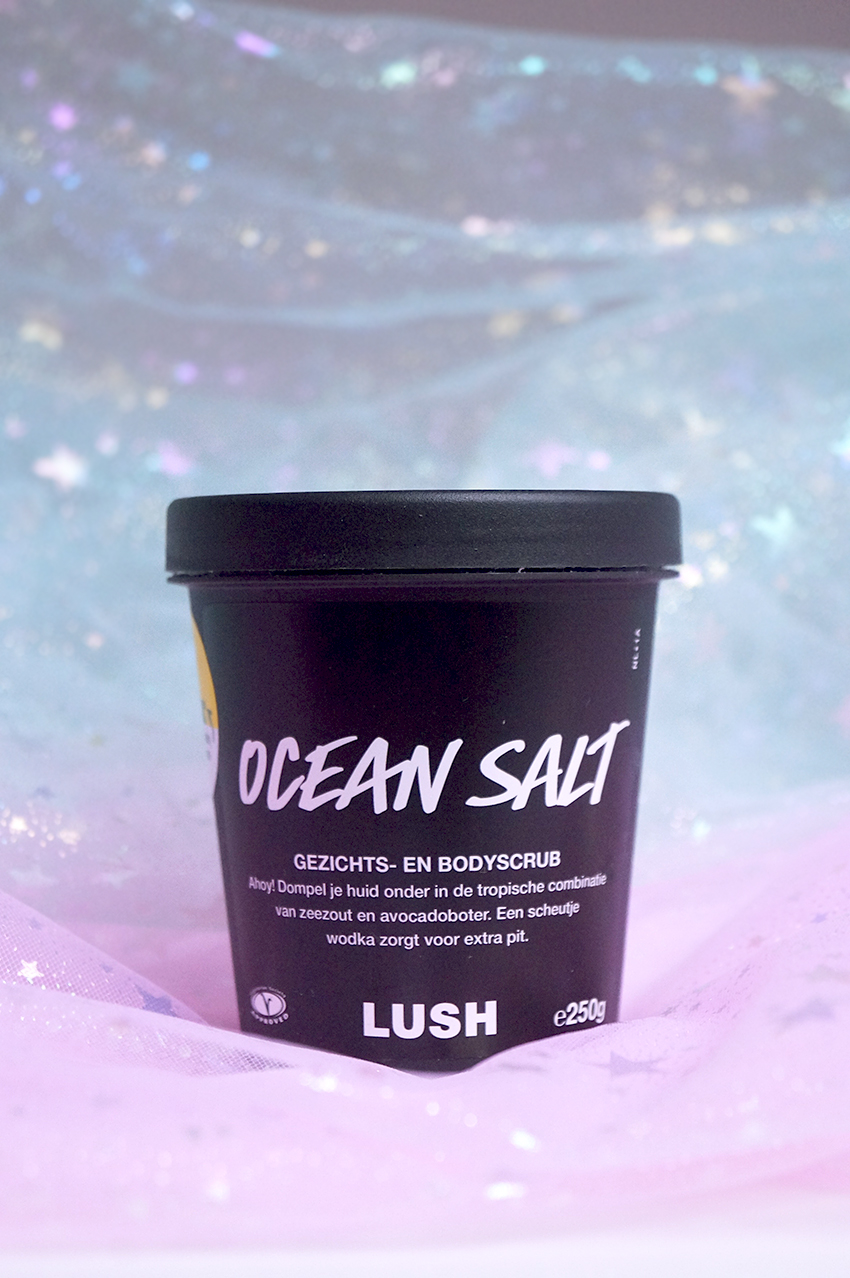 What is it?
Lush Ocean Salt Face And Body Scrub costs £20.00 / $21.95 / €25.00 (250g) and is also available in 120g and 600g. There's also an alcohol-free Ocean Salt, a self-preserving Ocean Salt (with no synthetic preservings and it's less coarse) and both alcohol-free and self-preserving Ocean Salt. This scrub is suited for both face and scrub — although I personally would not use this scrub on my face. It's too coarse, too rough. That's why I use this scrub for my body only, and use exfoliators like Let The Good Times Roll for my face. I know people who use Ocean Salt for their face and they swear by it, but I also know people who've used Ocean Salt for their face and had red, sensitive or damaged skin afterwards. You can use Ocean Salt on a dry skin for a good, effective scrub, but pay attention that you don't put too much pressure, because the coarse sea salt can damage your skin.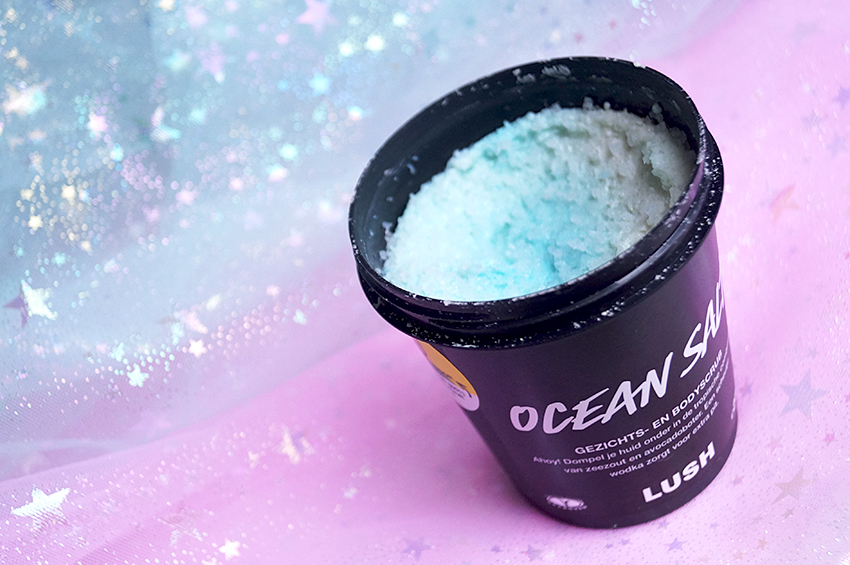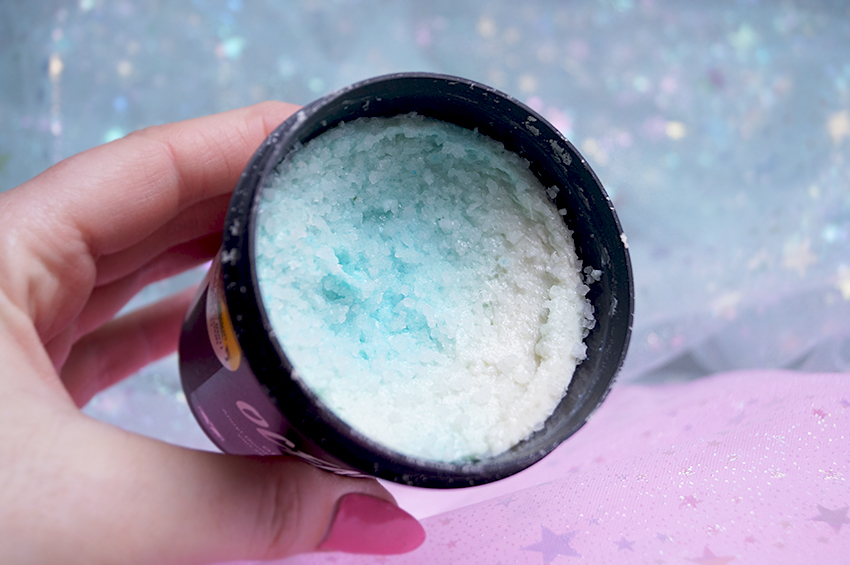 What's inside?
Ingredients: Fine Sea Salt, Fresh Grapefruit Infusion, Hand Harvested Sea Salt, Stearic Acid, Fresh Lime Extracted in Vodka, Sodium Cocoamphoacetate, Glycol Cetearate, Triethanolamin, Avocado Butter, Extra Virgin Coconut Oil, Lime Oil, Seaweed Absolute, Violet Leaf Absolute, Glycerine, Lanolin, Cetearyl Alcohol, *Citral *Limonene, *Linalool, Perfume, Colour 42090, Methylparaben, Propylparaben
This scrub is sea salt based, meaning the scrub itself is pretty coarse, yet very effective. It contains a blend of grapefruit, lime extract in vodka, avocado butter, coconut oil, lime oil, seaweed and violet leaf. Grapefruit is packed with vitamine c and is awesome at cleansing the skin, while giving off an uplifting, cheerful scent. Lime, extracted in vodka, has an invigorating and refreshing effect, but also brightens the skin. Avocado butter contains vitamin A, B, C and E and loads of proteins, to soothe and deeply moisturize the skin. Coconut oil hydrates the skin and softens it, while another portion of lime oil is antimicrobial and helps to brighten the skin, but also contains an alpha hydroxy acid (AHA) which gets rid of dead skin cells and leaves skin looking radiant and bright. Seaweed is rich in vitamins and minerals and helps to soothe the skin. Violet leaf is anti-inflammatory and antimicrobial, but also adds to the scent.
Note: The SP (self-preserving) version also contains Organic Tofu, Japan Wax and Mango Butter and contains NO lanolin, making the SP version vegan! If you want to read more about the differences in SP and the original Ocean Salt, click here.
"To create the self-preserving version of Ocean Salt, we use silken tofu as an emulsifier to hold the oil and water together. Because the product itself has quite a waxy base and contains a surfactant called sodium cocoamphoacetate to help clean the skin, that combination holds the product together. In the original version, which has a higher water content, we need another emulsifier called triethanolamine because the tofu isn't strong enough to hold the product as tightly together as it needs to be." – Daniel Campbell, Lush
Scent
The scent of Ocean Salt isn't very strong — it's rather subtle. It's a crisp, fresh, invigorating scent, one where the lime is definitely present, but not overpowering. Some people say they can smell a slight note of the vodka, but as someone who never drinks, I can't tell you if that's true. You can also smell the salty freshness of the ocean, but it's nothing like Aqua Marine for example. (Thank God, because that one smells like a fish orgy)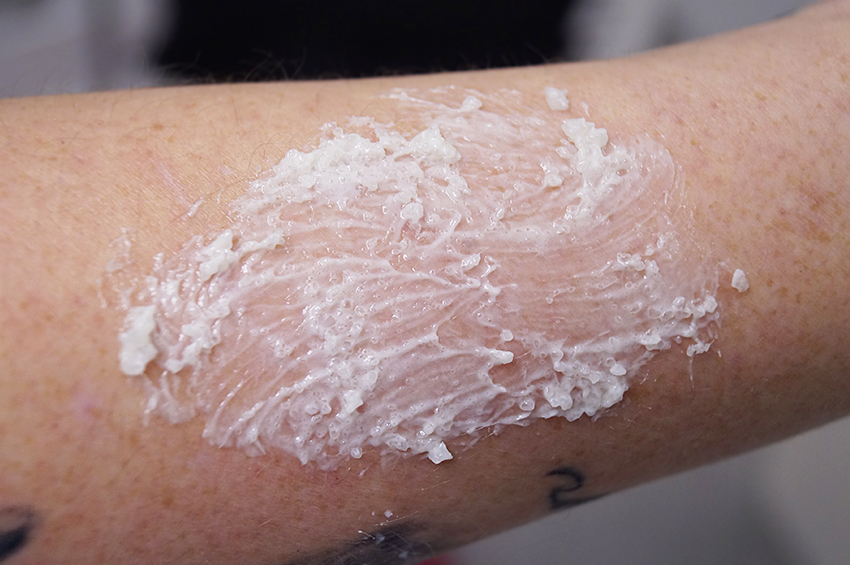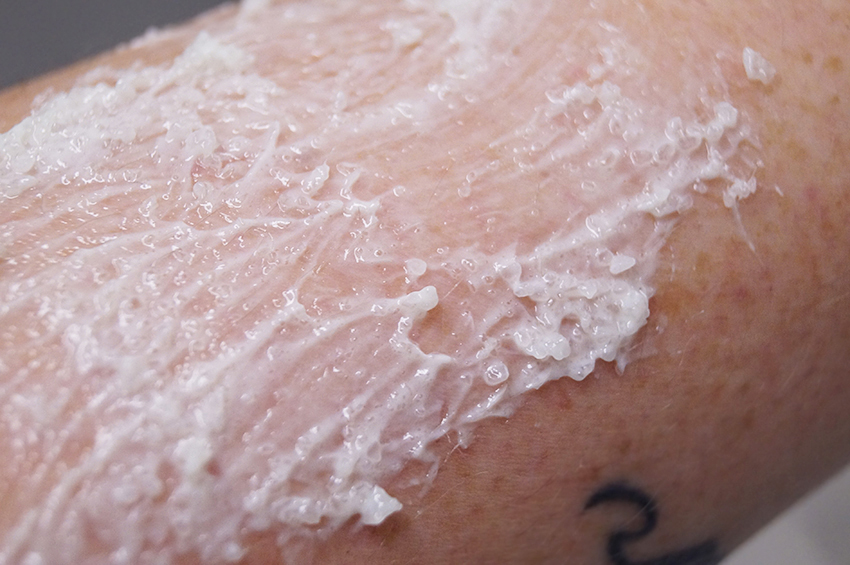 What do I think?
The texture of the scrub is pretty coarse. It's easy to scoop out a handful, it's not as liquid as Rub Rub Rub. Ocean Salt is more like a soft paste. I had no idea what to expect from this scrub, but I was pleasantly surprised with the texture! There's both coarse and fine sea salt, and the scrub tends to lather up a tiny bit, making it easy to disperse over the skin. I also didn't need much of the product, a tiny scoop was enough — which is great, seeing as this product isn't particularly cheap. I have to make sure I don't put too much pressure while applying the scrub, because it will leave my skin red. Also, be careful with cuts or wounds! Ocean Salt will sting because of the sea salt and believe me.. that shit hurts. I also found the scent to fully come alive when applied to the skin! It gave me Big vibes, with the scent now being more floral.
After using this product my skin was a little red, but that disappeared within a few minutes. My skin feels unbelievably soft and smooth, as if it's brand new. It's more supple and slightly more hydrated, although "less dry" would be better said. It's not as flaky as before, but I can see a slight difference with before. There's also a radiant glow to my skin, it looks less dull. The scent lingers on the skin for pretty long! Most of the times I don't smell the products on my skin after using them, but with Ocean Salt I could pick up the lime notes long after. Ocean Salt surpassed all of my expectations and has become skyrocketed on my list of favorites.
The original Ocean Salt is not vegan because of the lanolin. The self-preserving version IS vegan!
If you have a positive (or negative) experience with this product, feel free to share them in the comments!

Lush Ocean Salt Face And Body Scrub costs £20.00 (England) / $21.95 (USA) / €25,00 (The Netherlands)

One Response to Review: Lush Ocean Salt Face And Body Scrub