Review: Lush Handy Gurugu Hand Cream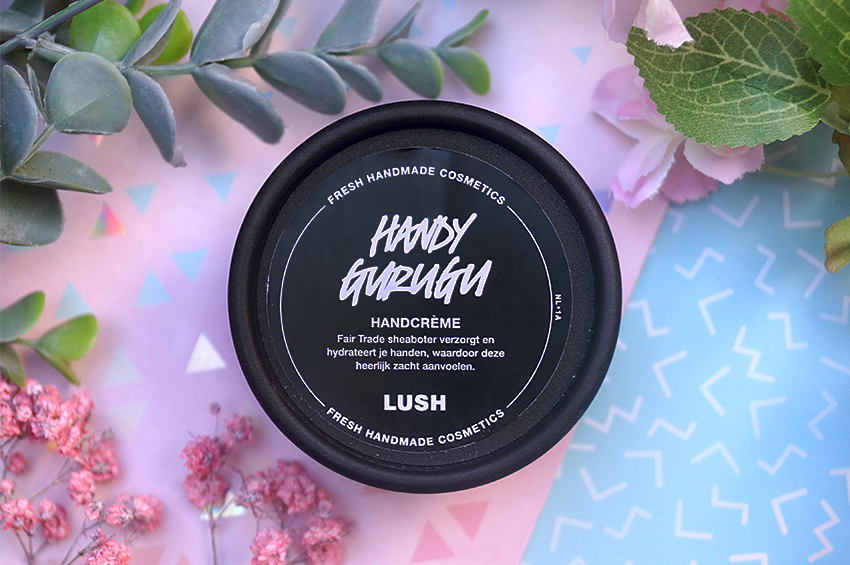 I've always had a dry skin, but my hands in particular are a disaster. Especially this time of the year, when it's still heckin' cold outside. Also, with the whole Coronavirus going on in our world, it's essential that we keeps our hands clean by washing them more often. I'm somehow who washes her hands a lot anyway, so nothing really changes for me for that matter. But that doesn't mean my hands fall victim! I decided to buy Handy Gurugu and give it a try.
If you're curious about this product, make sure you keep on reading!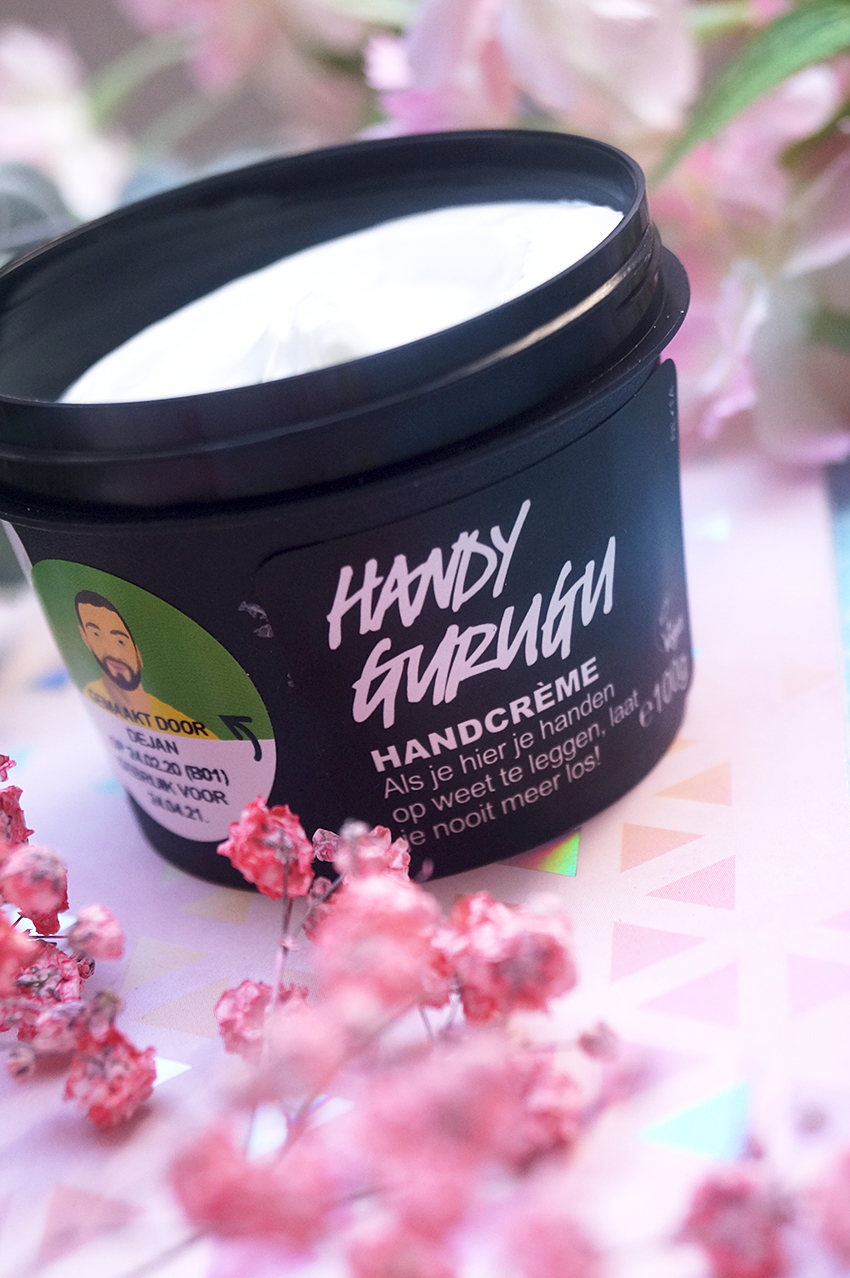 What is it?
Lush Handy Gurugu Hand Cream costs £9.00 / $21.95 / €13,00 for 100 grams. I have no clue why it's so expensive in NA, but dayuuum. What's up with that, Lush?! Anyway, this is one of the few hand creams Lush has. It's a hand cream that combats dry skin, thanks to the high butter content. I've always loved Lush hand creams, I always used to carry Smitten with me, until it was discontinued. Lately I got to try a few hand cream samples, I just had to make up my mind about which hand cream I was going to purchase. I hesitated between Helping Hands and Handy Gurugu, but since Handy Gurugu contains so many butters, and seeing as my hands are REALLY dry, I decided to go for that one.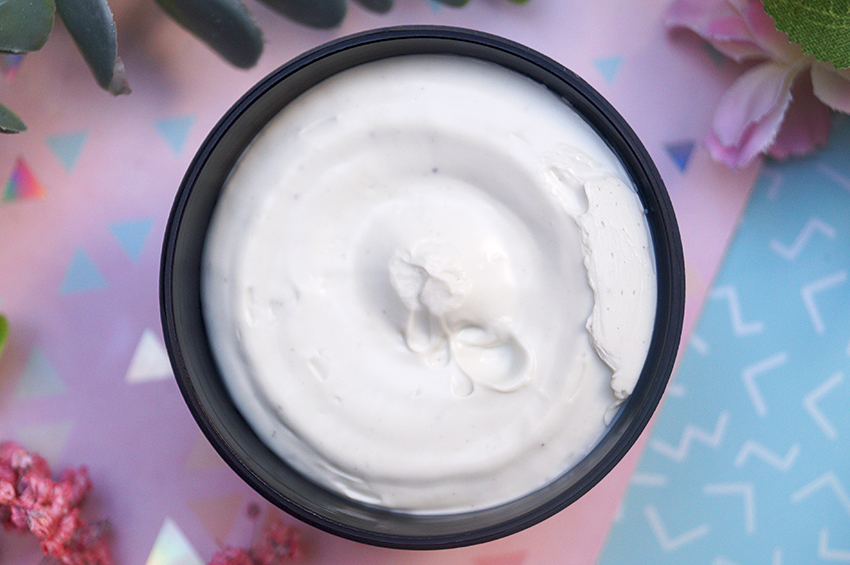 What's inside?
Ingredients: Rose Water, Fair Trade Shea Butter, Glycerine, Stearic Acid, Organic Almond Oil, Triethanolamine, Fresh Lemon Juice, Vanilla Absolute, Pakistani Rose Absolute, Chamomile Blue Oil, Organic Evening Primrose Oil, Organic Pumpkin Seed Butter, Organic Cashew Butter, Organic Almond Butter, Tincture of Benzoin, Cetearyl Alcohol, Oakmoss Extract, *Citronellol, *Coumarin, *Geraniol, *Benzyl Benzoate, *Limonene, *Linalool, Alpha-Isomethyl Ionone, Hydroxycitronellal, Perfume, Chlorophyllin Water, Methylparaben, Propylparaben
Handy Gurugu contains some wonderful ingredients. Starting off with rose water, known for its calming properties — just like the Pakistani Rose in this hand cream. Then we have shea butter (over 25%!) — very moisturising and caring for the skin. Almond oil is also moisturizing, as well as soothing. There's some fresh lemon juice as well, to brighten the skin. Vanilla is antibacterial, but also restores the skin's brightness! Chamomile Blue oil calms and soothes the skin, whereas primrose promotes skin's tone and elasticity. Then we have three kinds of butter — pumpkin seed butter, cashew butter and almond butter. All these butters are deeply moisturizing, and they soften the skin. And finally we have oakmoss extract, which I think contributes to the scent. All in all this is a very rich, thick hand cream packed with butters.
tl;dr — this hand cream contains a lot of butters that deeply moisturize the skin.
Scent
The scent is VERY herbal, it's like smelling an oakmoss tree somewhere in a forest after it has been raining. It's an earthy and mossy scent, with a slight woody background. It's an interesting scent to be honest, I don't hate it. Some people think its smells rather floral, but to me, it's straight up mossy and herbal notes.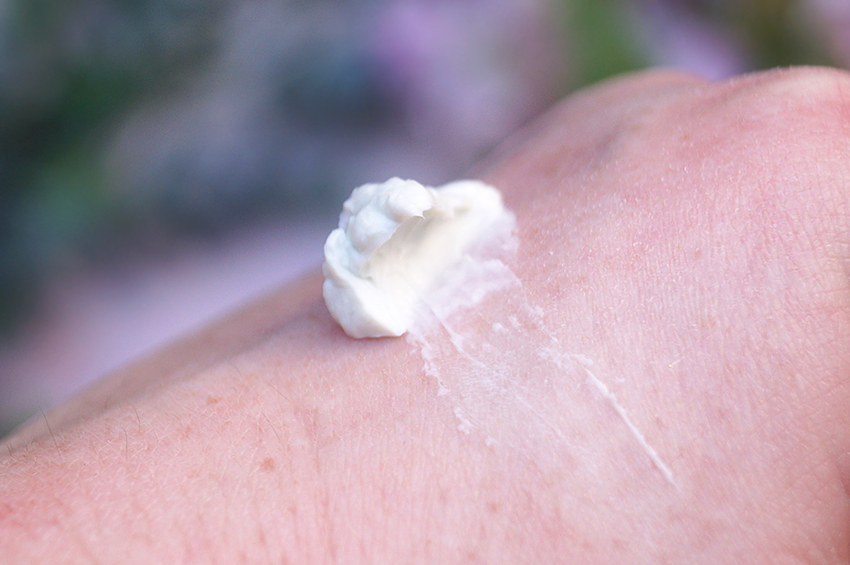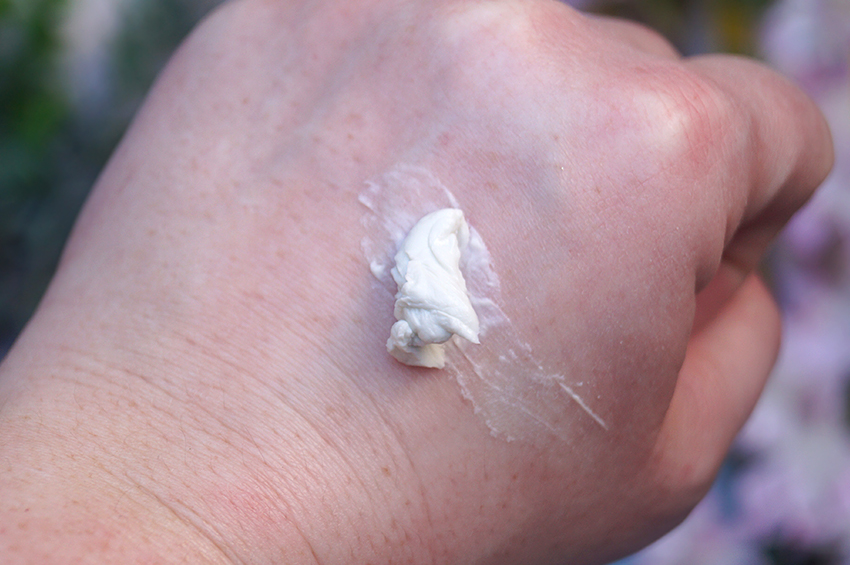 What do I think?
This hand cream has a very thick texture, it's clear that there's a lot of butters in this product. Because it's so rich, you don't have to use a lot — a tiny amount is more than enough! I've found myself applying too much, which left me with greasy hands until I washed it off. Because this hand cream tends to be greasy on the skin, I now apply it to the back of my hands. It takes quite some minutes for this hand cream to fully absorb, which isn't really convenient when you're in a rush or just don't want greasy hands.
Despite this hand cream being really greasy and taking forever to absorb (if it even absorbs in the first place) it really does wonders for your hands. I've noticed dry patches went away after a few days of using it, and I love applying it to my hands before I go to sleep — I always wake up with super soft hands that are moisturized. It has a long-lasting effect — because it leaves a greasy residue, you're ensured to have moisturized hands for hours. You can also apply a little amount to cracked heels as well! It's really a mossy scented lifesaver.

Lush Handy Gurugu Hand Cream costs £9.00 (England) / $21.95 (USA) / €13,00 The Netherlands) for 100 grams

2 Responses to Review: Lush Handy Gurugu Hand Cream