Review: Lush Calm A Llama Party Piñata Bath Bomb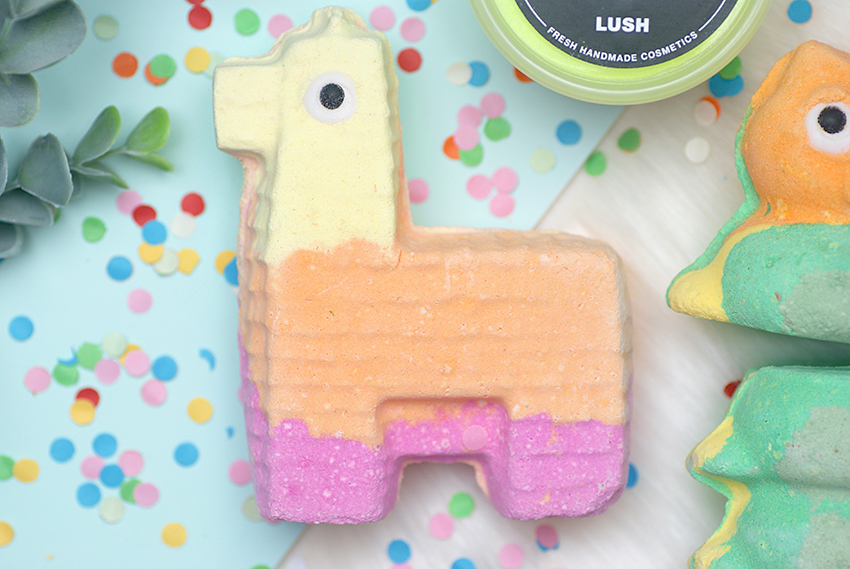 When I was in Liverpool a while ago, I had immediately spotted the Party Exclusives in the new Liverpool store. They were hanging on the wall, but they're not for sale. The only way to get them is to book a party at any UK Lush store. Now I do party with Lush every day in the shower, but for this I would need at least 8 people, and I just don't have that many friends 😂🤷🏻‍♀️ I left the store that day with a LOT of products, which I was veryyy happy with, but somehow I was still bit sad that these nice exclusives weren't for sale…
Until two weeks ago! On Instagram I saw someone posting that they're now temporarily for sale in the UK webshop. I didn't know how FAST I had to grab the creditcard upstairs (I tell you, I ran faster than Usain Bolt ever could) and tossed in some party exclusives into my shopping basket. After a long wait, almost two weeks later they finally arrived. I got three of the Crash jellies, one Cilla the Caterpillar Bath Bomb and two Calm A Llama Party Piñata Bath Bombs. And today, you can read all about the last one.
If you're curious about this bath bomb, then keep on reading.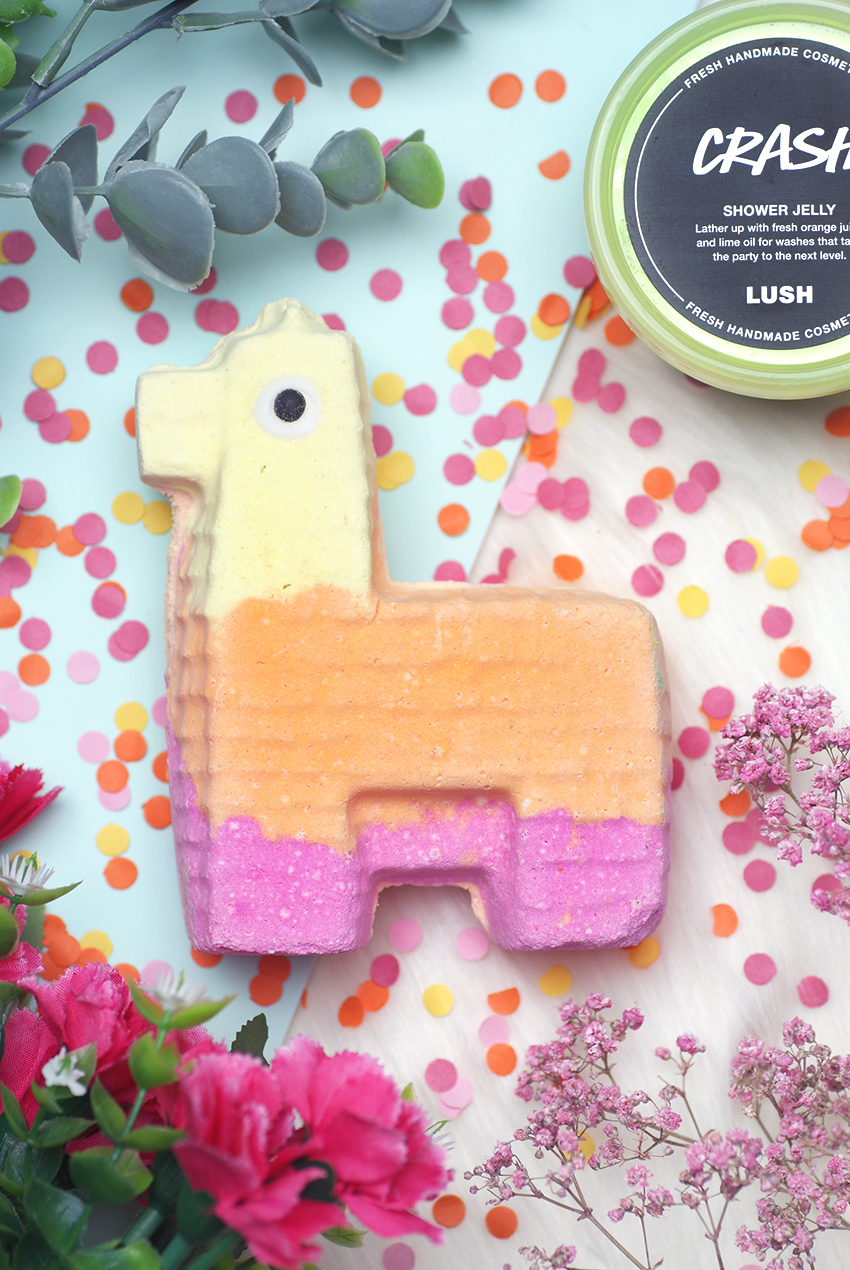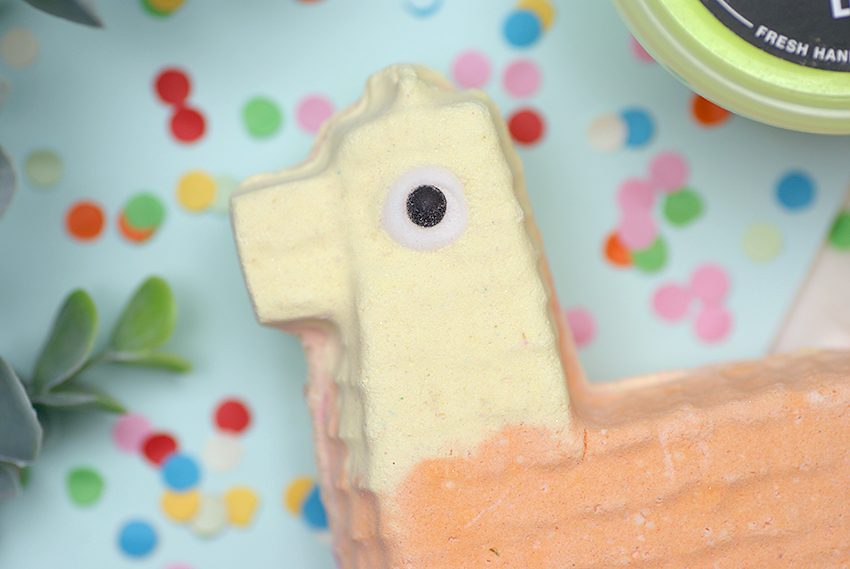 What is it?
Ingrediënten: Sodium Bicarbonate, Citric Acid, Lime Oil, Neroli Oil, Olibanum Resinoid, Cream of Tartar, Water (Aqua), Cornstarch, Glycerine, Titanium Dioxide, Popping Candy, Sodium Coco Sulfate, Cocamidopropyl Betaine, Dipropylene Glycol, Synthetic Fluorphlogopite, Hydroxy propyl methyl cellulose, Sodium carboxymethyl cellulose, *Citral, *Limonene, Alpha-Isomethyl Ionone, Benzyl Salicylate, Hydroxycitronellal, Perfume, Colour 45410:1, Colour 15510, Colour 47005, Colour 42090:2, Colour 47005:1, Colour 42090, Colour 16255, Colour 19140, Colour 77492, Candy Eyes
Lush Calm A Llama Party Piñata Bath Bomb costs £7.95 and is a Party Exclusive, these are products from Lush that you normally only get when hosting a party in one of the stores. Mind you, you don't get Calm A Llama Party Piñata everywhere at a Lush party, only in Lush stores in England. Since I'm living in the Netherlands, you can imagine how surprised and happy I was that it's for sale now.
Calm A Llama Party Piñata is an bath bomb shaped like a llama. It's yellow, orange and pink and has two eyes made out of candy. The ripples on the bath bomb make this llama look like a piñata. I wonder what's inside? Let's not smash its brains in, though. It kind of reminds me of the Fortnite llama, by the way. Anyway, I love this design. So creative and funny. I bought two of them, but I could've easily bought 20. I love llamas.
In terms of ingredients, this llama contains lime, neroli, olibanum, cornstarch, glycerin and popping candy. Lime, neroli and olibanum (also called frankincense) are the ingredients that make up the scent. Lime and neroli are both zesty and citrusy, while olibanum is spicy and woody. This unique and interesting combination shows its best side by giving us a warm scent with a little zesty note. It kinda reminds me of Celebrate / Bubbly, which is a warm orange scent, and also one of my favorite fragrances by Lush! This llama has a lovely scent. It's not too strong or overpowering, but I feel like it's definitely a scent everyone could appreciate. (Update: I've read that this bath bomb would smell like Calacas!)
Play the videos in 2160p quality and on full screen for the best experience! The first video has been speeded up.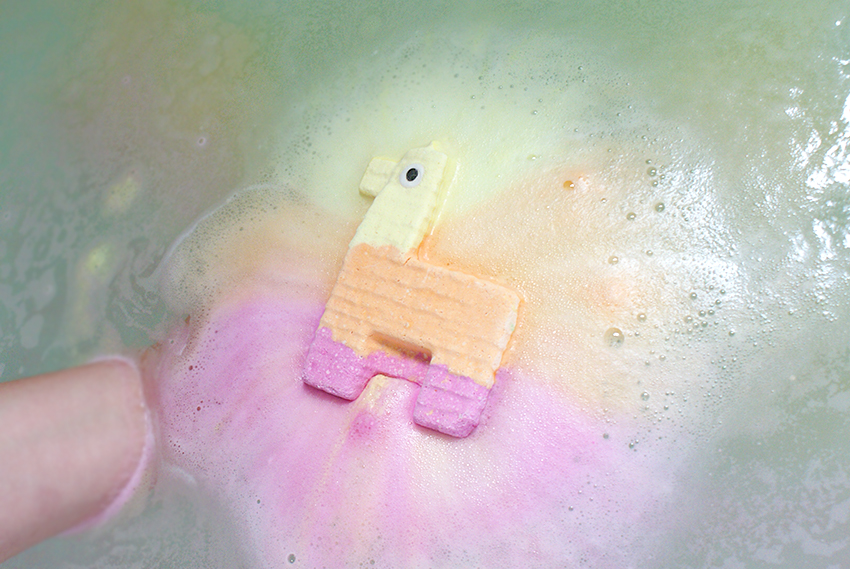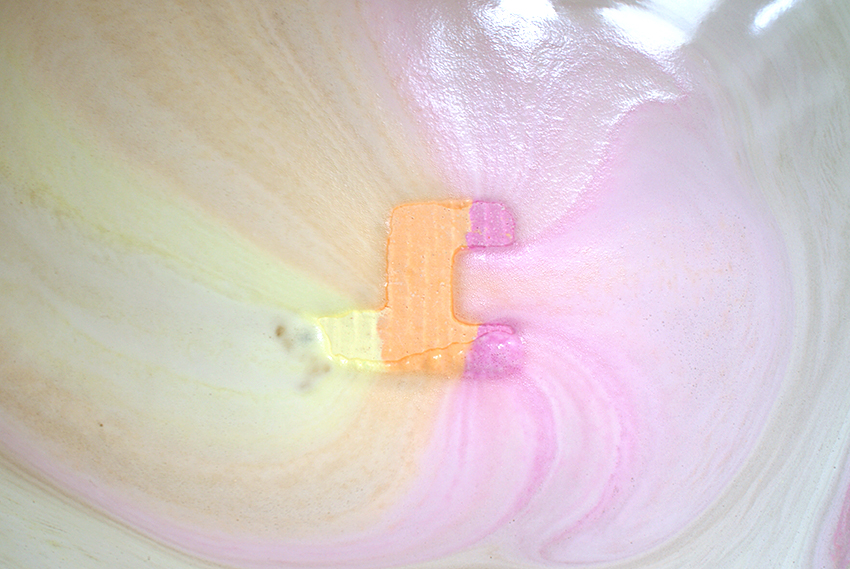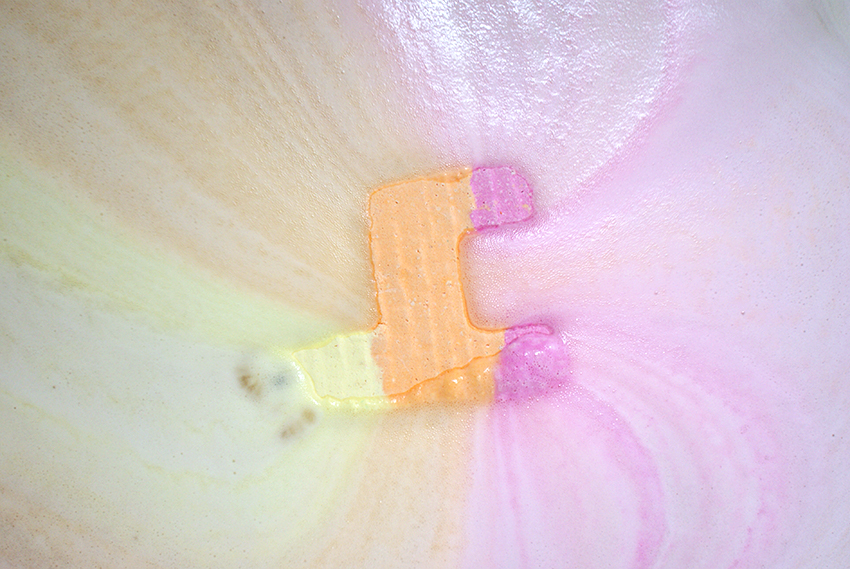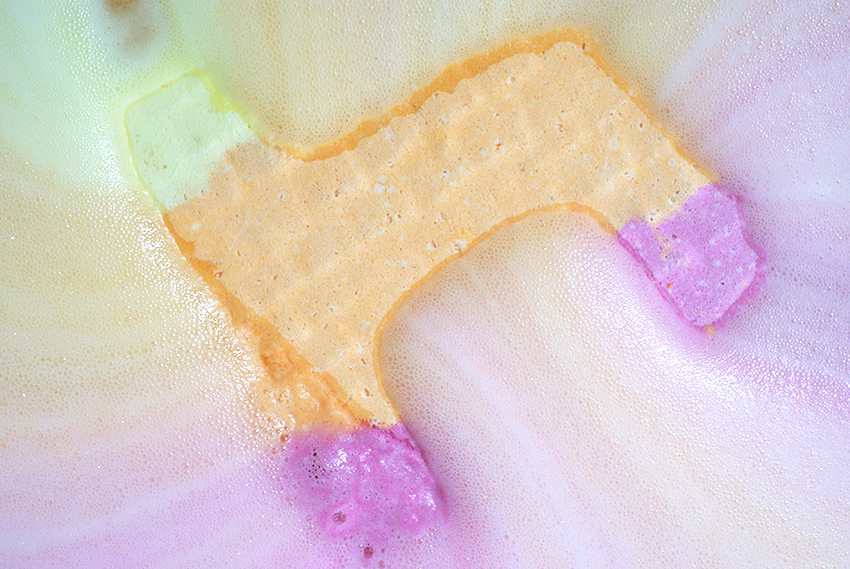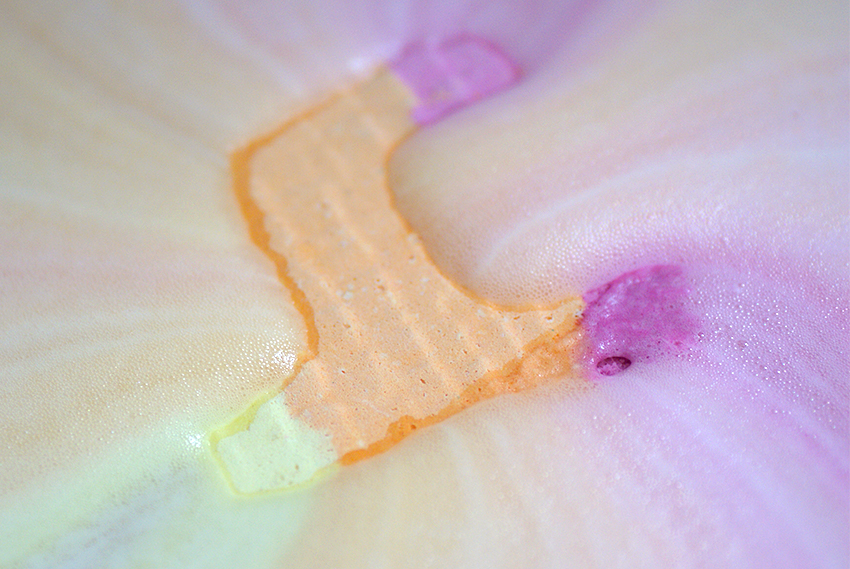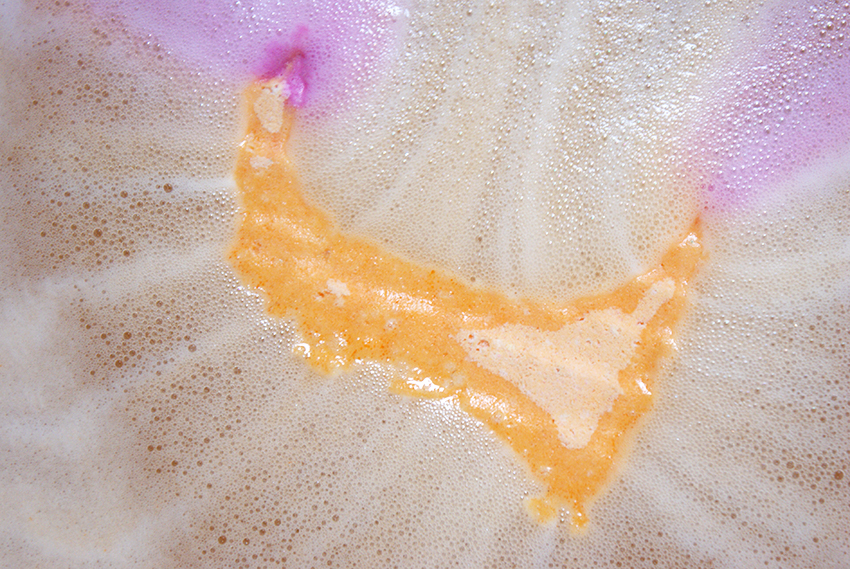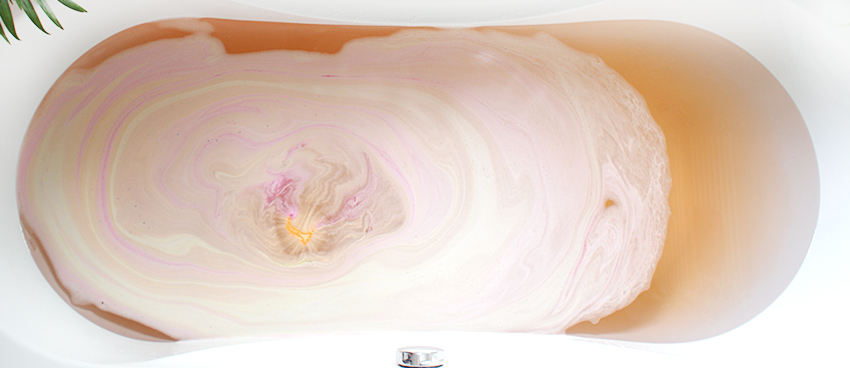 What do I think?
When this llama hits the water, a thick, frothy layer is being spurted out in all directions. Yellow, orange and pink are divided over the surface while the llama continues to float through the tub. Everywhere this llama goes, it shits out trails of frothy foam in happy colors. When it's done fizzing, the middle part dissolves in the water. In the meanwhile, the water changed into a lovely, bright orange shade. It's a slow fizzer, taking up about 8 minutes before completely dissolved, leaving you with orange/tangerine water and some thin puddles of foam on the surface.
The smell of the bath bomb could've been a bit stronger in my opinion, I didn't really pick up the scent while bathing. Now I do still have a cold, so I have a bit of a loss of smell. When I drained the bath I noticed some small, colored flecks on the bottom of the tub. Blue, pink and yellow dots of colorings. I didn't see this while bathing as I sat on them with my fat ass, but I'm guessing it's the insides of the llama. You know, as it's a piñata and such. Pretty cool. Wish I would've noticed it though.
Anyway, bathing with llama was lovely. I'm glad I got another one. You can normally only get them at parties in the Lush stores, but they're now also for sale in the UK webshop. If they're sold out, keep on checking, as they tend to restock pretty often. And while you're at it, grab yourself some Crash jellies as well. These Celebrate-scented jellies are a must have!

Lush Calm A Llama Party Piñata Bath Bomb costs £7.95 and is part of the Party Exclusives. You can get them when you've booked a party in any UK Lush store, but they're now also temporary for sale in the UK webshop.