Review: Lush Bom Perignon Bath Bomb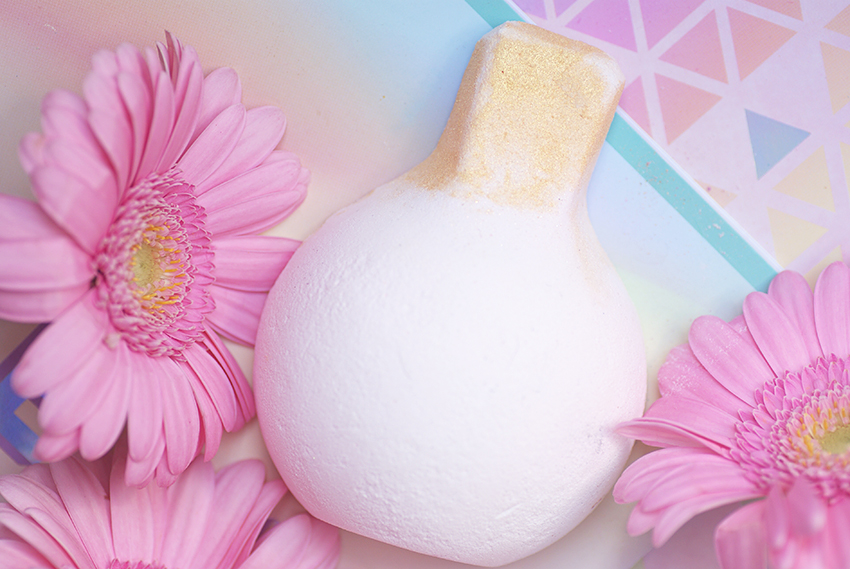 Bom Perignon has been laying in my room for months now. Every time I was deciding which bath bomb I was going to review, I skipped Bom Perignon. I mean, no offense to Bom Perignon, bug he's a bit smaller and he looks pretty boring. And I could barely pick up any scent from it!? So I just would go for the colorful bath bombs. But when I recently had a quick poll on Instagram, it turned out people wanted to see this bath bomb to be reviewed. And you know it: your wish is my command. So, onward to the bathroom!
If you're curious about this bath bomb, then keep on reading.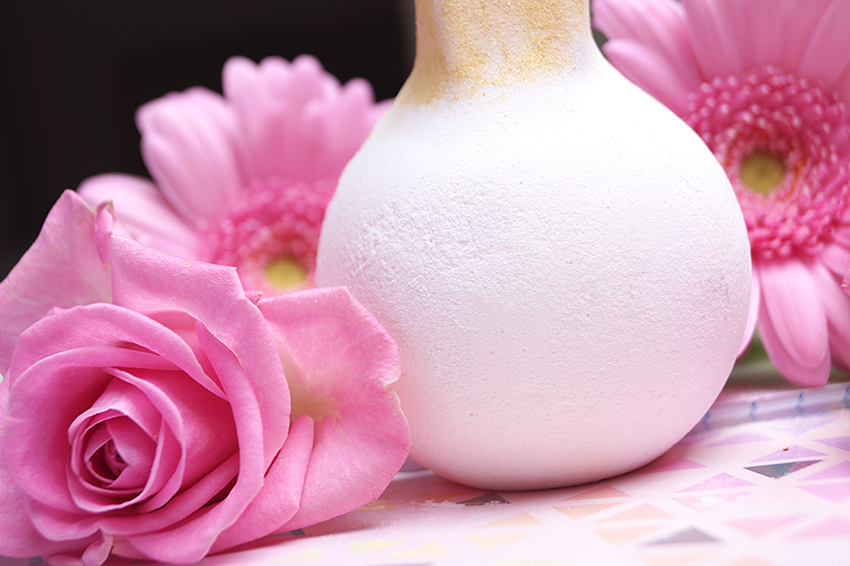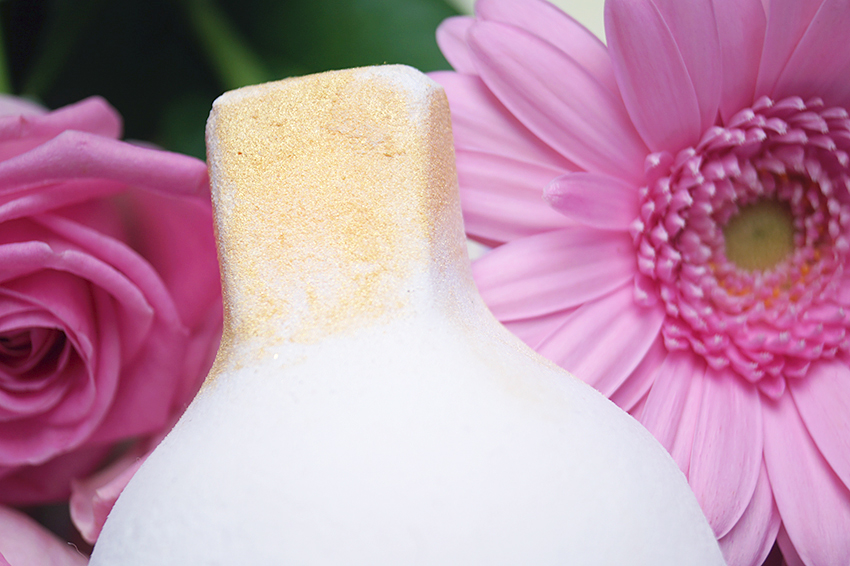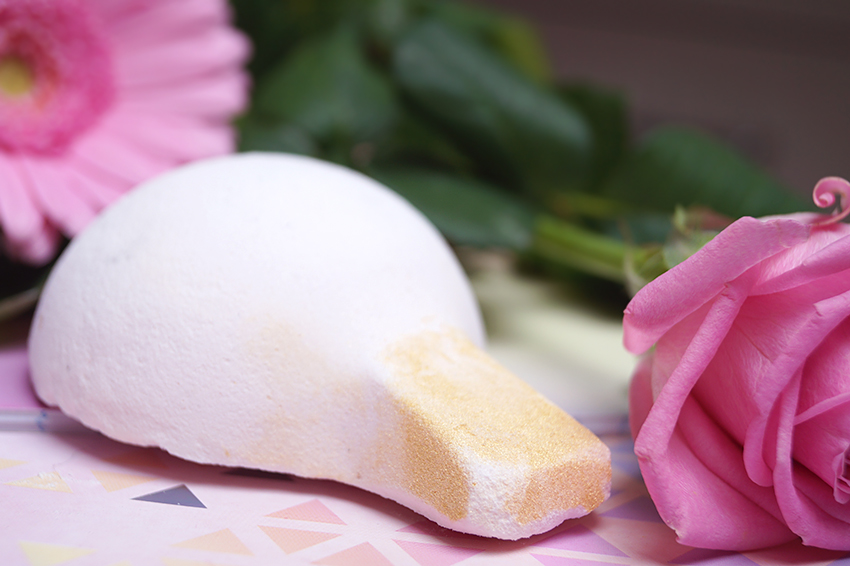 What is it?
Ingredients: Sodium Bicarbonate, Citric Acid, Tangerine Oil, Grapefruit Oil, Water (Aqua), Titanium Dioxide, Synthetic Fluorphlogopite, Tin Oxide, *Citral, *Limonene, Perfume, Colour 14700, Colour 77491
Lush Bom Perignon Bath Bomb costs £3.95 / $5.45 and is part of the temporary Harajuku range, consisting of 54 new, exclusive bath bombs. Bom Perignon was inspired by the luxury champagne Dom Perignon. I think the shape of the bath bomb is also meant to represent a bottle of champagne, but.. it looks rather deformed. The bath bomb is somewhat smaller and doesn't have a spectaculair look. It's white with a little bit of gold. And that's it. Boooring. But knowing Lush, this doesn't have to mean anything. There could be a shitload of colors inside. Little stars. A stripper. You just don't know.
Bom Perignon contains tangerine oil and grapefruit oil. These two ingredients provide a citrusy, but also somewhat warm scent. Bom Perignon would smell like champagne — hence the name. Now I don't drink anymore, but when I did, I wouldn't drink champagne very often, so I have no clue how champagne is supposed to smell. But I do think that Bom Perignon has a sparkling and chic scent. It's a warm, chic citrusy scent. Reminds me a lot of Celebrate / Golden Wonder, but a little more uplifting and fresh. Anyway, it's an amazing scent. I really love it.
Play the video in 2160p quality and on full screen for the best experience! The video has been speeded up.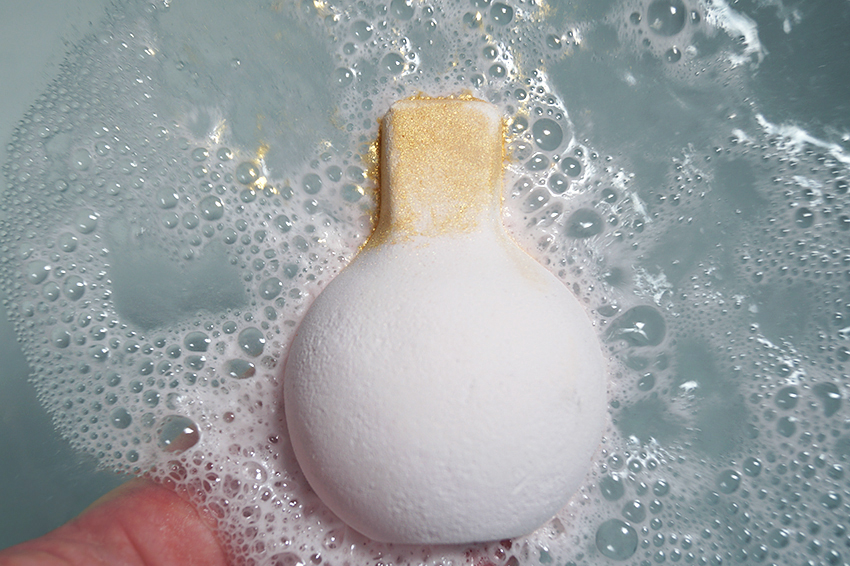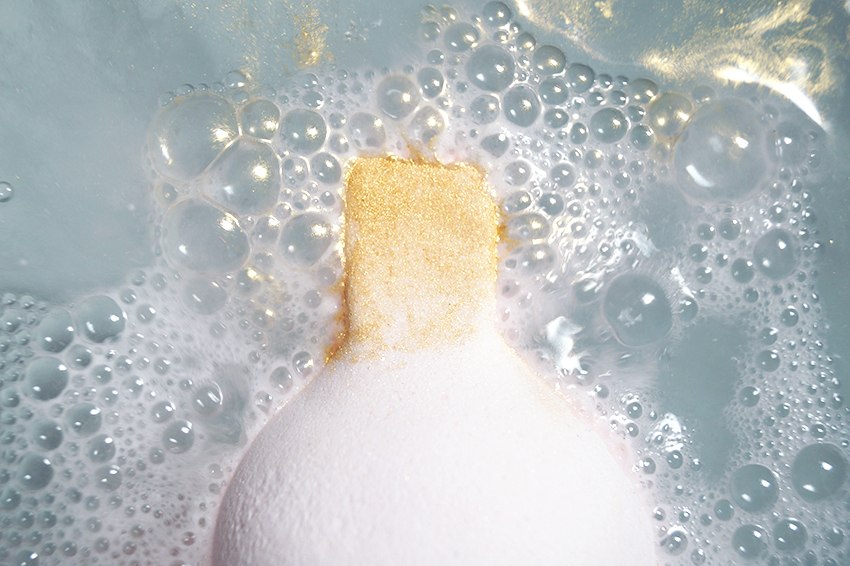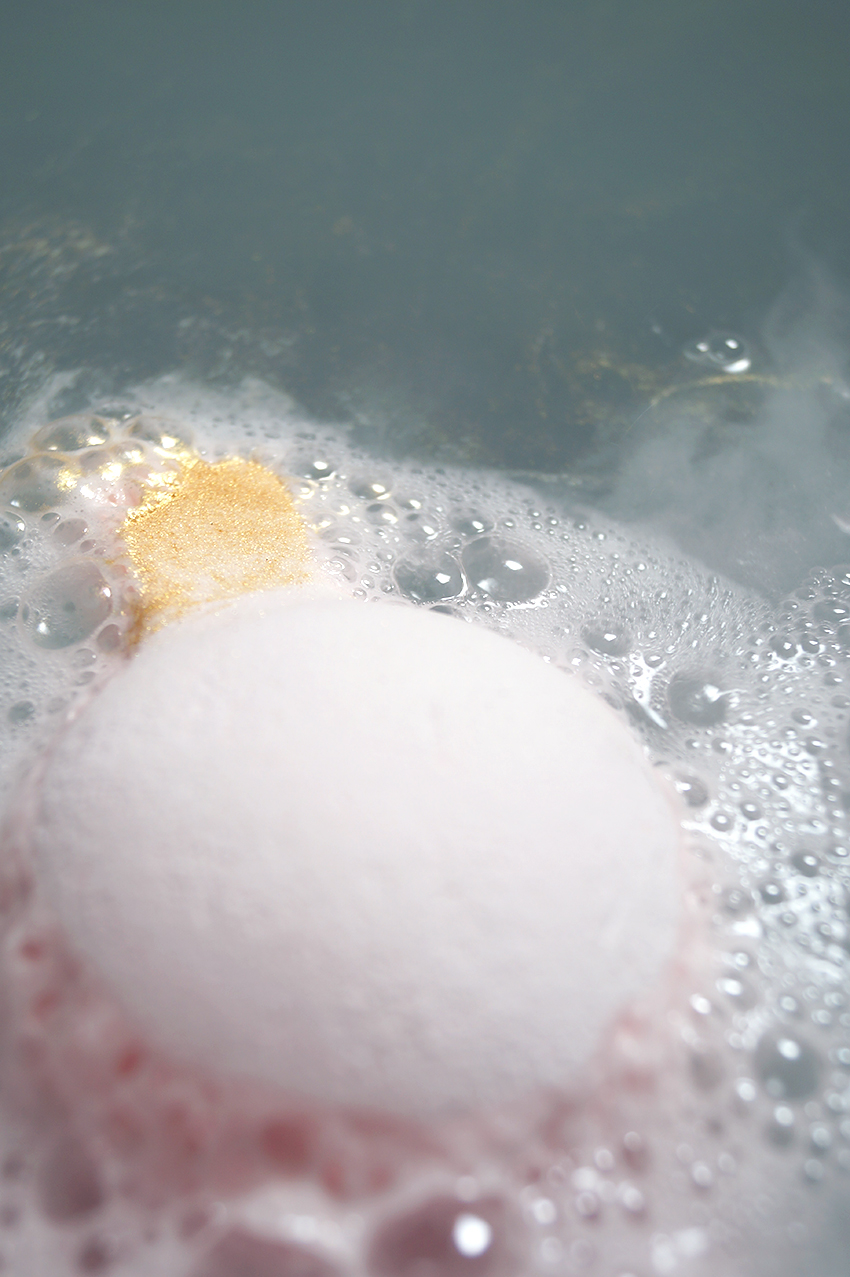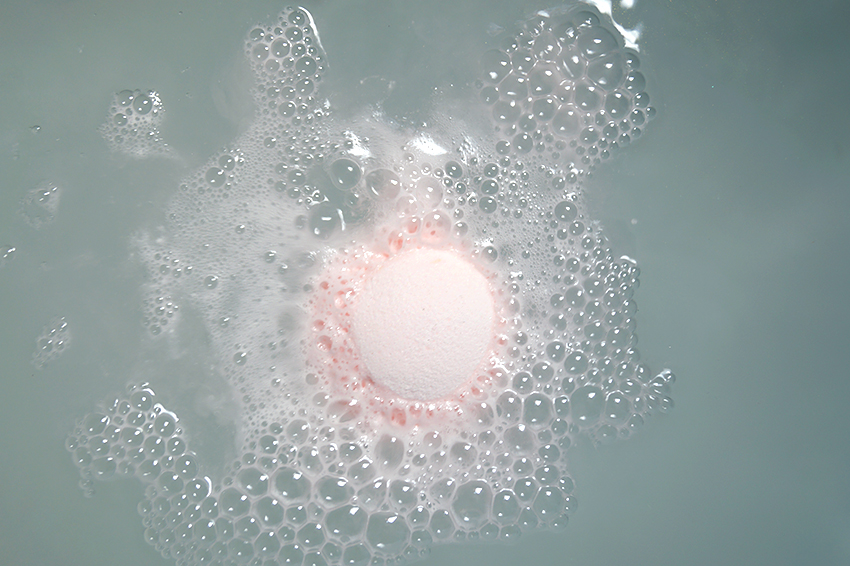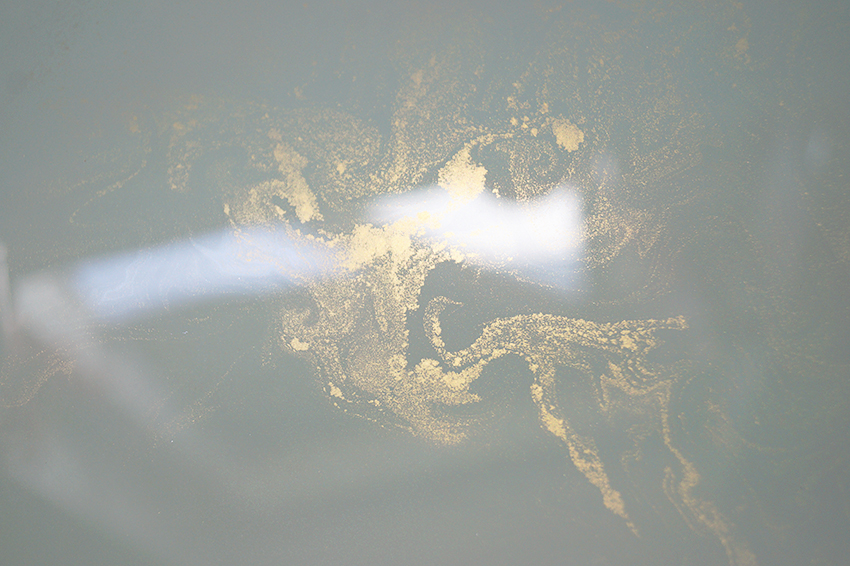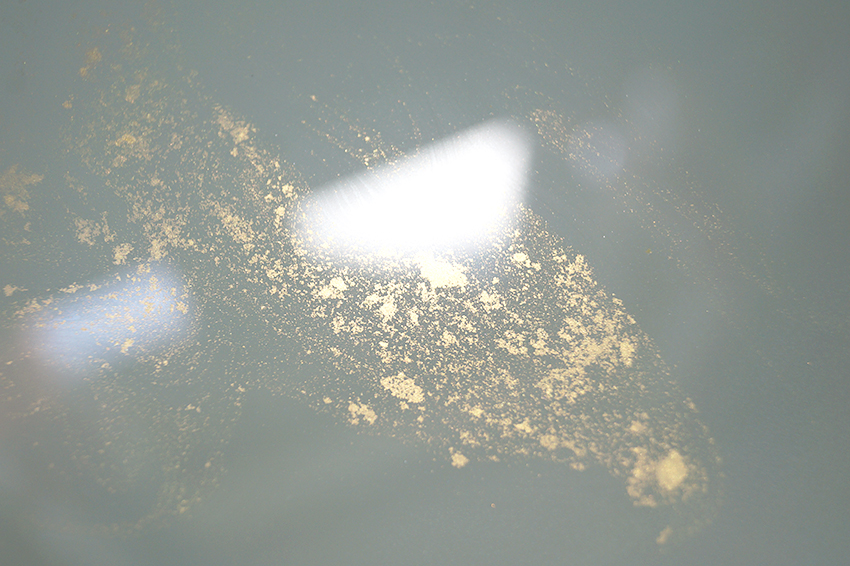 What do I think?
When I put Bom in the water, it starts fizzing and a delicious, sparkling citrus scent greets my nose. It's just a whiff though — I would not smell it anymore during bathing. The bath bomb is dissolved pretty quickly, faster than I could finish a bottle of champagne back in the days! The center of the bath bomb is slighty pink, but unfortunately, it's not strong enough to color the water. There's a sparkly, golden oily fleck on the surface, which looks lovely, but below the surface nothing happens. After two minutes of fizzing, Bom has completely dissolved, leaving no color or scent behind. The water looks untouched, as if I didn't toss anything in it yet. Not even a slightly white color or layer — just nothing.
With no colors and no scents to be smelled, this bath bomb is a real let down for me. I loved the whiff I caught, but I wish the scent would be much stronger. In my opinion, it's not even worth its price. And to think it's $5.45 in NA is just.. bizarre? Although it looks more pink over there, the ingredients are completely the same. Nah, I'd skip it. Get yourself one of them other bath bombs. I don't think there's anything wrong with this bath bomb itself, it's just not strong enough for a bath. Too bad.

Lush Bom Perignon Bath Bomb costs £3.95 (England) / $5.45 (USA).