Review: Lush Mud Body Mask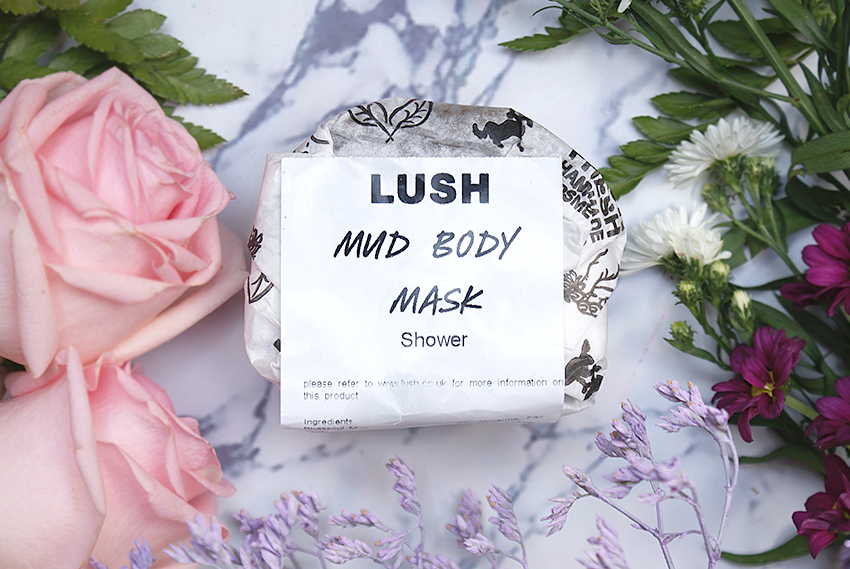 I don't really do solid scrubs. I like the more liquid scrubs in jars much better. But in Liverpool, I stumbled across this piece of scrub, who doesn't only look like a brownie, but also smells like a brownie. And something smelling like a brownie, is more than enough reason for me to buy it. So I did. And now that it's temporarily for sale in the Lush Labs (UK & Europe), it was time for a review.
If you're curious about this product, make sure you keep on reading!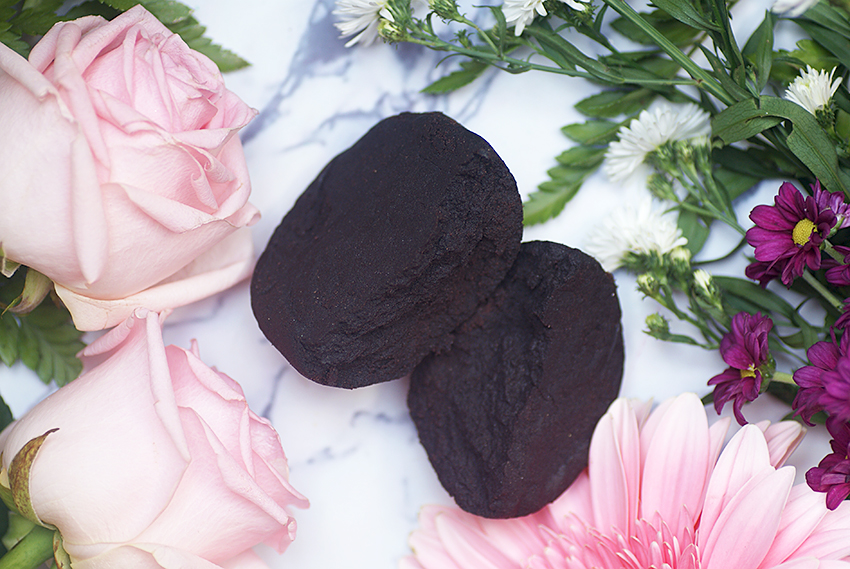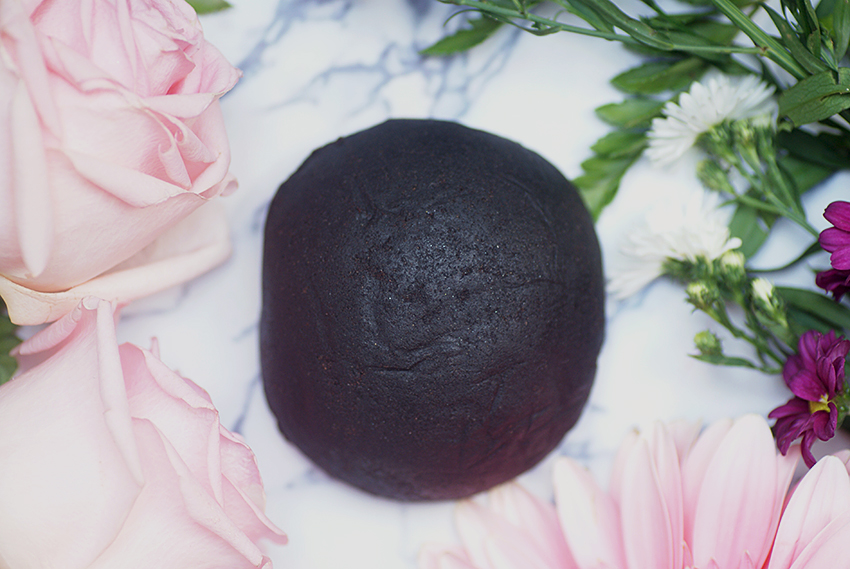 What is it?
Lush Mud Body Mask costs £6.50 and weighs approximately 125 grams. It looks like a scrub, but it's actually a body mask. Just like a face mask, but for your body. Makes sense, right. But since you and I don't use body masks on a daily basis, I will explain why for God's sake you should put this brown mess on your body for 15 minutes.
The main ingredient of this mask is rhassoul mud – an ingredient that draws out impurities and gives your skin a deep cleanse. It contains high concentrations of silica, magnesium, potassium and calcium. Just like a hair mask and face mask, it's better to leave this mask on longer, so that it can do its job while your impatiently waiting for this mess to rinse off again. The mechanical process really needs some time to let the clay draw out the impurities, so give it some time. Now I get that you're not gonna wait butt naked in the shower for 15 minutes, so using this product while bathing might be a better option. You can only do your upper body then, but we need to accept that life is though sometimes and we can't have it all.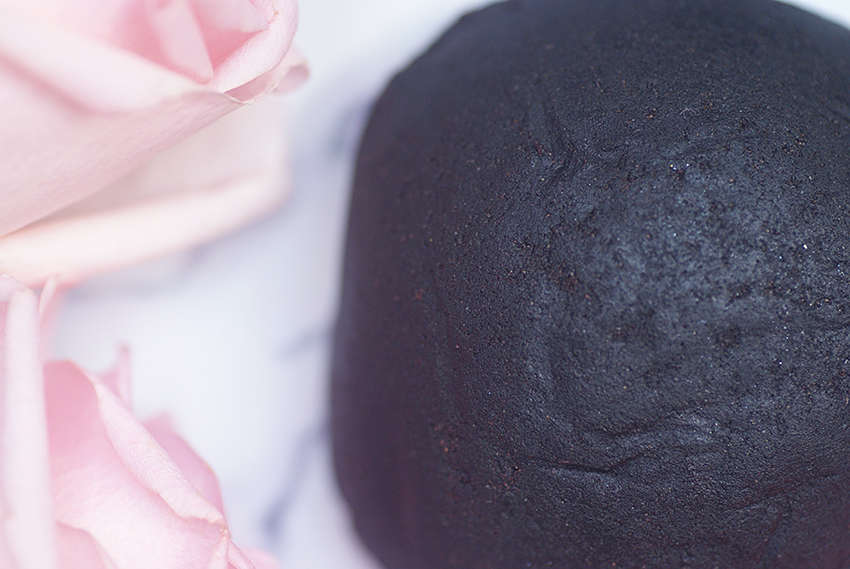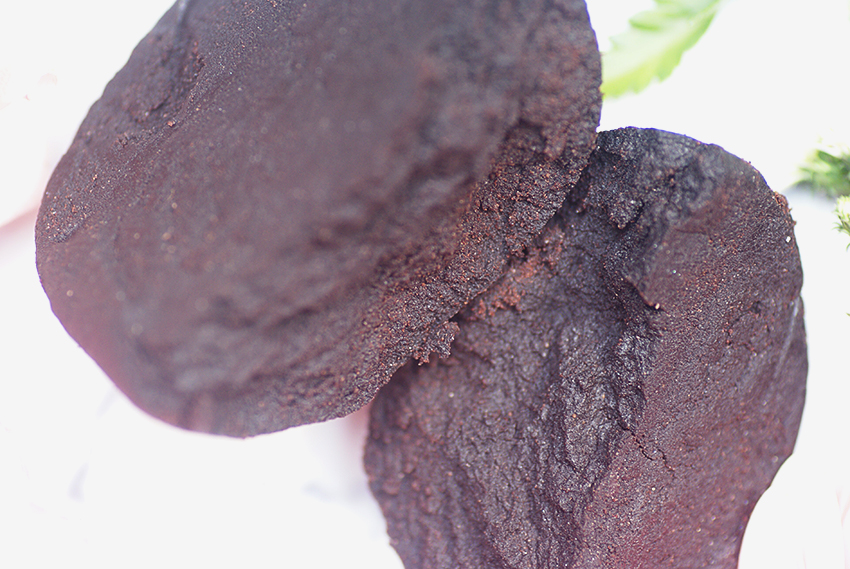 What's inside?
Ingredients: Rhassoul Mud, Sodium Bicarbonate, Glycerine, Fair Trade Organic Sesame Oil, Citric Acid, Cocoa Powder, Brazilian Orange Oil, Myrrh Resinoid, Vanilla Absolute, Amyl Cinnamal, *Anise Alcohol, Benzyl Salicylate, Coumarin, *Eugenol, *Limonene, *Linalool, Perfume
I already mentioned something about rhassoul mud being the main ingredient, but in addition to that, it also contains glycerin, to soften and hydrate the skin. Sesame oil is rich in vitamine b and deeply hydrates the skin, but is also smoothing and firming. Cocoa powder contains a residue of cocoa butter, which softens and hydrates your skin. Then we have orange oil, which not only has an anti-inflammatory effect, but also has a refreshing and cleansing effect on the skin. Myrrh has a spicy aroma, but it's also antiseptic and skin soothing. At last, there's vanilla. We all love vanilla, don't we? The scent is wonderful and it also makes the skin softer.
The scent is a warm, chocolate-like smell. It's the scent of Crème Anglaise! Like I said, it smells like a brownie to me. Other may say it smells like chocolate cake. Nonetheless, it's a warm cocoa scent, with a spicy layer to it. I think it's a lovely scent, it fits this product really well.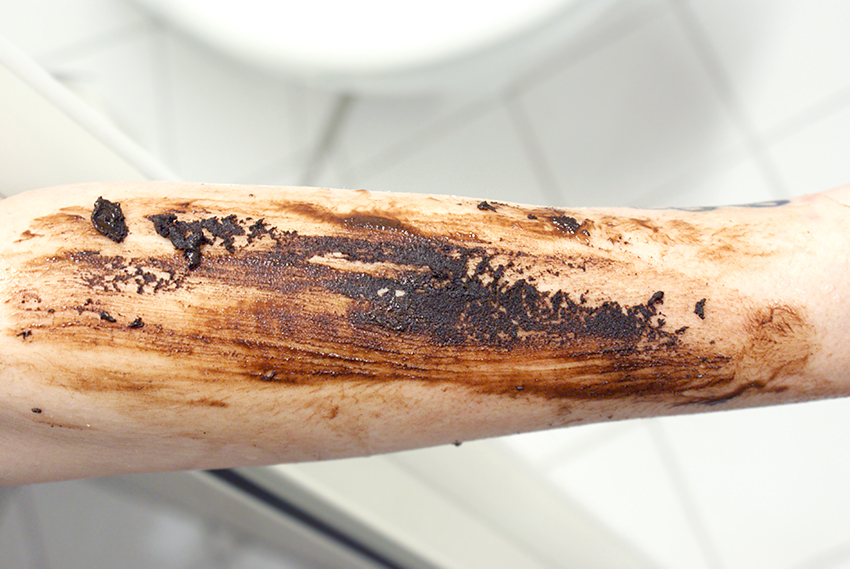 What do I think?
It took me a while before I could review this product. I simply don't have the time in the morning (read: my ass is too lazy to get up earlier) for a long shower, and in the evening I simply have no patience, because then I just want to go to bed as quickly as possible. I ended up using it in the bath, putting the mask on my upper body and arms. This way, I could easily let it sit for 15 minutes. A week later I used it again, but then on one arm, so I could clearly see and feel the difference with my other arm.
The first time using this Mud mask was not a success. Mud and water everywhere results in decorating my tub with brown stripes and splashes everywhere. It was literally everywhere, because I'm *that* person that can never sit still for longer than 15 seconds. The scent of the mud mask is, once applied, very well present, but not in an overpowering way. It's like you've spread chocolate cake over your skin. That's how it looks, but also how it smells, so.. keep those tongues in your mouths. After rinsing the mask off, my skin felt insanely soft and smooth, but also got a bit irritated, especially on the inside of my elbows. The second time I felt a little bit of an irritation as well, I felt a veryyy light burning sensation. Totally not painful or something, but noticeable. Other than that, the skin is a lot more soft and smooth, as if I used a really good scrub. It feels hydrated and supple for the entire day.
I think you get about 4 uses out of Mud body mask — depending on how much you apply, of course. I found that it works pretty well when you break off a piece and add some water to it, so that it turns into a paste. I would not buy this product again, though — despite the fact that it smells good and works well, I'm simply not blown away by it.

Lush Mud Body Mask costs £6.50 (England).