Review: Lush Temple In The Skies Bath Bomb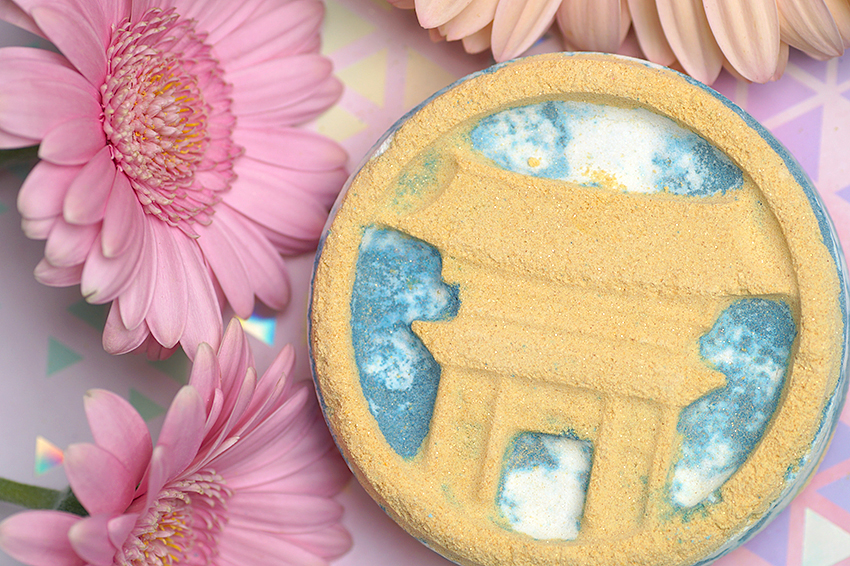 In case you're wondering — yes, this is a Lush bath bomb, and no, I'm afraid you can't buy it in Europe or North America. 😪 Only in the Harajuku store in Japan. Temple in the Skies is one of the 89 Harajuku bath bombs that were launched earlier this year. Of all 89, 54 have come to Europe and North America. That means, there's still 35 remaining bath bombs, of which Temple in the Skies is one of them.
And to answer your next question: I won this bath bomb! On Instagram, one of my favourite Lush accounts, @lushestpanda, was having a giveaway and guess who won? ME! I feel so lucky and blessed. Look at how gorgeous this bath bomb is. It's almost too pretty to use… but I did it anyway.
If you're curious about this bath bomb, then keep on reading.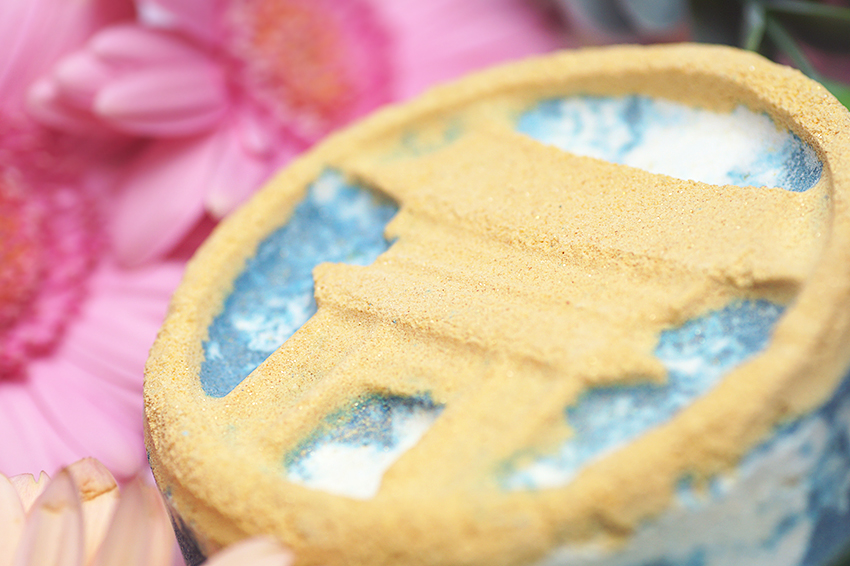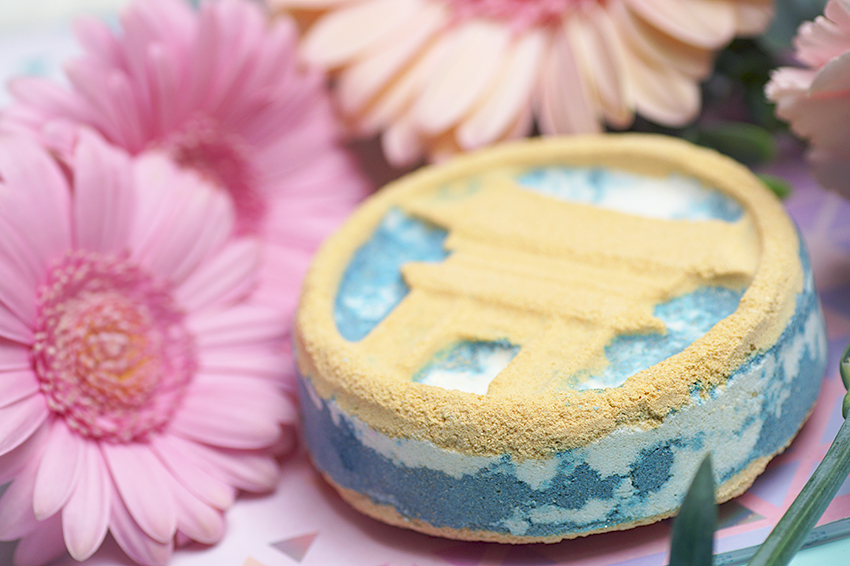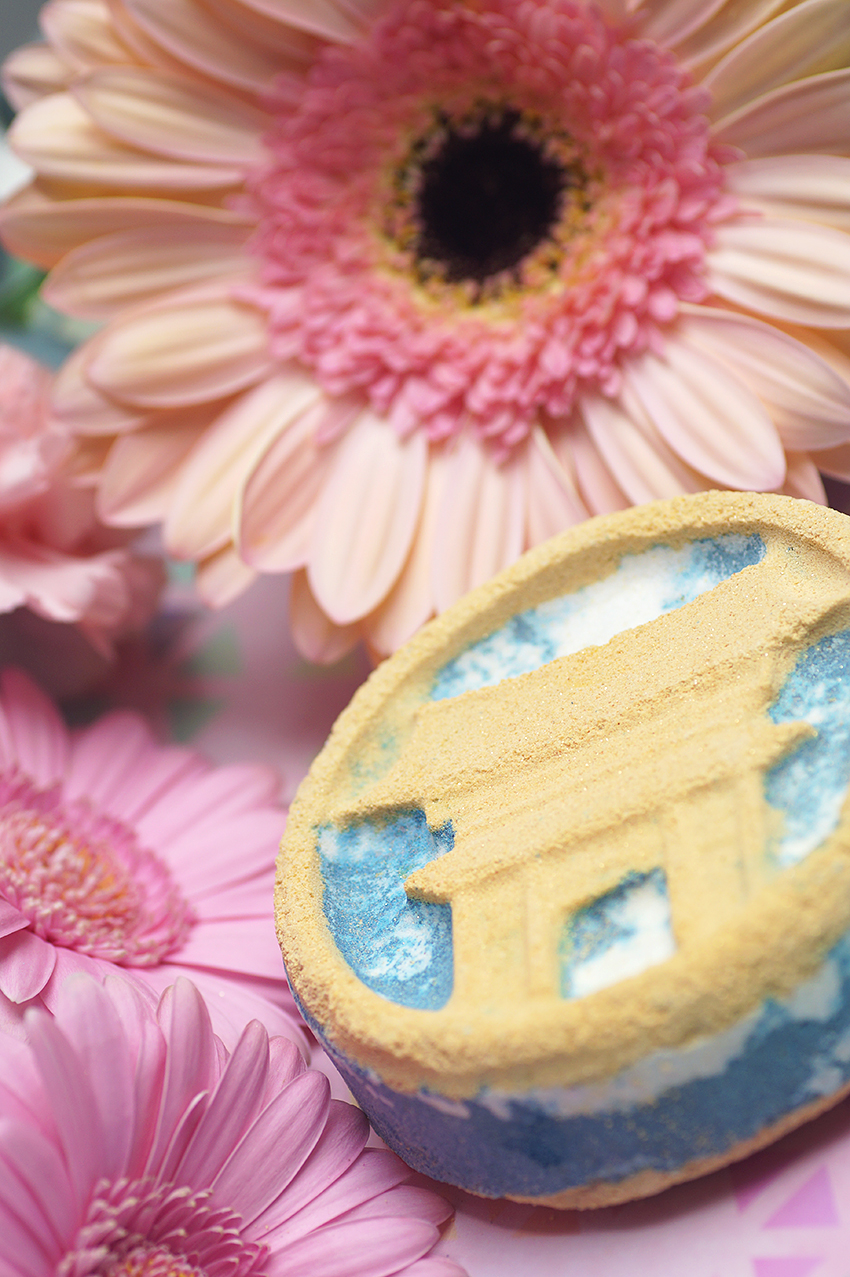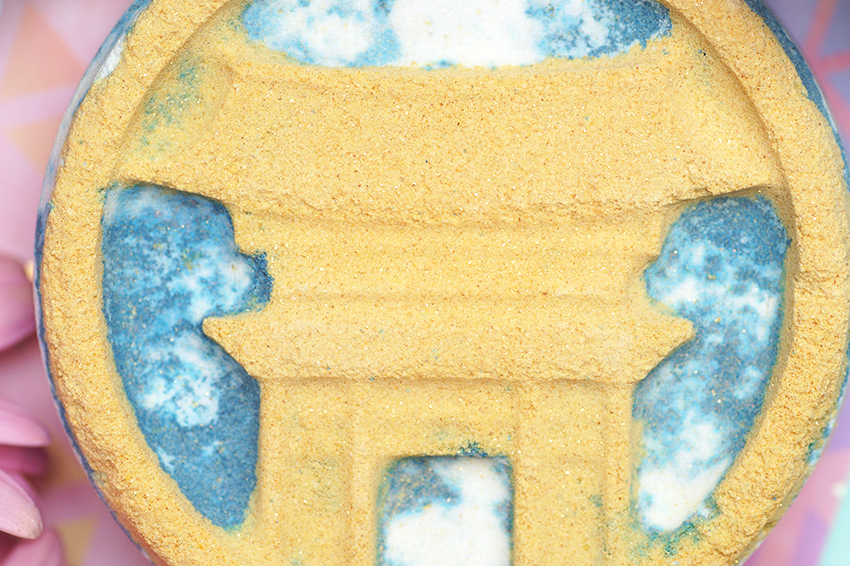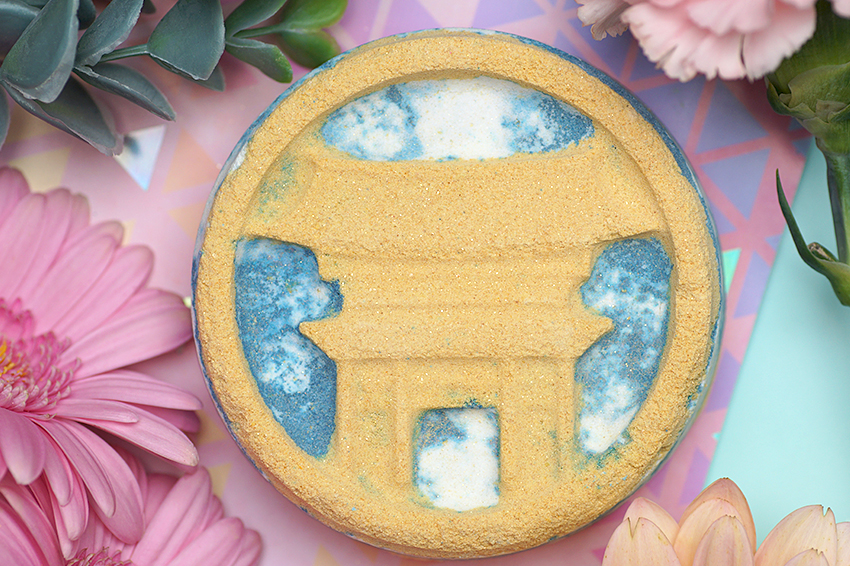 What is it?
Ingredients: Sodium Bicarbonate, Citric Acid, Perfume, Sicilian Lemon Oil (Citrus limonum), Sweet Wild Orange Oil (Citrus sinensis), Titanium Dioxide, Water (Aqua), Cornstarch (Zea mays), Disodium Lauryl Sulfosuccinate, Synthetic Fluorphlogopite, Dipropylene Glycol, Silica, Tin Oxide, *Citral, *Geraniol, *Limonene, *Linalool, Colour 42092:2, Colour 77491, Colour 19140:1, Colour 17200, Colour 42090, Colour 45350
Lush Temple In The Skies Bath Bomb is an exclusive bath bomb that you can only buy in the Harajuku store in Japan. It's one of the 89 bath bombs launched earlier this year, in honor of Lush their 30th anniversary. (Founded in 1989, hence 89 bath bombs) Temple in the Skies is a beautiful bath bomb, it's really a work of art. It's a fairly big disc with a Japanese temple on it, which I love. Temples are an important type of culture in Japan. It definitely adds something to this already exclusive bath bomb. Furthermore, there's not much to find about this bath bomb. I've found that it costs about ¥ 960, which is about 9 dollars.
The scent is incredible. In fact, it reminds me of Golden Wonder (Celebrate scent family) a LOT. For those who don't know: Celebrate scent is one of my favorites scents by Lush. Products from this scent family have a warm citrusy scent, and so does Temple in the Skies. Although Temple does not contain the cognac oil that the Celebrate scent family does have. But despite this, I think the scents are very much alike. The orange oil can be smelled very well, but it clearly has a warm, soft layer as well. This makes the scent of the bath bomb both cheerful and relaxing. Temple contains Sicilian lemon oil and orange oil, which are both cleansing and brightening.
Play the videos in 2160p quality and on full screen for the best experience! The first video has been speeded up.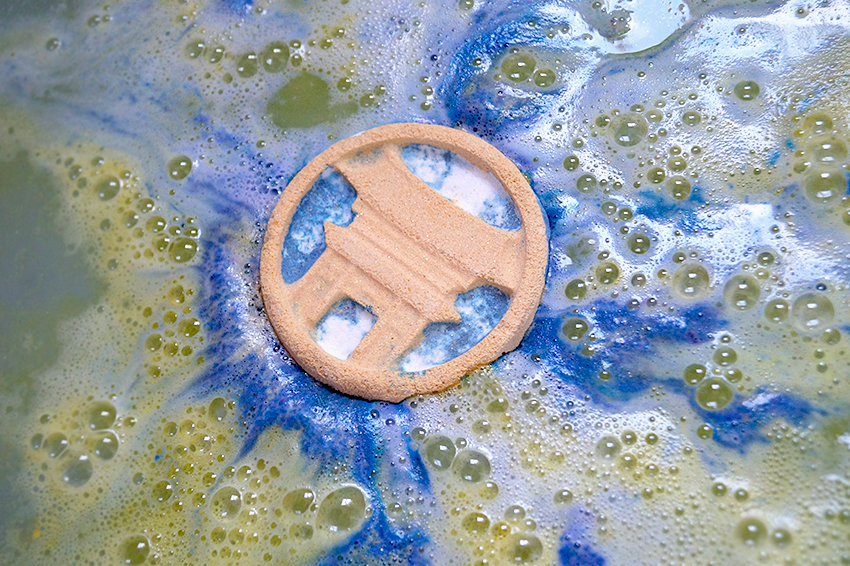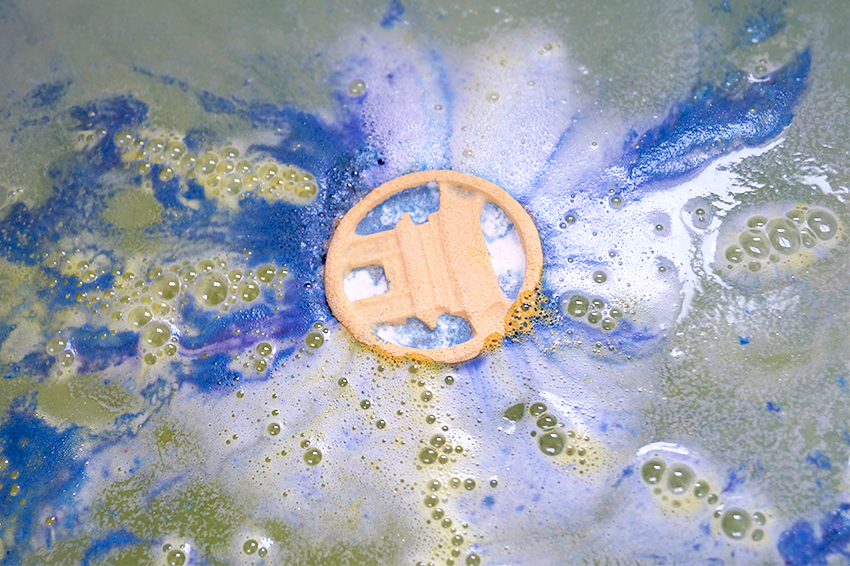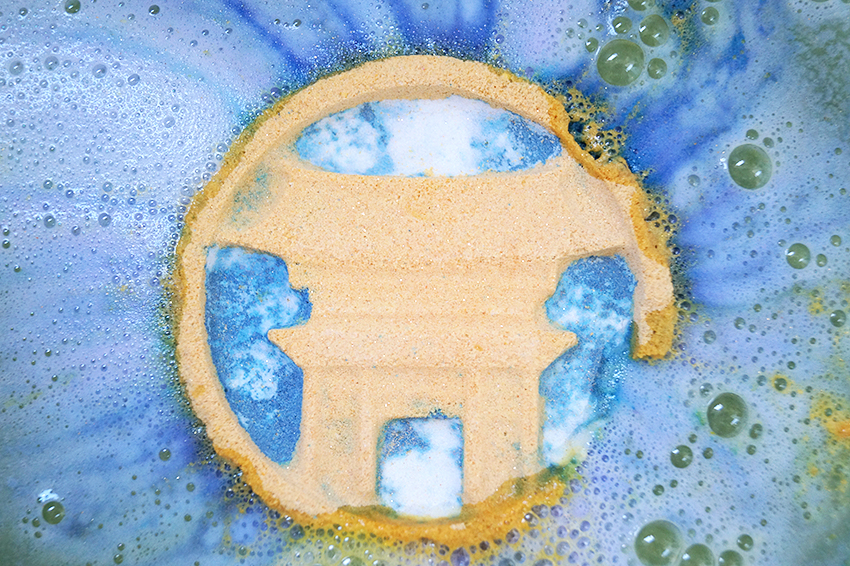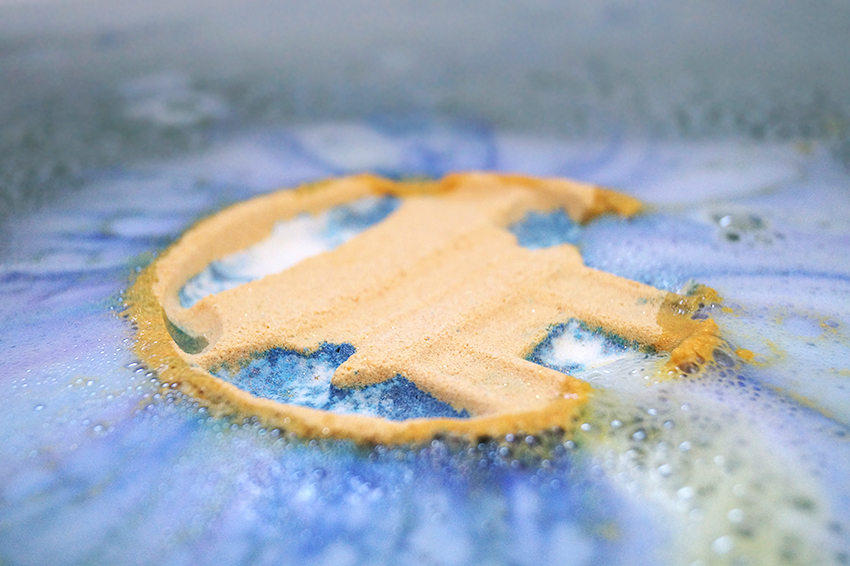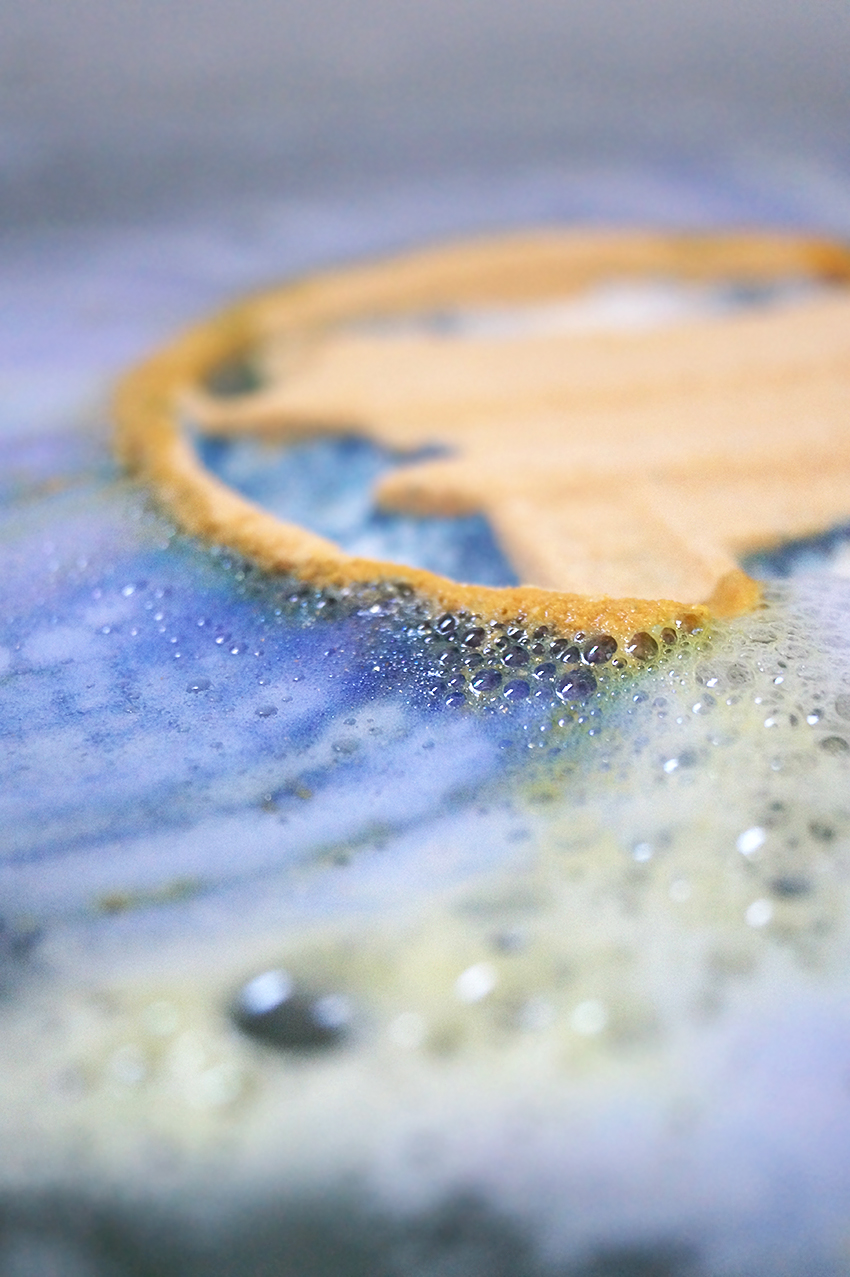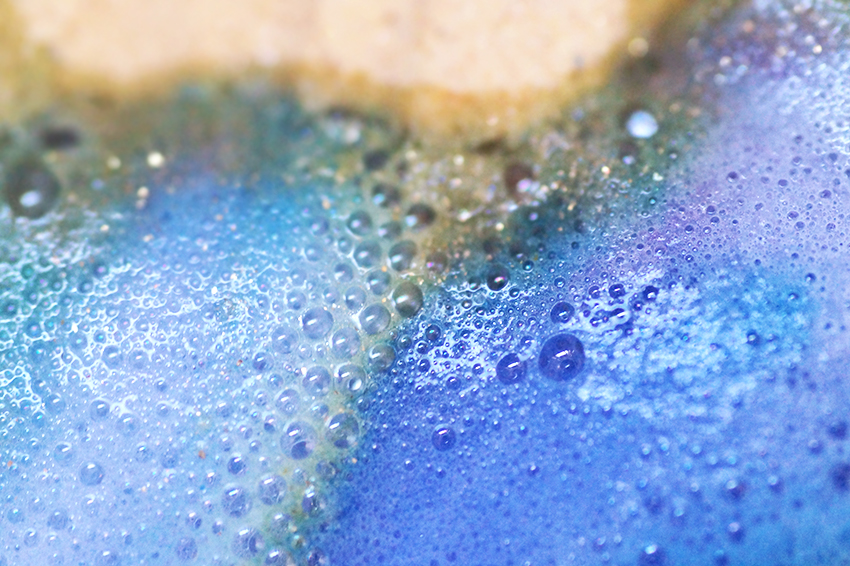 What do I think?
When Temple in the Skies hits the water, it begins spewing out streams of dark blue and yellow. It's a very slow fizzer, so I'd suggest taking your time to enjoy this gorgeous bath bomb in the tub. The bath bomb makes it way through the tub, leaving bright and vivid colors behind. Because of the yellow and blue, the final color of the water turns a dark green shade, but also contains a gorgeous golden lustre under the surface. The green color of the water isn't the most gorgeous color I've had, but it's certainly not bad as well. It's a pretty unique and cool shade! The warm citrusy scent can be smelled throughout the entire time.
Oh, it was such a lovely, relaxing bath session. I was desperately in need of a relaxing soak, so this bath bomb's arrival couldn't be better. I enjoyed it a lot, and the scent is just amazing. I've become so curious about the two other bath bombs (Roar and Flight) 😊 And I must admit, I've also got curious to the rest of the 35 Harajuku bath bombs.. but perhaps they'll come to Europe and North America one day. I mean.. we all know how "exclusive" products can be at Lush. One moment it can be an exclusive somewhere, next thing you know it's available for everyone to buy. But, we will see. I hope it will ever make its arrival to Europe though, because I'm definitely planning on buying more of these!

Lush Temple In The Skies Bath Bomb is only available in the Harajuku store in Japan.