Review: Lush Meditation Shower Bomb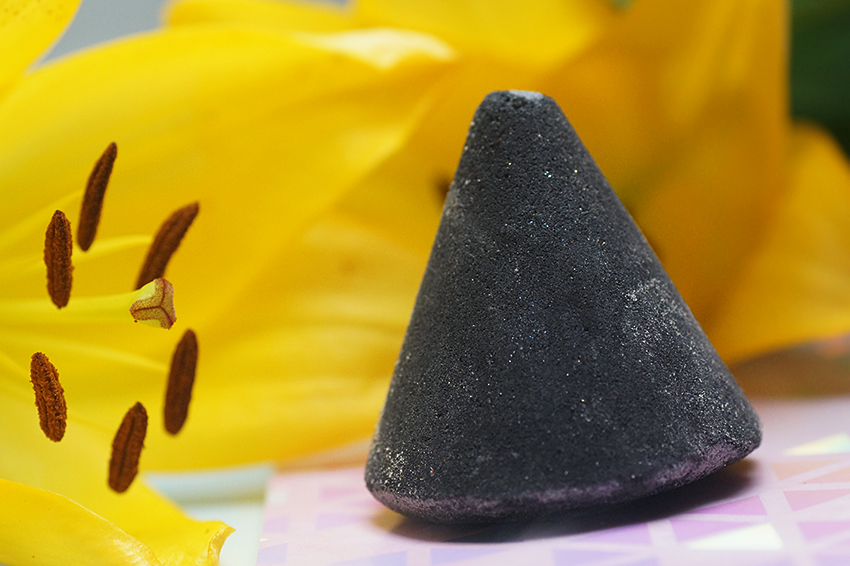 If there's one shower bomb that drew my attention in Liverpool, it's Meditation. A black cone, what would that look like in the shower? The name suggests a calming and soothing scent, which is great for people like me, who tend to get stressed quickly. At moments like that, I love taking a shower and use some soothing products. Meditation is great for these shower sessions! Today I'll tell you all about this product.
If you're curious about this product, make sure you keep on reading!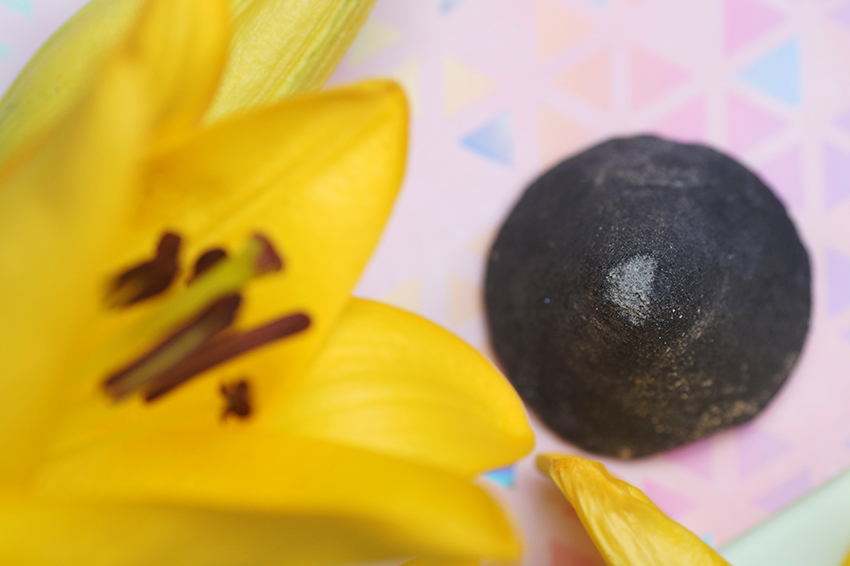 What is it?
Lush Meditation Shower Bomb costs £2.75 and is part of the Liverpool exclusives. A shower bomb is a bit like a small bath bomb that you take with you in the shower. Run the water and hold it under the water's flow. When in contact with water, it will start foaming and expanding, creating a frothy mousse. Scoop off the foam and sweep all over your body. When you're done using the shower bomb and there's still product left, put it in a dry spot and leave it to dry — although Lush suggest using a shower bomb in once. This product is naked and therefore does not have any packaging.
It's actually meant to use at once, but if you prefer, you can chop it in half before using it. You could also put it somewhere to dry after using it, but in my opinion, it doesn't give you that frothy, thick foam again. Besides Comfort Zone, there's other shower bombs as well, like Koyaanisqatsi and Sleepy.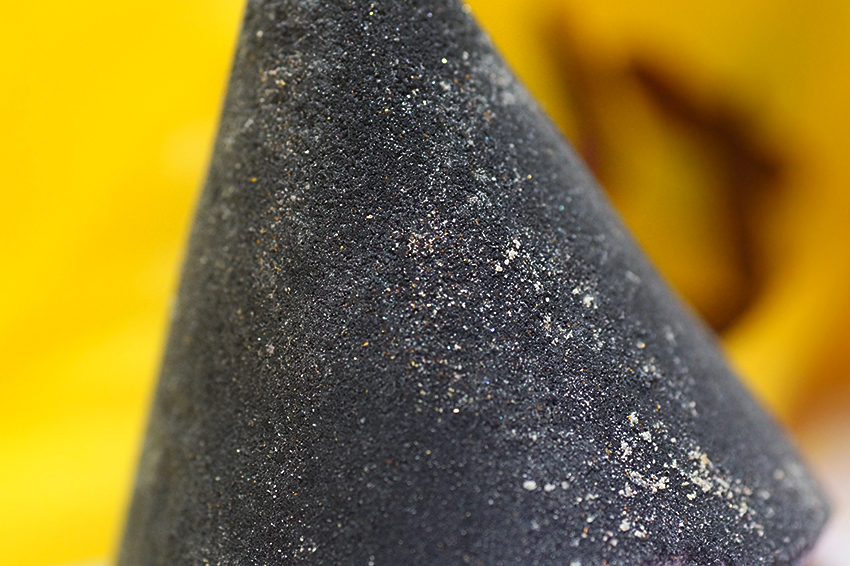 What's inside?
Ingredients: Sodium Bicarbonate, Cream of Tartar (Potassium bitartrate), Citric Acid, Potato Starch (Solanum tuberosum), Sodium Laureth Sulfate, Calcium Lactate Gluconate, Sodium Alginate (Algin), Cocamidopropyl Betaine, Sandalwood Oil (Santalum austro-caledonicum vieill), Guaiacwood Oil (Bulnesia sarmientoi), Olibanum Oil (Boswellia carterii), Activated Charcoal, Water (Aqua), Dragon's Blood Powder (Daemonorops draco), DRF Alcohol, Butylphenyl Methylpropional, Coumarin, Hydroxycitronellal, *Limonene, *Linalool, Perfume, Colour 77499
Meditation contains sandalwood, Guaiacwood, olibanum, activated charcoal and dragon's blood powder. Sandalwood is often used in aromatherapy because of its calming, woody aroma. Guaiacwood oil also has a woody aroma, and is also used in aromatherapy for its invigorating effect on the mind. Olibanum oil, also known as frankincense, has a meditative effect. Then we have charcoal. Charcoal on the barbecue? That is so 2018. In 2019, we use it in our skincare. It's an effect cleanser, because it draws bacteria, chemicals and dirt to the surface of skin, making it clean and flawless. At last, we have dragon's blood powder. No dragons were harmed in making this ingredient! It has a spicy, aromatic scent.
The scent of Meditation is woody, but also slightly spicy and smoky. It has the same scent as Superdad Bath Bomb, if you remember that one. It's a wonderful scent, it's rather soft and it has indeed a calming and soothing smell.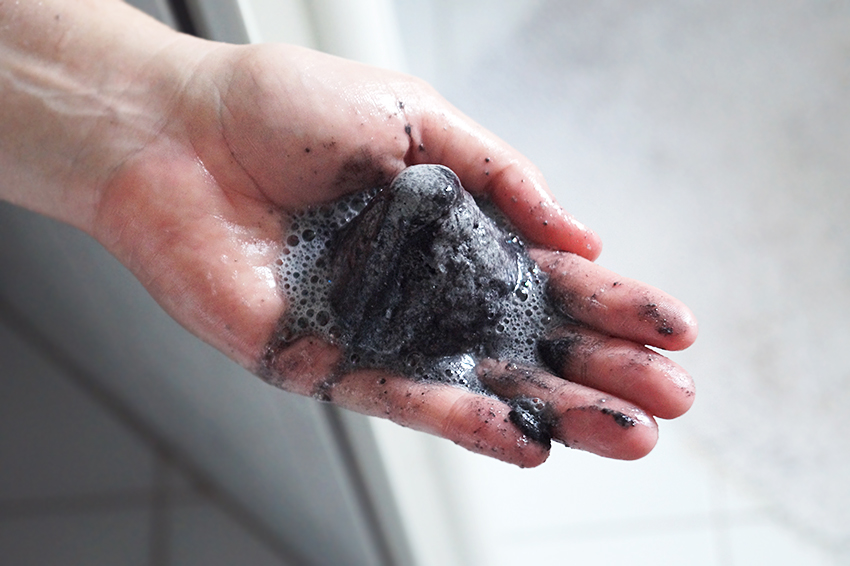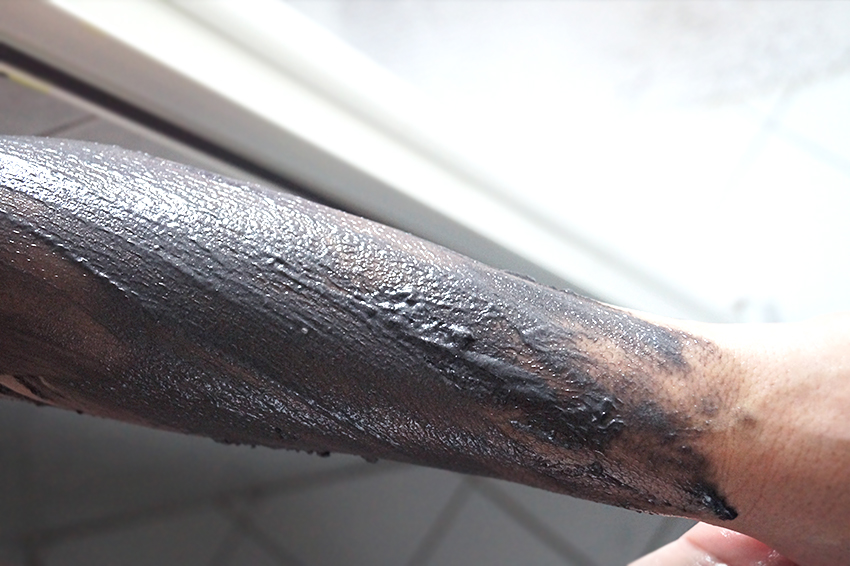 What do I think?
I decided to treat myself and use Meditation in one go. Relaxation to the max! Meditation produces a lot of dark gray mousse, which I love. The mousse feels so soft and luxurious, what a treat this is. Massaging it onto the skin feels great and the scent is more intense — it smells even better in the shower now! It's like the scent completely comes to life. The charcoal in the shower bomb cleanses my skin, leaving it feeling clean afterwards, but it has also added a radiant glow to my skin. The mousse that was produced was more than enough for my entire body.
My skin not only feels clean, but also soft, smooth and hydrated. But I have to say that it was the scent that I loved the most. It was a wonderful, relaxing shower session, sending me to my bed feeling completely relaxed. Too bad it's only for sale in Liverpool, but who knows, it might be available to the rest of the world soon. If that happens, I'm buying more of these for sure!

Lush Meditation Shower Bomb costs £2.75 and is available in Lush Liverpool.