How to use a Lush shower jelly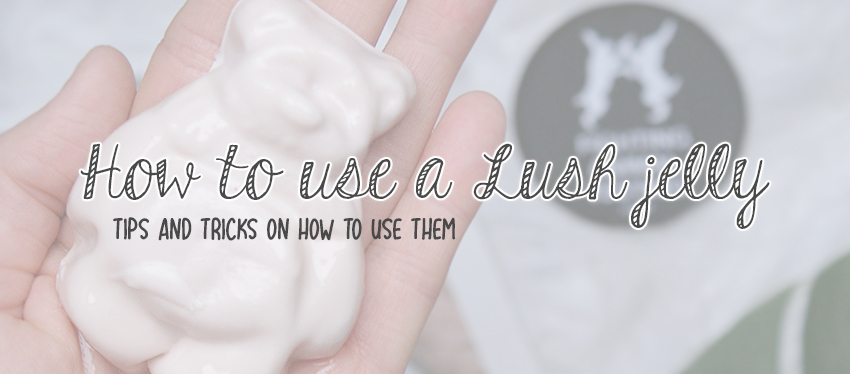 I'm in love with the shower jellies from Lush. They're fun to use, have a strong scent and they make your skin silky soft. But through the years, I found that there are more ways of using a shower jelly. And since I know that some people are struggling with using these wobbly blobs, I will show you different says of using a jelly in this blog post.
I'm also curious about how you use a jelly, so let me know in the comments section!
At the time of this writing, Lush has a lot of fun, wobbly shower jellies, especially online. Recently they released a bunch of limited jellies, as part of the Community Favourites — meaning they won't stick around forever.
These jellies are Golden Pear, Twilight, 29 High St, Yuzu & Cocoa, Yummy Mummy, Calacas, Plum Rain, Yog Nog and Sweetie Pie. Grab 'em while you can! Not in stores though.
The regular jellies are Deep Sleep and Whoosh.
The regular jellies come in two sizes: 100 gram (3.5 oz) of 240 gram (8.4 oz). They come in a transparant container with jar — which you need to twist very tightly, as the jellies could leak some of the substance. This is especially the case with Nightwing and Santa's Belly. These are a Halloween and a Christmas shower jelly, often there are jellies in these limited ranges, like Butterbear Shower Jelly. You can also put the jelly in the freezer, this is great for when it's very hot outside. I've actually never done this myself. I get chills whenever I think about it 🤔
In a loofah
This is the way I use the jellies myself. When I buy a jelly, I cut it in little pieces, which I put back in the container. When I step into the shower, I take a little piece with me and put this in a loofah or puff. (2019 edit: I don't use these anymore since they contain microplastic, please use a ecofriendly loofah!) I give the loofah a good rub so it lathers up. And you're done! One chunk should provide enough lather for your whole body.
Directly onto the skin
This is how I do it when I'm in a hurry or don't have a loofah with me at that moment. I take a piece out of the container and smooth it directly across the skin. This works pretty good, however, a jelly is slippery so it will slip out of your hands several times. Have fun picking that up.
Use your loofah on the container
Wet your loofah and kind of swirl it over the jelly. The fricton between the jelly and the loofah will create a lot of foam. Your jelly will get grainy at the top, but that's not a problem at all, it just looks a bit off. It's a quick and convenient way. Also, you can determine how much product you want to use, as opposed to cutting a jelly into pieces.
Grab the whole jelly
This is the most awkward and least economical way. Grab the whole jelly from the container and hold it against your skin while showering. Run it across your body until it slips out of your hand and goes flying through the whole shower. Not recommended if you stay in prison for a while.
As you can see, there are a number of ways you can use a jelly. There are more ways though. My favorite way is to put a piece of jelly in a small organza bag and take it with me in the shower. This way it won't slip out of your hands, and the organza bag makes it easy to hold. The jelly also lathers up much more due to the friction.
Another way is, if you're brave enough, to put the jelly into the blender. Yes, you read that right. Putting your jelly into the blender transforms it into a mousse, which is ofcourse an amazing way of using it. I've never done this myself, so I have no clue about how well this works. Also I've heard that, if you want to make it a whole jelly again, all you have to do is put the mousse in the microwave for a while. But for the love of God, please do some research on this before running to the kitchen. I don't know if it's really true.
Hopefully you got something out of these tips! Using a jelly can be a bit confusing in the beginning, but once you've find a way to use it, it's a great product. It's economical to use, it makes the skin clean and soft, and it smells great. I'm curious about how YOU use a shower jelly. What tips do you have for everyone?

2 Responses to How to use a Lush shower jelly