Review: Lush Valkyrie Hair Conditioner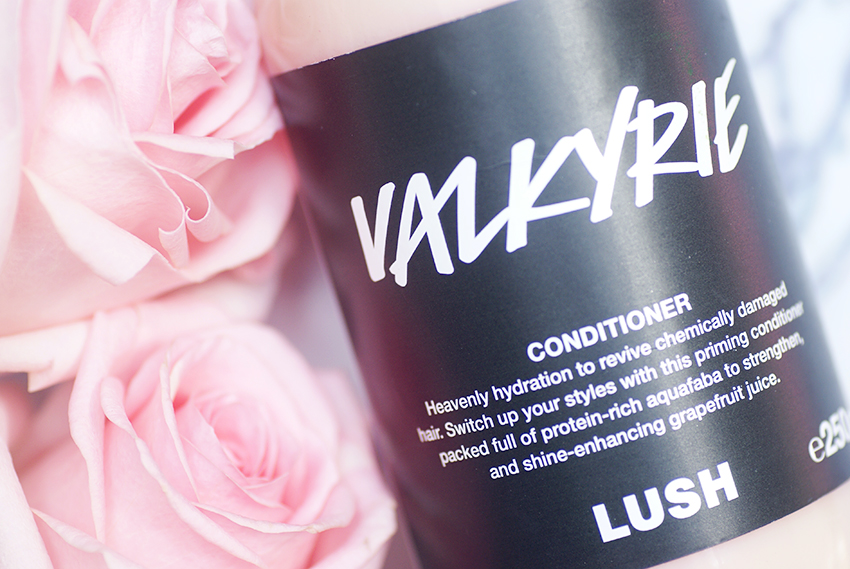 A hair conditioner that smells like Rose Jam? Sign me up. Although I'm starting to dislike the scent thanks to my -very strong and overpowering- Rose Jam body spray, I still wanted to give Valkyrie a chance. It's good for chemically damaged hair, and since I haven't seen my own hair color since the age of 13, you can imagine how often I dye my hair. Many, maaany times. Time to throw some Valkyrie at it. Singing to the melody of Valerie by Amy Winehouse, I took this conditioner with me to the shower. Why don't you come on over, Valkyrieeeehieeeieee ♫♫
If you're curious about this product, make sure you keep on reading!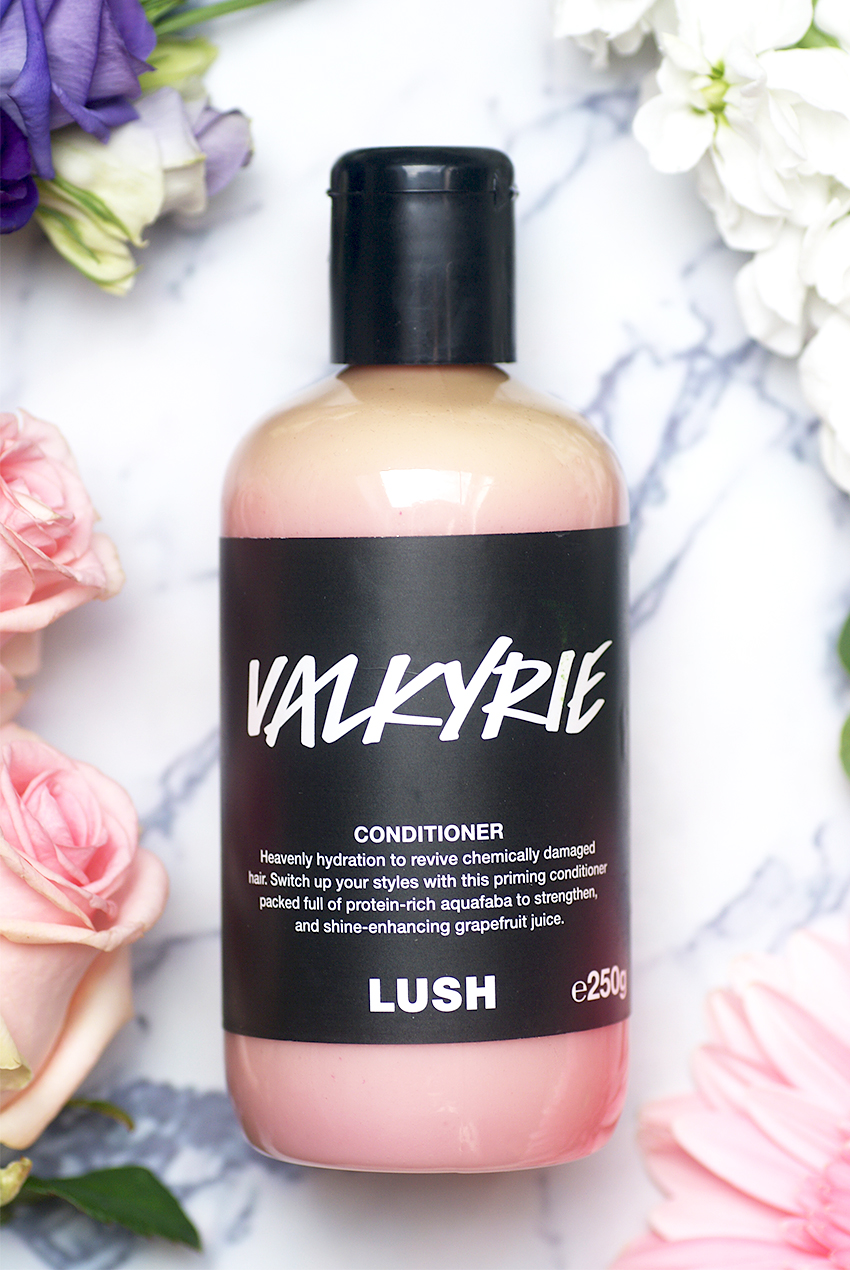 What is it?
Lush Valkyrie Conditioner costs £15.95 (250 grams), but is also available in 100 grams (£7.95), 500 grams (£26.95) and 1 kilo (£43.95). It was for sale in the Lush Labs in april, unfortunately not anymore. I bought it in Liverpool, but it is still disappointing that it is no longer for sale for non-Liverpool residents.
Valkyrie is a hair conditioner, great for people with chemically damaged hair. Obviously anyone can use it, but hair in need of hydration and reparation will benefit more from this product. In addition to repairing your hair, it also detangles your locks, hydrates so that your hair looks less dry, makes your hair stronger and gives it shine. Everything has been thought of — all you need to do, is just slam it onto your head.
Small note: Valkyrie discolors very quickly. The pink substance can turn a yellowish after a while. This is just discoloration, it didn't change anything about the results.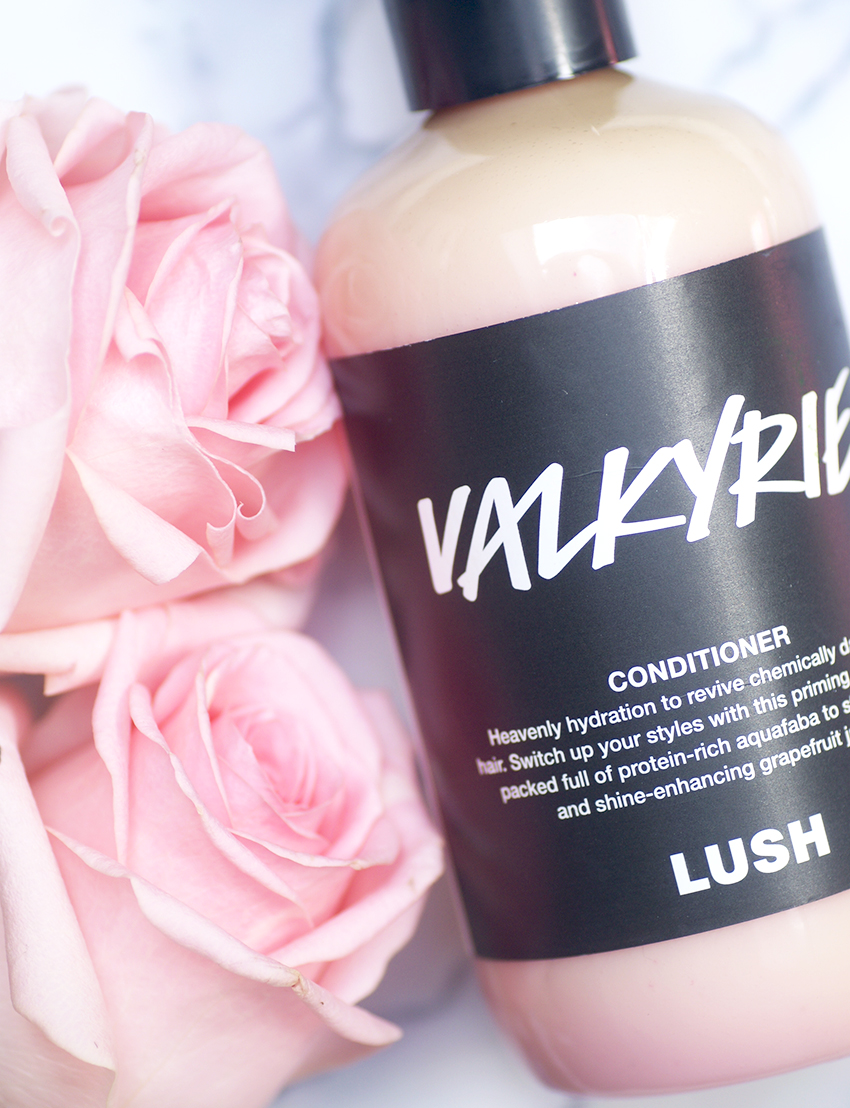 What's inside?
Ingrediënten: Water (Aqua), Cetearyl Alcohol, Chickpea Cream, Ethyl Macadamiate, Perfume, Organic Extra Virgin Olive Oil, Propylene Glycol, Behentrimonium chloride, Fresh Grapefruit Juice, Hydrolyzed Wheat Gluten, Rose Absolute, Rose Oil, Geranium Oil, Sicilian Lemon Oil, Aquafaba, Arginine HCL, Leucine, Polyvinylpyrrolidone (PVP), Cetrimonium Chloride, Phenoxyethanol, Benzyl Alcohol, Citronellol, Coumarin, Geraniol, *Limonene, Colour 17200, Colour 45380:3
Valkyrie contains a lot of chickpea cream, but also aquafaba, which is the water of chickpeas. Aquafaba shares a lot of properties with egg white and therefore makes your locks much more stronger. It's not only a good vegetable substitute for eggs in cooking, but also in cosmetics. But besides that, there is also chickpea cream in it — these are chickpeas cooked and blended with propylene glycol to create a rich cream. This will strengthen and protect the hair, and also helps to lock moisture into each hair strand.
It also contains olive oil, grapefruit juice (adds shine), hydrolyzed wheat gluten (increases the strength of the hair to make it less susceptible to breakage, adds volume, texture and condition to the hair, preventing it from drying out), rose absolute, rose oil, geranium oil, lemon oil, arginine (a protein-derived substance that is attracted to keratin, the protein in the hair, and thus will cover the strand and stick to it that the split ends come back together again), leucine (essential amino acid, plumps up hair to greater heights).
So, the scent. Like I said in the intro, it shares its scent with the popular Rose Jam shower gel, which is a warm and sweet rose scent, but also with a zesty note of lemon. Although I think Valkyrie is a bit different. It's still a warm and floral scent, but it's also a bit dull. Maybe because of the shitload of chickenpeas in it, but it's definitely missing the fresh and zesty notes the shower gel have. The more often I smell Valkyrie, the more gross it gets. At some point I just had to step smelling it, because it literally disgusted me. Which is strange, because I think Rose Jam is a good scent. Valkyrie seems to lack a few essential notes in its scent, making it smell like a wet dogs.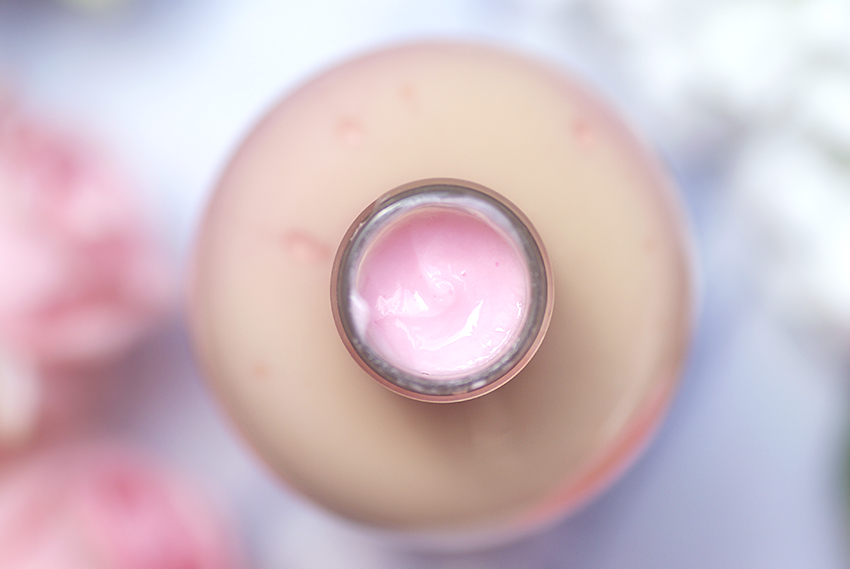 What do I think?
I have tested Valkyrie for a few weeks now, and I can firmly say that I am very satisfied with Valkyrie. You don't need much of the product to begin with, it's very concentrated. I put a little in my hands, the size of a big coin, and work it through my hair, concentrating on the lower hpart of my hair. After waiting a few minutes, I wash it out of my hair and I can already notice a big difference. My hair is super silky and smooth, as if I have used a lot of hair mask. The whole shower smells like Rose Jam, but without the dull, pungent smell.
When my hair is completely dry and combed through, it feels silky soft and fluffy light. It leaves my hair shiny and bouncy. The tips of my hair, which are normally very dry and damaged, feel way less dry. Okay, I still have to go visit the hairdresser, but after using this conditioner they sure look a lot healthier. All in all, I am very satisfied with how it feels and looks — which is a lot healthier! After using it for weeks, I also notice that my hair has become stronger and less damaged. It doesn't do much in terms of volume, but Lush has other products for that. And I still have tangles, but once I've brushed my hair, they're gone — and stay gone.
Another big pro is that you can smell the scent in your hair all day long. Yes, I know I said it didn't smell as good as the original Rose Jam, but thank God for us it smells way better once it's in your hair. It smells more floral and sweet than directly from the bottle. My boyfriend gave me a compliment (without knowing that I used this product!) and several people also noticed a lovely aroma surrounding me. So, I'm really happy with this product. It really does wonders for my hair. I really hope Lush will make this an all year round product, just like Candy Rain.

Lush Valkyri Hair Conditioner costs £15.95 (250 grams) (England).