Review: Lush Monsters' Ball Bath Bomb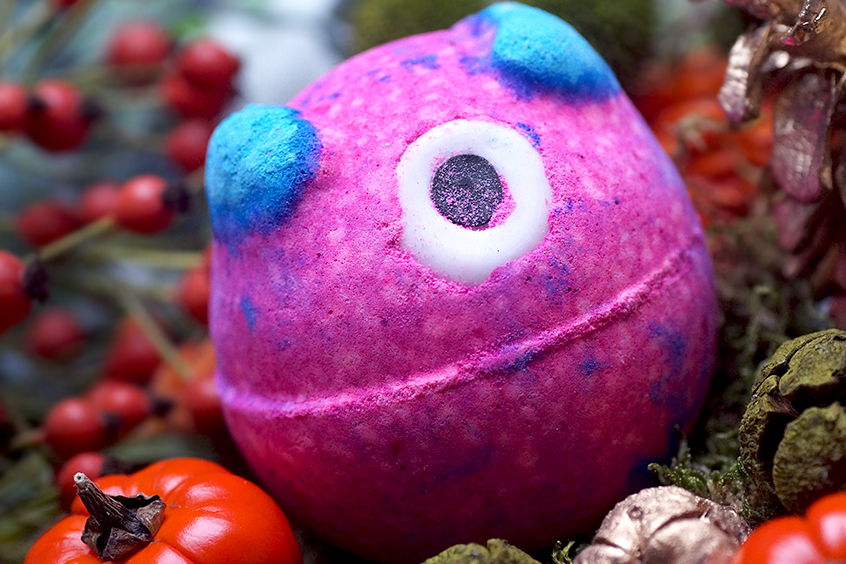 When I walked through the Lush store in Kalverstraat last week, I spotted Monster's Ball from far away. It's quite a noticeable bath bomb with its cute, vivid pink looks. In 2016 I had already reviewed this bath bomb, the colors were then a bit lighter. His colors are more vivid now, but.. it also looks like he has chickenpox 🤔 But, let's not judge him on his looks, because I know for a fact that this is one of the better bath bombs by Lush. Today I'll show you exactly why!
If you're curious about this bath bomb, then keep on reading.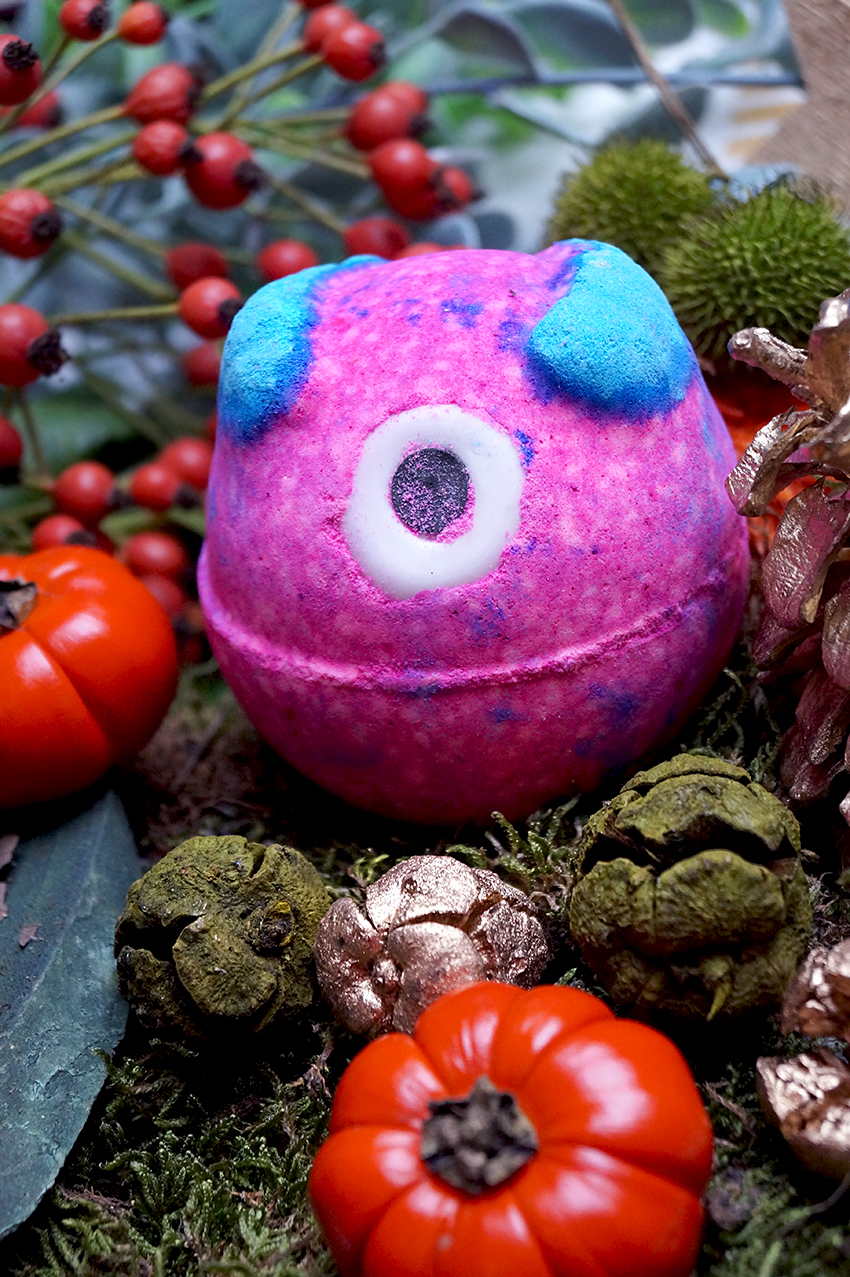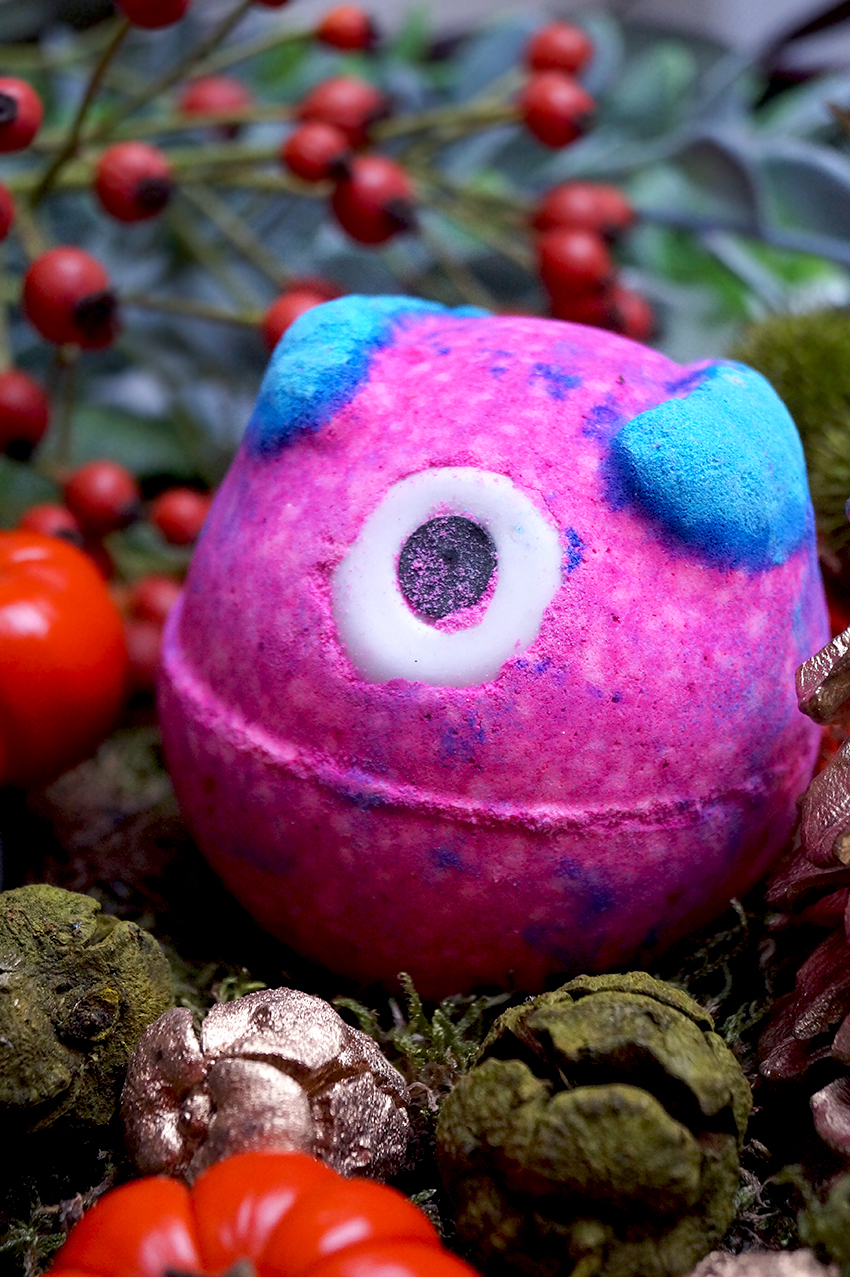 What is it?
Ingredients: Sodium Bicarbonate, Citric Acid, Cream of Tartar, Himalayan Salt, Sodium Laureth Sulfate, Lime Oil, Neroli Oil, Olibanum Oil, Water (Aqua), Titanium Dioxid, Dipropylene Glycol, Propylene Glycol, Alpha-Isomethyl Ionone, Benzyl Salicylate, *Citral, Hydroxycitronellal, *Limonene, Perfume, Colour 45410:2, Colour 45410:1, Colour 42090, Colour 14700, Colour 17200, Candy Eye
Lush Monster's Ball Bath Bomb costs £5.50 / $7.95 and is part of the Halloween range. This adorable cyclops has been around for a few years, and not without reason. It doesn't just have the most adorable design, with the cute candy-eye and blue ears, but the scent is also amazing. It shares its scent with the Calacas scent family, a very loved scent.
It contains lime oil, neroli oil and olibanum oil — this may give you the impression that it smells very citrusy and fresh, but don't be fooled. The scent is actually very sweet and fruity, it smells like candies, but with a tiny hint of citrus. Not too overpowering, but enough for the scent to be not so sickening sweet. The olibanum in provides a slightly, warm and woody note to the overall scent that really balances out the scent. I really love this scent, and by smelling Monster's Ball, it reminded me how much I've always appreciated this scent. And now I have to stop saying scent.
Play the video in 2160p quality and on full screen for the best experience! The video has been sped up.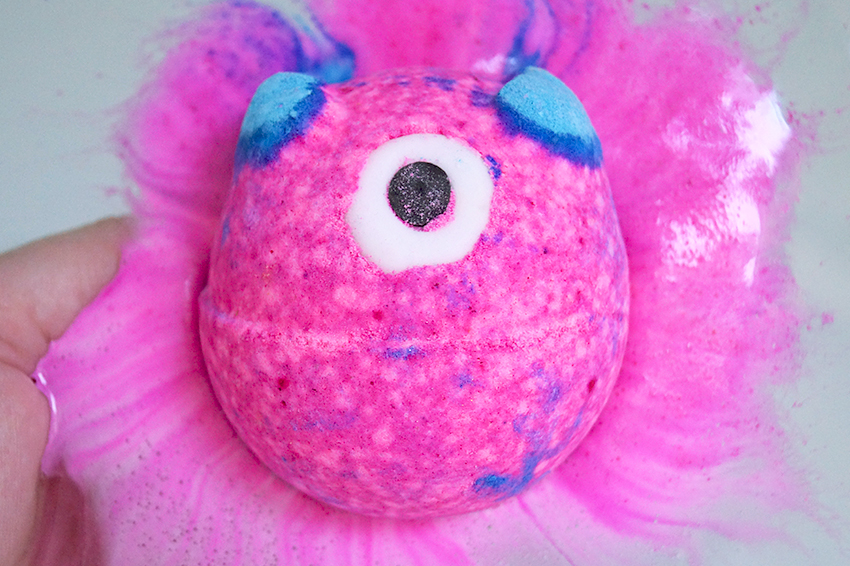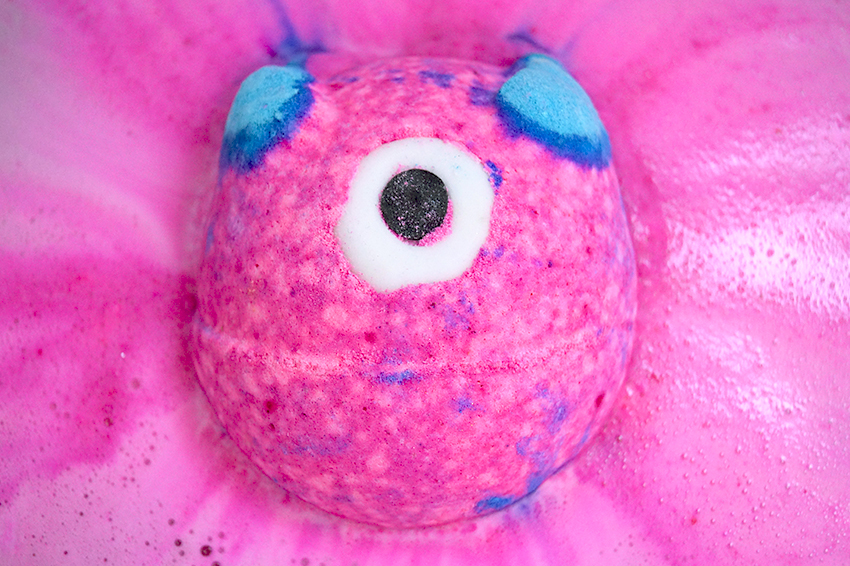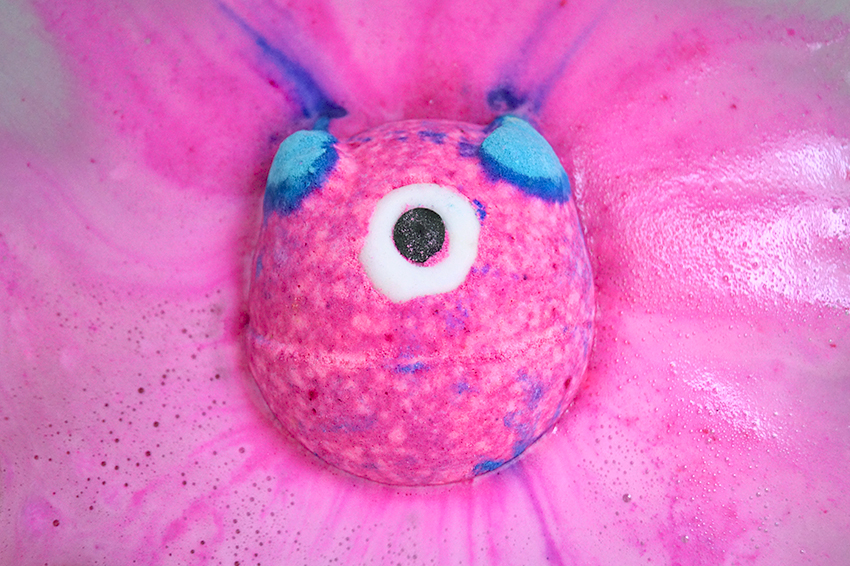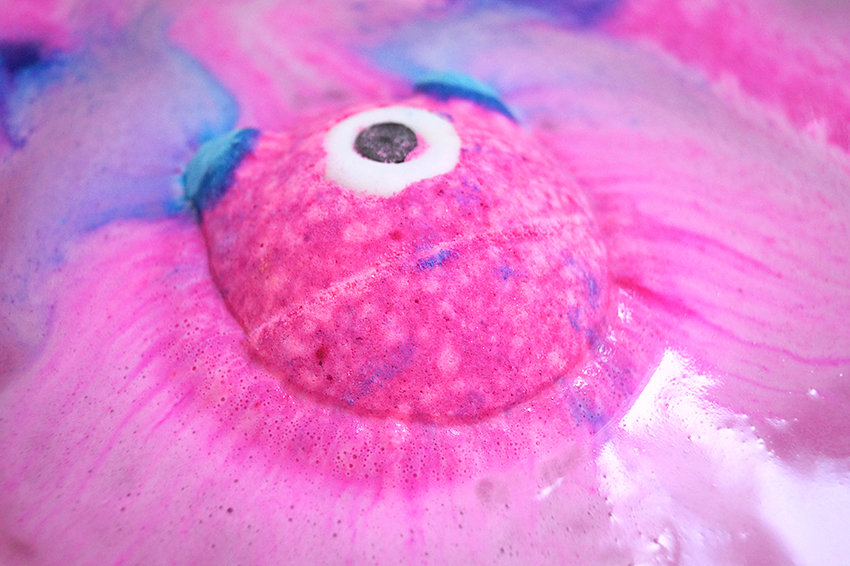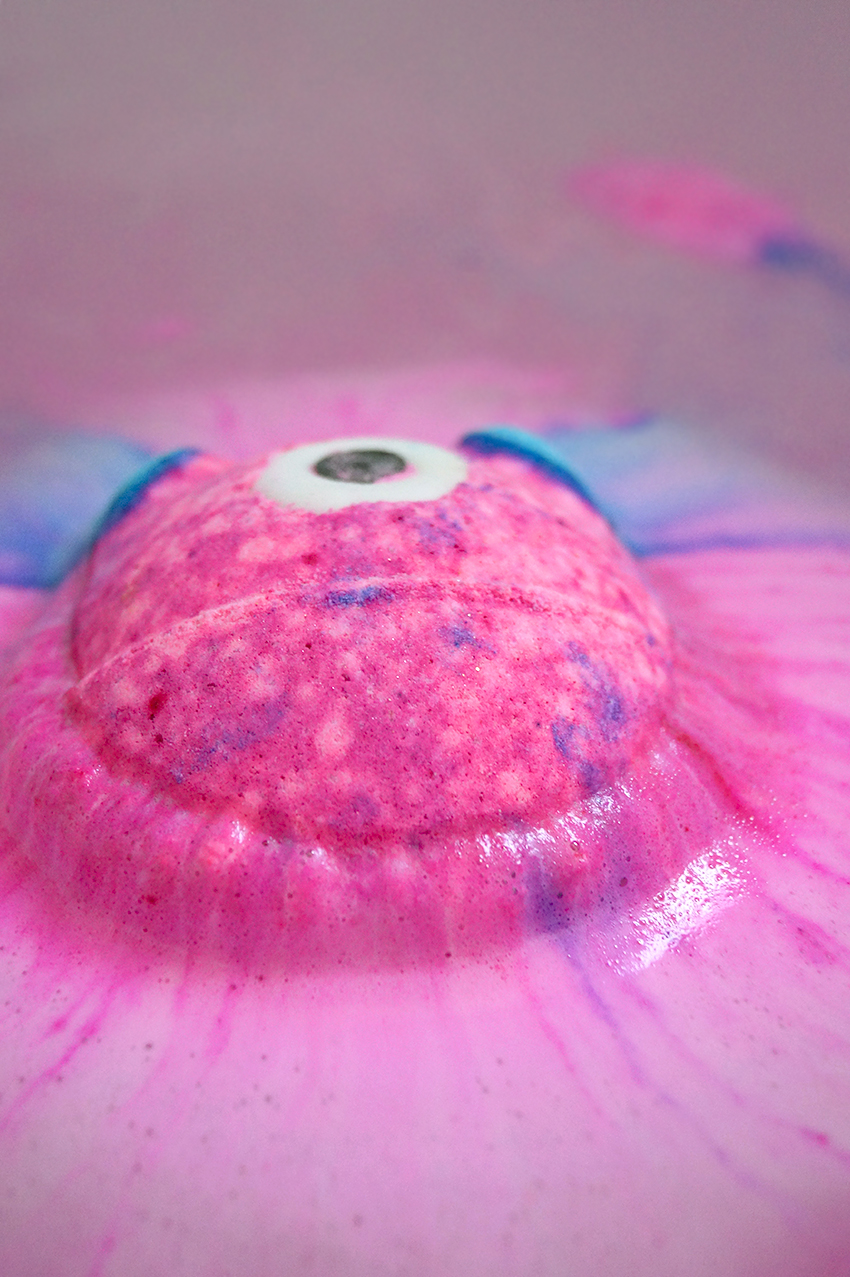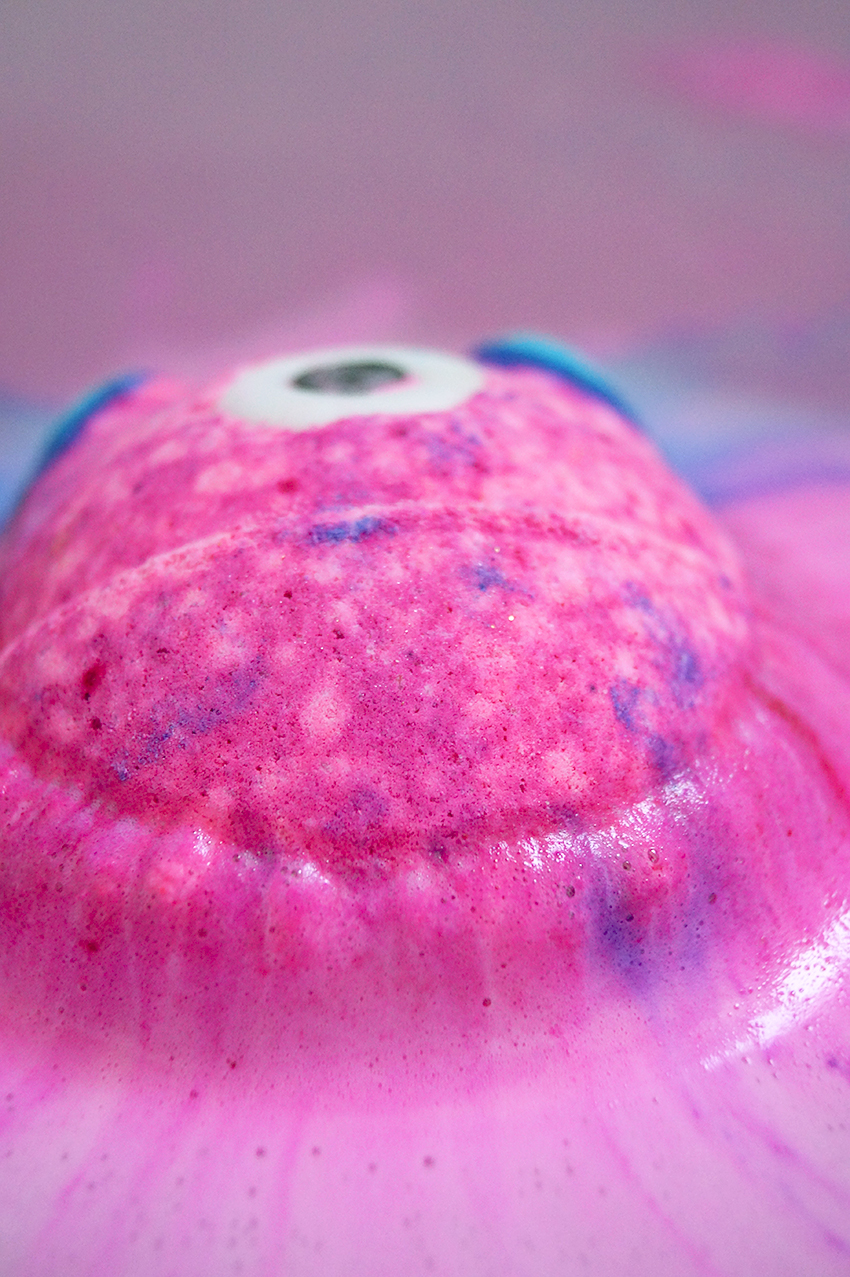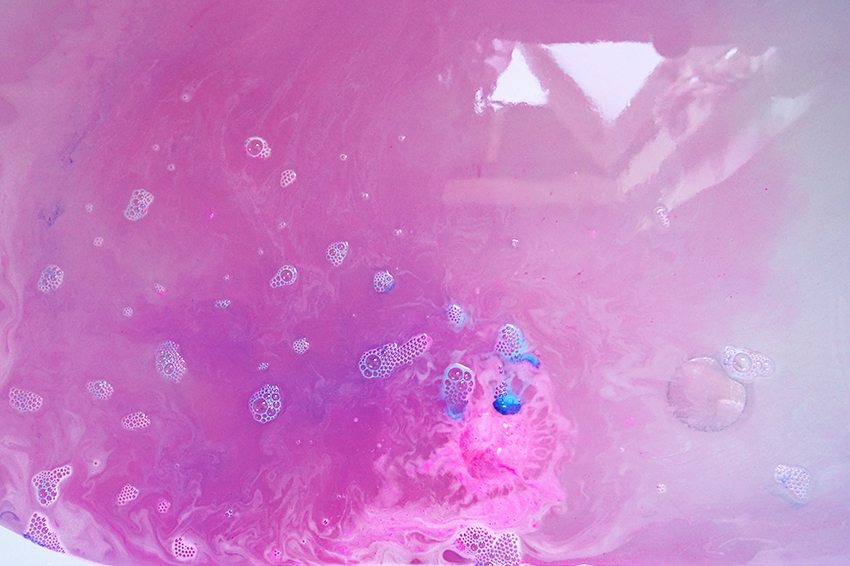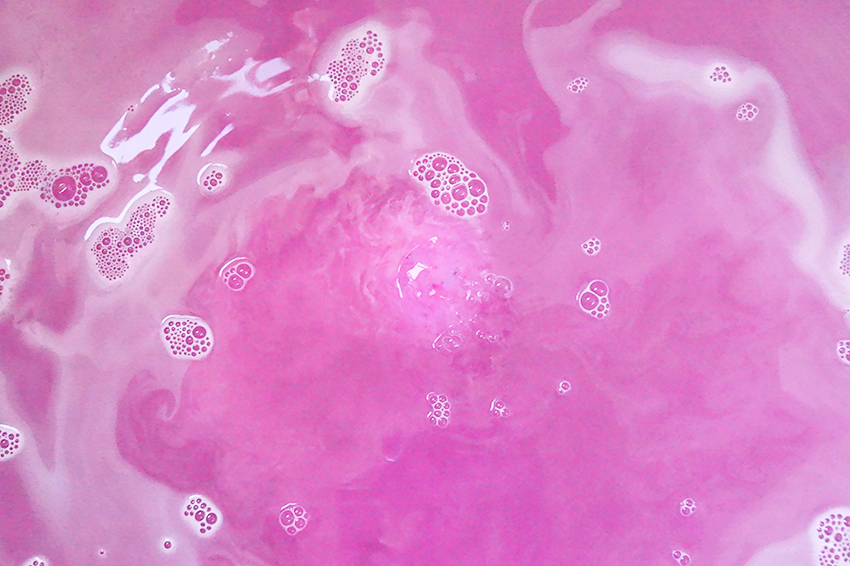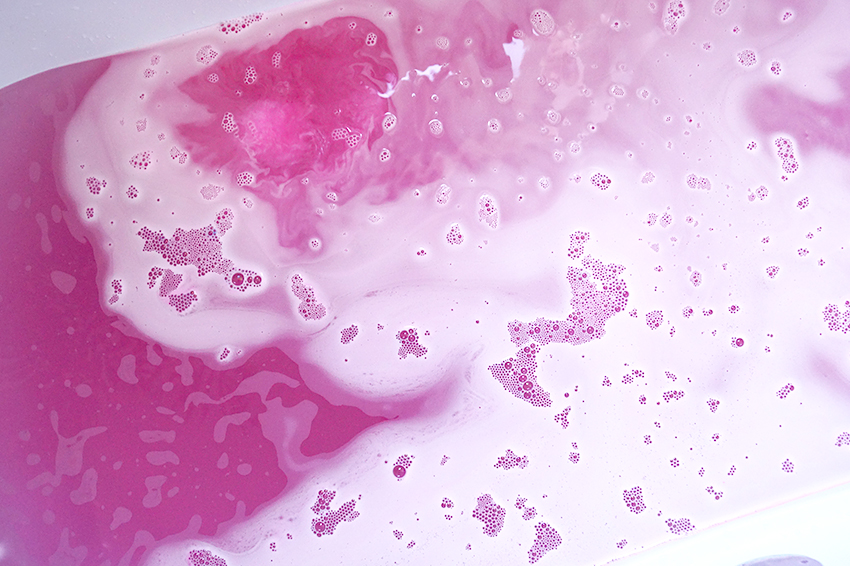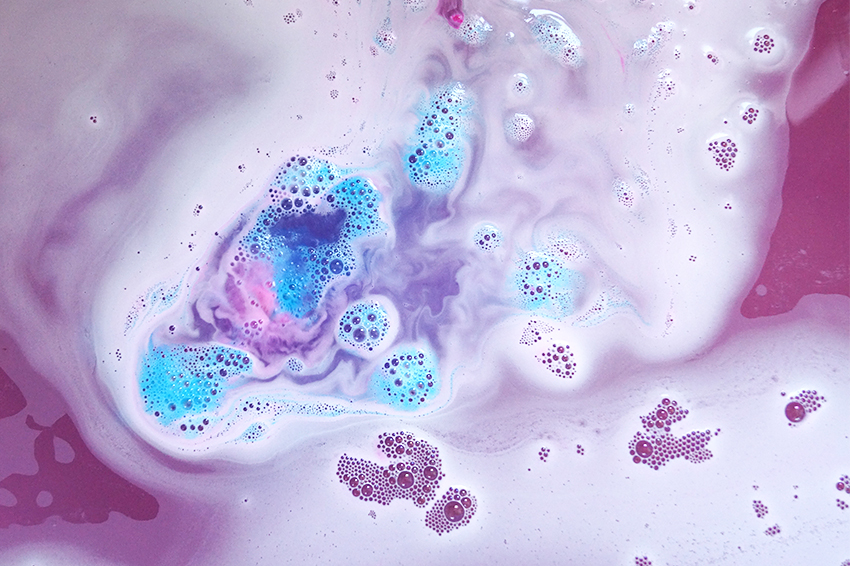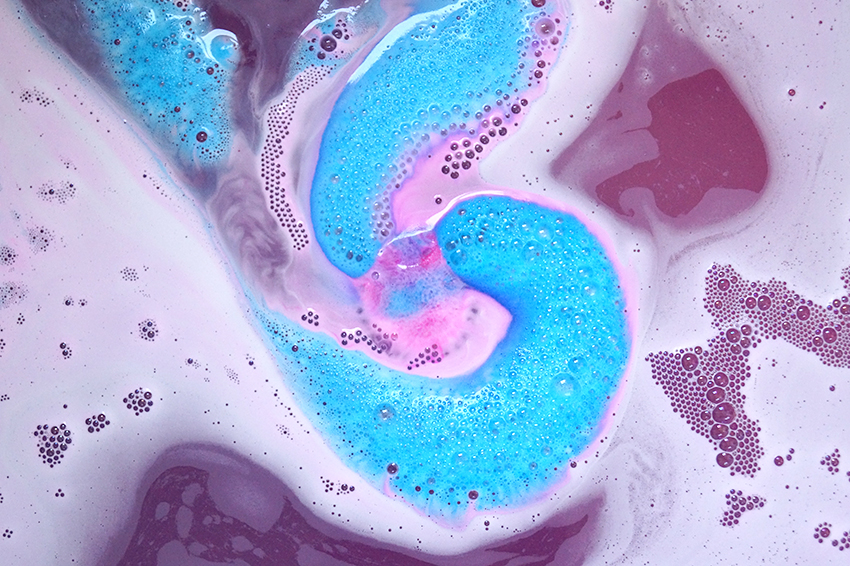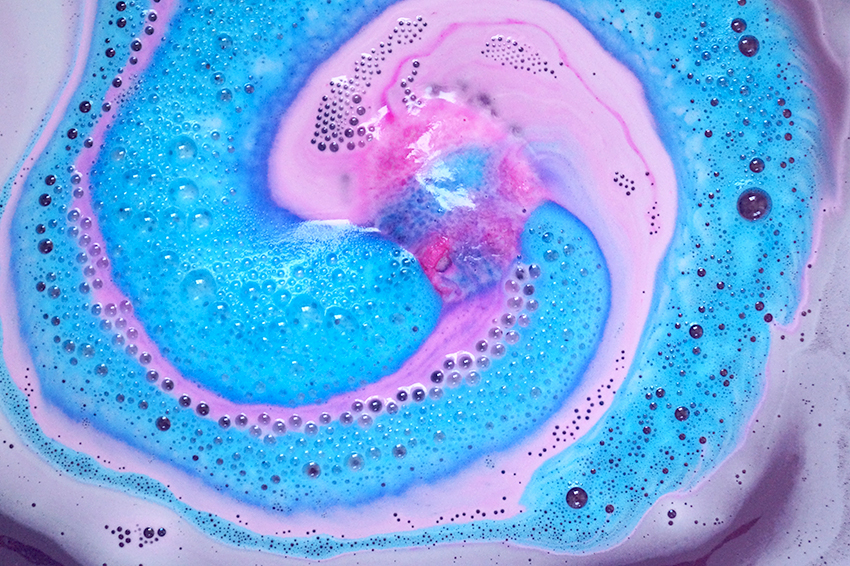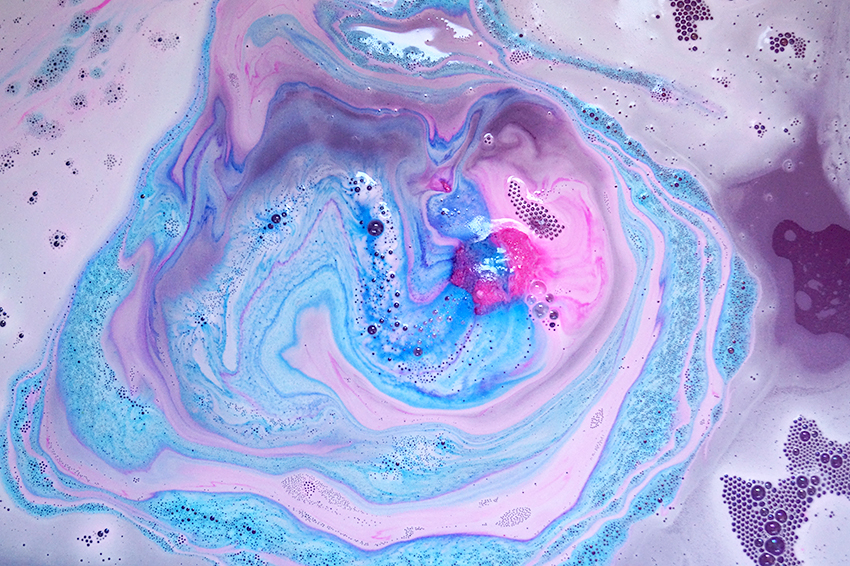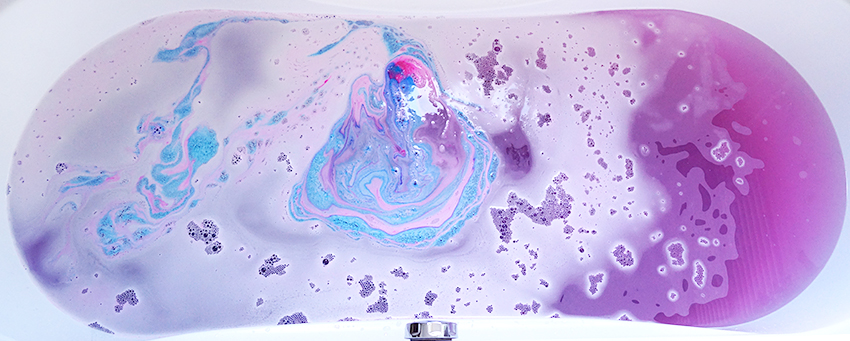 What do I think?
Once I put Monster's Ball into the tub, it's exactly as I remembered — this is a wonderful bath bomb. Upon hitting the water, pink froth surrounds the bath bomb. It spins like crazy, making its way through the tub, thereby transforming the water into a vivid pink shade, with some blue flocks here and there. The fresh candy scent can be smelled very well, which lifts my spirit even more. Gradually, the water gets transformed in a gorgeous, pink shade — very vibrant, with a thin layer of white foam on the surface. Monster's Ball is still violently spinning back and forth, even after a good 5 minutes. It's a slow fizzer, and at some point, I got a bit impatient — when is the blue color going to appear? But finally, after almost 10 minutes, brightly colored blue finally appears from the core of the bath bomb. It spews out vibrant blue trails, which eventually mixes with the pink water, making it a gorgeous, opaque shade of purple.
The lovely Calacas scent was constantly present during bathing. Combined with the beautiful color of the water, I can ensure you this bath bomb is my favorite from the entire Halloween range. My favorite colors have always been pink and purple, so it's almost like Monster's Ball was made for me. My skin felt softer afterwards, I felt completely at ease after bathing and.. no cleaning the tub! If it were up to me, I'd buy 20 more of these. If you want to try anything from the Halloween range: try this cutie!

Lush Monster's Ball Bath Bomb costs £5.50 (England) / $7.95 (USA).