Review: Lush Funfetti Cake Lip Scrub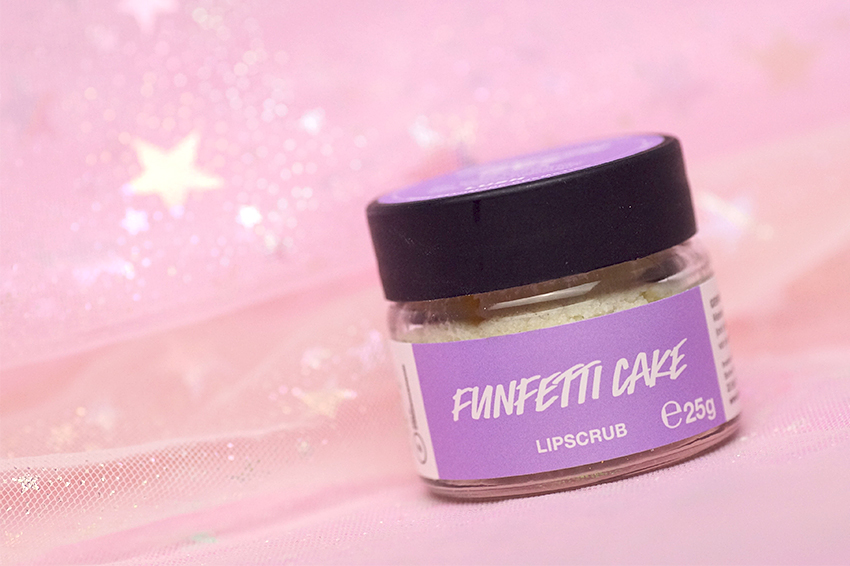 Some products will just never be a favorite of yours. For me, it's the lip scrubs. Whenever I buy one and I test it out for a blog post, I enjoy the product, but after the blog post's published, it gets crammed away in one of my bathroom closets. And then I simply forget about it — therefore I have never ever finished a lip scrub. Although, this time, I can't imagine I'll never finish this lip scrub — it has got to be the most delicious lip scrub Lush has ever produced.
If you're curious about this product, make sure you keep on reading!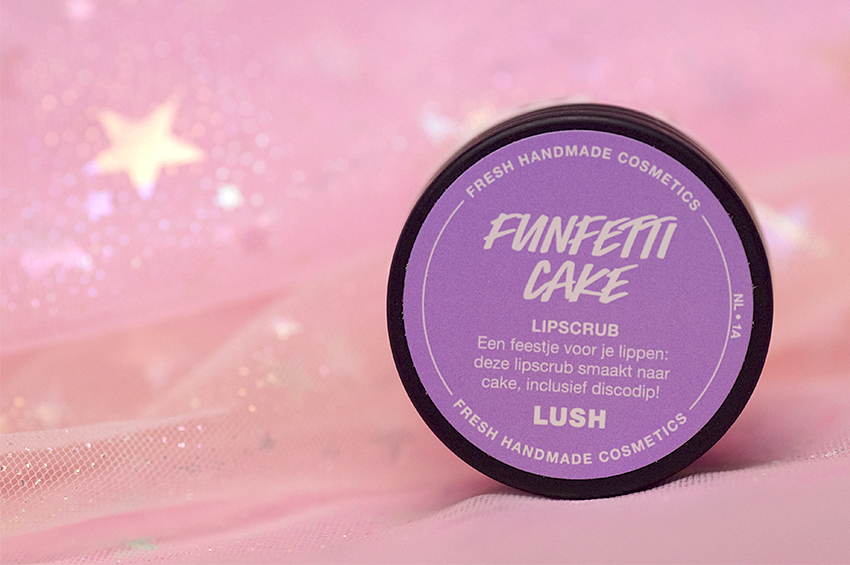 What is it?
Lush Funfetti Cake Lip Scrub costs £6.50 / $12.95 / €10.00 and is part of the Easter range. Like all other lip scrubs, it's in a small, glass jar. These glass jars are not part of Lush's recycle system! This lip scrub is ideal for dry, chapped lips.. but even healthy lips will benefit from an occasional exfoliating session.
Lush has different kinds of lip scrubs, like the classic Bubblegum lip scrub or the delicious Cookie Dough. And although 25 grams sounds very little, you're going to have to try and do your best to finish an entire jar of lip scrub! I've never managed it though. You need very little, because everything you grab too much falls to the ground anyway. After scrubbing your lips, you can lick the scrub off your lips. Yes, that's safe. There's no chemical shit inside, so no worries. I mean, I've licked off quite some lip scrubs, and I'm still alive.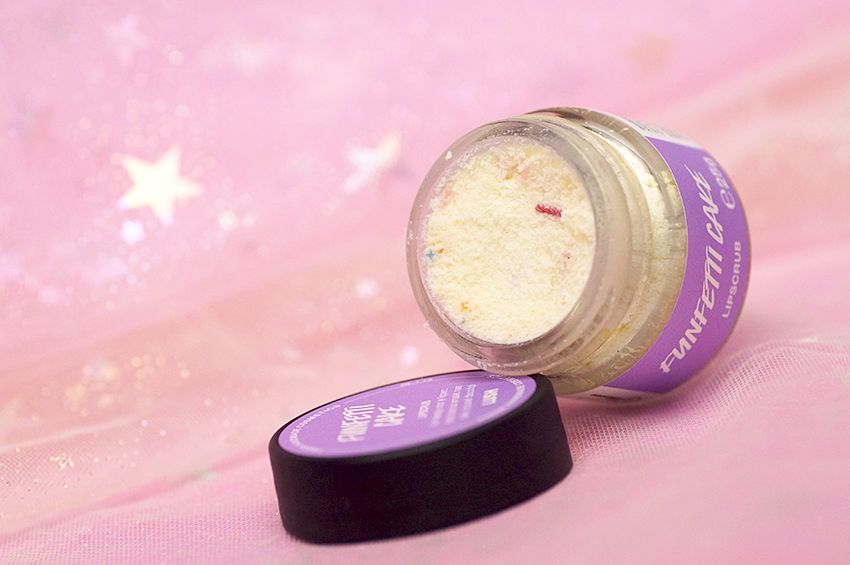 What's inside?
Ingredients: Caster Sugar, Organic Jojoba Oil, Multicoloured Sprinkles, Icing Sugar, Fair Trade Shea Butter, Titanium Dioxide, Sicilian Lemon Oil, Vanilla Absolute, Extra Fine Sea Salt, *Benzyl Alcohol, *Limonene, Flavour
The main ingredient is caster sugar — which makes sense, because these grains of sugar are the ones to exfoliate your lips. In addition to that, they've added jojoba oil. This is a natural oil that has some very hydrating and softening properties. The multicoloured sprinkles are the colored pieces you can spot on the photo below. They don't serve any purpose, but hey, it's basically sugar, so very yummy to eat! These sprinkles are completely vegan, just like the rest of the ingredients. Icing sugar is another sweet (literally) ingredient, but it also draws moisture to the skin. A tiny portion of shea butter softens and hydrates the thin skin of our lips. Titanium dioxide is both used in food and cosmetics, and it's basically a safe, white pigment. Lemon oil isn't just antibacterial, I'm assuming it's also good for the skin. Vanilla absolute is a sweet ingredient, I think it's being used to enhance the fragrance/scent. Sea salt is also exfoliating and cleanses the skin.
NOTE: Word got out that the sprinkles in this lip scrub contain palm oil. Lush is against palm oil, so what's up with that? Lush states the following: "While they did tons of research trying to source a palm-free sprinkle, unfortunately they were not able to." So, yes, there is a tiny bit of palm oil in the sprinkles. It's up to you to decide if you want to purchase this product, or not.
Scent
In this case, we're not only judging the scent, but also the flavor! Lush says this lip scrub tastes like vanilla buttercream or vanilla cake. I'd say that's a pretty damn good description! It smells amazing — like a birthday cake. It's sweet, vanilla-like, delicious scented, and it tastes even better. Have I been scooping out little bits of lip scrub just to eat? I might. This lip scrub is such a treat. It tastes like sugary buttercream and I can't get enough of it.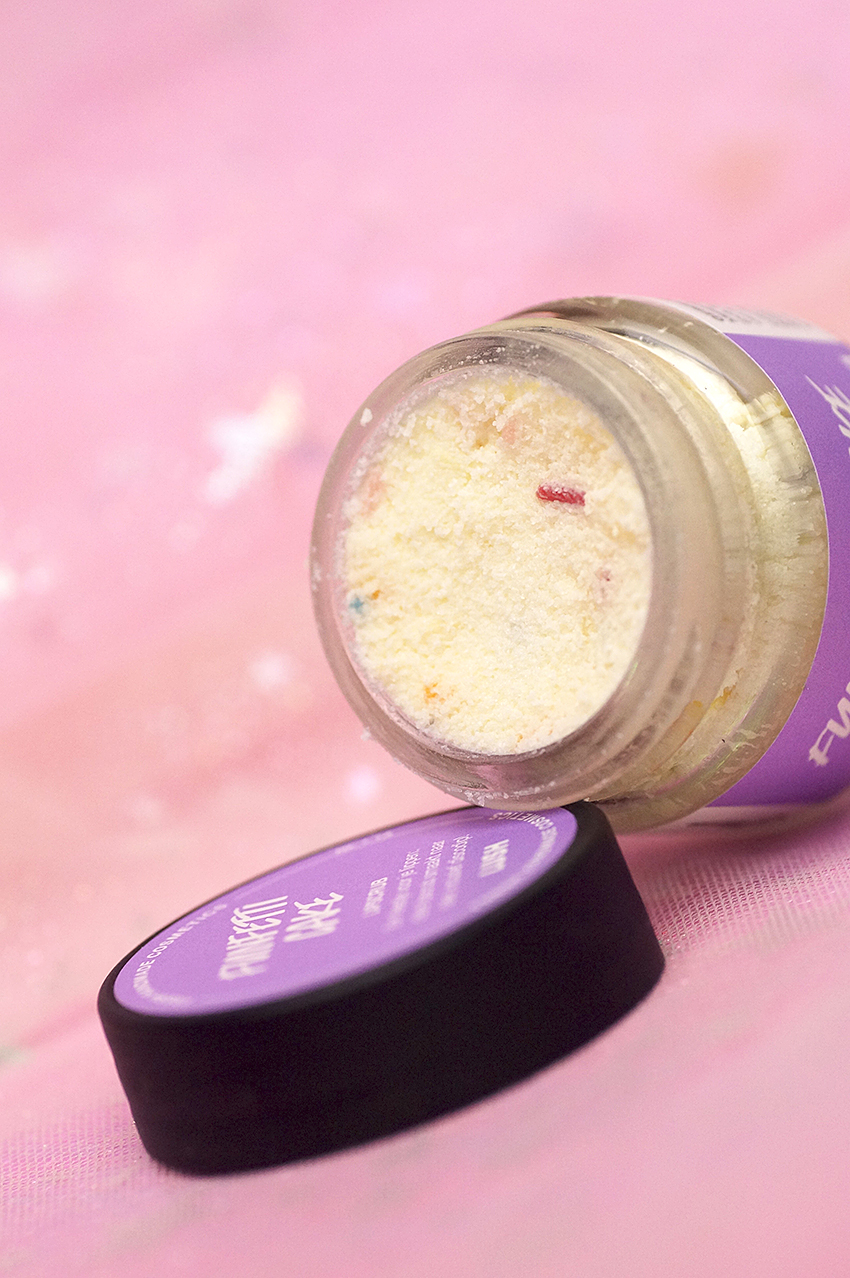 What do I think?
I have to constantly remind myself to exfoliate my lips with this scrub, and not put it directly in my mouth because it tastes so good 🙄 But I gotta say, my lips are soft AF right now, because I have been using this lip scrub as if I haven't eaten in 32 years. Put this little jar at your desk and you can fix that sweet tooth any time of the day. If you don't have any motivation to exfoliate your lips once in a while, then this is your opportunity.
I can't get enough of this delicious, mouthwatering lip scrub and I'm pretty sure this jar will be finished before the end of the week because I have zero self control when it comes to sweet food. 🙄 Oh, and the soft and hydrated lips are a benefit too. I'd *almost* forget that part. My lips aren't necessarily dry or chapped (especially after feasting on this lip scrub) but I can always feel a difference. I see only benefits when it comes to this lip scrub! I might just buy a second one since it's limited..
If you have a positive (or negative) experience with this product, feel free to share them in the comments!

Lush Funfetti Cake Lip Scrub costs £6.50 (England) / $12.95 (USA) / €10,00 (The Netherlands)

2 Responses to Review: Lush Funfetti Cake Lip Scrub