Review: Lush Rose Bombshell Egg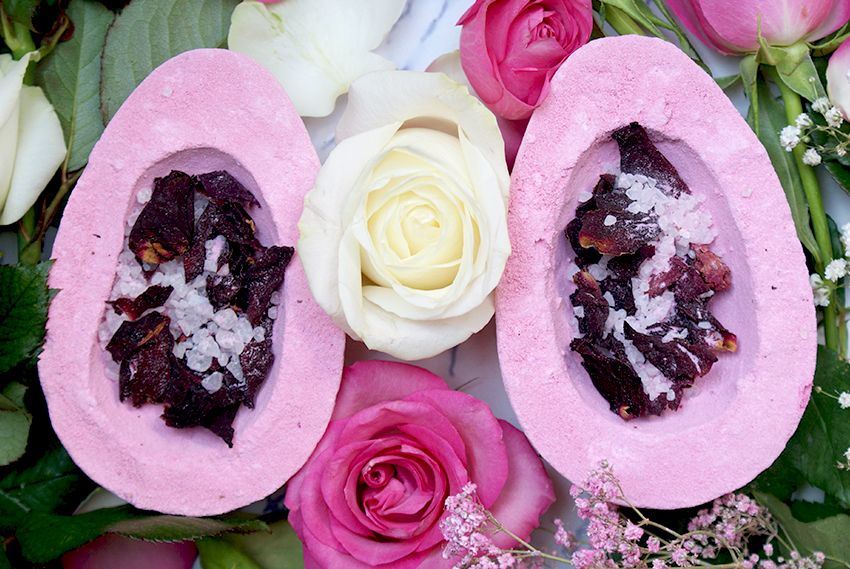 Last week my best friend surprised me with this giant bath bomb from Lush. And guess what: this bath bomb was the one on top of my wishlist. Despite the price, I wanted to purchase it so badly, so you can imagine how happy I was with this sweet gift. The same afternoon that I got it, I took some photos of it (tbh more than 100 photos or so) so that I could immediately take a bath with it. Soaking in a sea of rose petals and surrounded by the scent of Rose Jam — what more could you want?
If you're curious about this bath bomb, then keep on reading.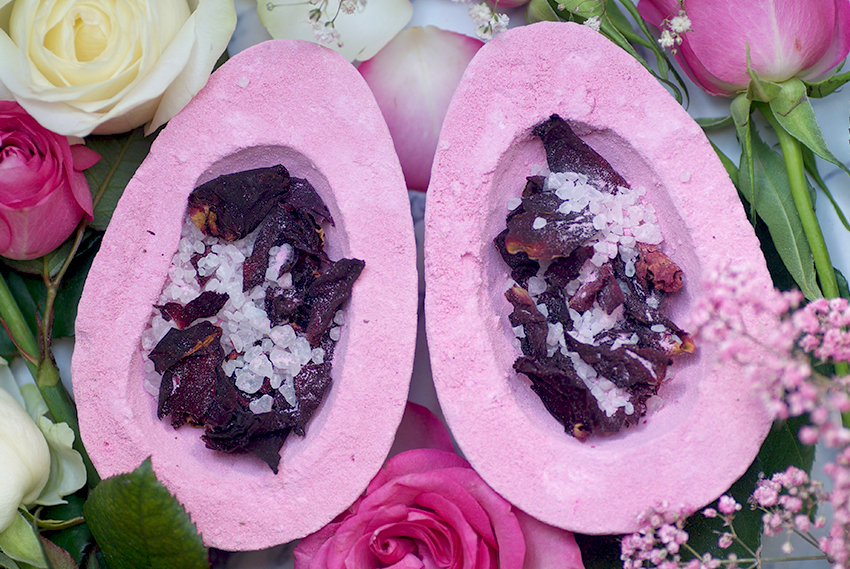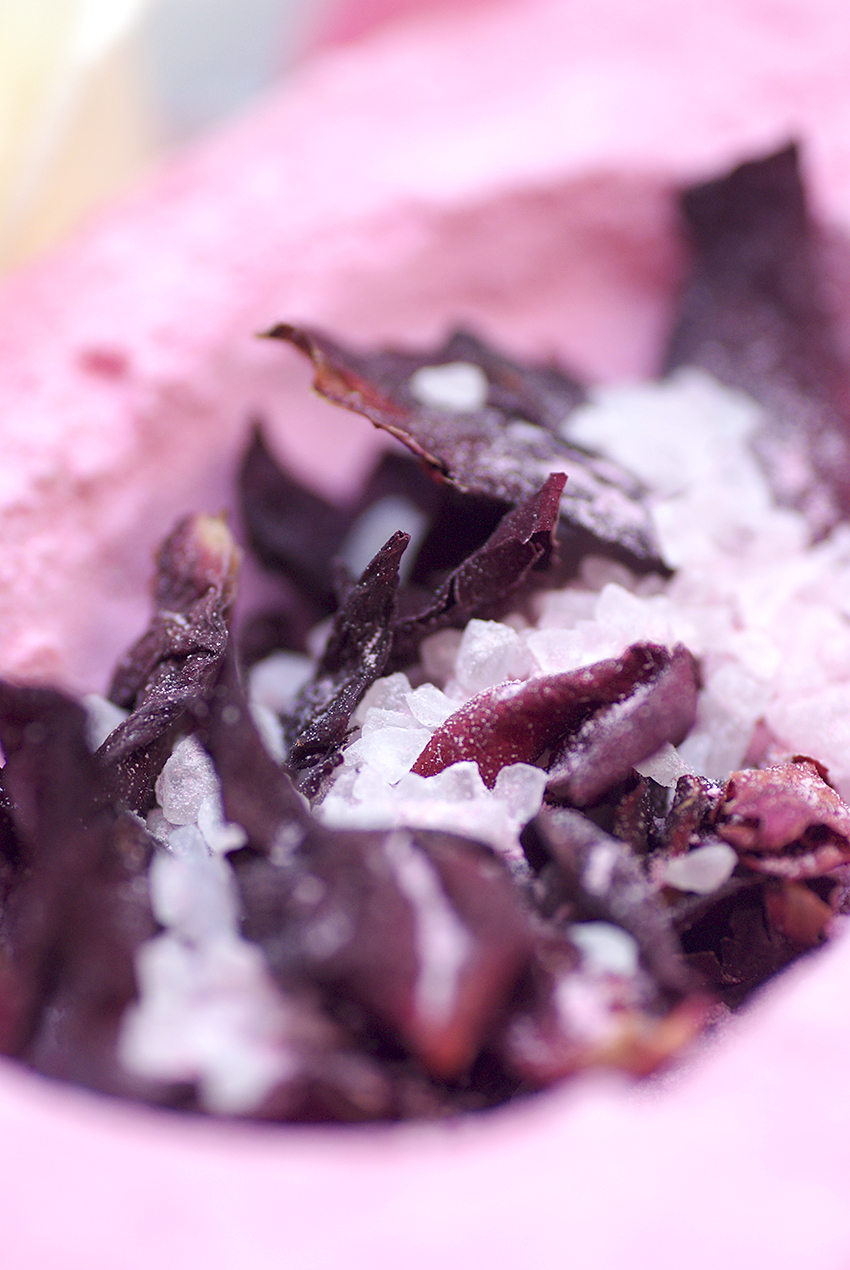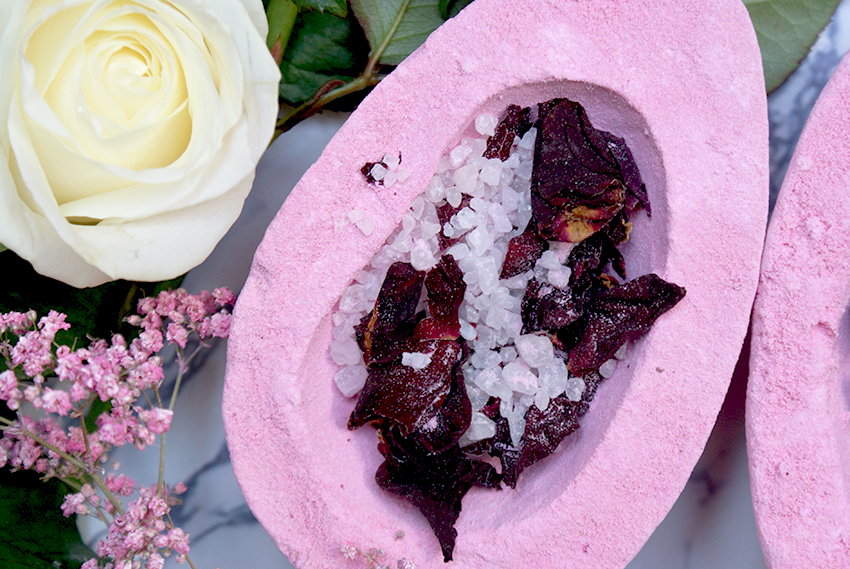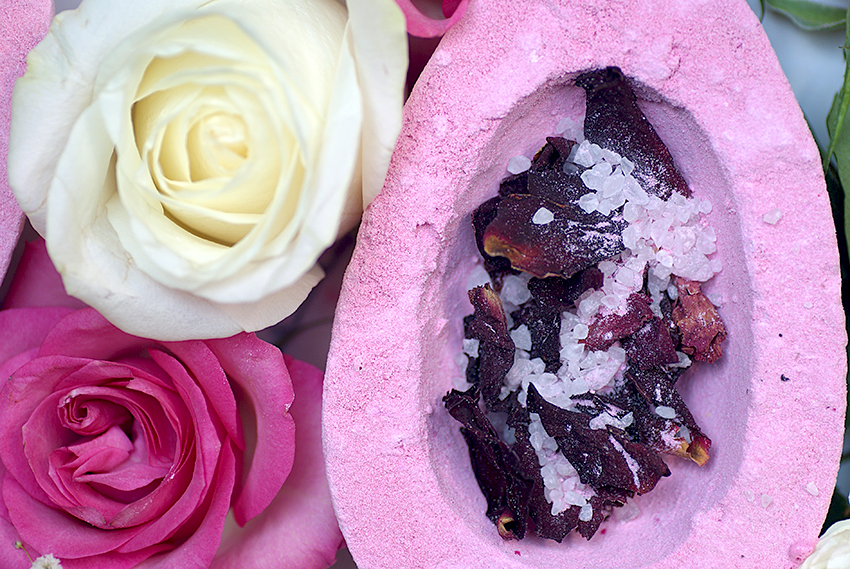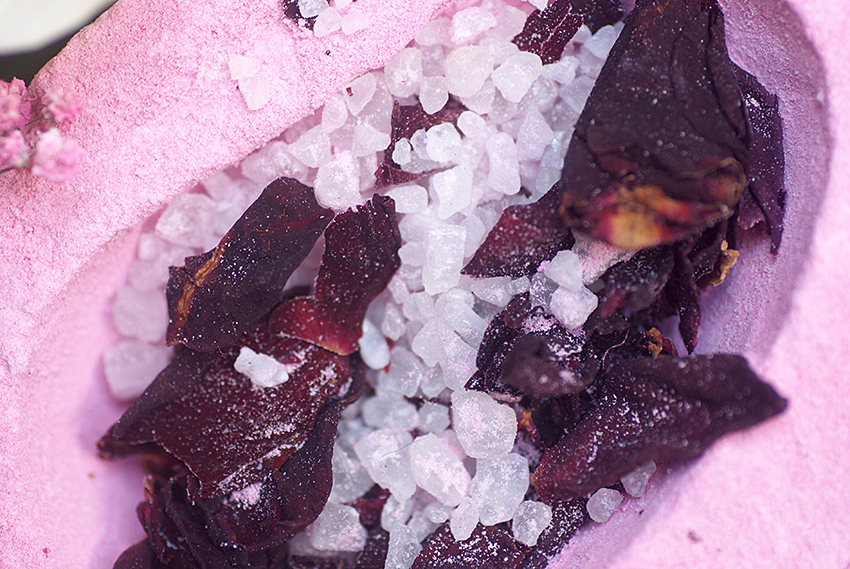 What is it?
Ingredients: Sodium Bicarbonate, Citric Acid, Coarse Sea Salt, Soybean Flour, Titanium Dioxide, Sicilian Lemon Oil, Geranium Oil, Rose Absolute, Rose Oil, Dried Red Rose Petals, Water (Aqua), Propylene Glycol, Dipropylene Glycol, Citronellol, Coumarin, Geraniol, *Limonene, Perfume, Colour 45410, Colour 14700, Colour 17200
Lush Rose Bombshell Egg costs £12.95 / $9.95 (excuse me????) and is part of the temporary Easter range. Unfortunately, it's not for sale anymore in the USA webshop — you could try in stores. I'm shocked that it only costs 10 dollars in America! In Europe it was priced at €16,95 — which is about 19 dollar. Definitely not a cheap bath bomb, but I have to admit that it's a big one. It's a hollow egg wrapped together with raffia, consisting of two halves, which can be used separated if desired. It's filled with dried rose petals and coarse sea salt — and it's a LOT! It shares its scent with the popular Rose Jam fragrance, which is a warm rose scent, normally with a hint of sweet vanilla, but in this case there's no vanille so it's less sweet. Yet the scent is pretty identical to the shower gel and any other product with the Rose Jam scent.
Other than dried rose petals and coarse sea salt, the bath bomb also contains lemon oil, geranium oil, rose absolute and rose oil. You can choose to use one half per bathing session, or to toss it in completely. Of course I went for the last option. If you are going to take a decadent bath, then you better do it right.
Play the video in 2160p quality and on full screen for the best experience! The video has been speeded up.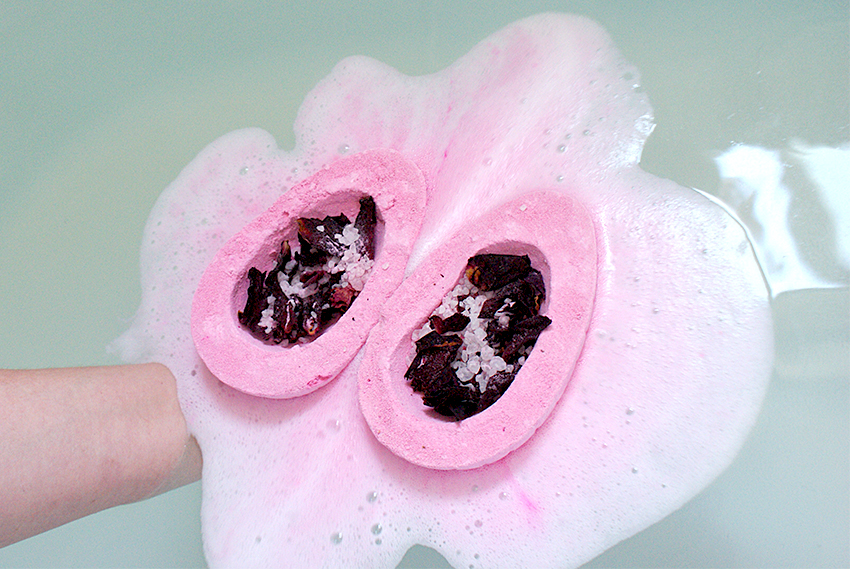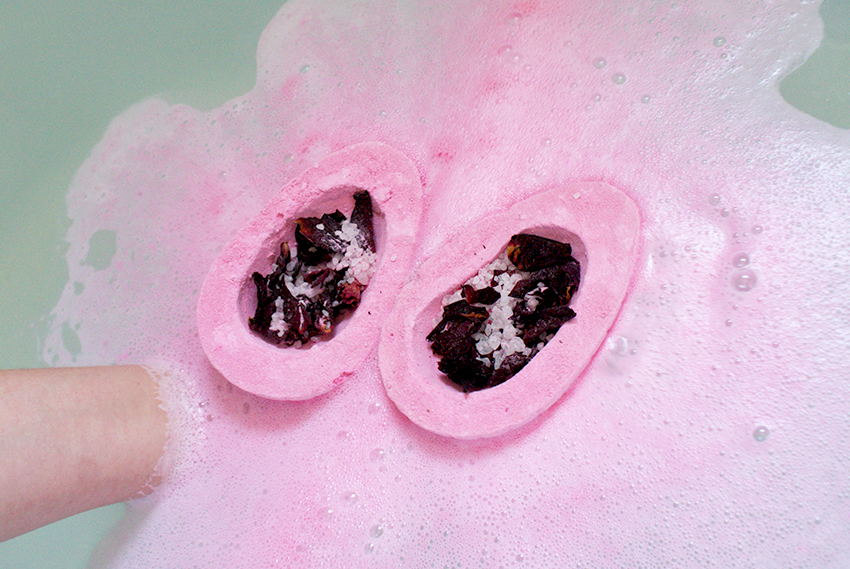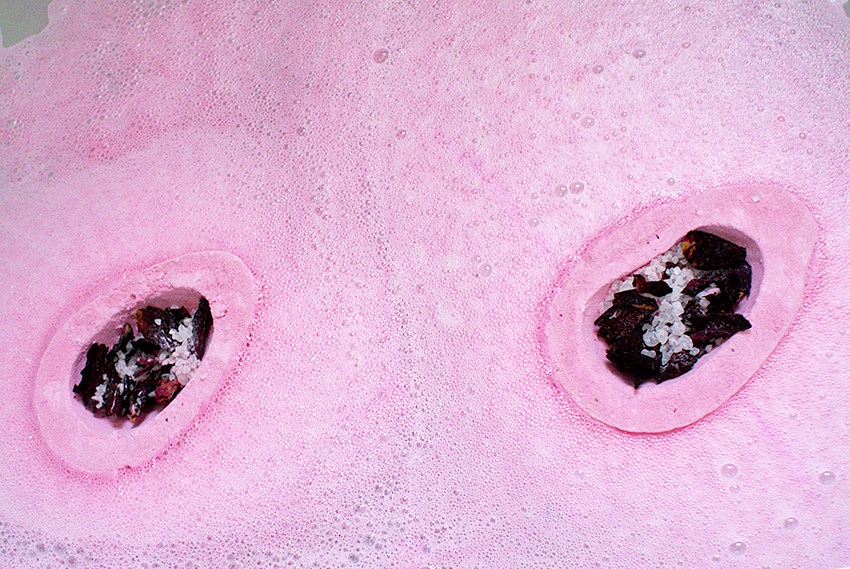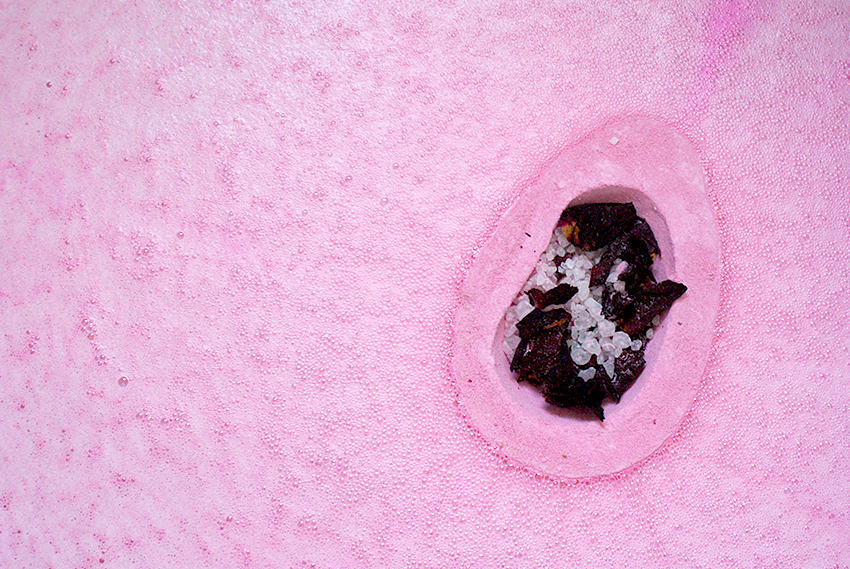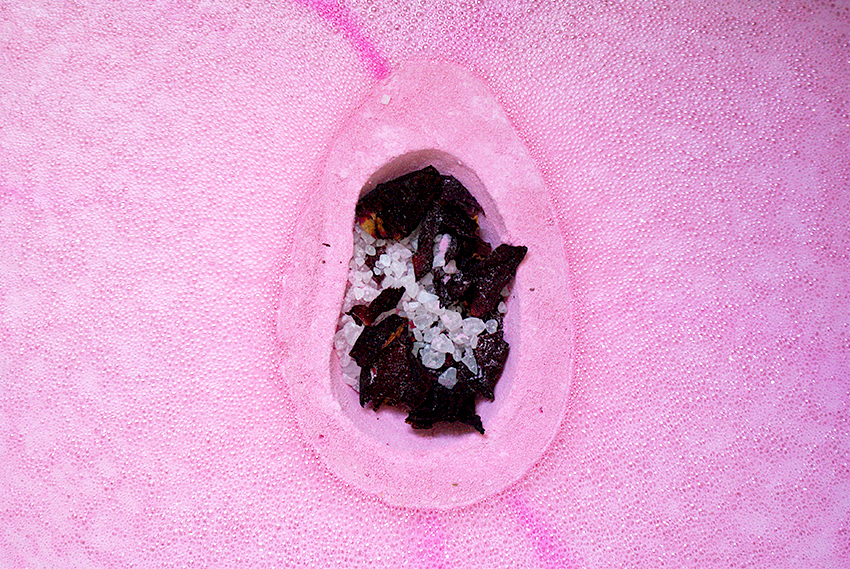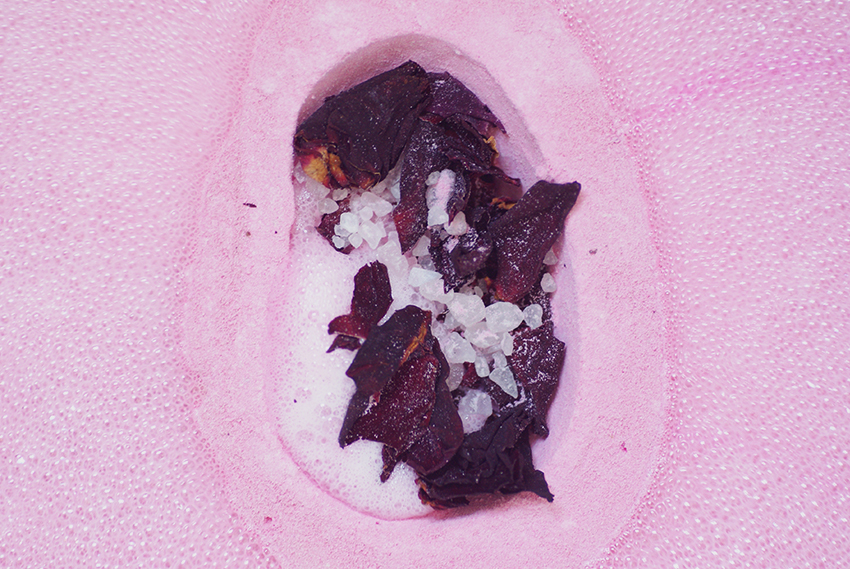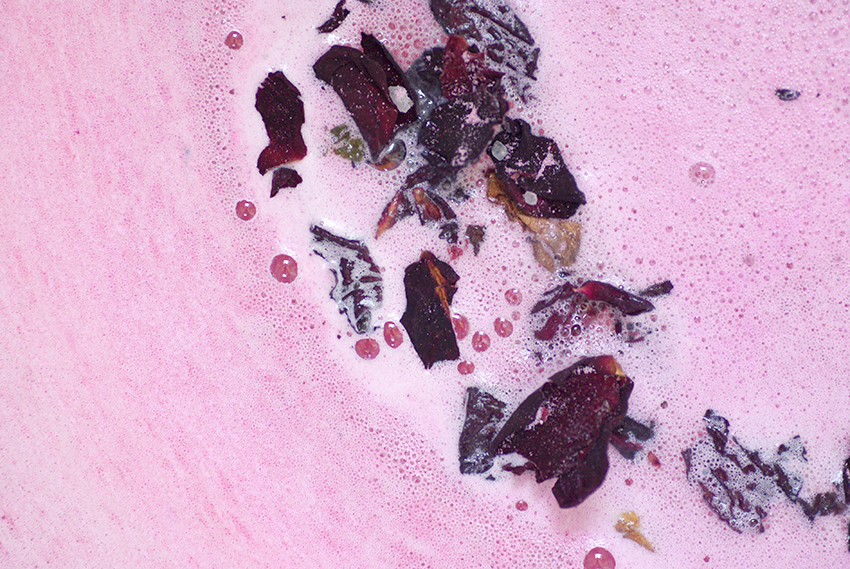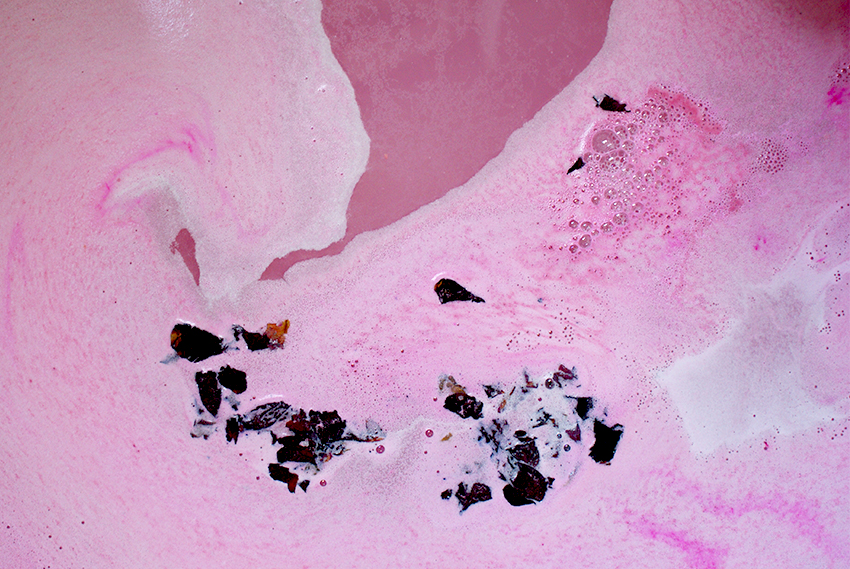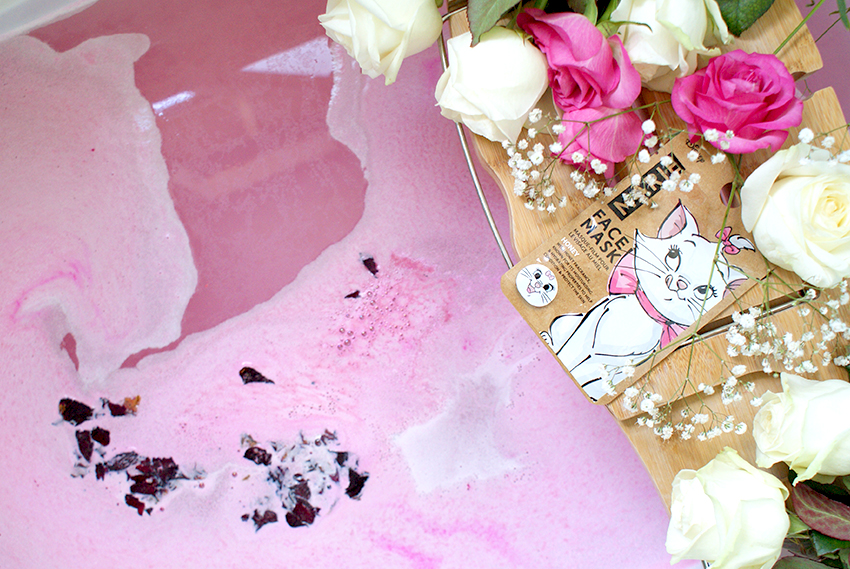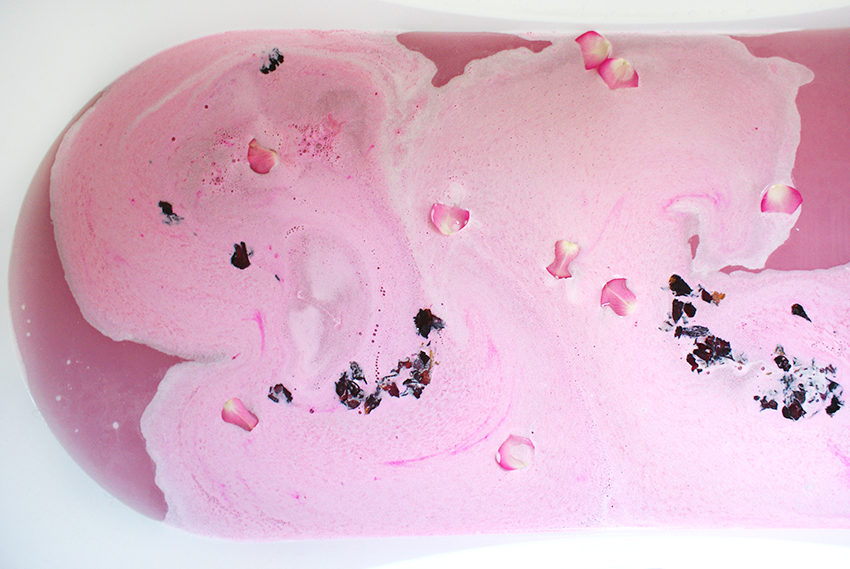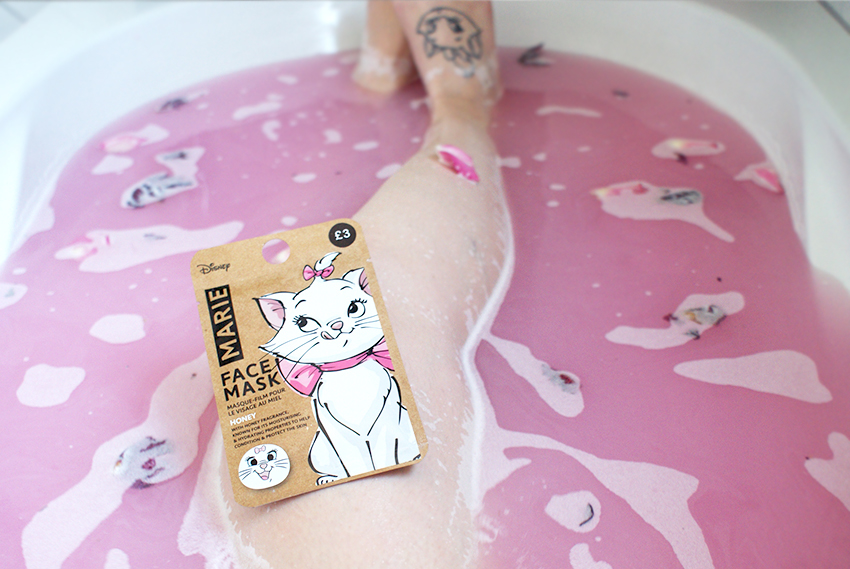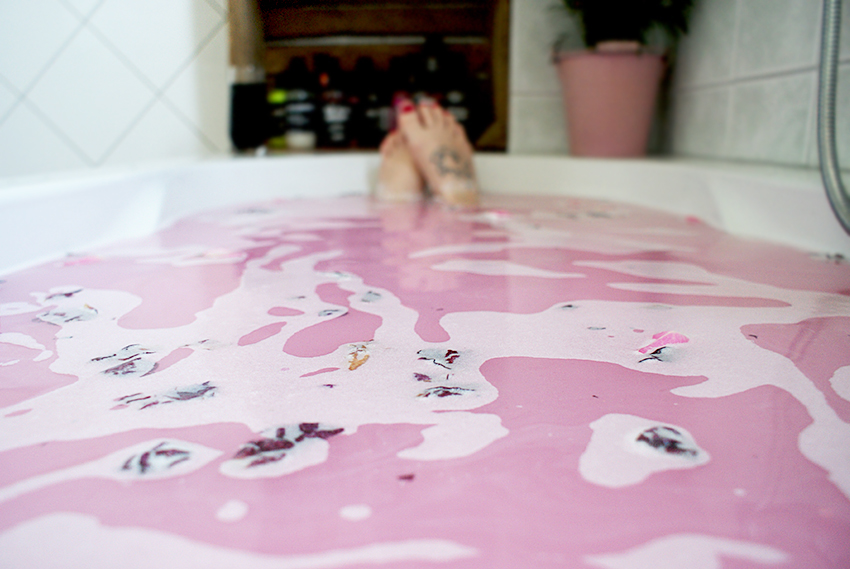 What do I think?
Upon hitting the water, Rose Bombshell starts fizzing enormously. Both halves float over the surface, each going their own way and leaving streams of pink foam behind. There is SO much foam coming off the two halves! When almost the entire surface is covered with foam, the two halves begin to fall apart. The contents are being released and spread across the surface. The water turns a gorgeous, pink shade and has a creamy and milky layer — it also feels very soft! There's a blanket of foam on the surface and there's rose petals everywhere. This is very aesthetically pleasing.
I can tell quite a story about how beautiful it was, but I think the many photos speak for themselves. It is one of the prettiest bath bombs I've ever had. The scent was very present during bathing, and despite the grains of sea salt in it, I did not feel them while bathing. (I've read a few reviews where people said they were sitting on them 😅) This bath bomb is a luxury with its gorgeous and frothy water, delicate scent and the indulgent rose petals floating on the surface. It has completely won me over, and that while I thought to have grown tired of rosy scents.
Other than my skin feeling baby soft afterwards, I can actually smell the scent lingering on my skin for hours. I'm so glad that I got this bath bomb from my best friend! It was lovely using this bath bomb and I actually think it's worth its money, especially when you get two baths out of it. Otherwise I can imagine it's a bit steep, although it's a real treat. #treatyoself 💸 Unfortunately the bath bomb is part of the Easter range, so it won't be in stores for long. Hopefully I can find myself a sugar daddy who buys me about 15 of these before they're gone.

Lush Rose Bombshell Egg costs £12.95 (England).