Review: Lush Cherry Blossom Reusable Bubble Bar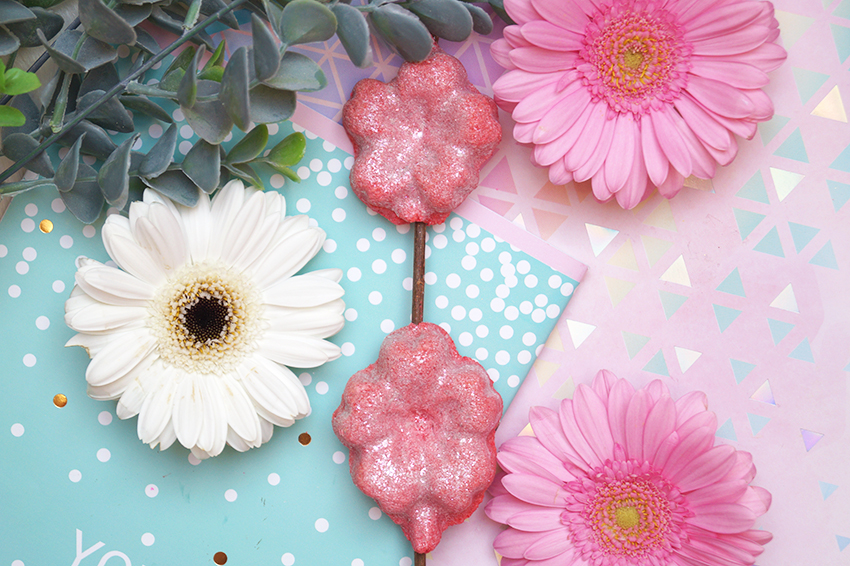 If I ever go to Japan, one of the reasons for my visit would be to see the beautiful cherry blossoms. Although we also have some cherry blossoms in the Netherlands, I find the appearance of hundreds of these trees so magical. Because of my love for this beautiful tree with pink flowers, I couldn't ignore Cherry Blossom while shopping in the UK webshop. It looks so cute — and the scent must be delicious! I decided to give this bubble bar a try. If you're curious, keep on reading!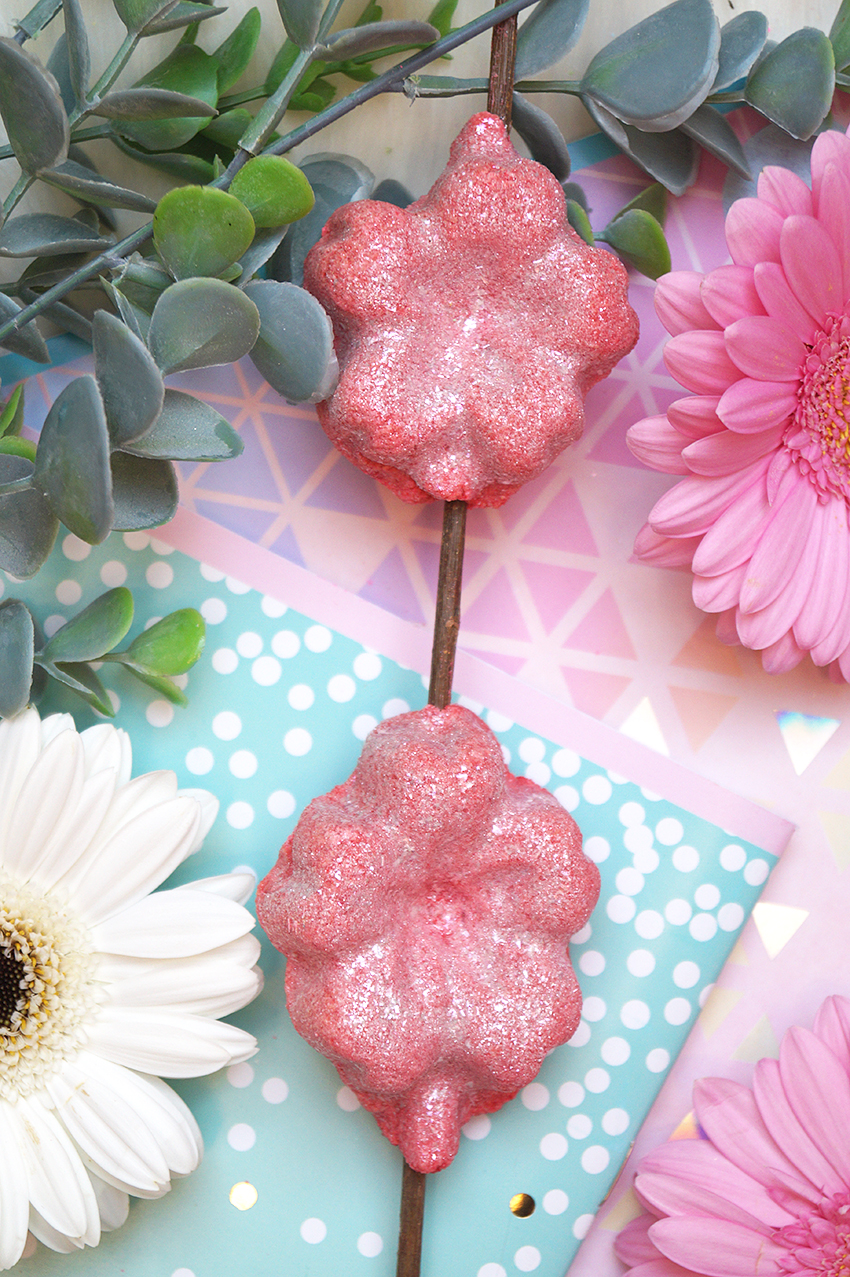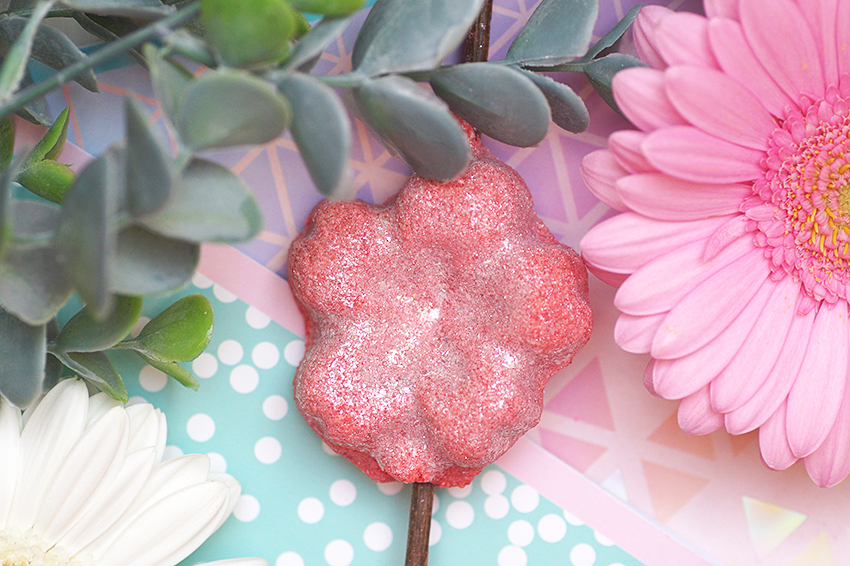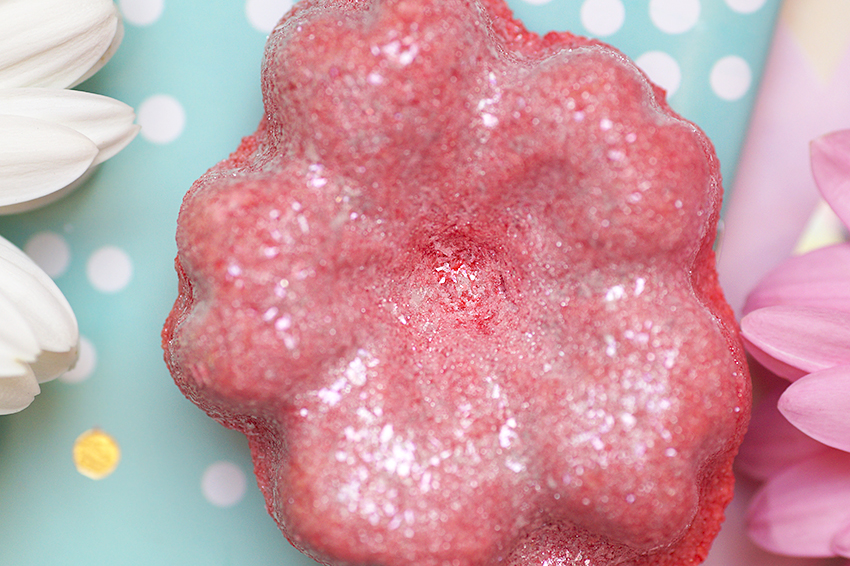 What is it?
Ingrediënten: Sodium Carbonate, Cream of Tartar, Sodium Laureth Sulfate, Glycerine, Lauryl Betaine, Perfume, Almond essential oil, Rosewood Oil, Cedarwood Oil, Sicilian Lemon Oil, Titanium Dioxide, Synthetic Fluorphlogopite, Calcium Sodium Borosilicate, Tin Oxide, Alpha-Isomethyl Ionone, *Citral, *Citronellol, *Coumarin, *Eugenol, *Farnesol, *Geraniol, *Limonene, *Linalool, Colour 14700, Colour 45410, Colour 17200
Lush Cherry Blossom Reusable Bubble Bar costs £7.50 and is part of the main line in the UK webshop. This reusable bubble bar is, as the name suggests, reusable — meaning you can get multiple baths out of it. The difference with normal bubble bars is that reusable one's are more firm and a lot harder, making it hard to crumble this bubble bar. Most of the reusable bubble bars are on a stick, so you can easily hold them under the water's flow. They last longer than a regular bubble bar as well. Cherry Blossom consists of two cherry blossom flowers. I use one flower per bath, but you can use it as often as you'd like.
Cherry Blossom consists of almond oil, rosewood oil, cedarwood oil and lemon oil. It might surprise you that there's no actual cherries in this product! About the scent.. I'm going to be very honest, but I really don't like it. It's a warm and floral scent, but to my nose, it has a strange twist. I find it hard to smell one of the specific ingredients, although I'm able to detect the warm notes of the almond, and the floral notes of the rosewood. This combination of ingredients creates a.. weird smell. It has a weird, deformed note to me. I expected the scent to be very sweet and fruity, like actual cherries. But instead, all I can smell is old cherries that are out of date. Sorry.
Play the video in 2160p quality and on full screen for the best experience! The video has been speeded up.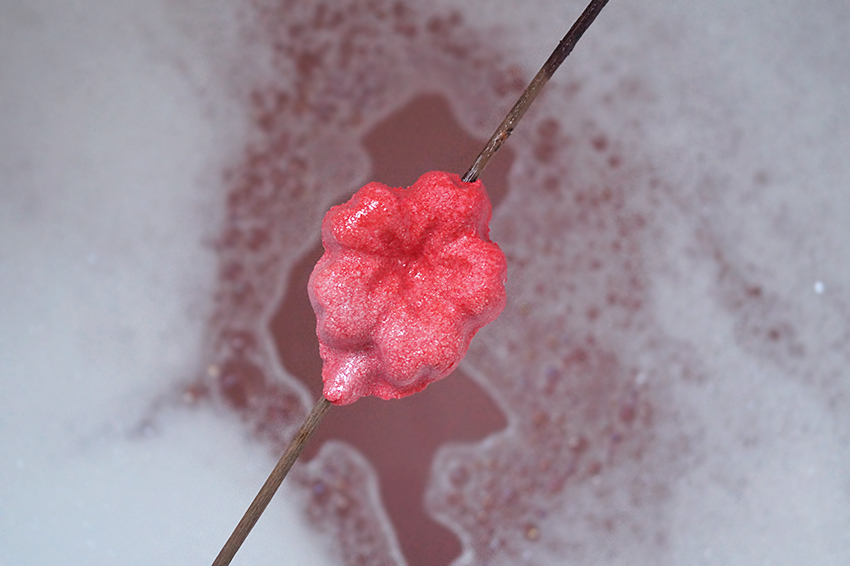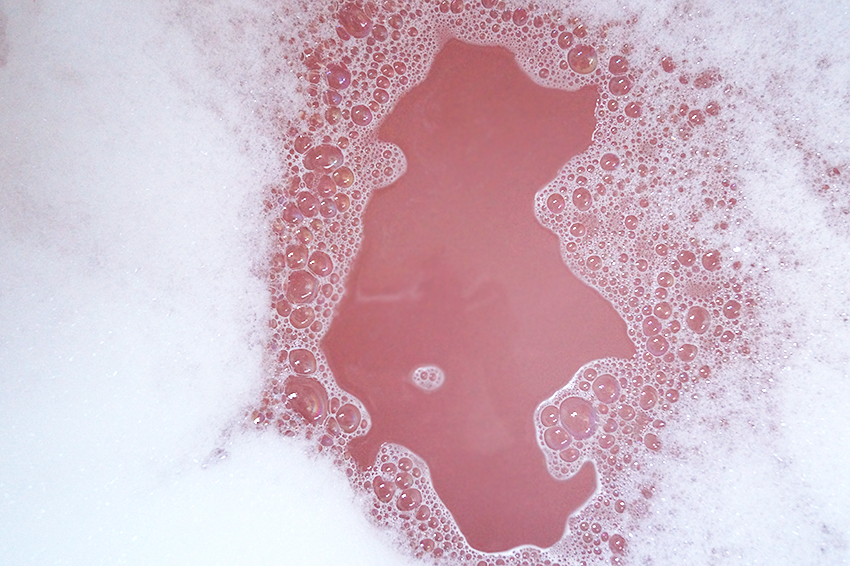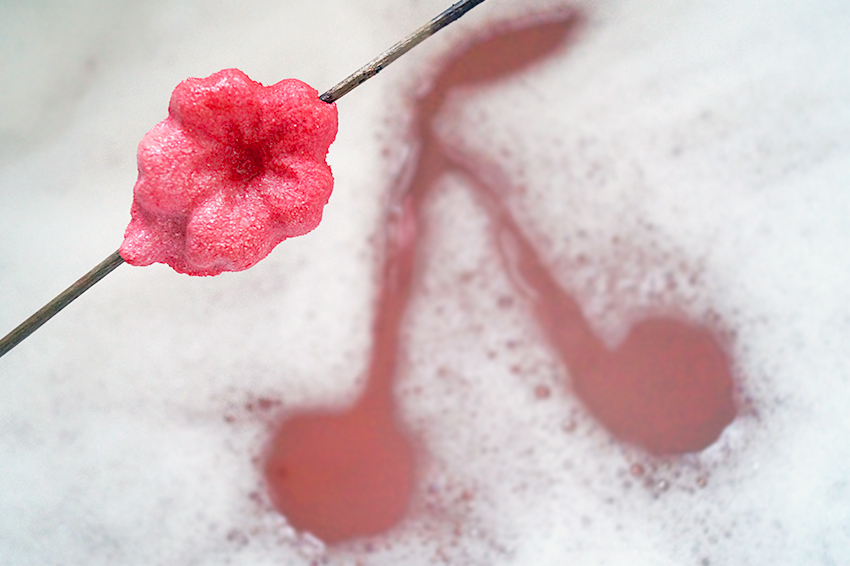 What do I think?
As you can see in the video, I put the bubble bar under the water's flow. Soft foam immediately starts spreading across the surface, and a pink shade is taking over the water. The scent is very well present — a warm, almond-like cherry scent. I used one blossom, which created a generous load of bubbles. The bubbles felt very soft and fluffy, and I was amazed at how many bubbles the water's flow kept creating long after using the bubble bar, probably because of some residue left in the water. The great thing about these reusable bubble bar is that you can put them aside and leave them to dry, as soon as you feel like you've got enough bubbles to have fun with.
The warm cherry scent was constantly present and the bubbles stuck with me throughout the entire bath, for about 45 minutes! Afterwards my skin felt a bit softer, but also more moisturised. I could smell the scent very lightly on my skin. This bubble bar didn't even need a bath bomb for a nice bathing session — however, it's also nice to add one. I'd suggest using this bubble bar with Sakura for example, or Sex Bomb if you feel like a more floral bath with a gorgeous pink shade. Even though I'm not a fan of this scent, I love the concept of bubble bars. Bubbles are always a good idea!

Lush Cherry Blossom Reusable Bubble Bar costs £7.50 (England).