Review: Lush Bongo Shower Jelly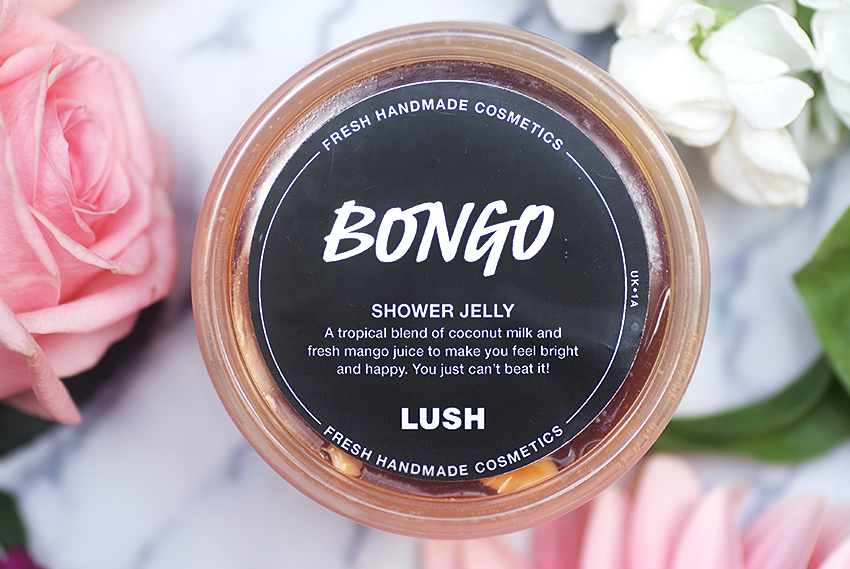 I've always been a fan of the jellies. They have a pretty strong scent, are fun to poke in and since I've found a way to use them in the shower, without constantly dropping them, I use them a lot. In Liverpool I decided to take all four new jellies with them, except for Rumba. Rumba shares its scent with So White (green apples), which I've always find repelling. But thank God for Bongo, because this scent is literally a tropical holiday shaped like a jelly. And that's exactly what I needed.
If you're curious about this product, make sure you keep on reading!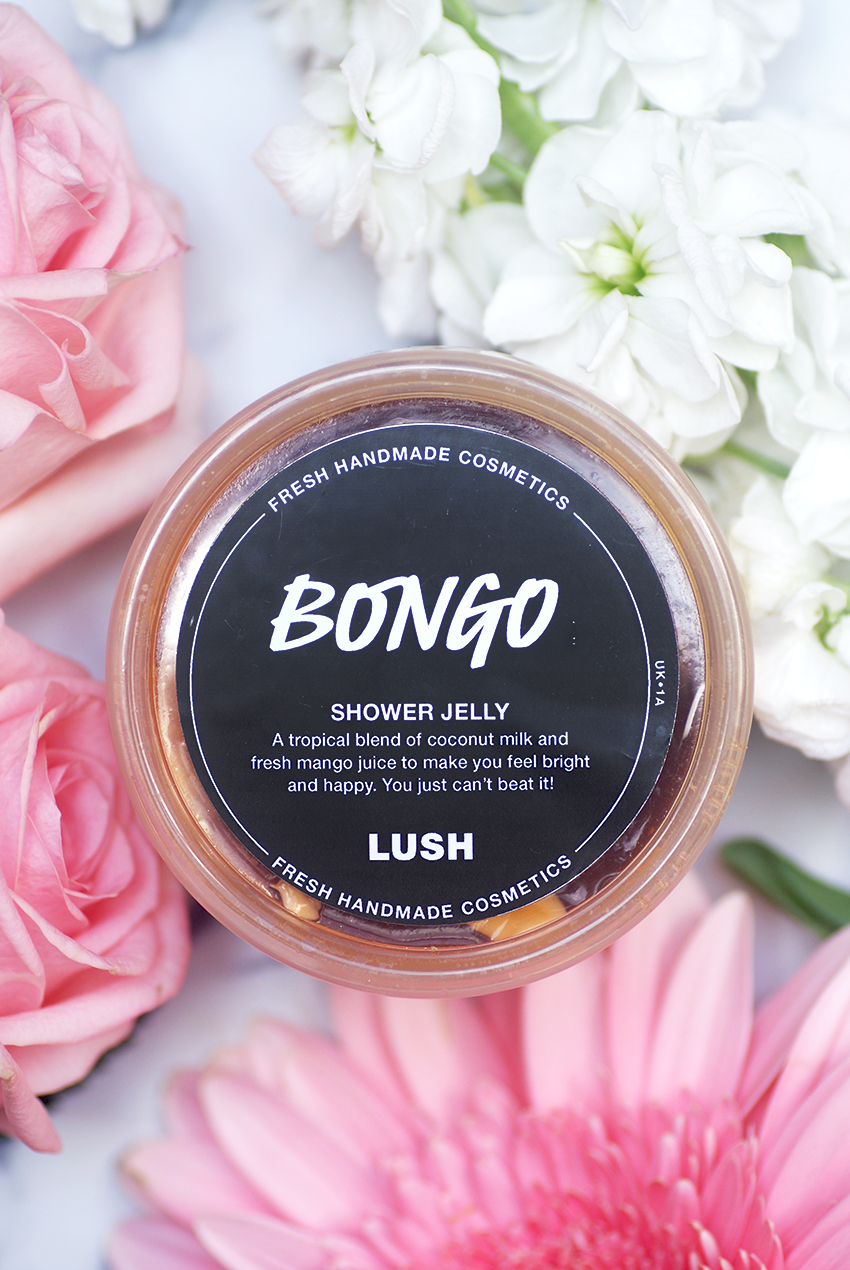 What is it?
Lush Bongo Shower Jelly costs £5.50 for 100 grams and £10.95 for 240 grams. It is an exclusive product and can only be purchased in Lush in Liverpool. It is one of the newest jellies, along with Conga, Beats, Gong and Rumba. They're all music terms! Bongo is a percussion instrument consisting of a pair of small open bottomed drums of different sizes. The idea behind these musical names is that if you hit the big jellies that are displayed in the store, like a drum, it makes sounds. I'm not completely sure if this is true, but it kinda makes sense.
I'm guessing you know how jellies work, right? Take it with you in the shower (the whole jelly or just a slice or piece) and rub yourself with it. In contact with water it lathers up. If you're unsure on how to use a jelly, read my blog post on how to use a shower jelly.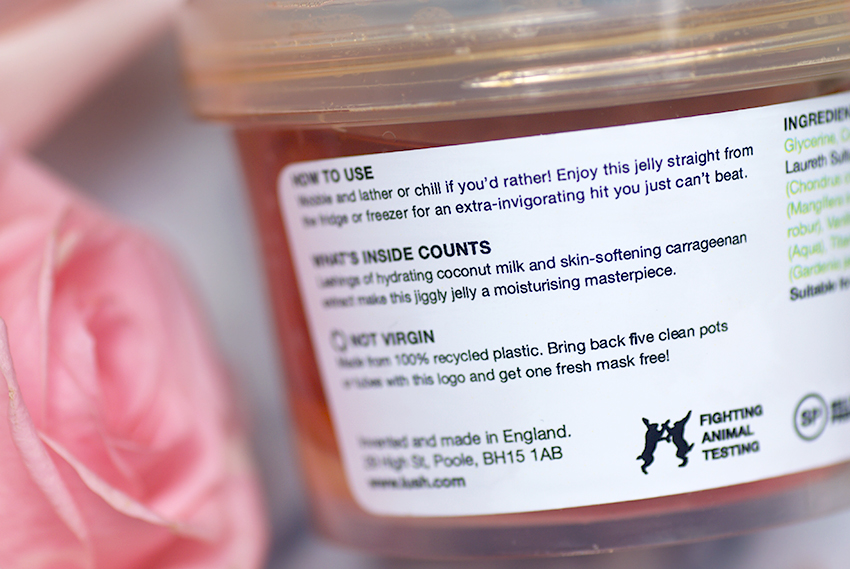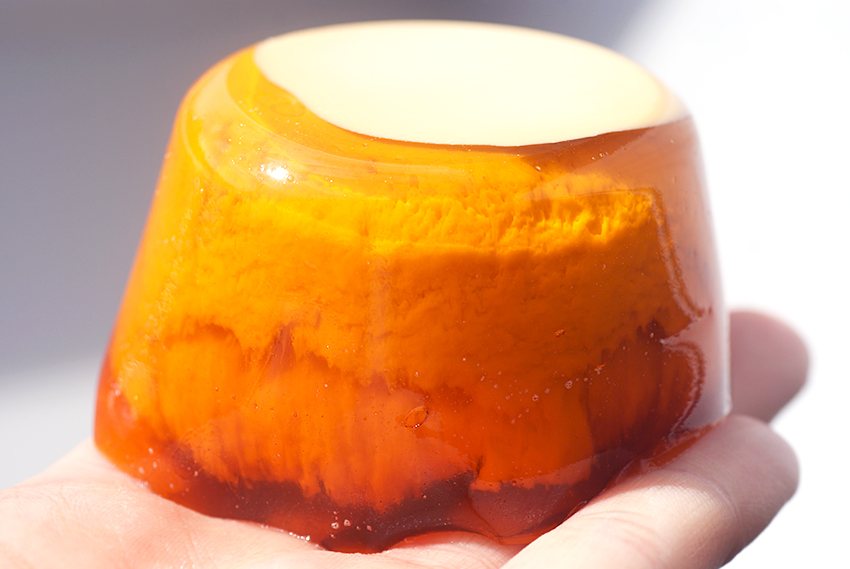 What's inside?
Ingredients: Glycerine, Coconut Milk, Sodium Laureth Sulfate, Propylene Glycol, Carrageenan Extract, Perfume, Fresh Mango Juice, Oakwood Absolute, Vanilla Absolute, Water, Titanium Dioxide, Gardenia Extract, Coumarin, Colour 15510
In terms of aesthetics, this jelly is gorgeous. It's a clear orange jelly, but a different liquid seems to have been poured inside the jelly, creating a magical look. At the bottom of the jelly you can see a milky substance, I'm guessing this is the coconut milk that has sunken to the bottom. The jelly owns its wobbly substance to the glycerin and carrageenan extract (seaweed) in it, the scent is partly determined by the coconut milk, fresh mango juice, oak and vanilla.
The scent is heavenly, it's such an unique blend of tropical notes. Leave it to Lush to create a scent that immediately transfers you to the Bahamas. It's a sweet and fruity scent, with an overall warm layer thanks to the coconut and vanilla. It kind of reminds me of Golden Pear, which is also a warm and fruity scent. The mango in Bongo is pretty dominant, creating a tropical and fruity scent. It also reminds me of apple and cinnamon custard! We have a custard like that in The Netherlands, and both scents are SO alike. It took me awhile to realize they pretty much share the both scent — the similarity is that the custard has the fruitiness of apples and the warmth of the cinnamon.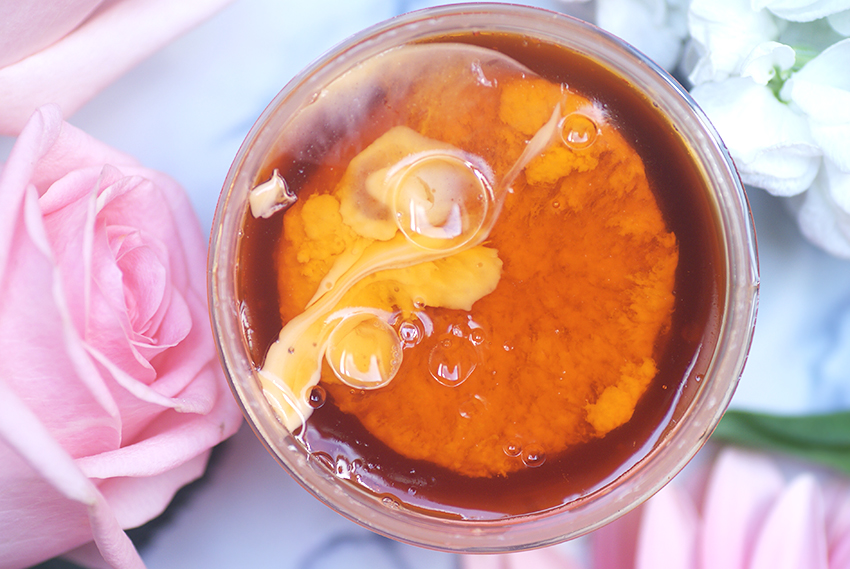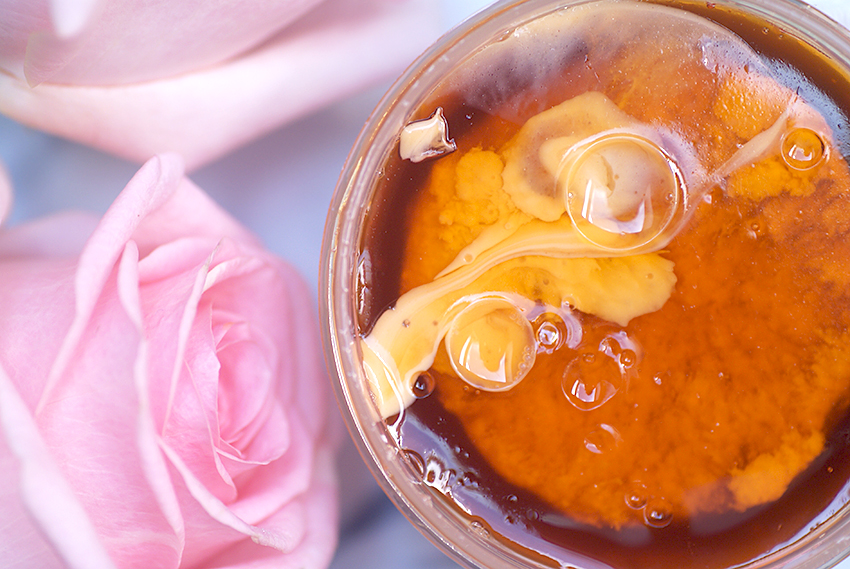 What do I think?
Like I said in the intro, one of the reasons I love the jellies is because they're always strong-scented. When I use a product in the shower, I want the scent to be present. Fortunately, Bongo has a strong smell, transforming your bathroom into a spa retreat in a warm, foreign country. Think cocktails, fresh fruit, tanning, beach walks, What a wonderful scent this is. Lush really did an amazing job, once again.
Bongo doesn't really hydrate my skin as much as other products do, but it does make my skin feel softer and more smooth. It lathers up pretty easily and the uplifting scent makes my morning blues go down the drain. You keep smelling the wonderful scent in the bathroom for awhile, it also lingers on my skin. If you don't have the money for a tropical holiday, take the tropical holiday home. You just have book a flight to Liverpool. But hey, that's still cheaper than flying to the Bahamas, right?
Do I recommend this jelly? YES! It's really divine. A must have in the shower. So if you are ever in Liverpool, don't forget to take it with you. If you're not, well, let's hope they'll sell it online eventually..

Lush Bongo Shower Jelly costs £4.50 (100g) / £10.95 (240g) and is available in Lush Liverpool.

One Response to Review: Lush Bongo Shower Jelly