Review: Lush Mamma Mia Solid Body Scrub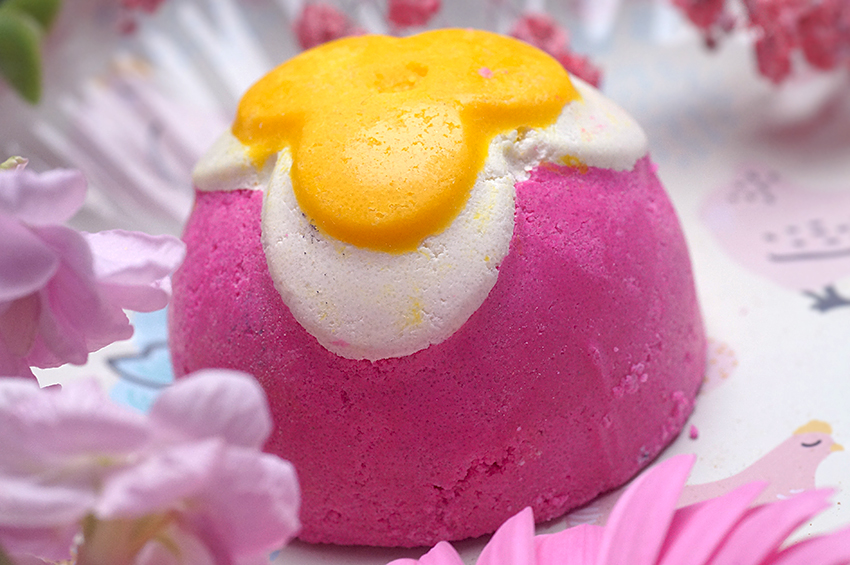 Mother's Day: a lot of cute, cheerful products with great scents. Just like this Mamma Mia body scrub, which is new to the Mother's Day range. Last year we've had the regular Mamma Mia scrub, but this year we're being gifted a naked version. Because it's pink, I had to grab one. Yes, just because it's pink. Don't judge me, k?!!
If you're curious about this product, make sure you keep on reading!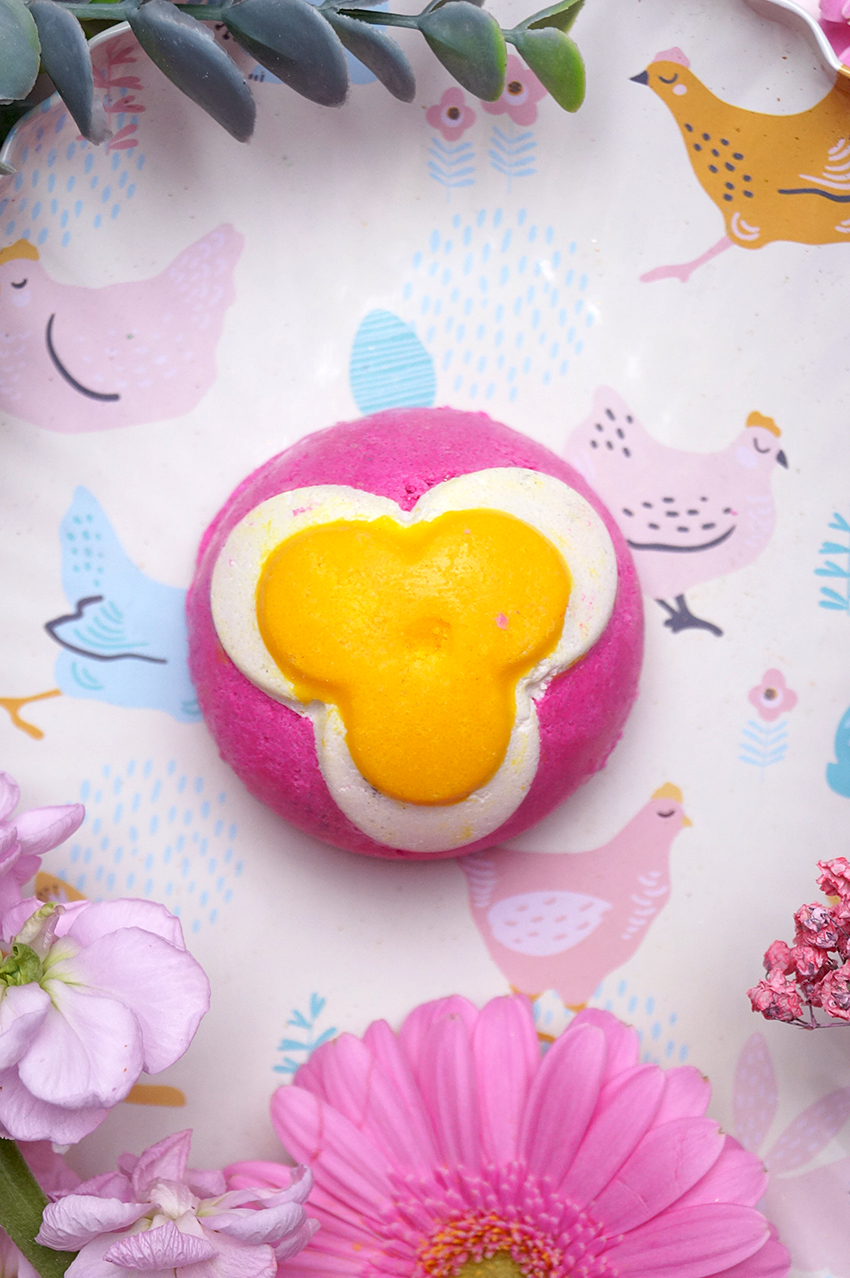 What is it?
Lush Mamma Mia Solid Body Scrub costs £6.00 / $9.95 / €8,00 (120 grams) and is part of the Mother's Day range. It's a naked body scrub, which means there's no packaging at all. It's just a cute lil scrub which you can take with you in the shower and rub across your body, thanks to the handy shape. It reminds me of Easy Peeler! A body scrub is great for exfoliating the skin, removing dead skin cells and thus ensuring a super soft and smooth skin. I love using a scrub, however, I do prefer the bottled ones over the naked scrubs. They're more liquid and easier to apply. With my sensitive skin, solid scrubs tend to be too harsh on my skin.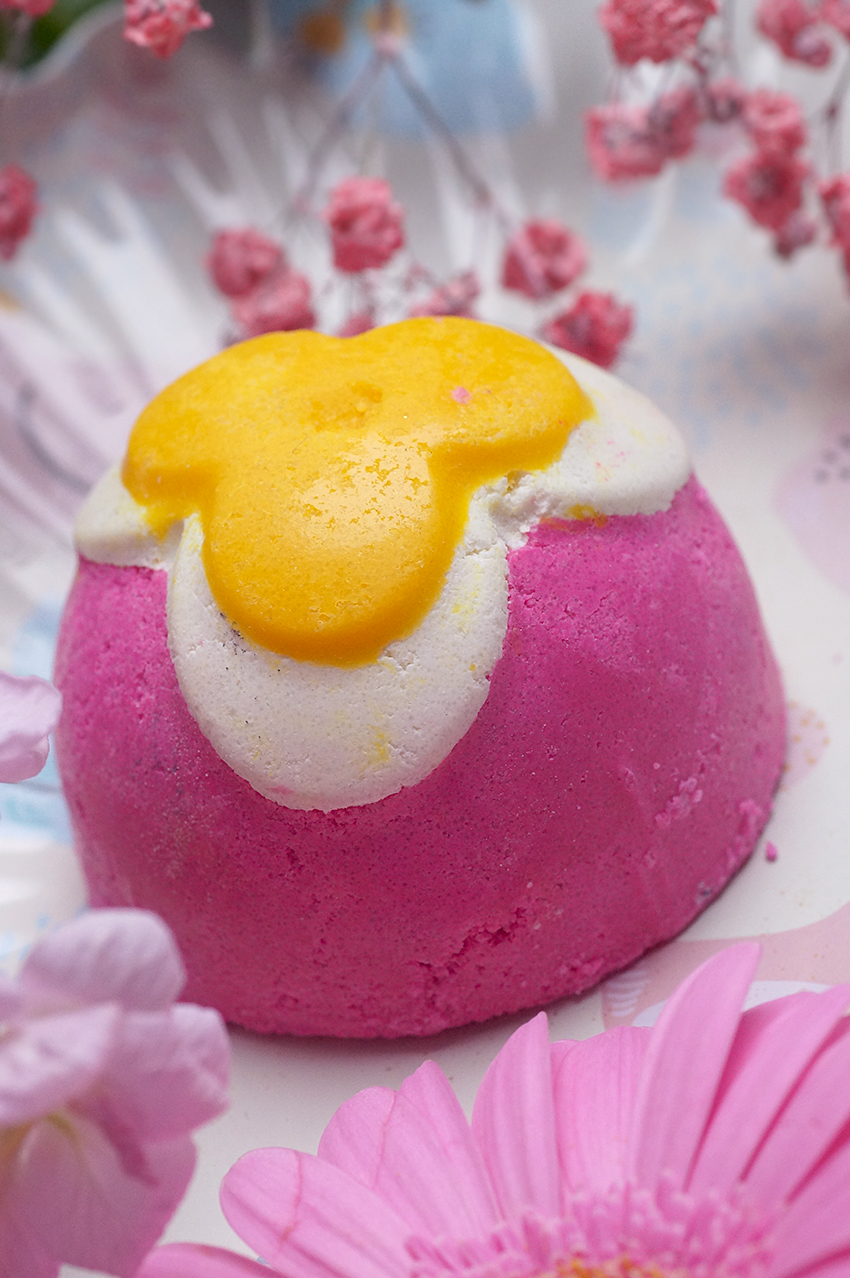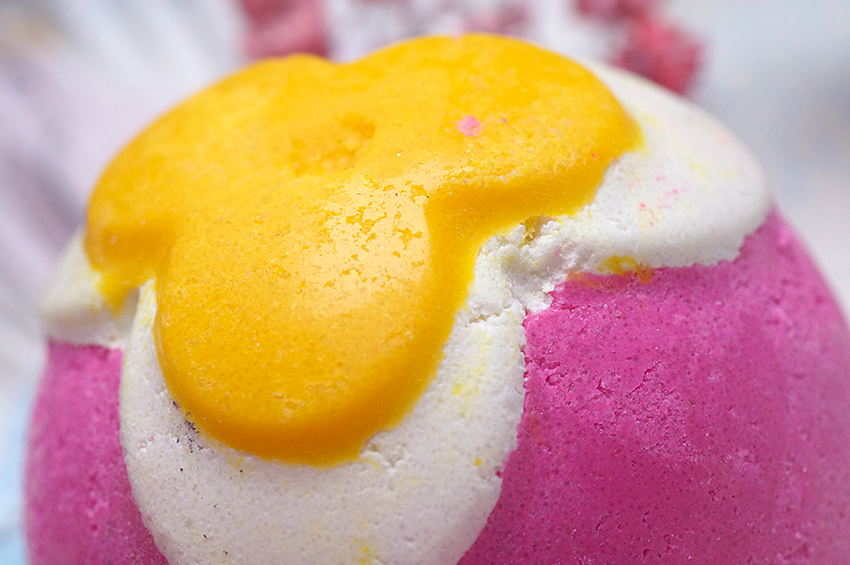 What's inside?
Ingredients: Extra Fine Sea Salt, Fair Trade Organic Cocoa Butter, Sodium Bicarbonate, Potato Starch, Organic Shea Butter, Sodium Coco Sulfate, Cupuaçu Butter, Cream of Tartar, Extra Virgin Coconut Oil, Himalayan Salt, Bergamot Oil, Rosewood Oil, Vanilla Absolute, Fresh Pink Grapefruit Juice, Titanium Dioxide, Rose Clay, Cocamidopropyl Betaine, Synthetic Fluorphlogopite, Tin Oxide, *Limonene, *Linalool, Perfume, Colour 45410:2, Colour 45410, Colour 45350, Colour 47005:1, Colour 19140
This naked body scrub contains fine sea salt and Himalayan salt, which exfoliates your skin, leaving it smooth and soft. There's cocoa butter inside, to hydrate the skin. Because there's cocoa butter inside, your scrub will turn a pale pink shade after leaving it in the open somewhere. This scrub was sitting on my desk for a couple of weeks, waiting patiently to be reviewed, and I'm just glad I took photos when it arrived! It's all pale now. Anyway, there's also shea butter inside, also known for its hydrating properties — just like the cupuaçu butter. Coconut oil softens and protects the skin, while bergamot oil refreshes the skin. Rosewood oil antimicrobial, and so is vanilla absolute. A portion of grapefruit juice leaves skin feeling clean, toned and soft. Finally, there's rose clay, which absorbs excess oils.
Scent
The scent hasn't changed, it's the same scent as the original Mamma Mia body scrub. It's a vanilla-like scent; a little sweet with a warm background. There's a floral note to it, as well as a tiny hint of grapefruit and bergamot freshness, offering a lovely overall scent. A warm and sugary aroma, I love it.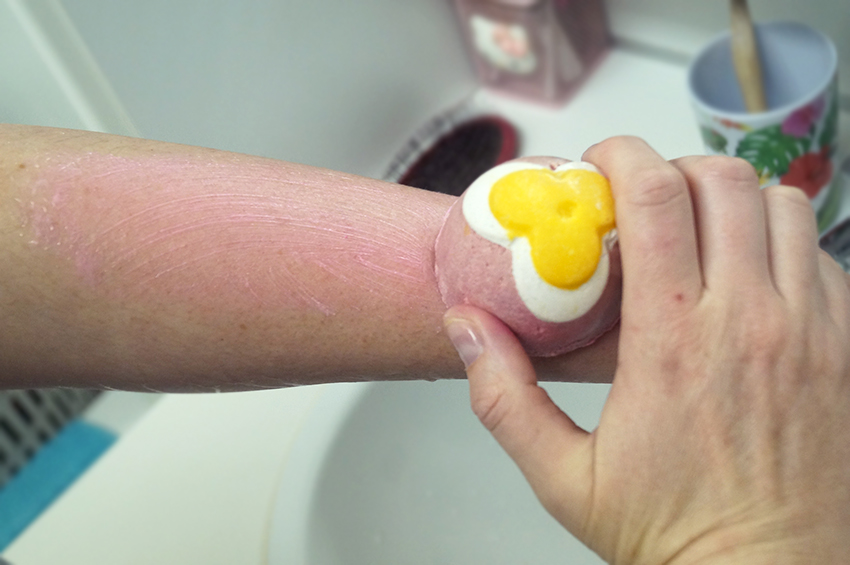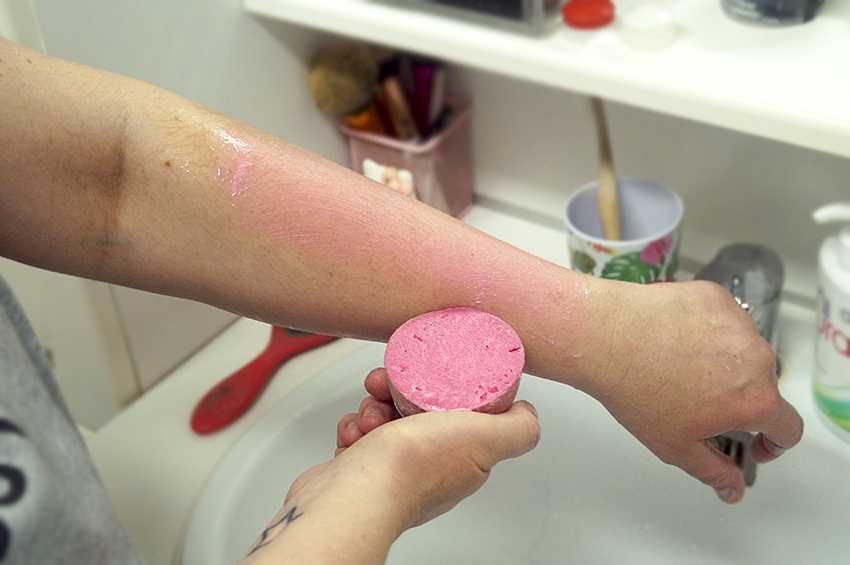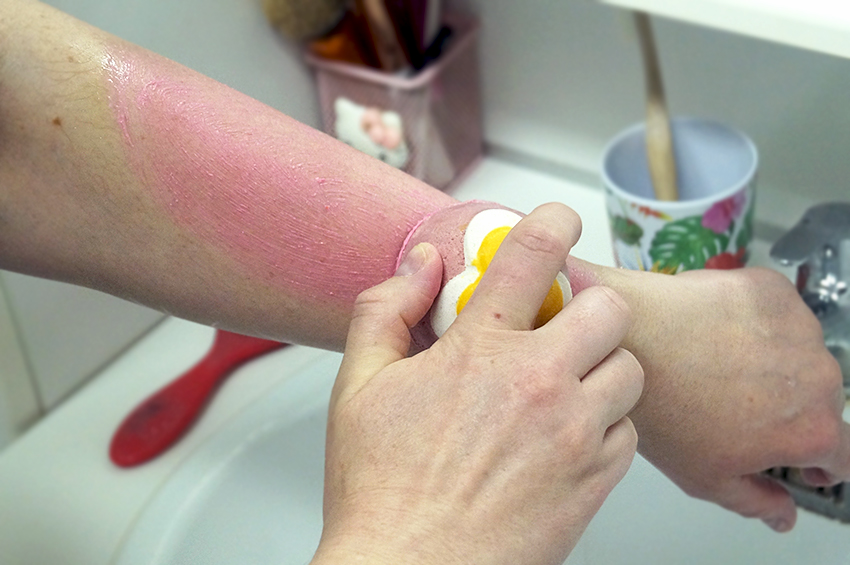 What do I think?
The texture of this solid scrub is pretty hard. I wouldn't say rock hard, as you can crumble it a little when it's wet and you apply a lot of pressure, but it's definitely not a gentle scrub. The first time using it, it left my skin red, so the second time I used it, I made sure I used less pressure when applying it. My skin still looks a little red, but I'm not sure if it's because of the scrubbing, or because it stains. I read a lot of reviews that this body scrub would stain your skin, and even though I don't experience a huge staining, I'm wondering if the pink/red shade on my skin is just some staining? 🤔 My skin does however feel incredibly soft, but I can also spot dry, flaky skin, so in terms of hydration there's definitely room for improvement. The only benefit I get from using this solid scrub, is a super smooth, buffed and soft skin.
Upon reading other reviews on this products, I see a lot of people complaining that they can only get two uses out of this scrub. I'm sure they're experiencing another batch, because I've used this scrub a few times now, and it looks like it's barely used. I can't crumble this scrub under the shower, it's too hard for that. So breaking off a piece before using it, isn't an option. Therefore I'm not really fond of this scrub. For my sensitive skin, it's just too hard and almost painful to use. I wish it were a little more soft. I also can't smell anything on my skin afterwards, so I think I'm just going to stick with the liquid version of this scrub!
Edit: since there's still a pink/red shade on my skin after half an hour, I'm pretty sure it's the scrub staining my skin!

Lush Mamma Mia Solid Body Scrub costs £6.00 (England) / $9.95 (USA) / €8,00 The Netherlands)

One Response to Review: Lush Mamma Mia Solid Body Scrub