Review: Lush Pop Art Bath Bomb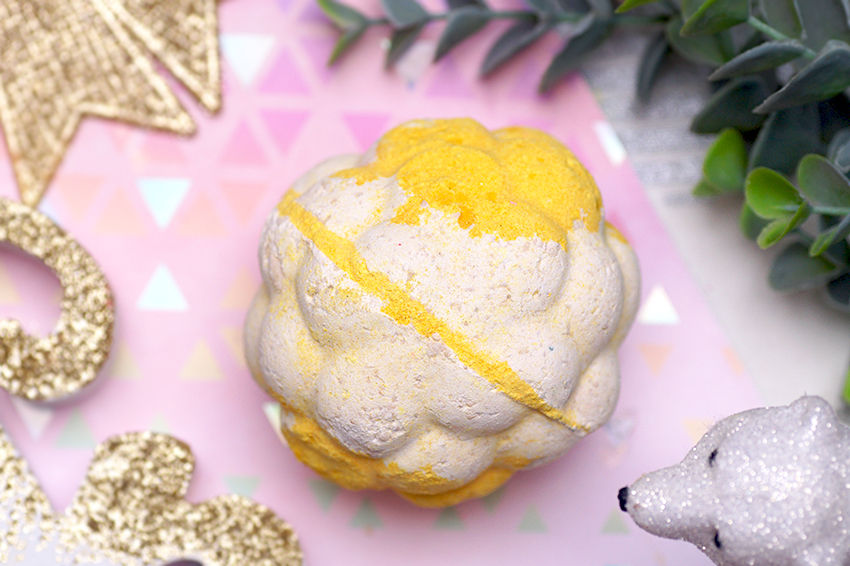 Gray, dark and gloomy days. Autumn has a lot of those for us, so what better than creating your own moment of happiness in the bathroom? Pop Art is a cheerful looking bath bomb, reading to fill our tubs with some rays of sunshine. I decided to toss this chunky boi in the bath, and today you can read all about it.
If you're curious about this bath bomb, then keep on reading.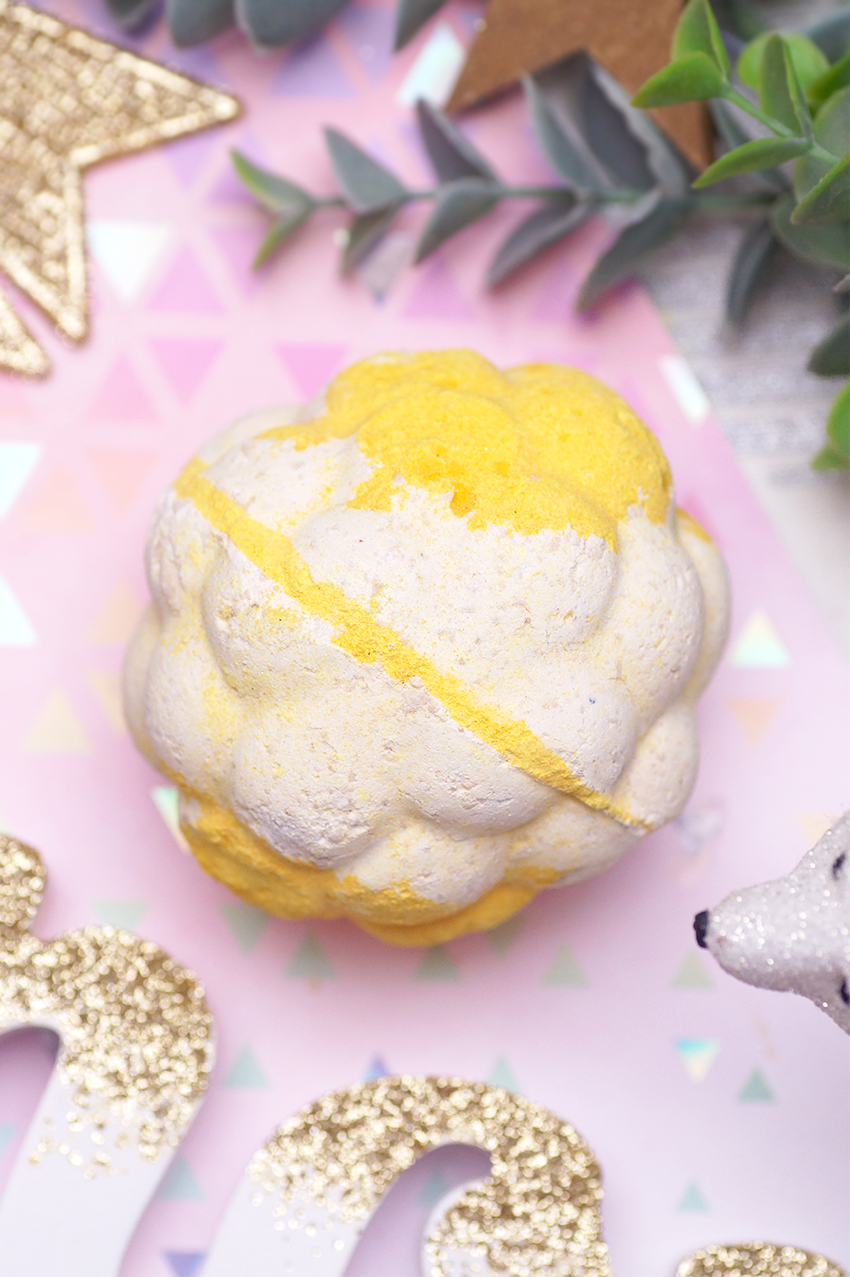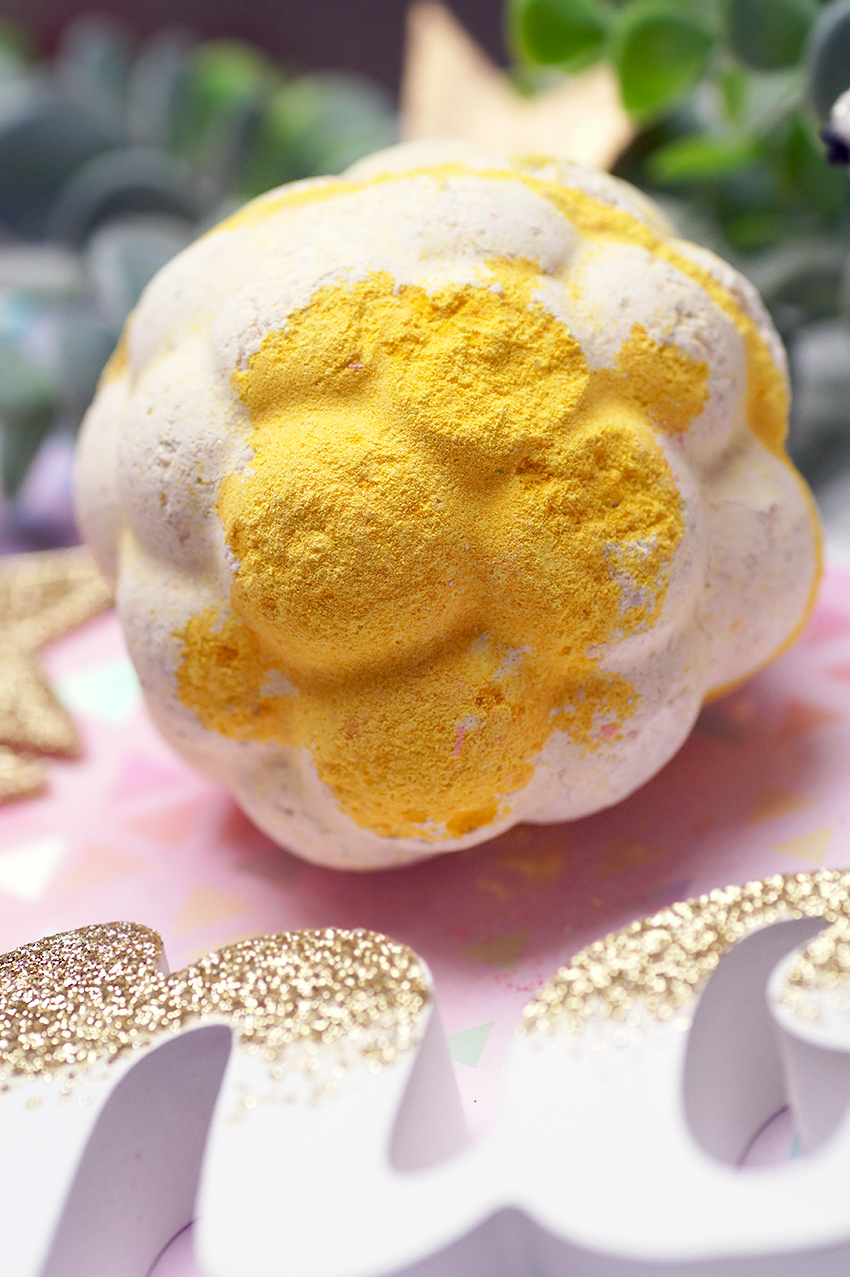 What is it?
Ingredients: Sodium Bicarbonate, Citric Acid, Popping Candy, Coarse Sea Salt, Cornflour, Perfume, Titanium Dioxide, Water (Aqua), Sodium Coco Sulfate, Dipropylene Glycol, Colour 47005, Colour 14700, Colour 45350
Lush Pop Art Bath Bomb costs £4.95 / $6.95 and is part of the Christmas range. This bright bath bomb is made with the same mold as Blackberry, therefore they both have the same bubbly look. Although, Pop Art is supposedly to look like a piece of popcorn. Rumors were circulating that Pop Art would share its scent with Let The Good Times Roll, the popcorn face cleanser, but a lot of Lush stores put Pop Art in the same spot as Yog Nog products. A little confusing. Regardless, I think it's a mix of both. It's not as spicy as Yog Nog is, but it does have that warm, sweet caramel scent. It's a wintery scent, very delicious.
Pop Art actually contains no natural oils at all. It does contain popping candy, coarse sea salt for soft skin and cornflour. Funny — (salty) popcorn contains salt, is made from corn and also pops in the microwave. Or am I overthinking shit right now? Anyway, it's funny that the scent, the ingredients, the color and the shape are all connected with each other. The combination of coarse sea salt with the cornflour ensures a soft skin, which is very welcome here. My skin is currently very functional as sandpaper, so bring on those softening ingredients.
Play the video in 2160p quality and on full screen for the best experience! The video has been sped up.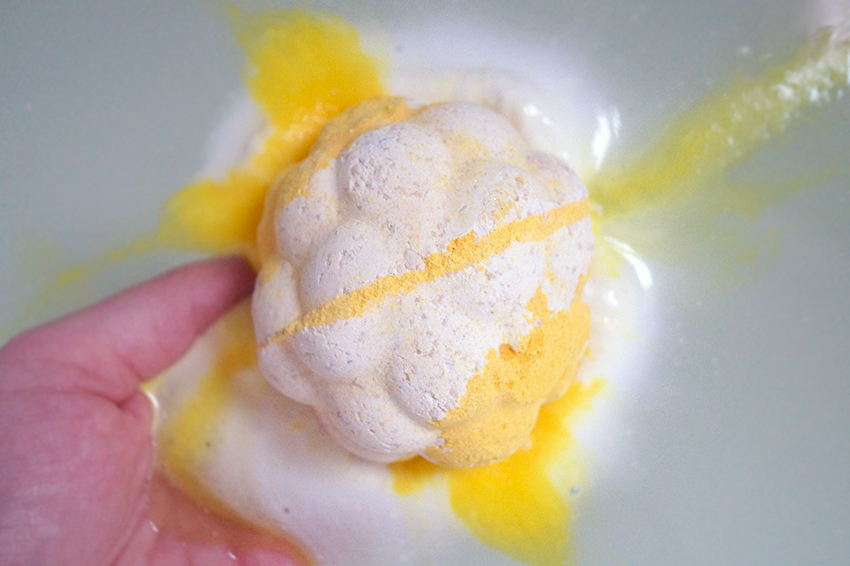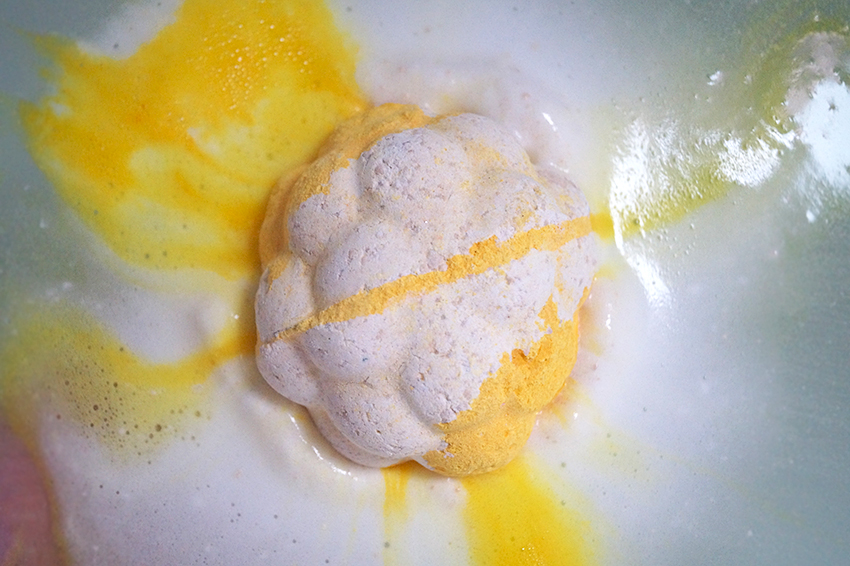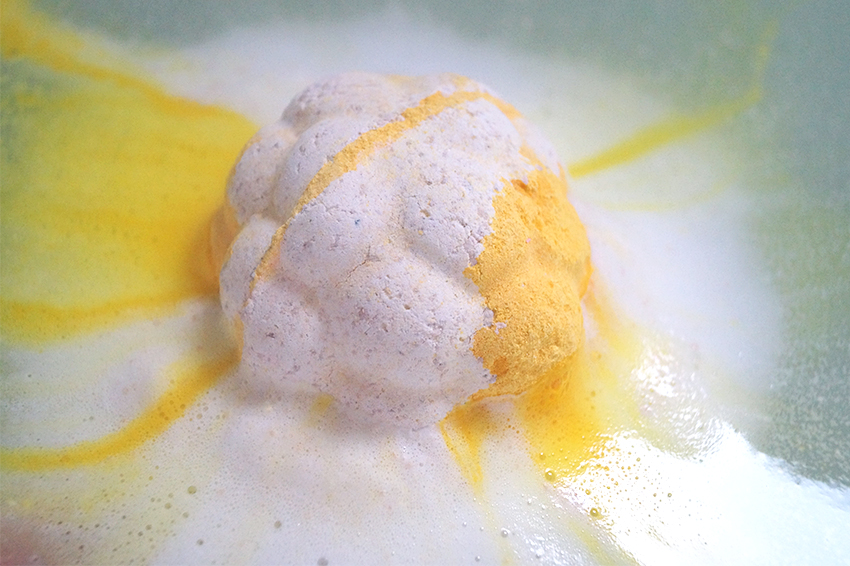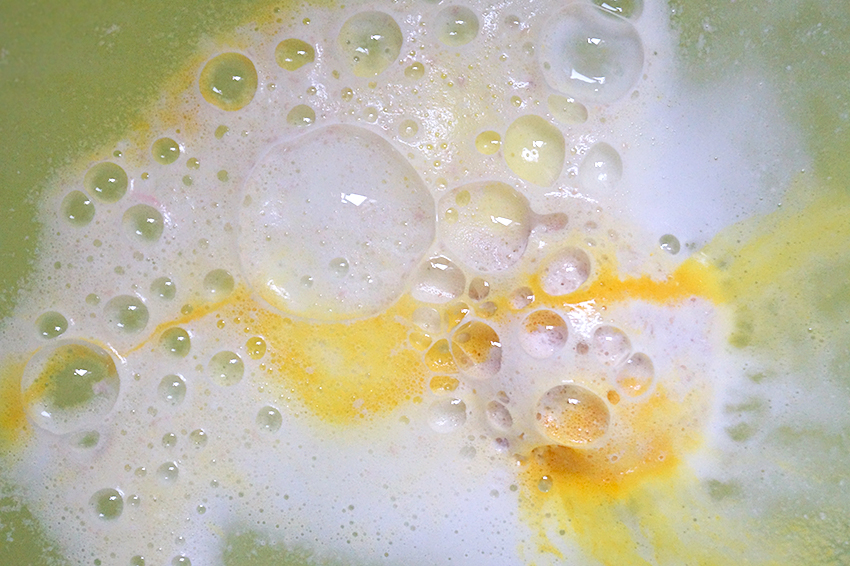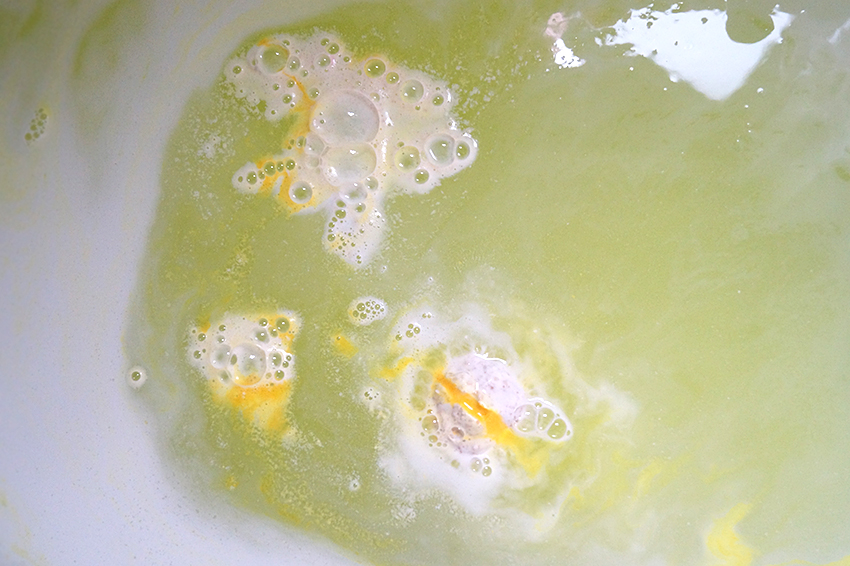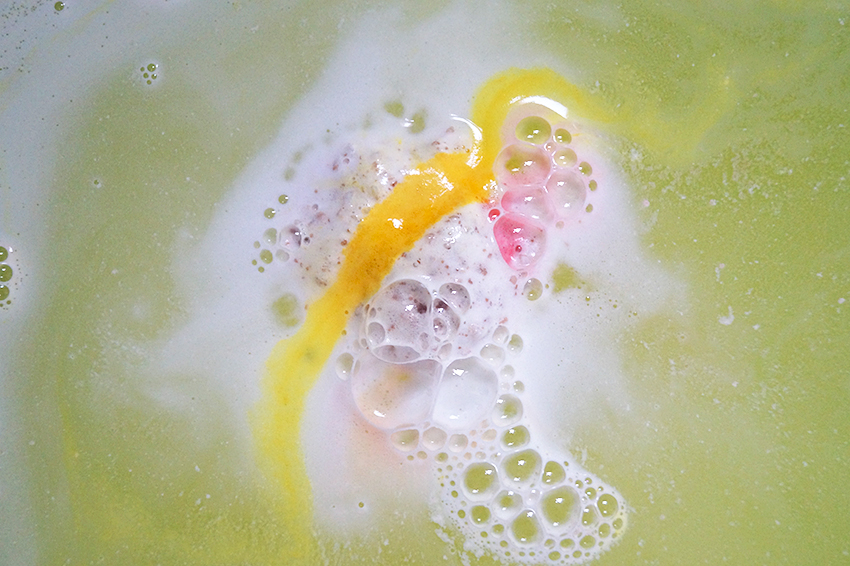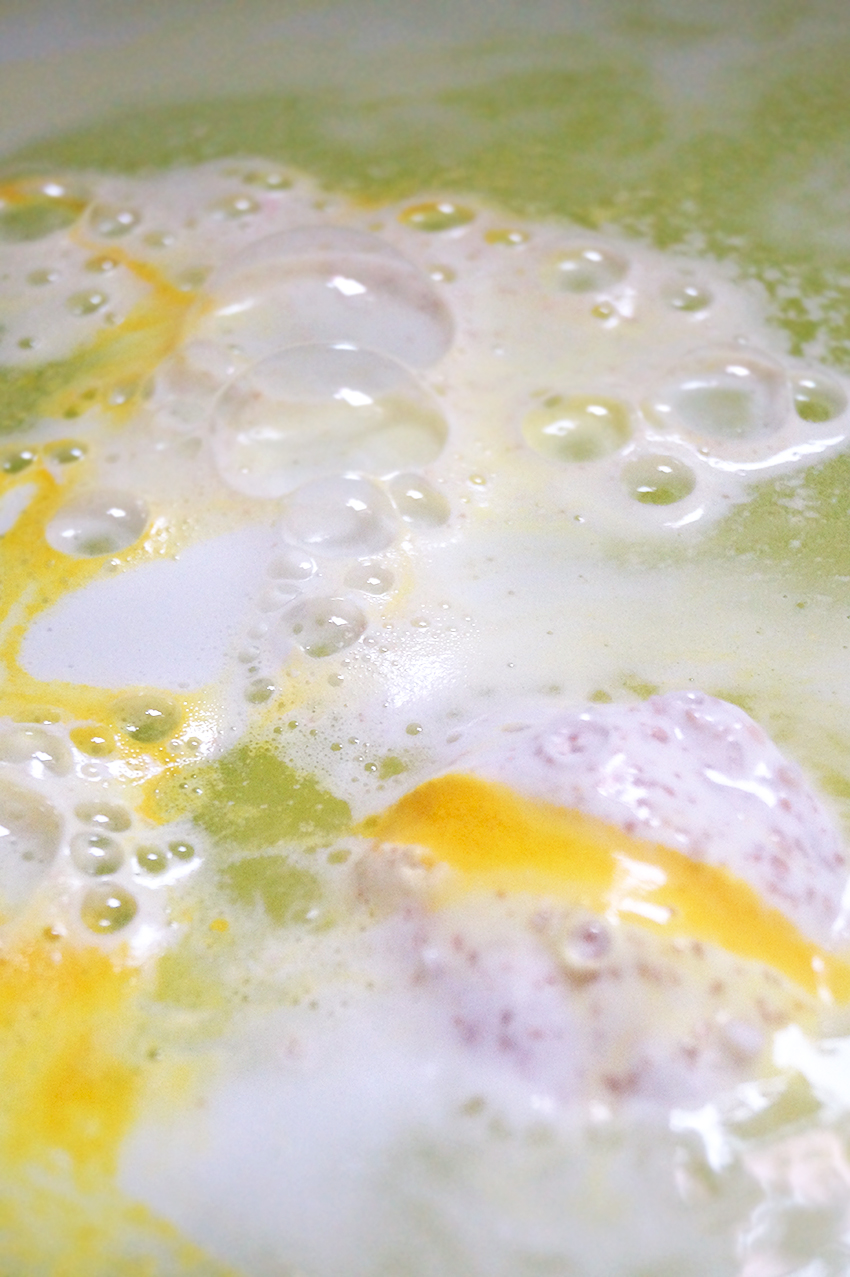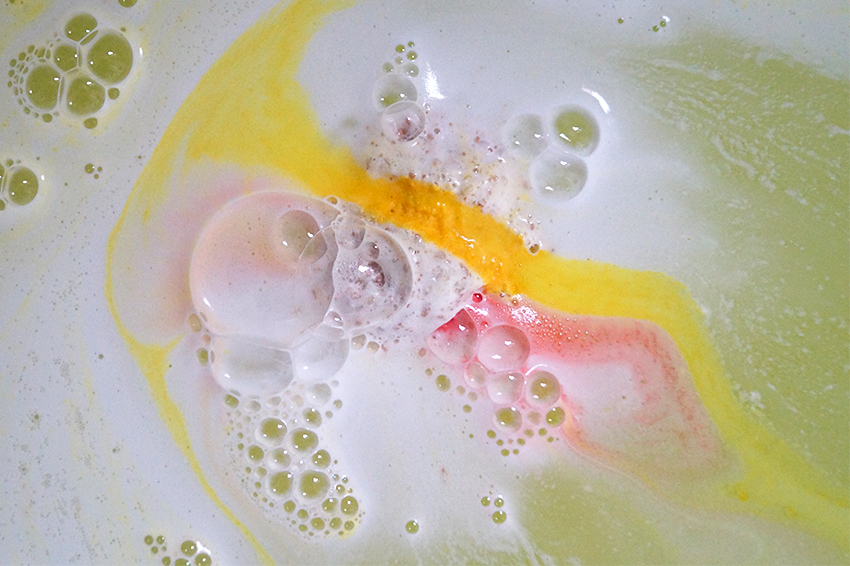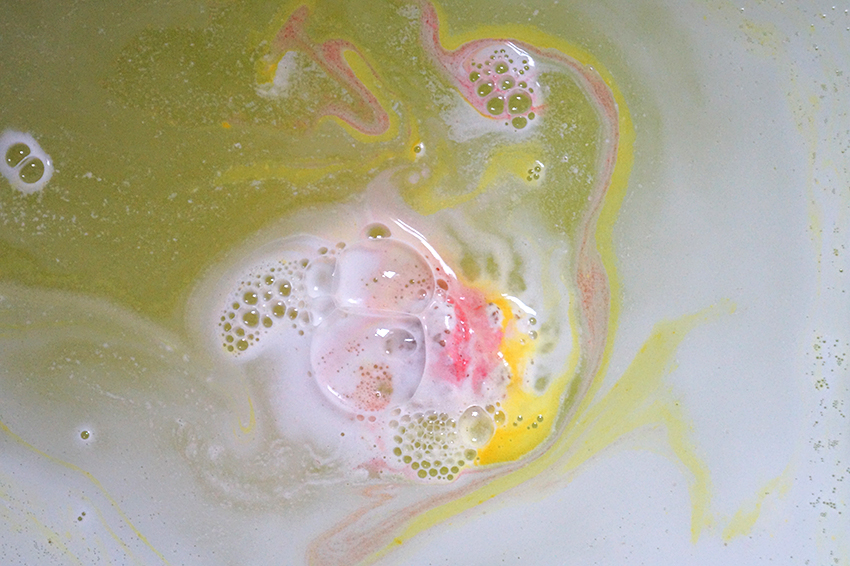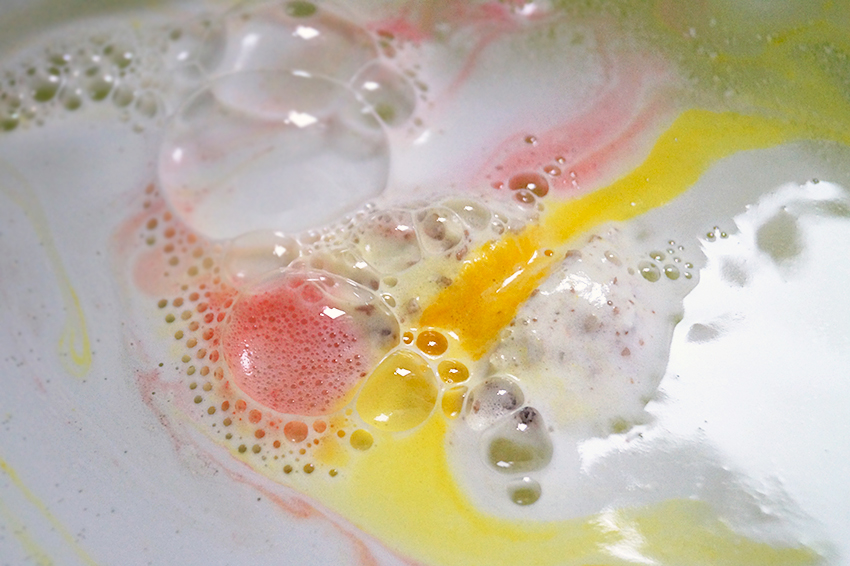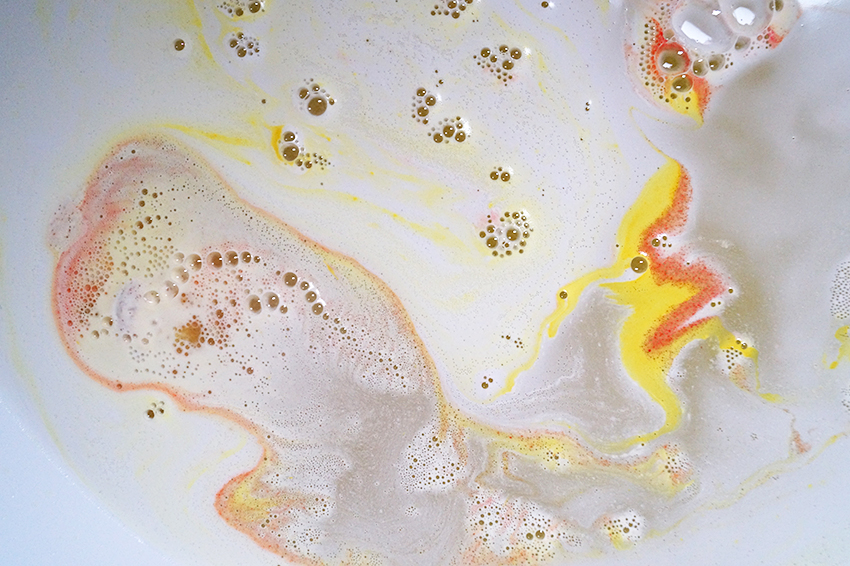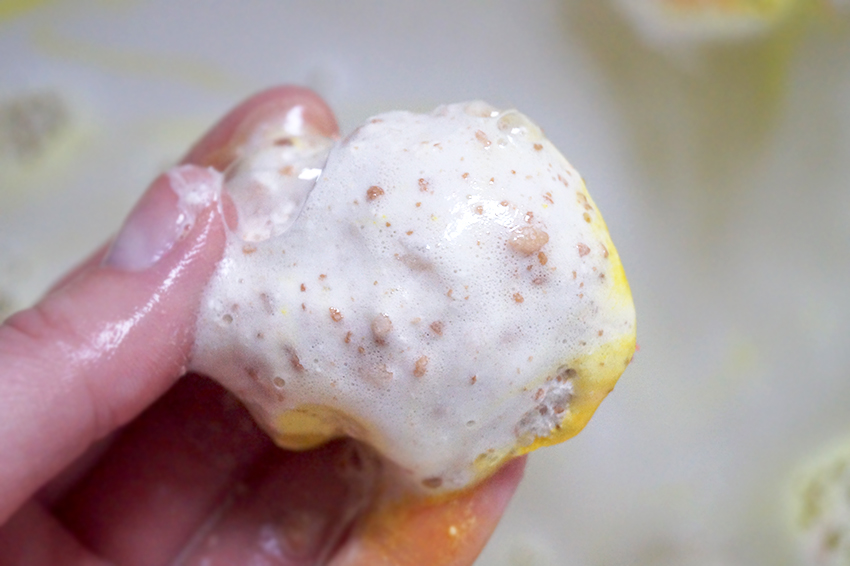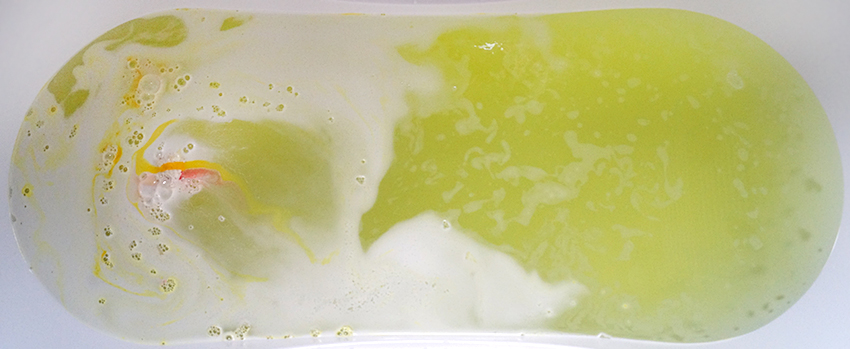 What do I think?
When I drop Pop Art in the water, white and yellow foam is being sent out of the bath bomb immediately. The white foam forms a thin puddle of foam on the surface, while the yellow foam colors the water a yellow shade. It's becoming a gorgeous, vibrant color, like the sun is floating in my bath. At some point the bath bomb starts spinning in the water, now also spitting out red foam. The red core reveals itself and creates some red strings of foam on the surface. The final color of the water is a cheerful, uplifting shade of yellow. Quite the contrast with the outside, where it's gray and rainy. I could hear some popping candy, but not over 10 minutes, like Lush claims.
After bathing my skin definitely felt softer, but unfortunately the scent didn't seem to linger on my skin. However, the bathroom still smelled like sweet caramel for hours! I liked this bath bomb, so I think I'm going to grab a few more in the sale. It's always good to keep some rays of sunshine in your stash!

Lush Pop Art Bath Bomb costs £4.95 (England) / $6.95 (USA).