Review: Lush Shoot for the Stars Bath Bomb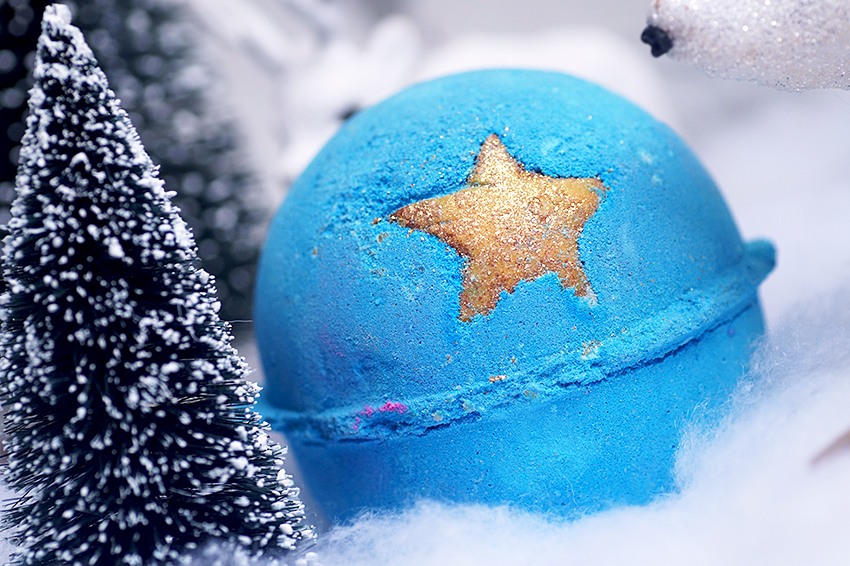 If you ask me why I love Lush's Christmas range so much, I can be very short about it: Golden Wonder and Shoot for the Stars. These two bath bombs are the real winners for me, for years now. These two bath bombs never let me down, and with every sale, I stock up like crazy on those two. So I was kind of surprised when I saw Shoot for the Stars didn't have its own review! and if there's one bath bomb that deserves some loving review, it's this one.
If you're curious about this bath bomb, then keep on reading.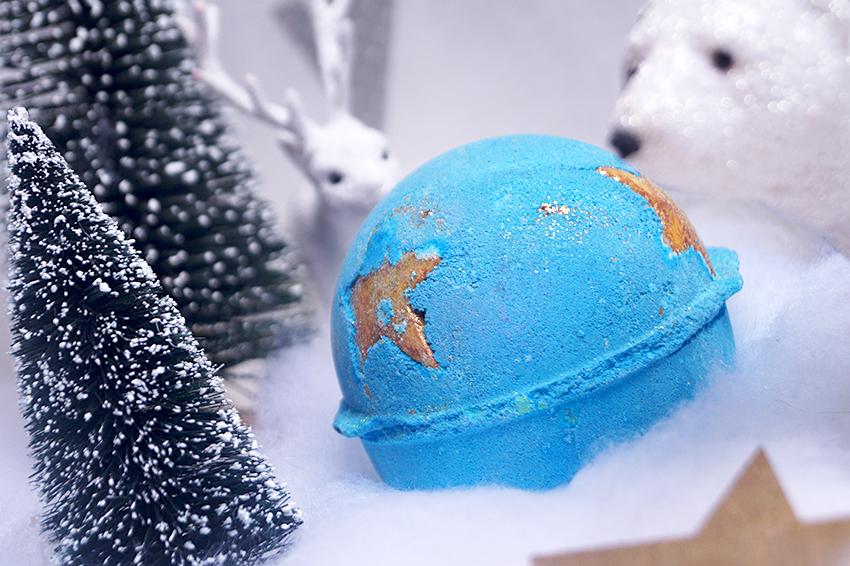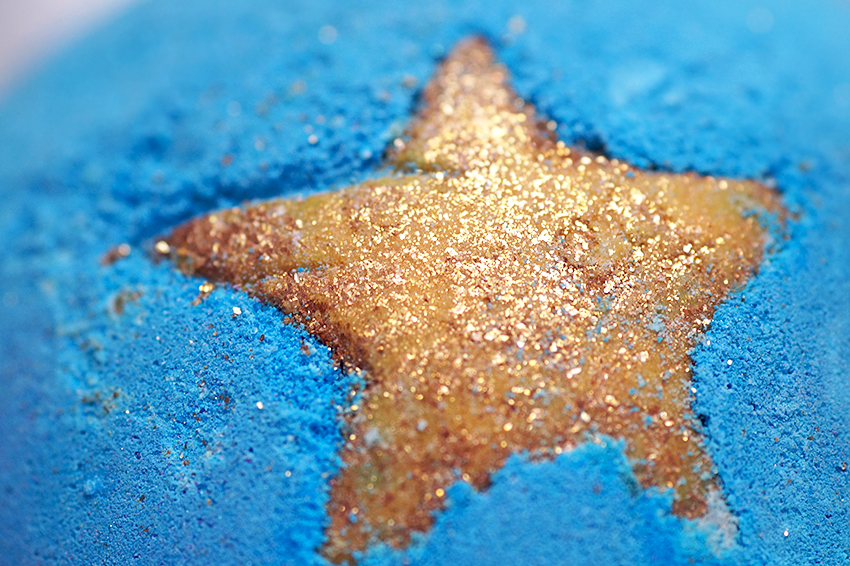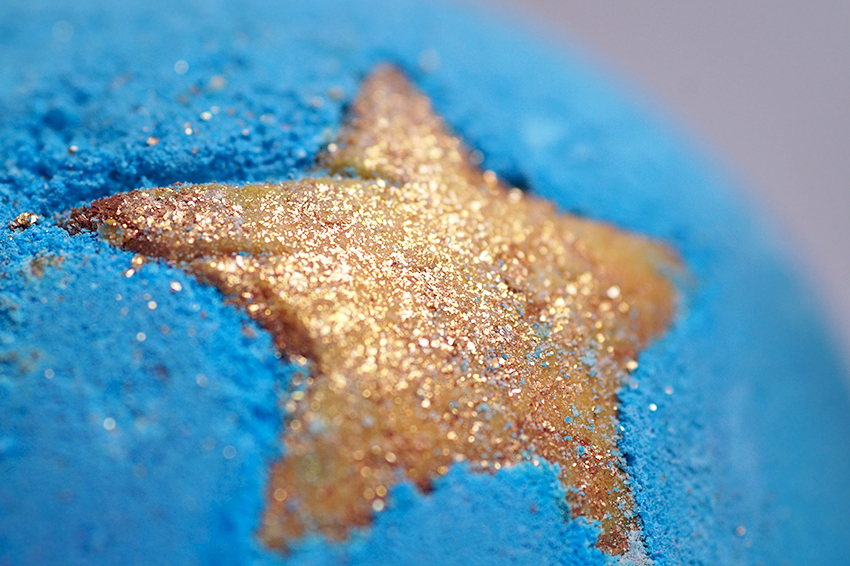 What is it?
Ingredients: Sodium Bicarbonate, Citric Acid, Fair Trade Organic Cocoa Butter, Brazilian Orange Oil, Bergamot Oil, Cream of Tartar, Water (Aqua), Gardenia Extract, Creamed Coconut, Almond Oil, Cornflour, Titanium Dioxide, Laureth 4, Sodium Laureth Sulfate, Lauryl Betaine, Synthetic Fluorphlogopite, Tin Oxide, Silica, Butylphenyl Methylpropional, *Citronellol, *Geraniol, *Limonene, *Linalool, Perfume, Colour 42090:2, Colour 42090, Colour 77491 Colour 19140:1, Colour 19140
Lush Shoot for the Stars Bath Bomb costs £4.95 and is part of the Christmas range. This bright blue bath bomb with golden stars has been in the Christmas range for years — since 2013, to be precisely. It used to have another design (dark blue with a yellow and pink stripe, one white shooting star and on yellow shooting star) but since 2016 they changed the appearance to this current one. I love the clear blue, but also the golden stars, which are actually star-shaped pieces of cocoa butter!
In addition to the chunks of cocoa butter, it also contains orange oil, bergamot oil, creamed coconut and almond oil. These wonderful ingredients will nourish and hydrate the skin, making this bath bomb perfect for the winter. It shares its scent with Honey I Washed The Kids — one of the best scents by Lush. It's creamy, sweet and soft toffee, with a swirl of honey, a little vanilla and some caramel. It's such a warm, delicious scent!
Play the video in 2160p quality and on full screen for the best experience! The video has been sped up.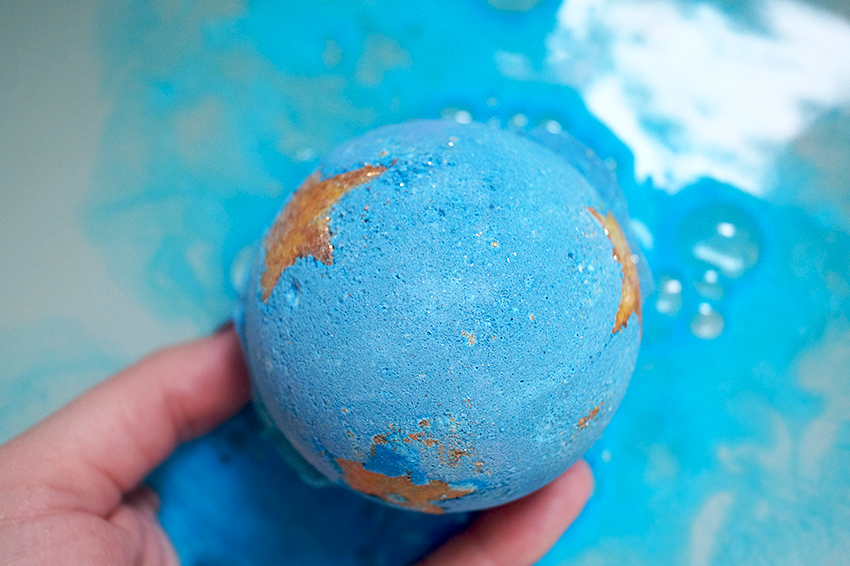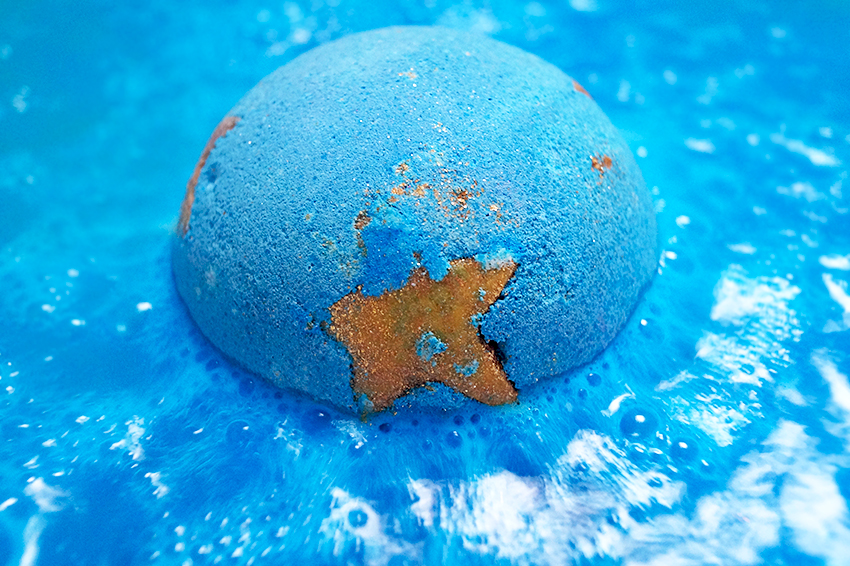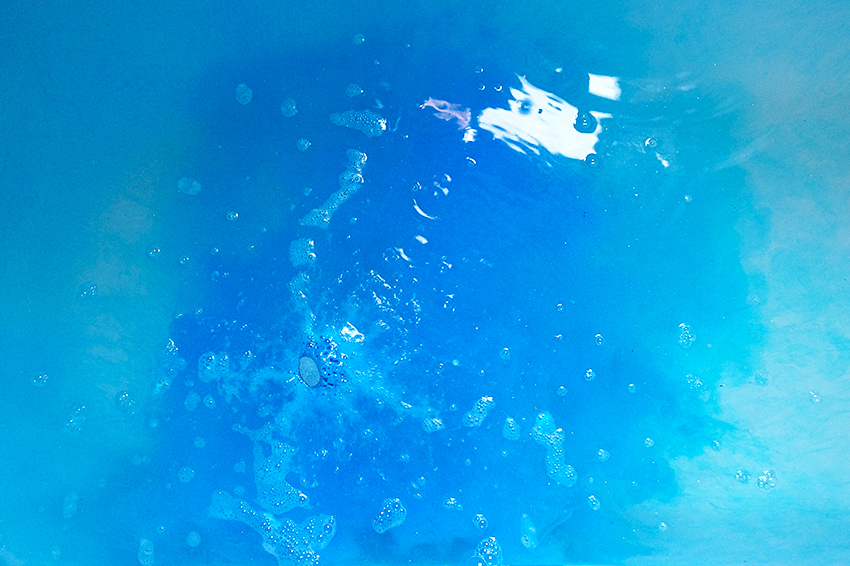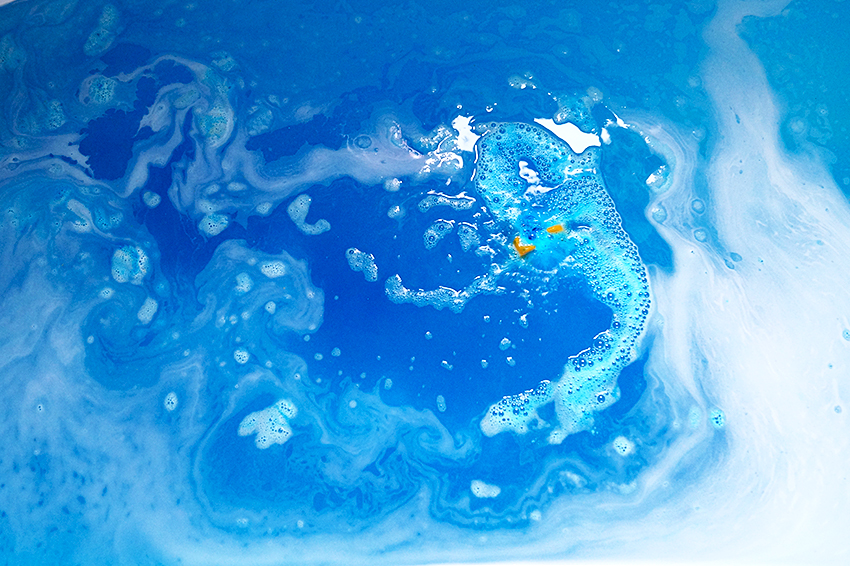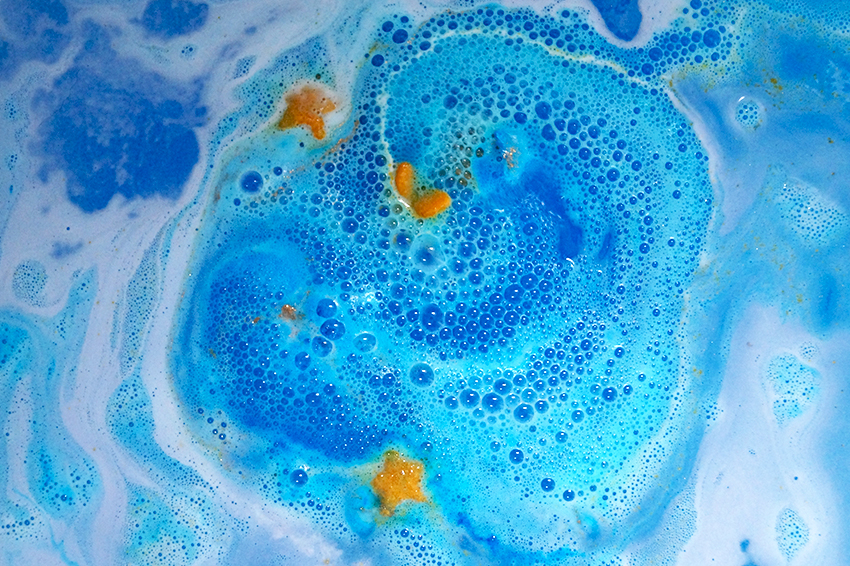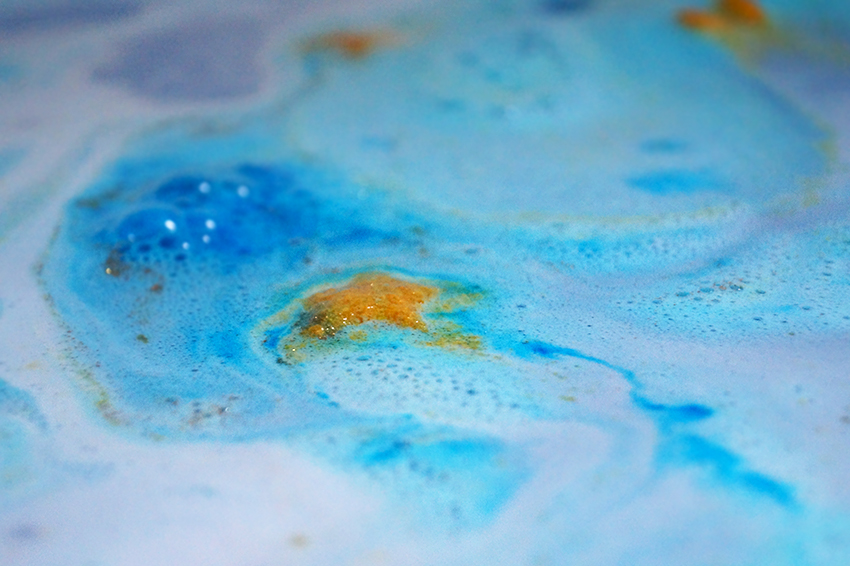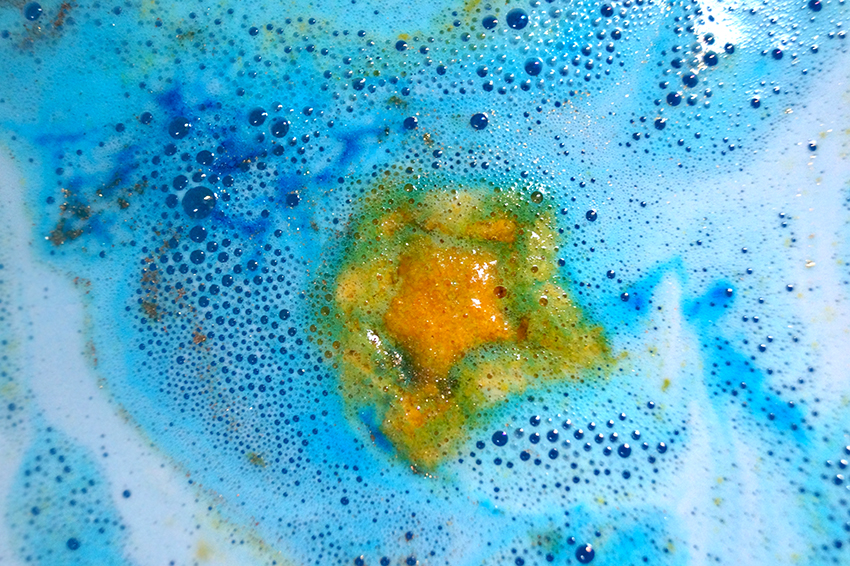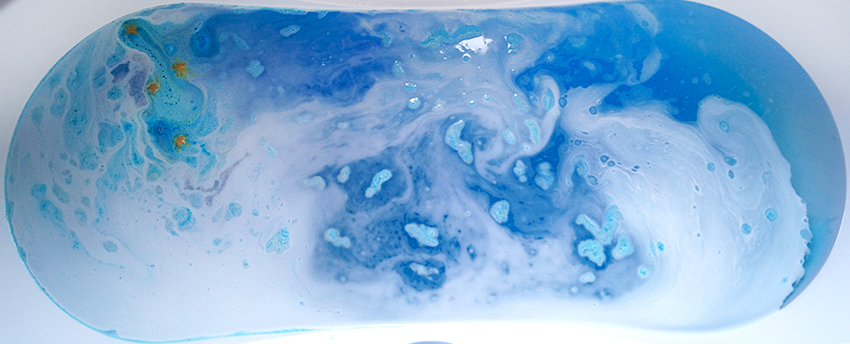 Mijn ervaring
Shoot for the Stars is gorgeous in the tub! It immediately spews out strings of blue, slowly transforming the water into a beautiful, blue shade. In terms in bath art, it's nothing spectaculair — the bath bomb releases blue, and that's it. It's dissolved in about 4 minutes, although the golden stars will melt very slowyly, threy take baout 15 minutes to melt completely. As soon as they're melted, there's oily stains on water. I also see golden glitter under water, yay! The scent is incredibly good, I can smell the delicious, creamy scent throughout the entire bath.
After bathing my skin feels very hydrated. It has a thin, greasy layer, but not in an annoying way. This bath bomb is a godsend for my terribly dry skin. My entire body got a hydratation boost from this bath bomb! There's a small, subtle golden shimmer on my skin. The scent also lingers on my skin for hours, but it's not the HIWTK scent anymore, it's rather distorted by the warmth of my skin. The bathroom however still smells like the bath bomb for hours. Normally I'm not keen on meltable shit in my bath bombs, but the dosage in Shoot for the Stars is precisely good.
This is a bath bomb that will always be a favorite of mine. If there's a sale this year, I'm going to stock up like crazy. And if they ever discontinue this bath bomb, I will start a riot. You arre warned, Lush! 😂

Lush Shoot for the Stars Bath Bomb costs £4.95 (England).

One Response to Review: Lush Shoot for the Stars Bath Bomb