Review: Lush Snowflake Body Lotion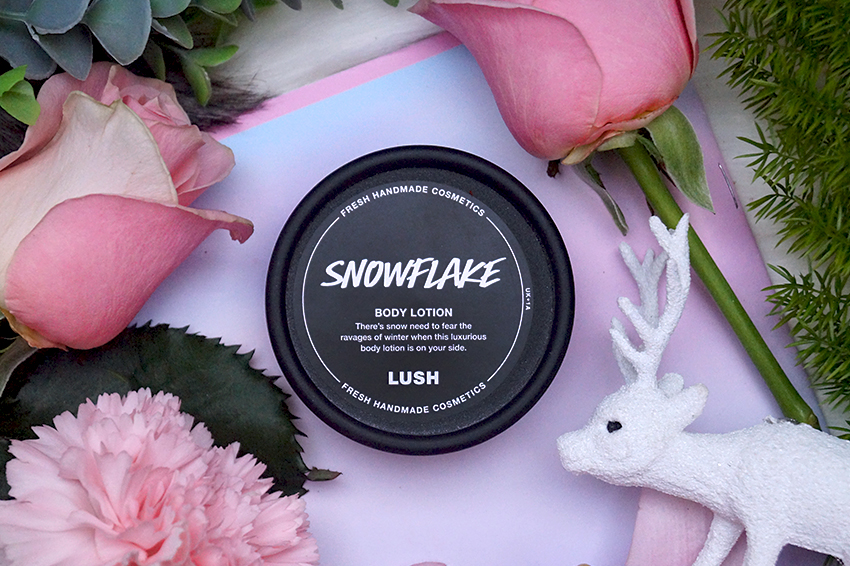 In the leaked photos from the Christmas range, there was a photo of this Snowflake body lotion. My Snowcake-heart was beating faster — was my beloved Snowcake scent making a comeback this year? Snowcake has always been my favorite winter scent by Lush, so a body lotion would be very much appreciated. 😍 I took a quick look at the ingredients list, to see if the ingredients would match with those of Snowcake.. my Snowcake-heart was now pounding, there was some heavy breathing, excessive sweating, you name it. When I received Snowflake I immediately turnt off the lid to smell it… and in today's blog post you'll read if it's indeed the Snowcake scent!
If you're curious about this product, make sure you keep on reading.
What is it?
Lush Snowflake Body Lotion is a bodylotion from the Christmas range. The price is, as we speak, still unknown. The advent calendar that I bought last week contained this 45 gram jar — but I'm guessing this body lotion will come in a 100g jar and perhaps even a 240g jar. Also, there is another product with this name — Snowflake Bubble Spinner — but the scent is not the same, in case you're wondering! As far as I know, this scent is new to the Lush range.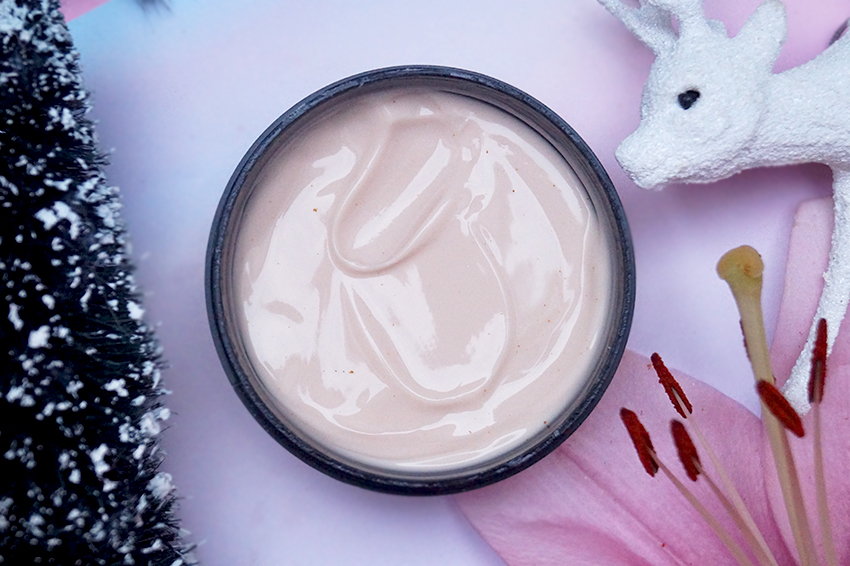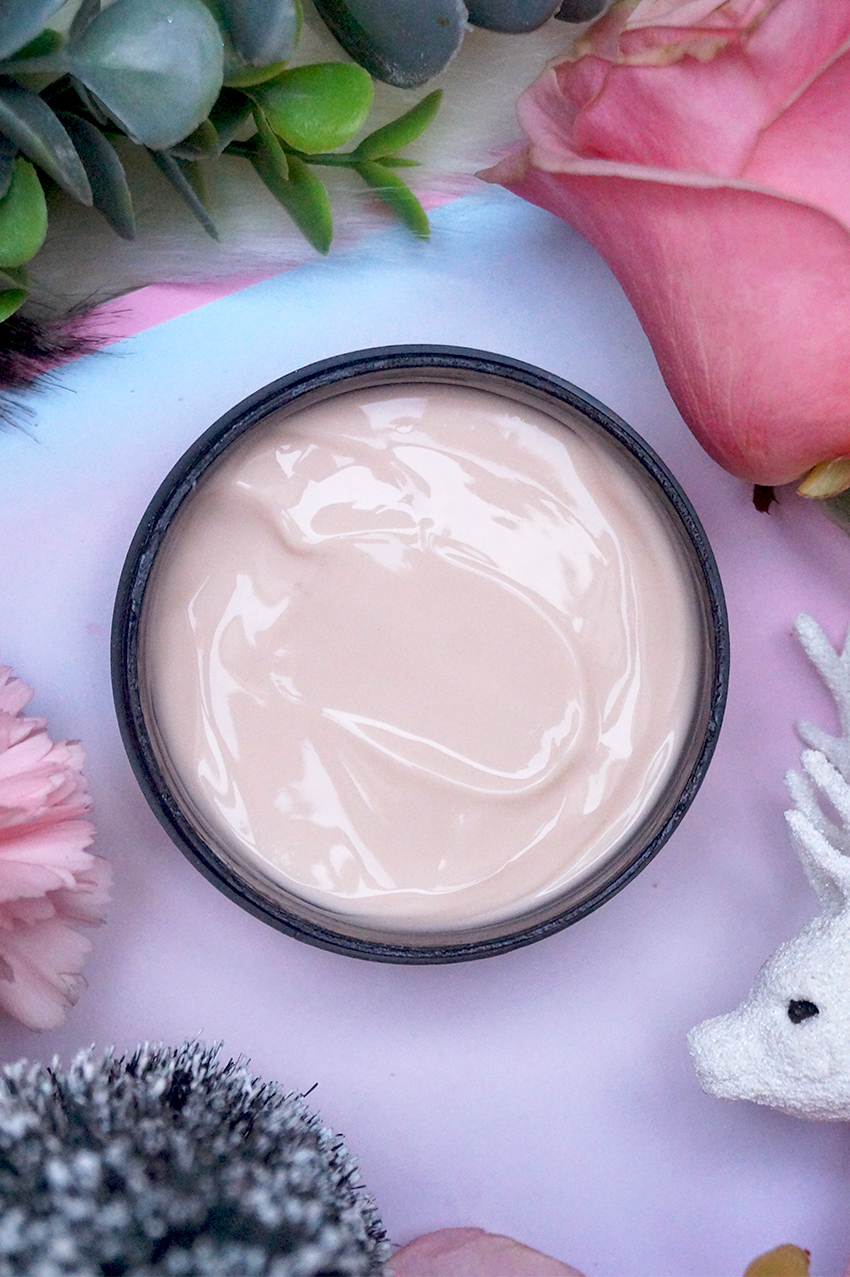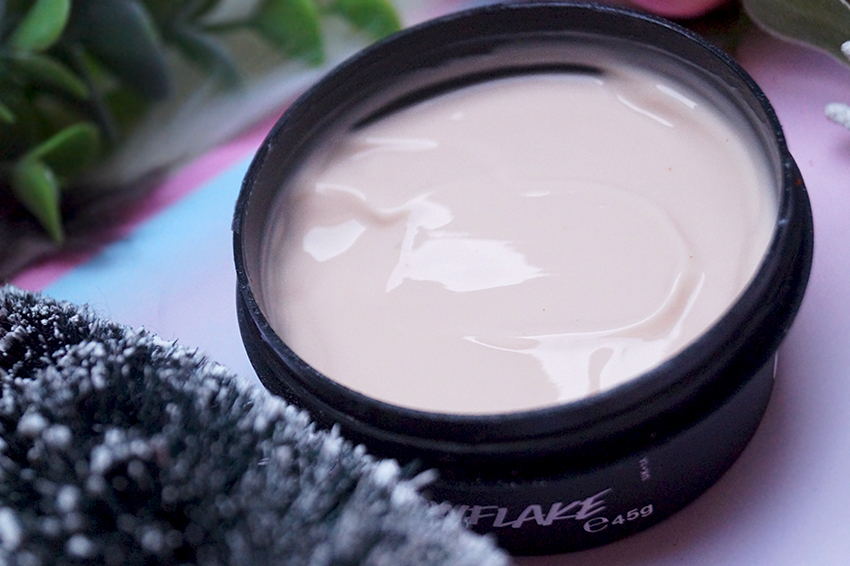 What's inside?
Ingredients: Almond Milk, Apricot Kernel Oil, Fair Trade Organic Cocoa Butter, Rose Water, Glycerine, Organic Illipe Butter, Stearic Acid, Perfume, Fair Trade Almond Oil, Triethanolamine, Cedarwood Oil, Coriander Seed Oil, Sandalwood Oil, Almond essential oil, Tincture of Benzoin, Cetearyl Alcohol, *Citral, *Citronellol, *Farnesol, Geraniol, *Limonene, *Linalool
When I look at the ingredients list, this body lotion looks like a godsend for dry skins. And who doesn't have dry skin in the winter? I know I do! *gives own legs a dirty look* The main ingredient is almond milk, great for and moisturizing and softening the skin. Apricot kernel oil contains a lot of vitamin a and minerals, which softens the skin and seals in moisture. Cocoa butter is incredibly hydrating, just like illipe butter. Rose water calms and soothes the skin. Almond oil is moisturizing and conditioning, and packed with vitamin e. Cedarwood oil, coriander seed oil and sandalwood oil all have a spicy and woody aroma — but they also have an astringent effect. Coriander also has a stimulating and warming effect on the skin.
In case you didn't read all of that (I totally understand): a shitload of moisturizing, soothing and caring ingredients. Which is always welcome when it gets colder outside. But let's move on to the scent, because that's probably what made you curious. In terms of name and ingredients, this body lotion resembles Snowcake a lot — a discontinued scent that smelled incredibly delicious. But I have to disappoint all Snowcake-lovers, because Snowflake does not share its scent with Snowcake. I repeat, Snowflake is NOT Snowcake. Snowcake was way more sweeter and creamier.
Snowflake smells like almonds to me, but with a tiny hint of fruit. The most prominent note is definitely the almonds, but it's not 100% almonds, though — it has a woody layer and some fruity notes to it. You can smell the apricots very subtly. It's said that Snowflake smells like marzipan, and although I can smell the resemblance, Snowflake is more like a spicy marzipan.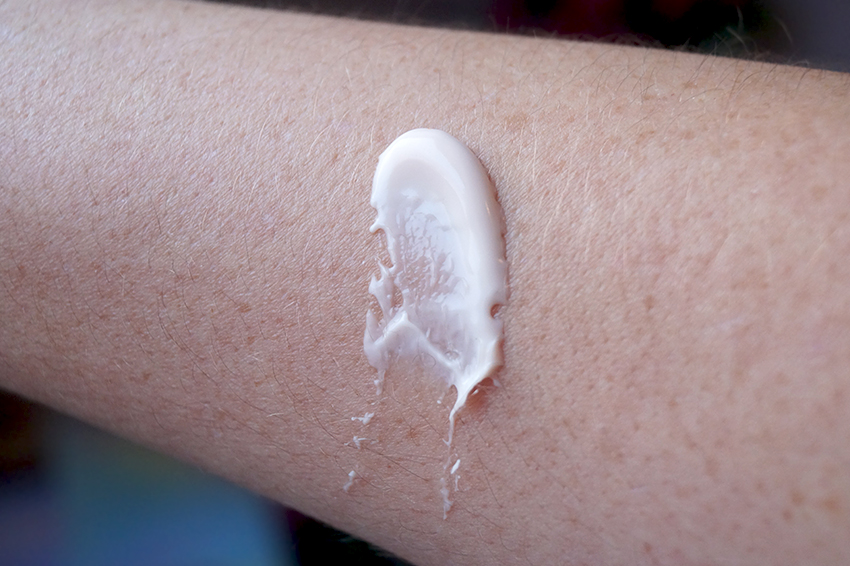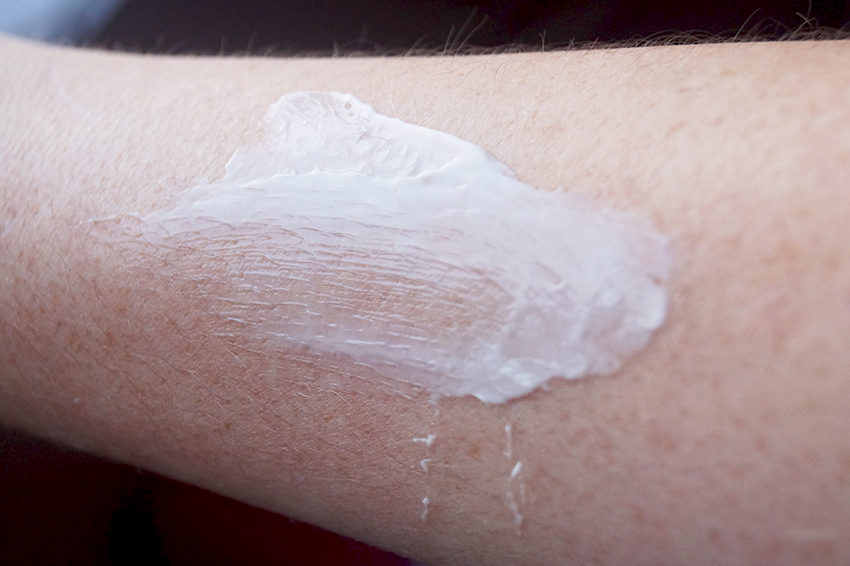 What do I think?
The texture of the body lotion is amazing. It's the first thing that strikes me — it's rich, creamy and rather thick. The creamy substance gilds your skin and makes sure dry spots are history. After I applied the body lotion to my skin, the fruity notes fully come alive. It smells less like almonds now, I'm picking up an apricot scent now, with a woody and almond-like background. To be honest, it smelled better to me when it was still in the jar. The scent is pretty strong after applying the body lotion to skin, but after 30 minutes the scent has weakened. I think the body lotion smells funny to me, when it's on my skin, but luckily it's mainly my legs that suffer from the cold winters, resulting in dry spots and flaky skin, so I don't smell it really anyway.
What also strikes me is that the substance is, and continues to remain, very greasy and oily. Sure, I'm glad there's some good, moisturizing ingredients in this body lotion, but a body lotion has to get absorbed by my skin eventually. Snowflake doesn't get absorbed by my skin — after 30 minutes, my skin still felt greasy, and I didn't even put on that much. It's just very heavy on the skin and it will leave a greasy layer, no matter how much or little you slap on it. After an hour my skin still felt greasy, to the point where it just got annoying. I prefer applying body lotion before going to bed, but whenever I do so, I really feel like it's going to get my bedclothes dirty as well. My skin, however, feels very soft and supple in the morning — dry and flaky spots are gone. So it does its job very well, but the idea of my sheets getting greasy as well, kind of bothers me. After a few times using it, I now put on a tiiiny bit, which seems enough to hydrate the skin without staying oily.
Despite the heavy, oily substance, I'm positive I will finish this body lotion. After all, it does its job. And it's very economical to use because of its substance — believe me, you don't want to smear too much of this body lotion on your skin. A little goes a looong way. Probably longer than the "use by" date states 😂 I won't be buying this in a bigger jar, but it's not an issue using it.

Lush Snowflake Body Lotion is part of the Christmas 2019 range and is available September 24th.