Review: Lush Strawberry Hill and Beak Street Shower Bombs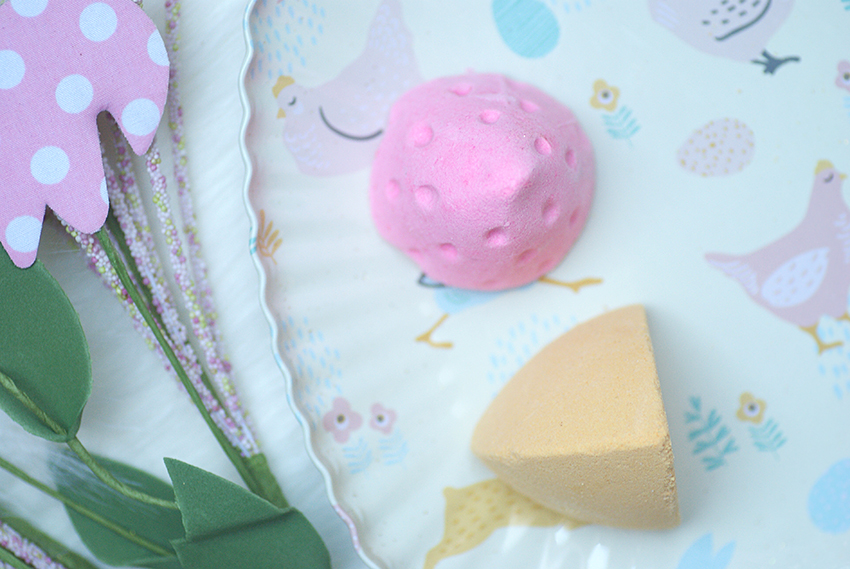 Shower bombs, I love them. I have already reviewed of few of 'em, so you might be familiar with them and how they work. If not, you can read about it in this review! They are really worth trying. In the Easter range as well as in the Mother's Day range, there were two shower bombs. I decided to give 'em a try. Are they a hit or a miss? Let's find out.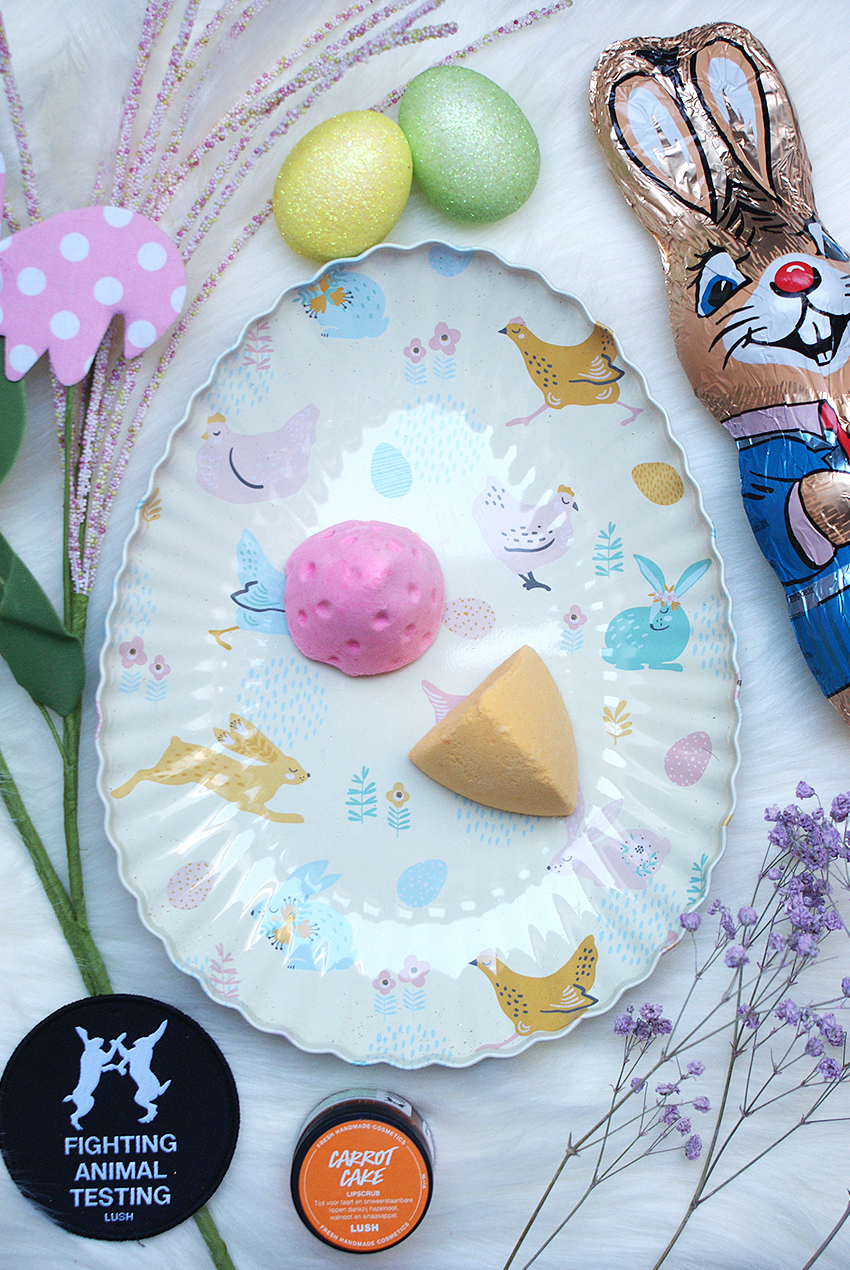 What is it?
Lush shower bombs cost £2.75 or $3.95 each, they vary from 30 to 40 gram each. Just take them with you into the shower and hold them under the water's flow. It will start foaming and expanding, creating a thick, creamy and luxurious mousse. Sweep it all over your body and enjoy this rich mousse to cleanse your body, while enjoying the great scent releasing itself into the bathroom. You can use it all in once, though it's a lot of mousse for a one-shower session, so you might want to use it multiple times. In that case, hold it under the water's flow and when you're done using it, put it in a dry spot and leave it to dry. You can also cut up the shower bomb in multiple pieces.
At this moment, Lush has four shower bombs in their regular collection — Sleepy, Not Sleepy, Koyaanisqatsi (bless you) and Karma.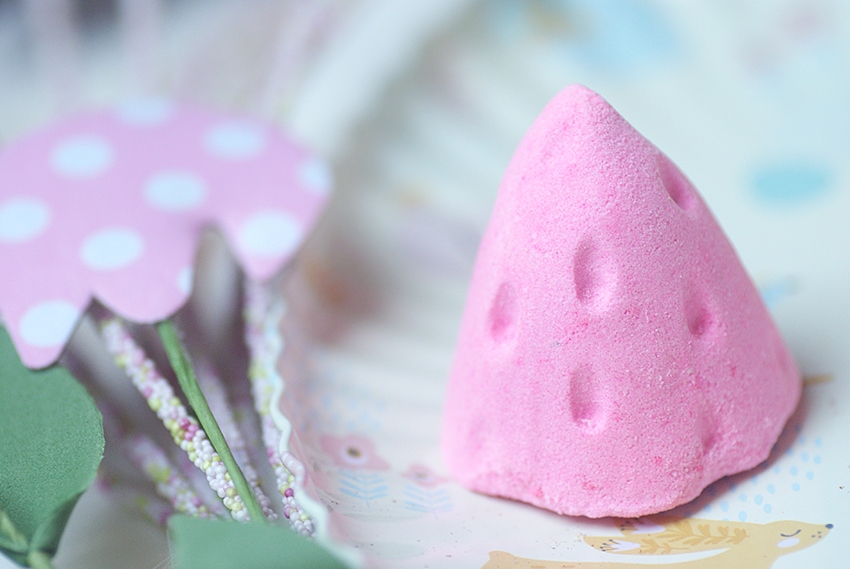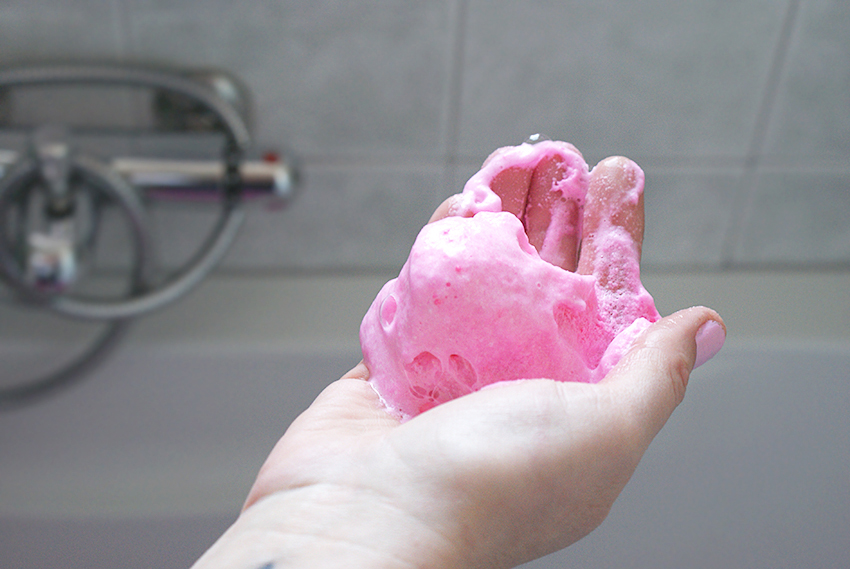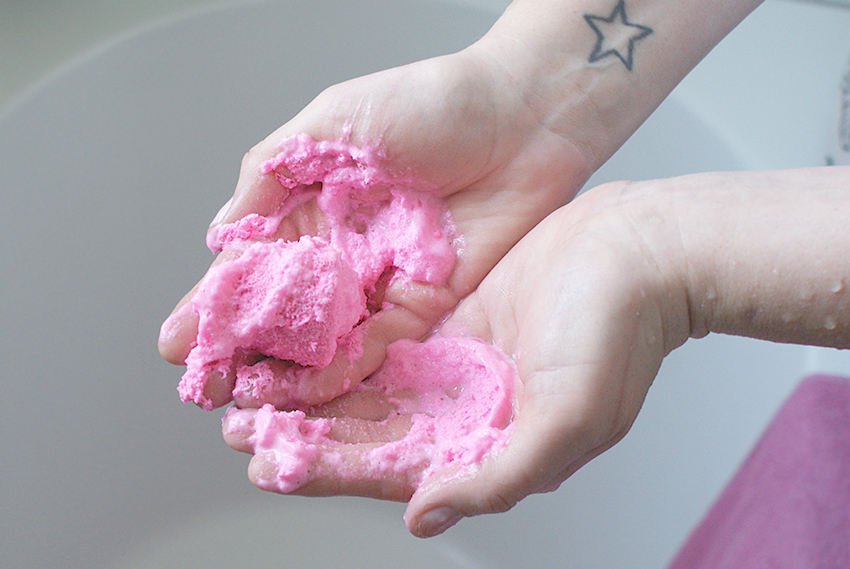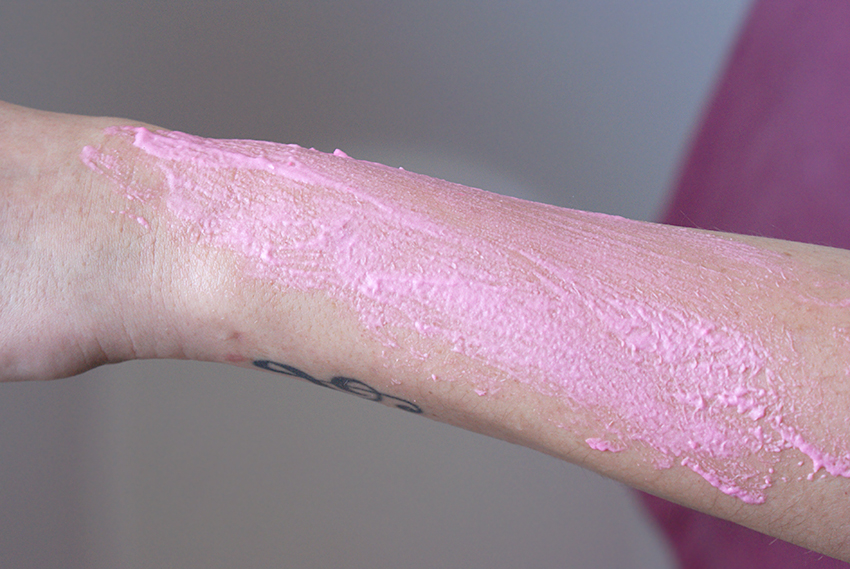 Strawberry Hill
Sodium Bicarbonate, Cream of Tartar (Potassium Bitartrate), Citric Acid, Potato Starch, Sodium Laureth Sulfate, Sodium Alginate, Calcium Lactate, Cocamidopropyl Betaine, Soya Milk Powder (Glycine Soja), Vanilla Absolute (Vanilla Planifolia), Sweet Wild Orange Oil (Citrus Sinensis), Rose Absolute (Rosa Damascena), Fresh Strawberry Puree (Fragaria Vesca), Water (Aqua), Benzyl Alcohol, *Eugenol, Hexyl Cinnamal, *Limonene, Fragrance, Red 28
A super deluxe shower dessert, according to Lush. Vanilla absolue, sweet wild orange oil and rose absolue provide a sweet, fruity fragrance, but with the warm notes of rose and vanilla. I had expected the smell to be more striking, the scent is pretty subtle.
When I take this shower bomb into the shower, it expands and foams real quick. The scent is much more noticeable now, I find the scent to be more floral now. The mousse itself is truly heavenly, very thick and rich and it feels amazing to use it for my body. I can already feel that my skin is more soft, when I dry my body it's definite — my skin really benefits from this shower bomb. It feels great, so smooth and soft.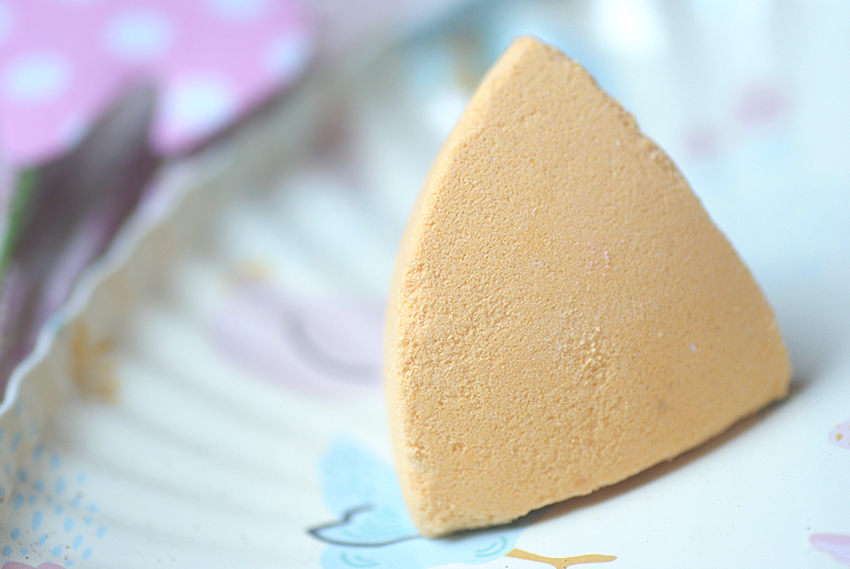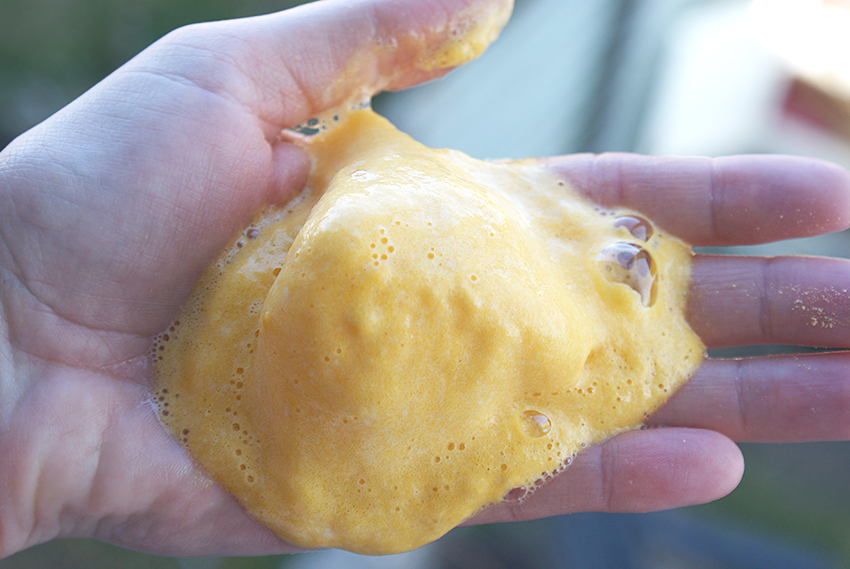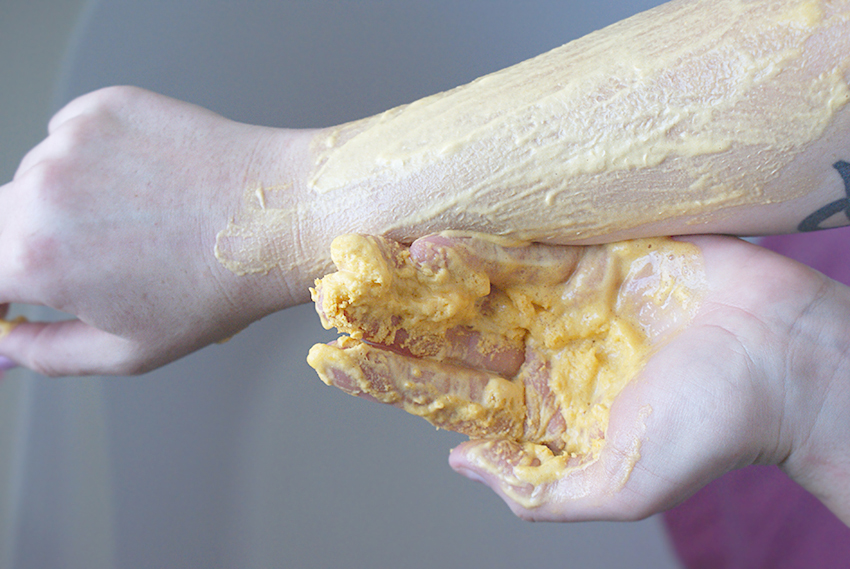 Beak Street
Sodium Bicarbonate, Cream of Tartar (Potassium Bitartrate), Citric Acid, Potato Starch (Solanum Tuberosum), Sodium Laureth Sulfate, Calcium Lactate, Calcium Gluconate, Sodium Alginate, Cocamidopropyl Betaine, Fragrance, Water (Aqua), Maize flour (Zea mays), Propylene Glycol, Yellow 10, Orange 4, Yellow 5, Yellow 5 Lake
Did you wonder what weird shape this was? It's a beak — hence the name. Because you know, Easter and such. Anyway, what's surprising, is that Beak Street does not contain any natural oils or absolues, something very uncommon for Lush. 🤔 The only difference with other shower bombs is that this one actually only contains cornmeal. Don't worry though, because I have some good news — Beak Street shares its scent with Let The Good Times Roll. I repeat, THE SAME SCENT. LTGTR is one of my favorite products of Lush, it always has been. So this is freaking amazing. This means that Beak Street has a divine, buttery popcorn scent. Truly delicious. The scent is subtle though, I really have to do my best to smell anything at all, but hopefully that will all change in the shower, just like with Strawberry Hill.
Beak Street foams even faster and better than any other shower bombs I've had. You only need to drop a little water on it, and it explodes into a big lump of mousse in your hand — with a sad, lost shower bomb somewhere inside. There is a mild scrub in Beak Street, so its not just cleaning the skin, its also getting rid of dead skin of making the skin way softer. The smell is better present and is now spreading throughout the bathroom. The only thing missing is a good horror movie.
Afterwards my skin feels very soft, so despite the lack of oils in the shower bomb, it does care for the skin. I clearly feel a difference 😍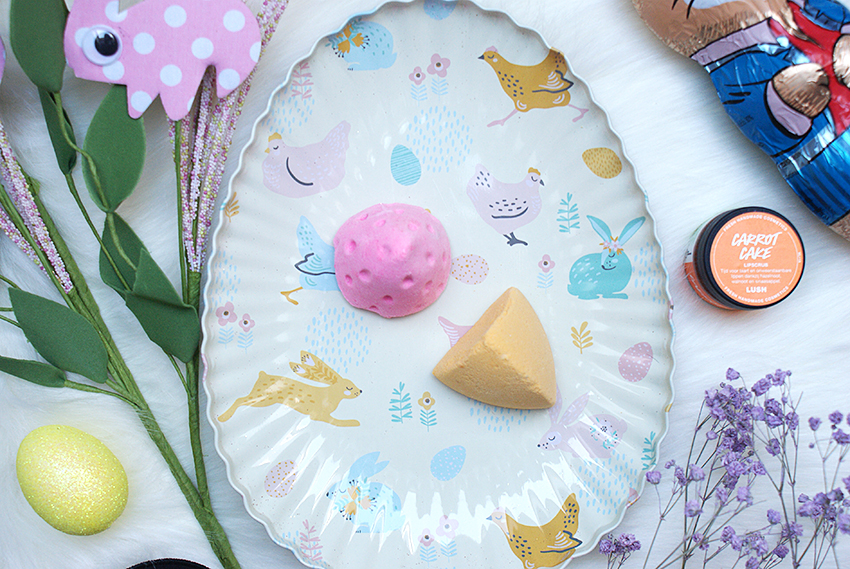 What do I think?
I was already happy with the arrival of the shower bombs, but I have to say, I am most pleased with Beak Street. The scent is delicious and it's just a fun product to use. I use it several times, because it creates enough mousse for at least two or three shower sessions. I also loved Strawberry Hill, but I will not buy it again. I liked using it, but I like the scent of Beak Street a little better. The shower bombs are a great product, and that all being naked and vegan.
Does this product got you curious? Then you should really head over to your nearest Lush store to go smell them all! You won't regret it.