Review: Lush Toothpaste Jelly ♥ Tang-O, Tornado, Purple Bananas, Plaque Sabbath & Blue Tooth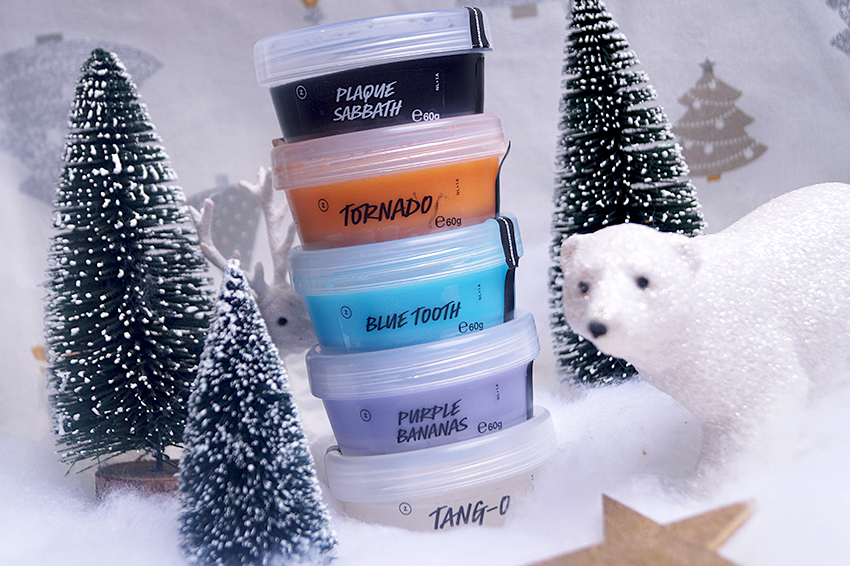 Toothpaste jellies. Yes, you read that right. Toothpaste with a wobbly, jelly structure. If I didn't know Lush, there's no way in hell I'd try this. Thankfully I *am* familiar with Lush, and I expect this to be another genius, innovative invention. Since brushing teeth is one of the most boring jobs out there, I bought some variety of flavors. I was very positive after using Candy Cane, so it was time to expand the collection.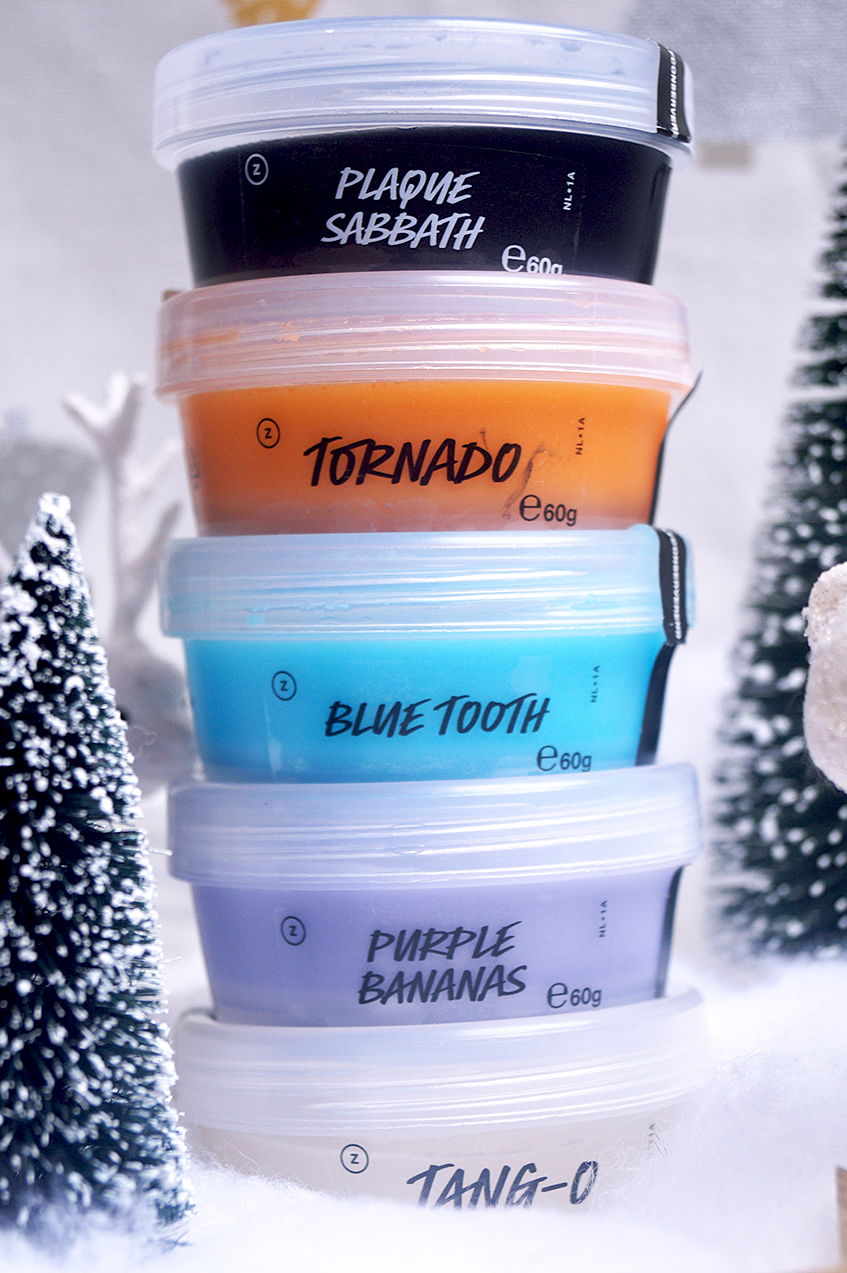 What is it?
The toothpaste jellies are a new invention by Lush. There was already Candy Cane, that was in the advent calendar, which I also reviewed. But now 10 new flavors were added to the Lush Labs last month, 5 of which I bought to try out. In addition to the flavors I am going to test, you also have Megawatt Smile, Spearmint Bubblegum, Strawberries and Clean, Tooth Fairy and White Fang. They all contain 60 grams and the expiry date is 14 months. But I'm guessing you've already finished the toothpaste by then. They are only available in 60 grams, and the jellies are in small, transparent pots with a twist-off lid. The great thing about multiple flavors is that you can combine the flavors! This way you can create your own flavor.
Let's discuss the solid ingredients! The jellies all contain the following ingredients:
♥ Sorbitol – is used as a sweetener, is antibacterial, tastes sweet in your mouth and makes the mouth feel smooth. Despite its glucose source, it does not produce dental caries.
♥ Glycerine – is dismissed on the internet as an ingredient that you would rather not have in your toothpaste, because it puts a "coating" on your teeth, preventing your teeth from recovering. I'm guessing Lush added it because of the substance.
♥ Silica – gently cleanses and polishes the teeth
♥ Xylitol – is a natural sweetener, antibacterial and prevent tooth decay and plaque
♥ Sodium Methyl Cocoyl Taurate – is a sodium salt of the coconut fatty acid amide of N-methyltaurine. From coconuts, that is. This ingredient causes the substance to lather up, and that the water mixes well with the oils.
♥ Stevia – is a natural sweetener and is antibacterial, makes the product taste sweet, doesn't produce dental caries because it's an alternative to sugar
♥ Agar agar and carrageenan extract – these provide the wobbly texture of the jelly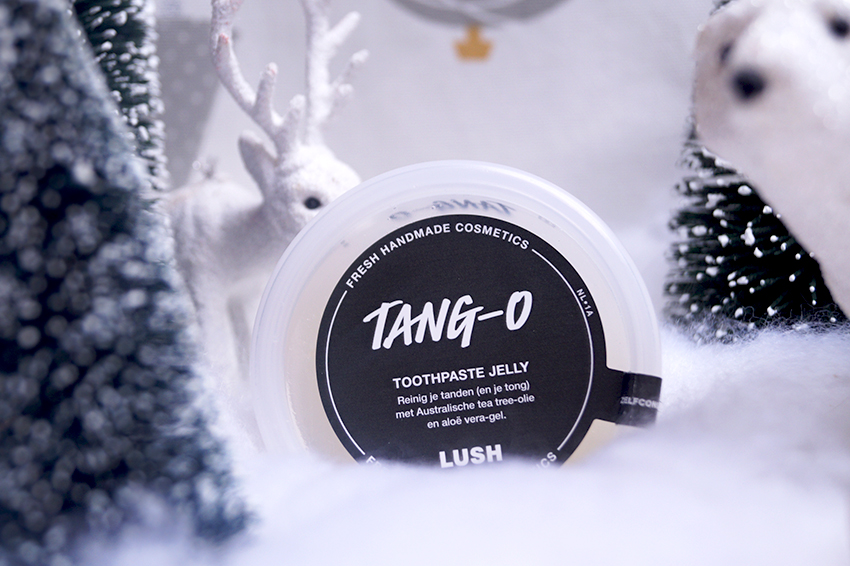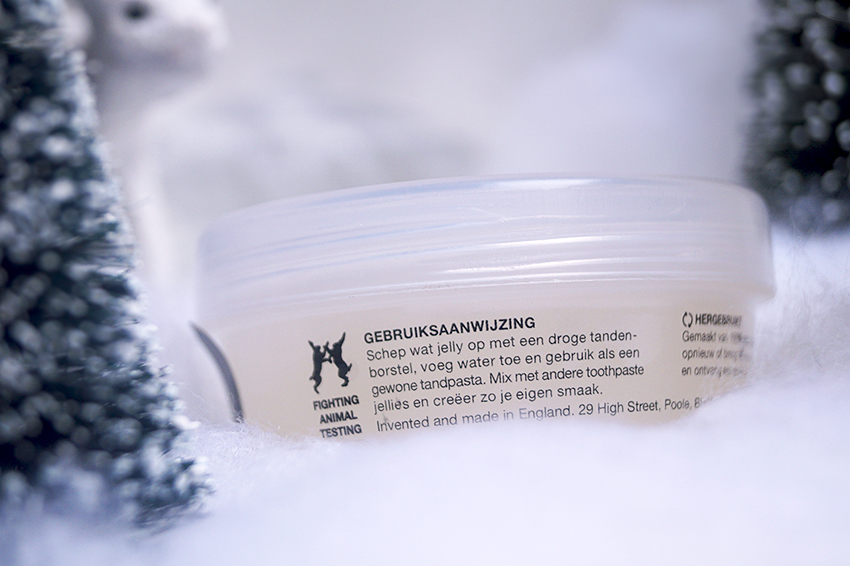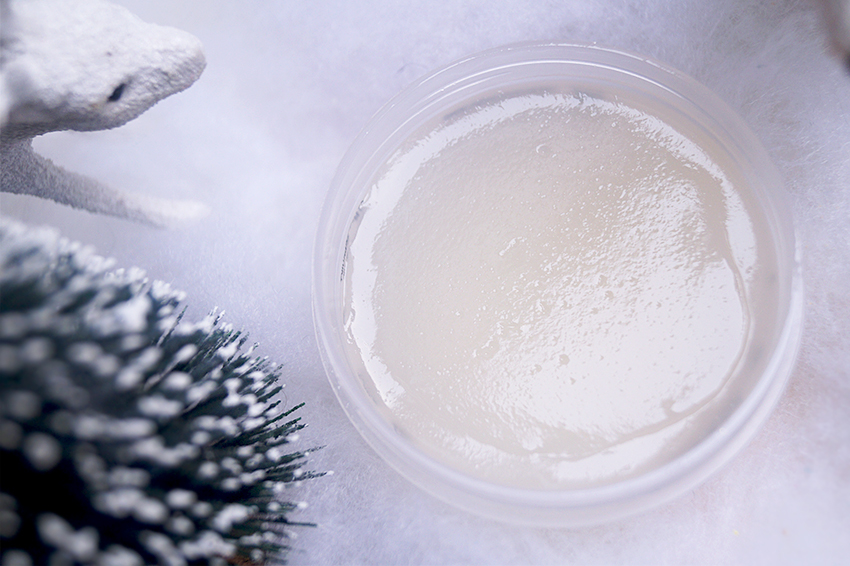 Tang-O
Ingredients: Fresh Aloe Vera Gel Extract, Sorbitol, Glycerine, Silica, Sodium Methyl Cocoyl Taurate, Xylitol, Stevia, Tea Tree Oil, Agar Agar, Carrageenan Extract, Menthol Crystals, *Limonene
Tang-O contains aloe vera gel, tea tree oil and menthol crystals. Aloe vera soothes gums and refreshes mouth, tea tree oil is anti-bacterial and cleans teeth and tongue while preventing bad breath, and menthol crystals ensure freshness in your mouth. The smell is very fres — to me, it smells exactly like Vicks. The menthol can be smelled very well, while the tea tree is also definitely present. It's not a pure menthol scent, it's rather menthol with a twist.
Tang-o tastes very fresh, but I already expected that. I think this is the freshest of all 5 toothpaste jellies! It tastes great, cleanses my mouth and teeth and gives me a fresh breath after brushing. My boyfriend thought this was the best one out of all 5. Tang-O resembles original toothpaste the most, but with a Lush twist. Love it!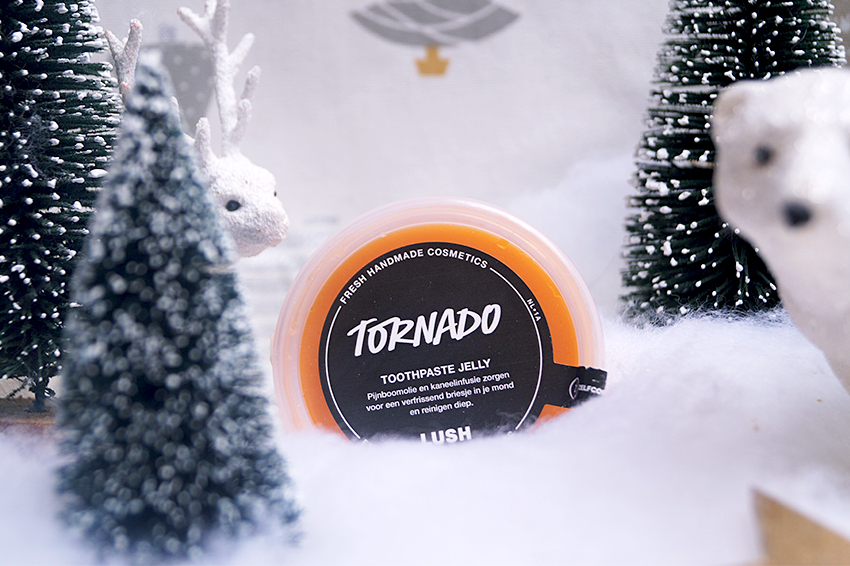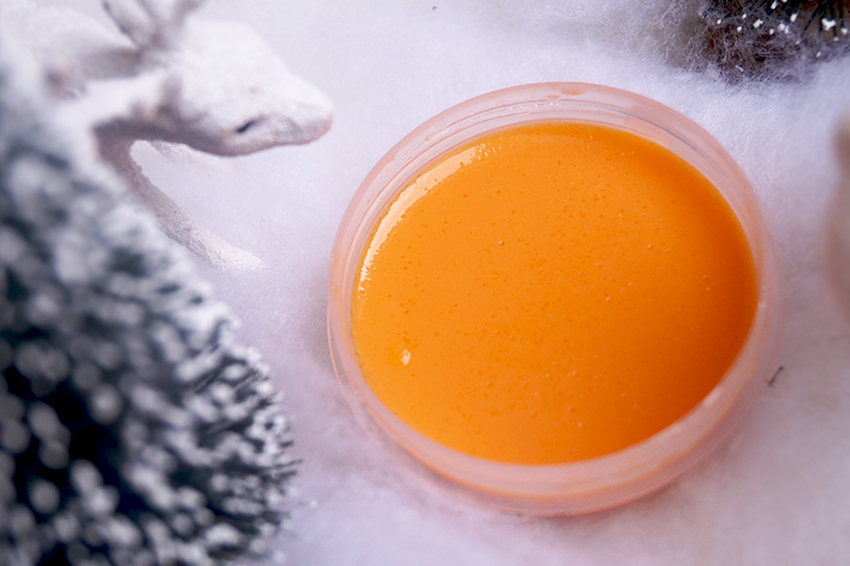 Tornado
Ingredients: Cinnamon Bark Infusion, Sorbitol, Glycerine, Silica, Sodium Methyl Cocoyl Taurate, Xylitol, Flavour, Cinnamon Bark Oil, Green Mandarin Oil, Pine Oil, Water (Aqua), Stevia, Agar Agar, Carrageenan Extract, Titanium Dioxide, Menthol Crystals, Alpha-Isomethyl Ionone, Cinnamal, *Eugenol, *Limonene, Colour 15510
Tornado contains cinnamon bark oil, green mandarin oil and pine oil. Cinnamon oil has strong antimicrobial properties, and keeps mouth and gums healthy. The green mandarin oil provides freshness, and pine oil cleanses the mouth. I love the smell of Tornado, it's a fresh, tangy scent, but with a warm, cinnamon note to it. You can detect the cinnamon very well, but it's watered down by the freshness of the mandarin and menthol crystals.
This jelly is slightly less fresh, but no less tasty. The cinnamon in it gives the whole minty experience a spicy touch, but in a good way. My mouth still feels very fresh and clean after brushing, and the aftertaste is amazing. This is undoubtedly my favorite of all, I really like the cinnamon-like taste. Because of its spicy notes, it's perfect for these cold days.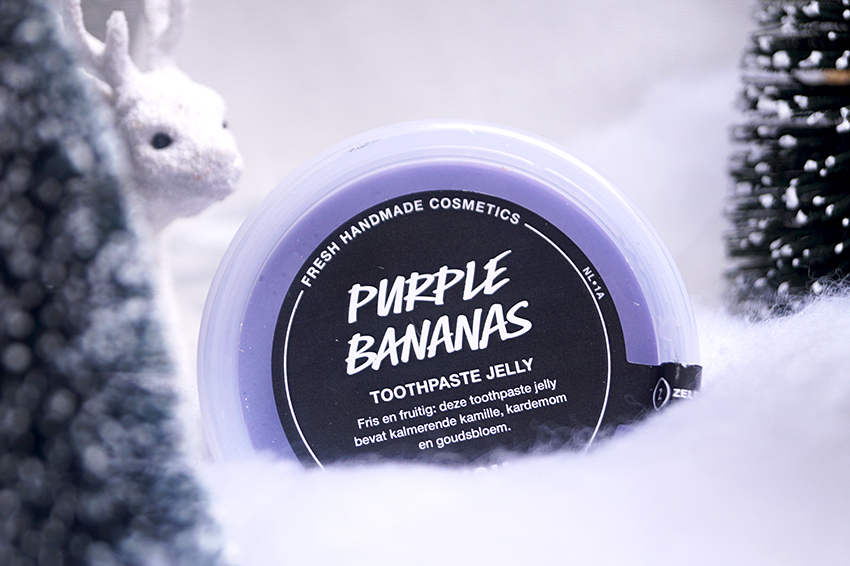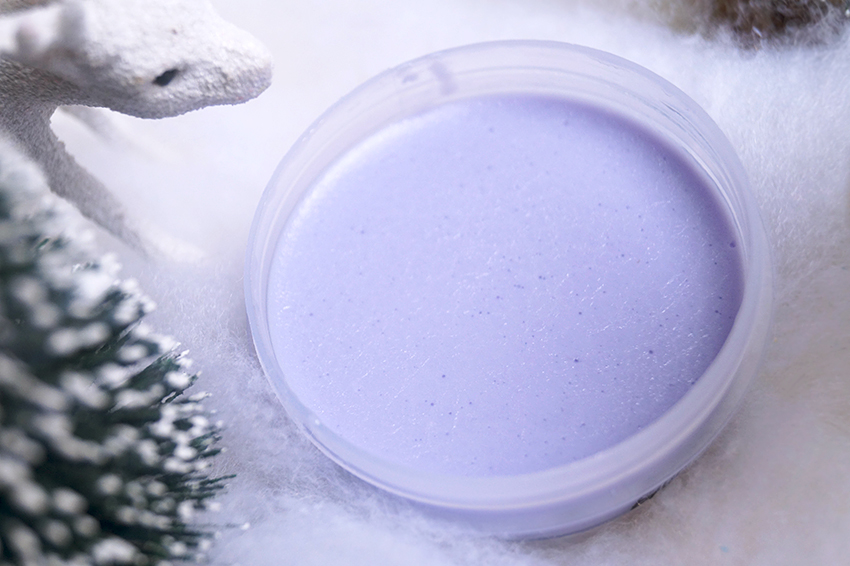 Purple Bananas
Ingredients: Marigold Petal Infusion, Sorbitol, Glycerine, Silica, Sodium Methyl Cocoyl Taurate, Xylitol, Roman Chamomile Oil, Cardamom Oil, Sicilian Lemon Oil, Banana Extract, Stevia, Agar Agar, Carrageenan Extract, Titanium Dioxide, Water (Aqua), *Eugenol, *Limonene, *Linalool, Flavour, Colour 17200, Colour 42090
Purple Bananas contains marigold petal infusion, chamomile oil, cardamom oil, lemon oil and banana extract. Marigold petal infusion is anti-inflammatory and soothing on the gums, just like chamomile oil. Cardamom freshens the breath, but it's also antiseptic. Lemon oil ensures a fresh mouth, and is also anti-bacterial. Banana extract provides a nice, sweet flavor without the presence of too many sugars. The smell is a little more subtle than the other jellies, it's a well balanced mix between fresh and spicy. You can clearly smell the bananas in it, but it's not overpowering. (Too bad, because I love me some bananas)
This toothpaste jelly is the least fresh of all 5. It has a slightly spicy taste, but it's also fruity sweet. Compared to the other flavours I tried, I found this one to be the less exciting. It's just average, if you ask me. It's a good toothpaste, but not so special that I'd buy it again.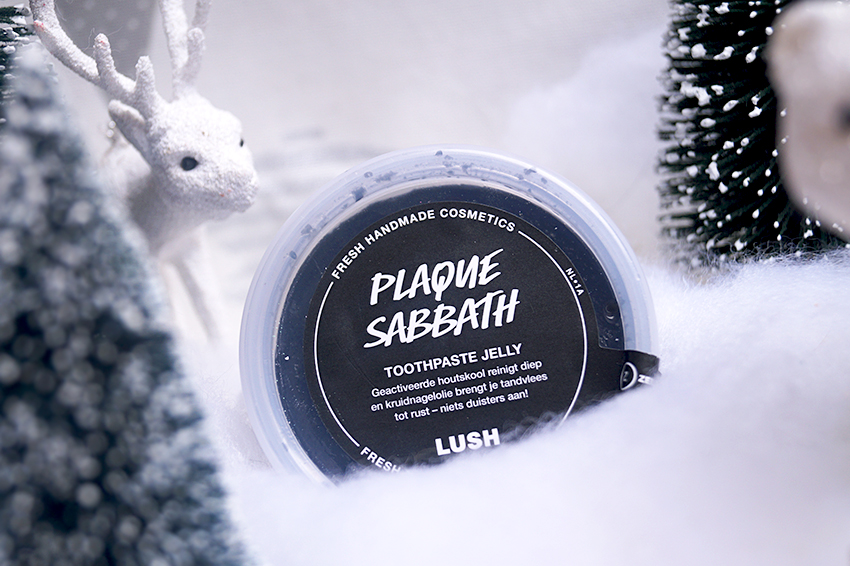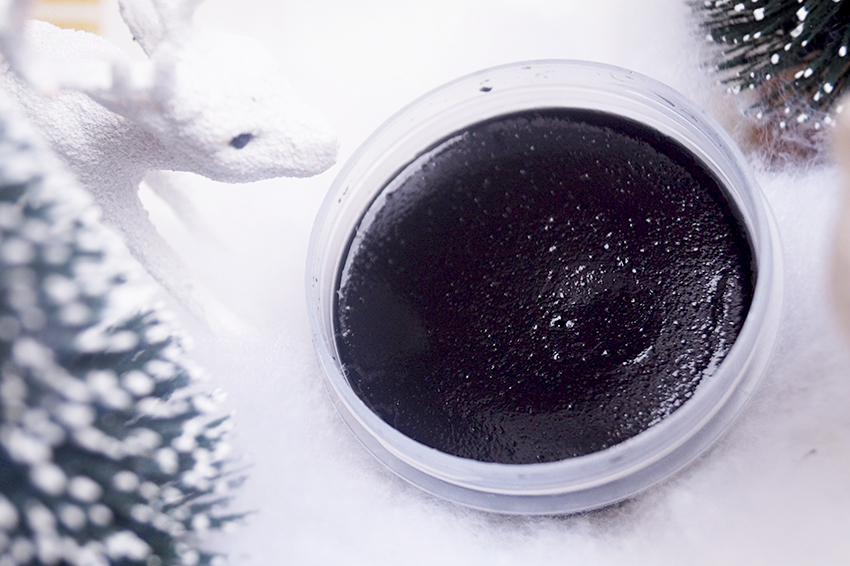 Plaque Sabbath
Ingredients: Liquorice Root Infusion, Sorbitol, Glycerine, Silica, Sodium Methyl Cocoyl Taurate, Xylitol, Clove Bud Oil, Brazilian Orange Oil, Tangerine Oil, Activated Charcoal, Stevia, Agar Agar, Carrageenan Extract, Menthol Crystals, Cinnamal, Cinnamyl Alcohol, Citral, *Eugenol, *Limonene, *Linalool, Flavour
Plaque Sabbath — first of all, this name is fucking genius. It's based on the rock/metal band Black Sabbath, I love it. This jelly contains liquorice root infusion, clove bud oil, orange oil, tangerine oil, activated charcoal and menthol crystals. The scent totally doesn't the color of this jelly, or with the rock vibes you get from the name. It's a bit like the Boo Shower Slime — a black substance with an almost bubblegum smell. Surprise! The scent's really sweet, but I can also notice the liquorice root in it. Very tasty.
The taste is really fresh, but also very sweet. I love it! Even though it's a sweet, bubblegum-like flavour, it's not annoying. This toothpaste will still freshen your mouth, clean your teeth and ensure a nice aftertaste. I'm currently using this jelly daily. I did notice that the jelly is softer in terms of the texture, but it doesn't affect the way I'm using it.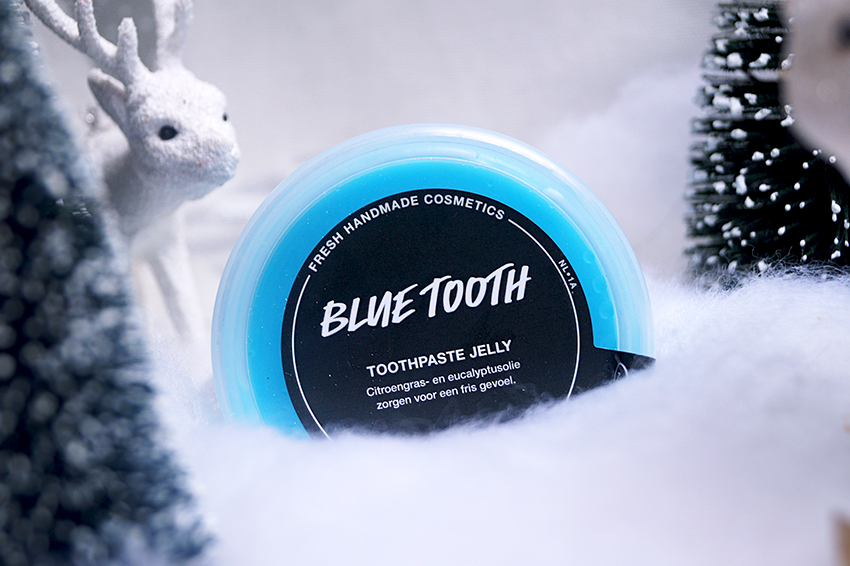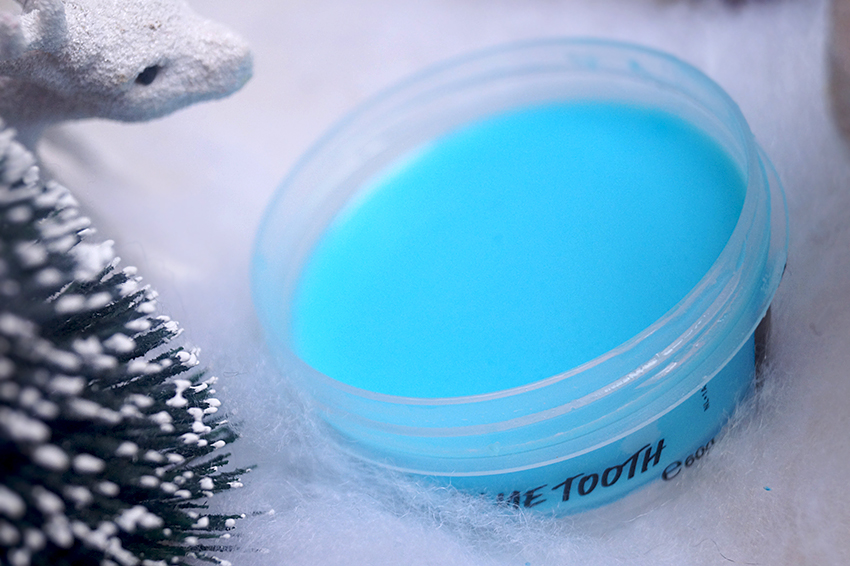 Blue Tooth
Ingredients: Fresh Lemongrass Infusion, Sorbitol, Glycerine, Silica, Sodium Methyl Cocoyl Taurate, Xylitol, Eucalyptus Oil, Lemongrass Oil, Peppermint Oil, Stevia, Agar Agar, Carrageenan Extract, Titanium Dioxide, Water (Aqua), Benzyl Alcohol, *Citral, *Geraniol, Hydroxycitronellal, *Limonene, *Linalool, Flavour, Colour 42090
Blue Tooth doesn't only have a pretty color, it also smells exactly like Outback Mate soap. This jelly is a fresh breath of air. But like, literally. A hint of eucalyptus (refreshing and antibacterial), a little lemon grass (deodorising) and a pinch of peppermint (for a fresh breath).
This toothpaste is a fresh party in your mouth. A fresh flavour, but with a little hint of lemongrass. If you're a fan of Outback Mate, you definitely want to give it a try. My teeth and mouth felt clean and fresh, my breathe smelled good and the aftertaste is subtle but good. It's not an "icy, fresh peppermint" kind of fresh, but rather a "slight sweet lemongrass" kind of fresh. This is a real hit, you can't go wrong with this flavour.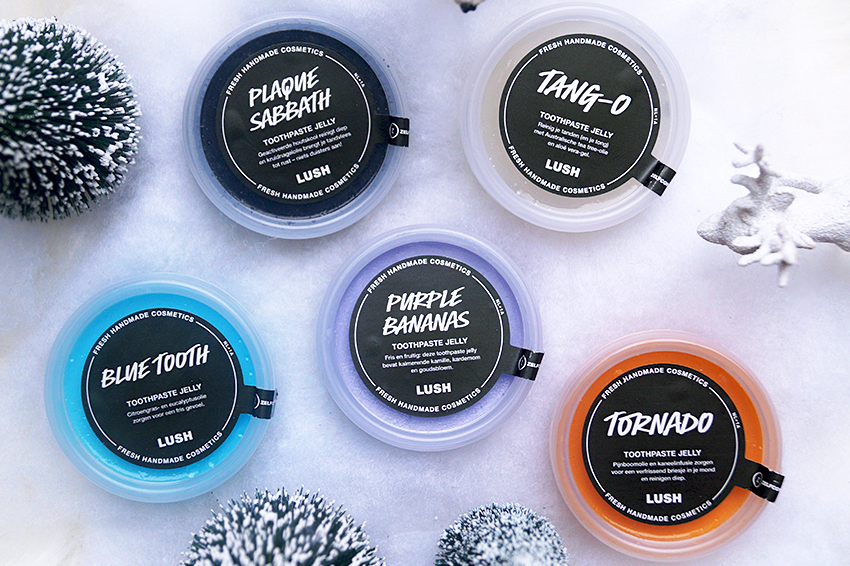 What do I think?
I didn't expect it, but I love the toothpaste jellies. It takes a little bit of figuring out what the correct dosage is, but once you've mastered it, it works just as easily as a regular tube of toothpaste. I'm not sure how long these jellies will last, but I do know they're pretty economical. You only have to scrape off a little bit of the jelly, with your toothbrush. Don't take a big chunk of jelly, it will only flush down the drain. I find brushing my teeth is a lot more fun with these jellies — and I haven't even combined some of the flavours yet! I will certainly try that as well. I'm not sure if I would buy these jellies again, since in The Netherlands they're pretty pricey, but I will certainly use these with a lot of joy.

Lush Toothpaste Jellies cost £5.00 (England).