New in & quick look: 12 new Harajuku bubble bars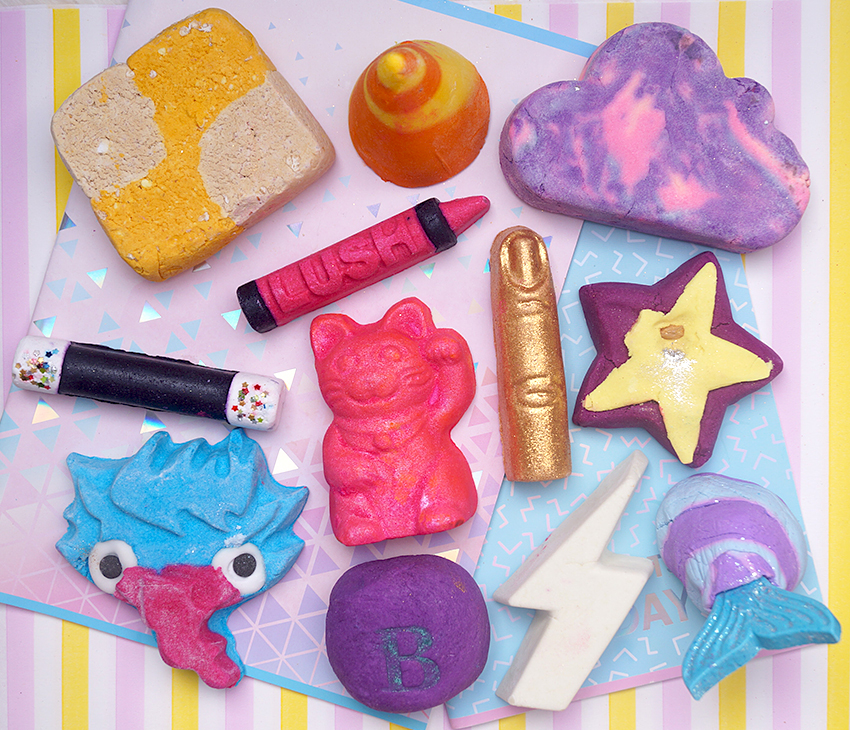 This morning a huge parcel was delivered to my house. It contained the new bubble bars from the Harajuku range! I ordered 12 to review for you guys, and while I'm working hard on writing those blog posts, I wanted to share my initial thoughts on them first. Unfortunately, we can't order from Lush The Netherlands anymore. Just like Lush UK, it's going to take about 3 weeks before they're reopening again. Meaning that no one can buy the new bubble bars till then.. what an awful timing! I hope today's blog post will cheer you up a little, and that it will give an impression of each bubble bar.
If you're curious about these bubbles bars, make sure you keep on reading!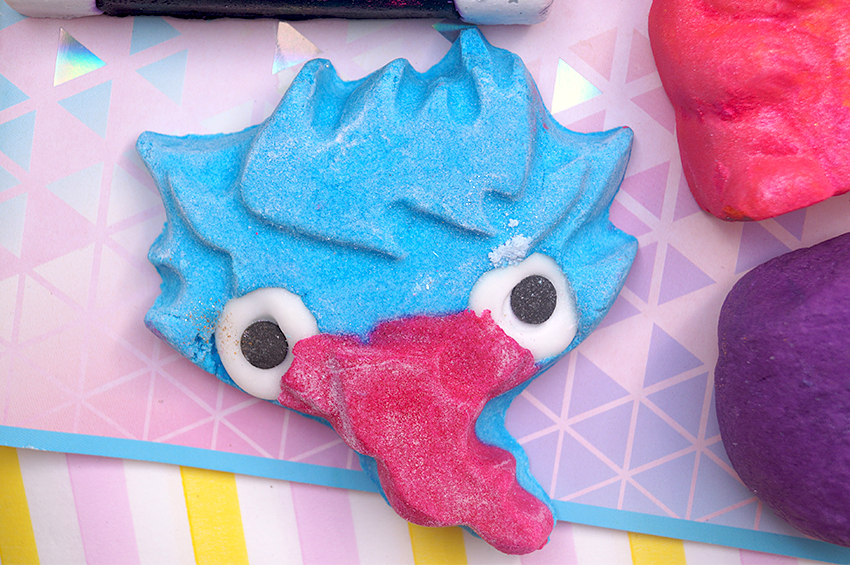 Akaname Bubble Bar 120g
This funny looking creature is called Akaname and it doesn't only look incredibly cute, it smells amazing too! Every time I smell it, I love it even more. At first sniff, I could smell a zesty, fruity scent.. like key lime candy. Or like a lemon popsicle. It's SUCH a refreshing scent, very uplifting and fresh. Normally I'm not one to go wild for citrusy scents, but this one has a tiny hint of candies in it, making the scent soooo good! It actually reminds me of Solero Shots, an ice cream we used to have back in the days. 🤤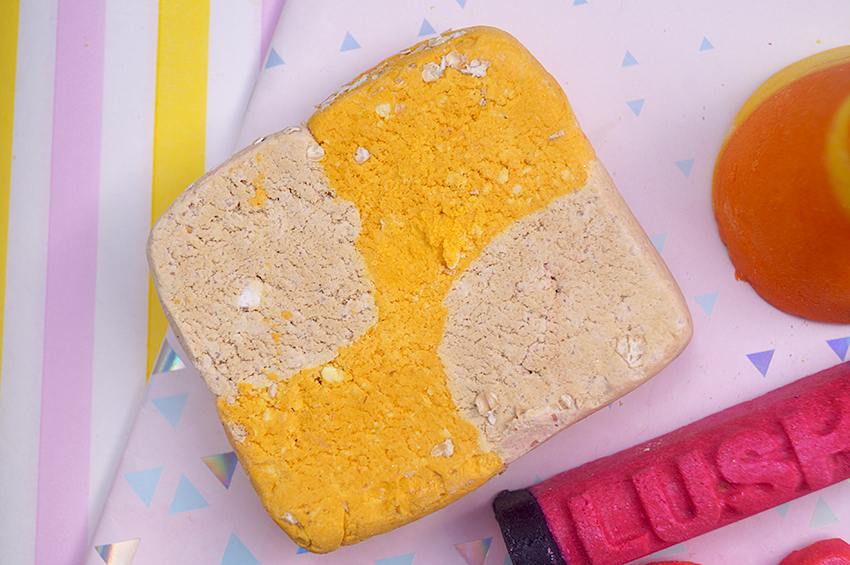 Nana Bubble Bar 200g
Nana bubble bar is a H E C K I N big bubble bar. It's Nana scented (duh), like the shower gel, which is supposed to smell like Let The Good Times Roll. To this day, I still disagree on that. I also really didn't like the Nana shower gel.. however, the bubble bar smells pretty okay to me. It's a light, vanilla custard scent. A foody scent. I don't really think it smells like caramel, though. But it's an okay scent. I still prefer Yog Nog over this scent though…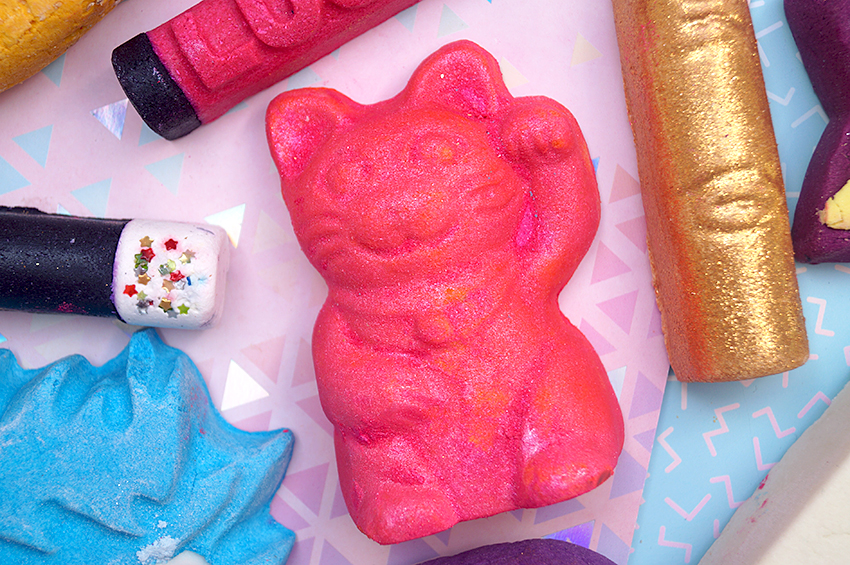 Lucky Cat Bubble Bar 130g
Lucky Cat wasn't a product I was planning on buying, because of the bath bomb. It was awful, except for the scent — it was Ghost scented, a scent I really like. Upon the first sniff, I didn't detect the Ghost scent, but when I sniffed it a few hours later I was able to recognize the Ghost scent on the bubble bar. Somehow it smells more spicy or intense than the bath bomb and Ghost shower gel, so far I'm not really loving it. I love how Ghost has that soft, clean and floral smell, but this bubble bar doesn't have that subtle clean smell. I hope this will change once I use it!
Bathos Bubble Bar 100g
This bubble bar is a retro product, a classic. Lushies that have been around for ages, know this bubble bar and it's often praised as well. I never got the chance to try Bathos when I was a freshly new Lushie, so of course I had to grab myself one of these! It has a pretty boring look, especially compared to all the other cheerful bubble bars. The scent is very interesting though.. it's straight up violet that I pick up first. It's floral, but also a little herbal and spicy. A complex scent, pretty tart. The violet is pretty dominant, but there's also a clear note of jasmine in the background. I believe it shares its scent with the Kerbside Violet perfume!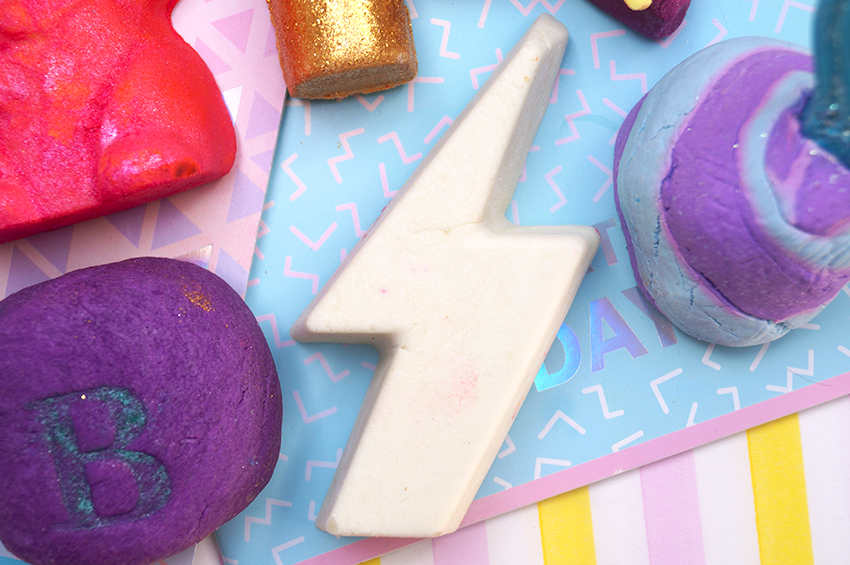 Bubble Bubble Toil and Trouble Bubble Bar 90g
A scent that I know and love: Calacas. The scent of Calacas never bores me, even after I made an entire batch of Calacas scented bath bombs and the whole house smelled of Calacas. This scent offers both freshness and candy-like notes, a real treat to the nose. I'm very curious about the performance of this bubble bar, since it's just plain white. It's slightly bigger than I expected. Oh and… it's glow in the dark!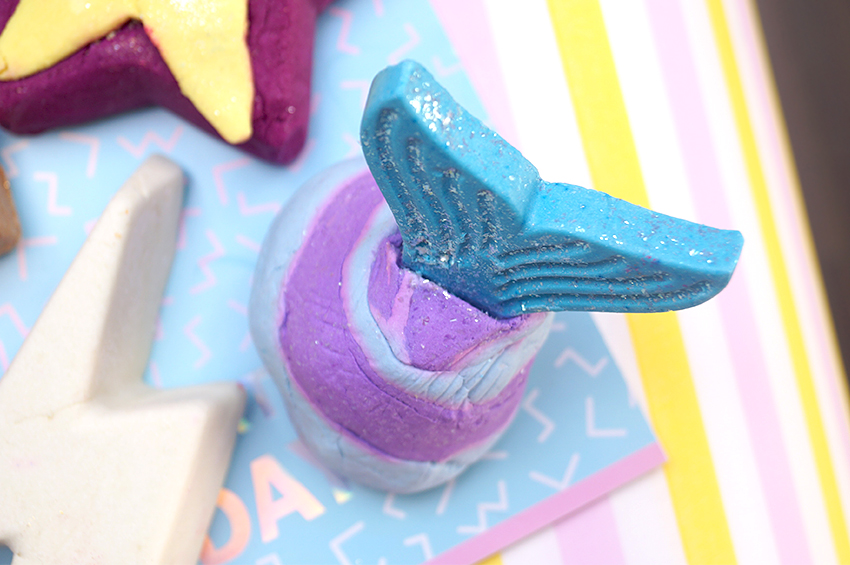 Mermaid Tail Bubble Bar 100g
This is perhaps the most cutest bubble bar of all. Cute pastel colours, a mermaid tail and glittering shards all over. Bitch, I'm sold! The scent is Baked Alaska, the popular soap that was part of the Christmas range. It's a fresh scent, slightly citrusy, but not too much. I can really pick up the grapefruit in it, but it's well balanced with the other ingredients. I think the tail is made from cocoa butter, since it's a different texture than the bubble bar itself.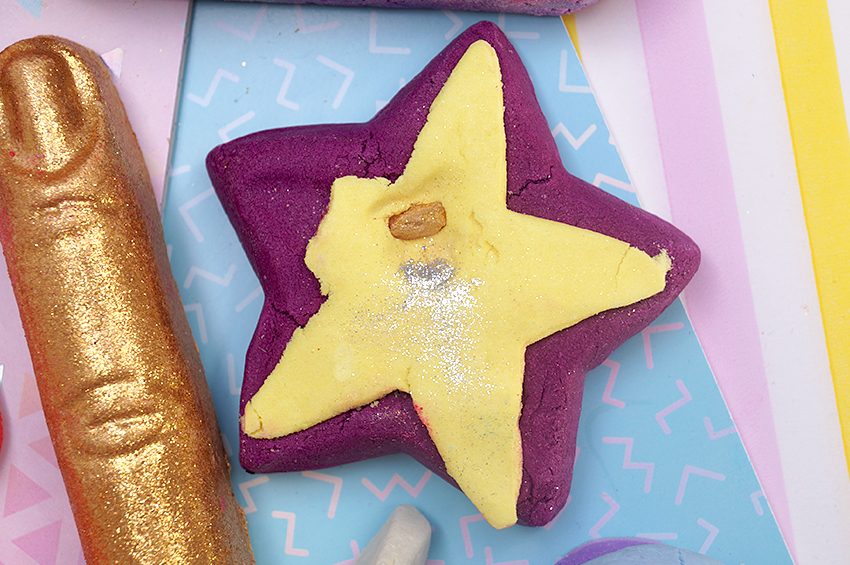 Stargazer Bubble Bar 100g
Even though the apparence didn't spark any excitement, it did when I found out it was Space Girl scented. Space Girl is an amazing smelling bath bomb, it smells like fruity berries. It's fresh, but also fruity, berry-like and citrusy. I love the glitters on top, but I can't wait to use it.. and to combine it with one of my hoarded Space Girls! *squee* ╰(*°▽°*)╯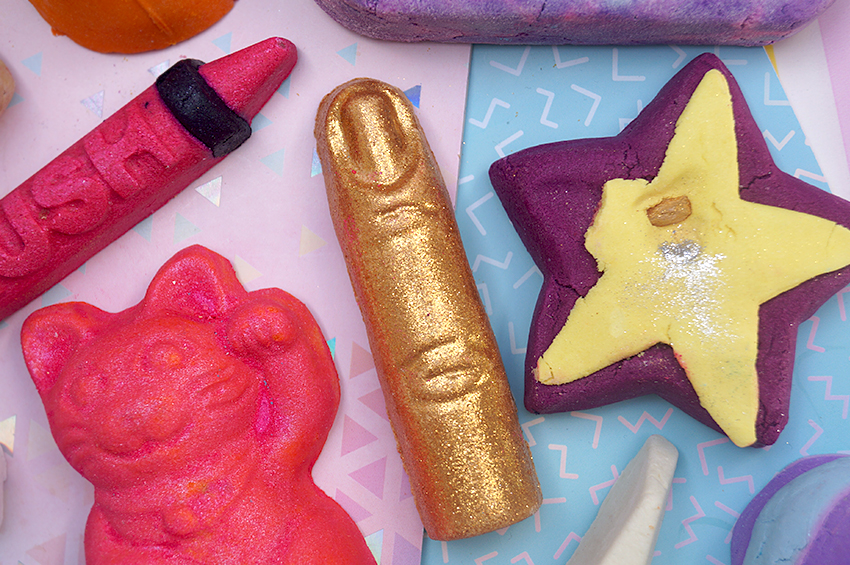 Goldfinger Bubble Stick 70g
Perhaps the most freaky, weird bubble bar there is. I mean.. a golden finger? Really? Luckily it's Honey I Washed The Kids scented. Oh, and it has glitters. Which are two reasons for me to buy it. It even could've been shaped like a penis, I would still buy it. 🤷🏻‍♀️ Anyway, it has an amazing honey, caramel and toffee scent. I think the glittery layer will wash off immediately, just like with Golden Egg, but that's fine. It's HIWTK scented. I'll be okay. I think.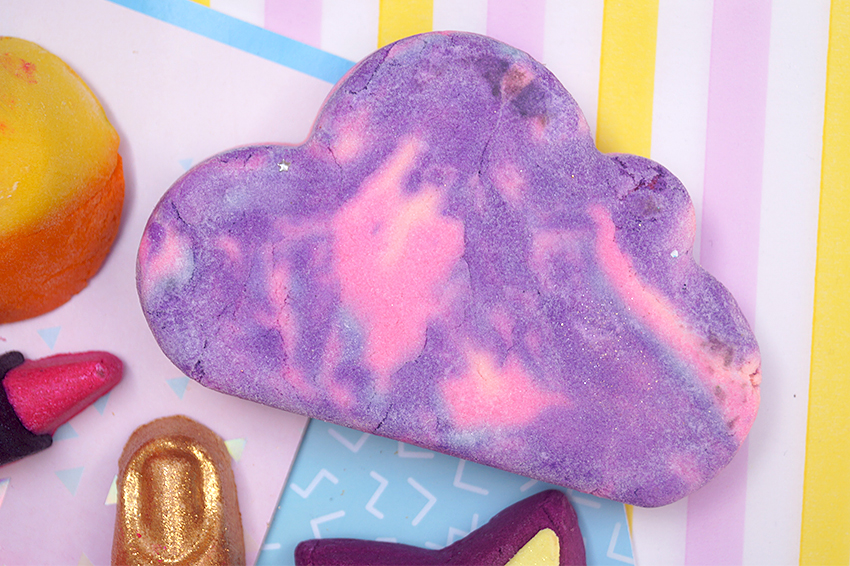 Sleepy Bubble Bar 200g
Another U N I T is this 200 grams bad boy. It's the Sleepy bubble bar, which has such a lovely look. I love the colors, the shape, but mostly I love the scent. To be honest, it smells just as much as the original Sleepy products as it smells like Twilight products. Normally I can smell a slight difference between Sleepy and Twilight, but this bubble bar is just straight up lavender with a sweet background. It contains the same ingredients as the Twilight bubble bar (lavender, benzoin resinoid, tonka absolute, ylang ylang oil) so the scent is the same as well. Although, Sleepy seems to smell slightly more of lavender. Anyway, get yourself one of these bad boys, for those sleepless nights, anxiety attacks or stressful times. Lavender works wonder.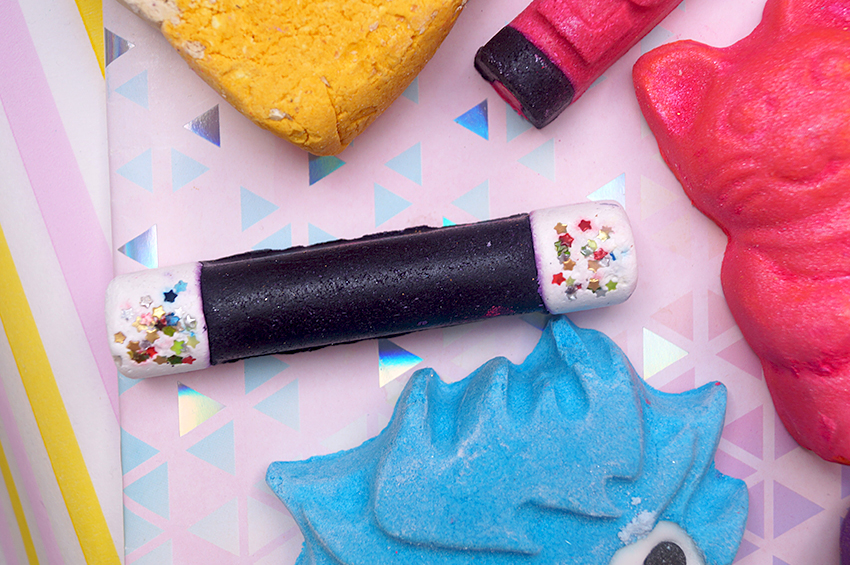 Abracadabra Bubble Stick 60g
I was so happy when I found out that this bubble bar is Blackberry scented! Seriously, I love that scent. It's a very small bubble bar, but it has a pretty strong scent of fruity berries, combined with uplifting bergamot. It could've been slightly bigger if it were up to me, I think this is good for two uses. I love the tiny stars though, really adds something to the magic of this bubble bar.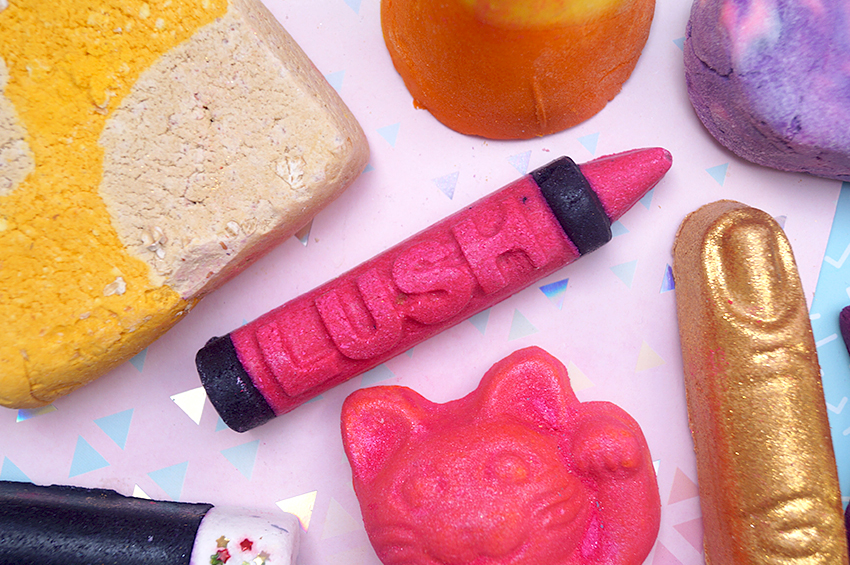 Crayon Bubble Stick 60g
This crayon can be used to draw in your tub, how cool is that? Unleash your inner artist and go crazy with this fruity bubble bar. It contains grapefruit, bergamot and buchu — which means the scent is exactly like Iced Wine! This scent is fruity and slightly minty, it always reminds me of juicy watermelons. I love the scent, I wish Lush would bring out more products in this scent! (ˉ﹃ˉ)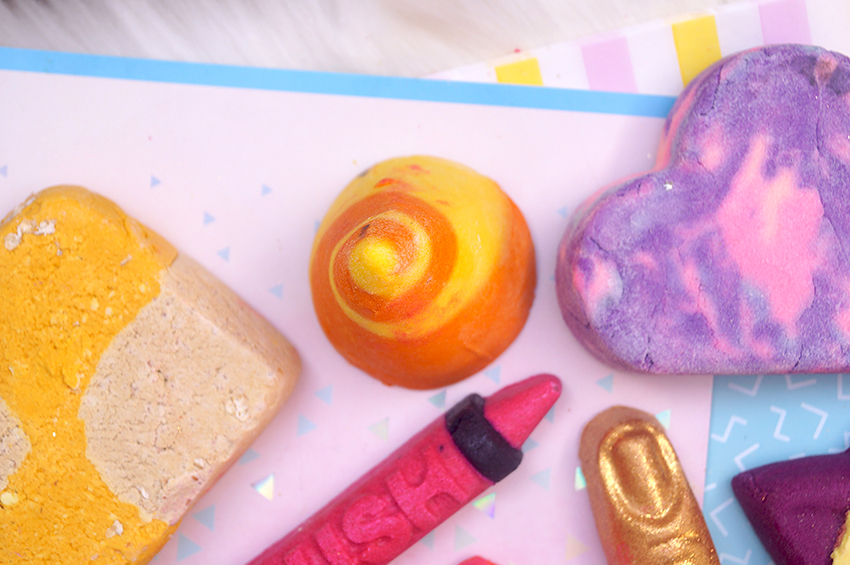 Party Popper Bubble Bar 100g
The last bubble bar is Party Popper, which shares its scent with Ponche shower gel. It's a bright and boozy scent, both uplifting and fruity. The cone shape is very interesting and there's tiny stars at the bottom! I'm a huge fan of the cheerful Ponche scent, and thus this Party Popper is a real hit. I can't wait to create some fruity bubbles with it.
These bubbles are already being sold in the Dutch webshop, but they're temporary closed right now. They will also be sold in the UK, but I have no idea when that's being to be..

One Response to New in & quick look: 12 new Harajuku bubble bars