Review: Lush The Experimenter Bath Bomb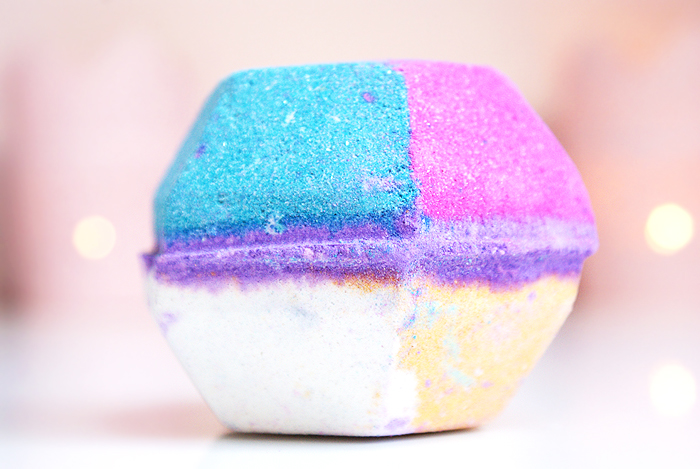 (This article was originally written in 2015 in Dutch and has been translated and rewritten in 2019.)
The new Lush bath bombs that were recently added to the main collection, immediately caught my attention. For example this bath bomb, which has an interesting hexagon shape and some vibrant colors. According to Lush, this is your ticket to your own bathtime motion picture. Today I'm going to toss it into the bath, so if you're curious, keep on reading!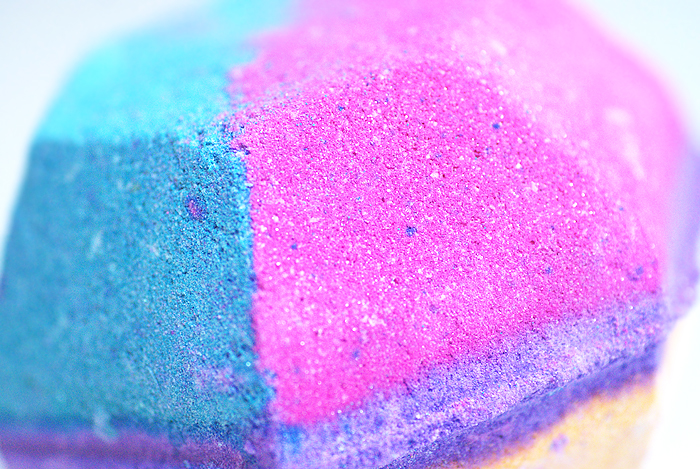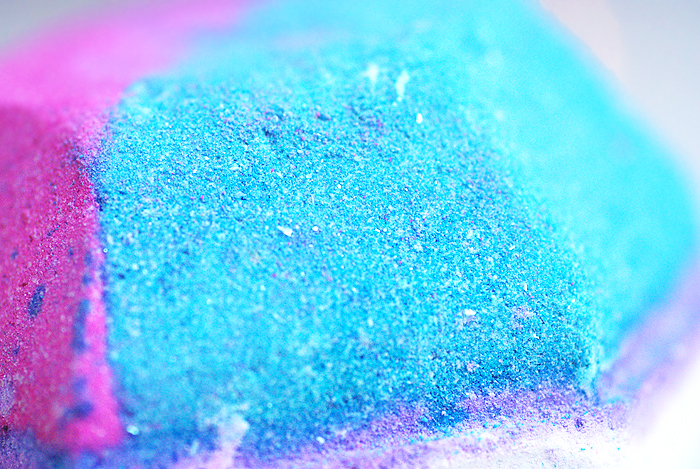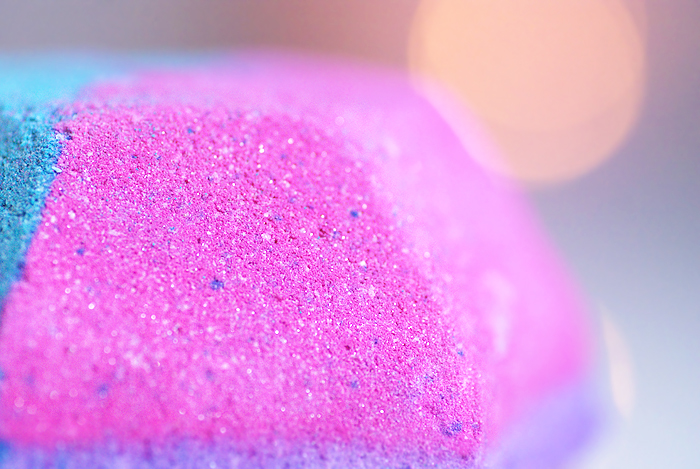 What is it?
Ingredients: Sodium Bicarbonate, Citric Acid, Perfume, Popping Candy, Vetivert Oil, Tonka Absolute, Vanilla Absolute, Cream of Tartar, Water (Aqua), Titanium Dioxide, Sodium Laureth Sulfate, Lauryl Betaine, Calcium Sodium, Borosilicate, Synthetic Fluorphlogopite, Propylene Glycol, Tin Oxide, Silica, *Coumarin, *Eugenol, *Limonene, *Linalool, Colour 42090, Colour 45350, Colour 77491, Colour 45410, Colour 14700, Colour 17200
Lush The Experimenter Bath Bomb costs £4.75 / $8.95. It has been released in 2015, originally being an Oxford Exclusive, but later it got part of the regular collection. It doesn't only contain a lot of color, it also has popping candy for an extra magical effect. The size is rather big, sharing its shape with Magic Bath Bomb, which is unfortunately discontinued.
The scent was a subject of interest. A lot of people compare the scent to a camp fire, which I can totally relate to. It has some smoky notes to it, which makes a very interesting scent. The vertivert and tonka are very good noticeable, yet the vanille dampens the strong vertivert scent and gives the overall scent a lot of sweetness. It's a multi layered scent, but also one of Lush's complex scents when it comes to their bath bombs. It's like a expensive perfume disguised as a bath bomb!
Play the videos in 2160p quality and on full screen for the best experience!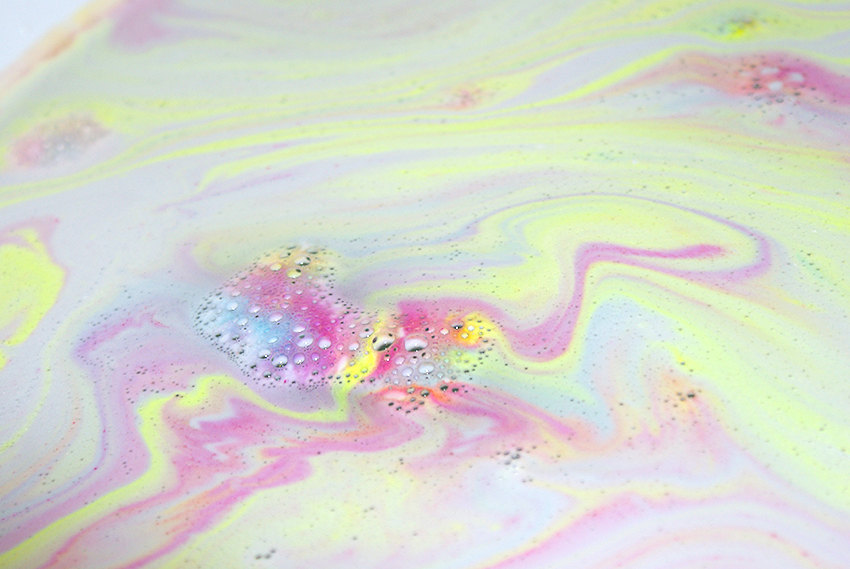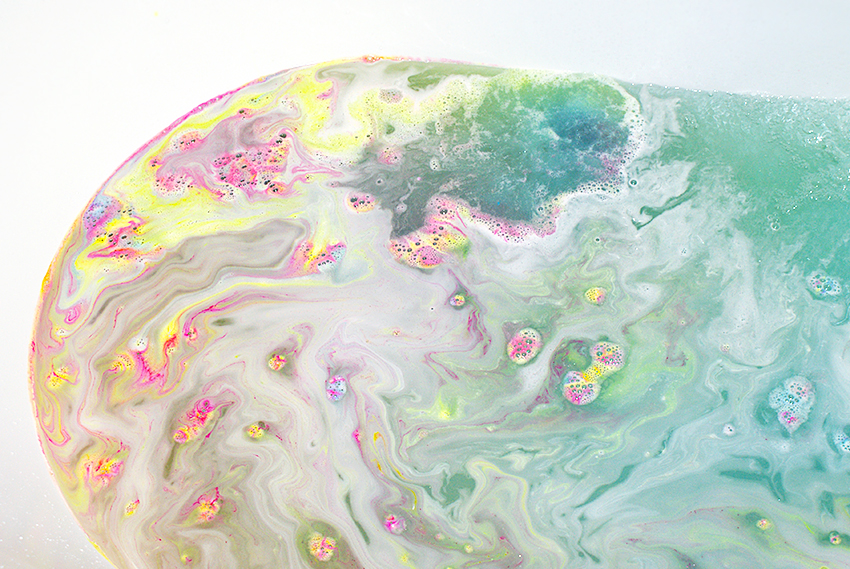 What do I think?
Holy guacamole, these colors aren't messing around. I've never seen a bath bomb produce such bright and vibrant colors. Upon hitting the water, it bursts into all kinds of colors, ranging from blue and yellow to pink and purple. This bath art is surreal. The smoky aroma isn't much noticeable after you toss in the bath bomb, it smells more like vanilla now. Because of all these wonderful colors, I forget to pay attention to the popping candy. I actually didn't really hear it, oops.
The only downside is the final color of the bathwater. It's a blue/greenish shade, not necessarily a very attractive color. I do like the golden lustre in the water though, the makes up for the final color of the water. The bath bomb really surprised me, it gives away a pretty aesthetically show. I wouldn't buy it every month or so, but occasionally, I would definitely be enjoying this bath bomb. Especially the scent! It's so unique and complex. It's definitely worth giving it a go.

Lush The Experimenter Bath Bomb costs £4.75 (England) / $8.95 (USA).